As Myanmar holds its biggest videogame tournament yet, the competitive e-sports scene is struggling to go professional.
By JARED DOWNING | FRONTIER
YANGON HAS had videogame tournaments before, but none like this.
The two-storey, cyberpunk-style arena in the House of Gamers (HOG) gaming centre has been fitted with stadium seats, announcer's booth, a huge projection screen and two transparent booths inside which the finalists man their consoles like fighter pilots, oblivious to the hundreds of roaring spectators as their digital goblins and wizards blast one another to kingdom come.
The videogame is called Dota 2, a fantasy-themed strategy game and long-time favourite of the dim cyber cafés where Myanmar's e-sports champions clicked away their afternoons and summer holidays. But at the first annual HOGCon in early July, there is a K2.5 million prize on the line, courtesy of Ooredoo, and the prospect of sponsorships from giant brands for those who win video game glory.
Mr Bertrand Lim, sales lead for Nvidia, an American technology company that designs graphics processing units, observed the arena from a balcony table. His company consulted with HOG for the event, which required scores of computers, servers, cooling systems and other high-tech infrastructure.
"Really, the reason we came to Myanmar was that there was finally a space like this," Lim said of the HOG arena, which opened last year at the Hledan area of Kamaryut Township.
He said that a tournament of this size means Myanmar is finally catching up to the rest of Asia in e-sports (i.e. competitive videogaming) which over the past 20 years has taken on massive sponsorship deals, tournaments with hundreds of thousands of dollars in prize money, and multi-million dollar media companies such as the eGG network in Asia and the streaming website Twitch, which Amazon bought for US$970 million in 2014.
E-sports upgrade
Myanmar's gamers have never lacked devotion. At the vast Speed Gaming centre in Mandalay, which sponsors two professional e-sports teams, hard-core gamers spend every free hour in front of the keyboard. Sometimes they stay there for days at a time, surviving on instant noodles from the snack bar and sleeping in the padded chairs.
But lavish, 24-hour venues like HOG and Speed Gaming (which opened last year) are a new phenomenon. Until recently, Myanmar e-sports was confined to cramped, hole-in-the-wall cyber cafés stocked with out-of-date computers and little or no internet access. Instead of competing online, Myanmar players mostly met in person for LAN parties, where computers were linked with physical cables rather than over the web.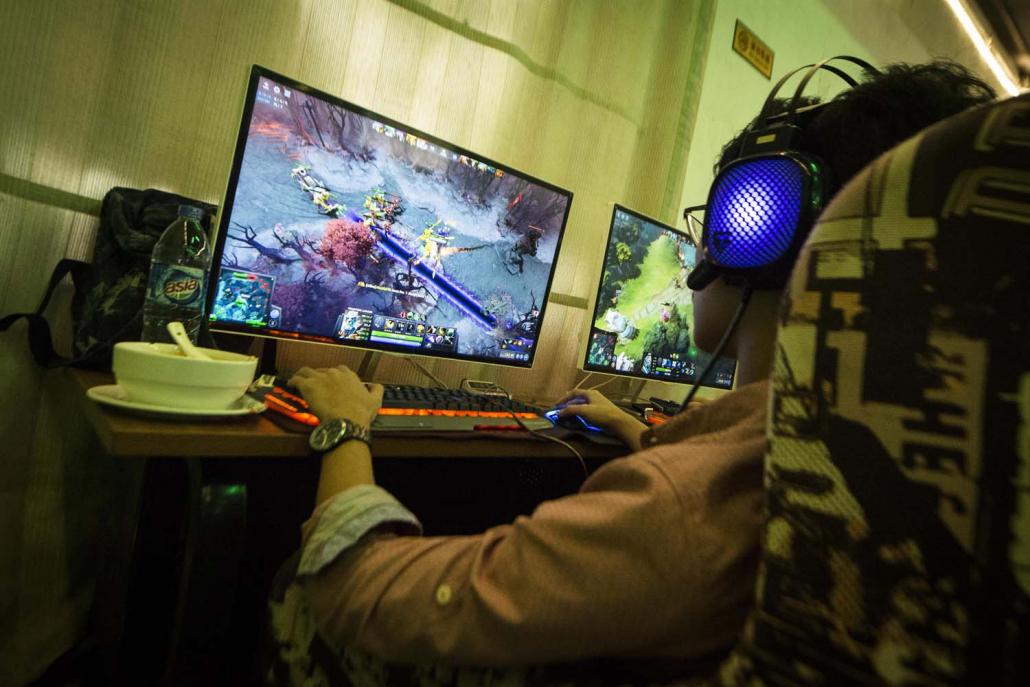 It was in one of those holes in the wall that HOG co-founder Ko Lu Min Khant discovered his passion for gaming. But he says that as access to the internet and high-end tech has improved, so have Myanmar's gamers.
"Three or four years ago the average team of gamers could not compete with [foreign] pro gamers. They got knocked out very easily. But nowadays people are getting very good. They are starting to get to the point where they can beat pro gamers," Lu Min Khant said.
He distinguishes "pro gamers" from "Myanmar gamers" because as competitive as the country's gamers are becoming, few of them are earning money from gaming.
An exception is the Mandalay-based Speed Gaming team. Sponsored by the game centre of the same name, it was the top seed and eventually won the Dota 2 tournament. Speed Gaming member Ko Kyaw Zin Tun agreed that competitive gaming in Myanmar is more popular than ever.
"I hope to see a bunch of teams backed by legitimate gaming organisations. Several teams competing for prizes. Gamers going to foreign competitions," Kyaw Zin Tun said.
Kyaw Zin Tun's vision for gaming in Myanmar is, basically, to see the trend continue with bigger tournaments and prizes, and more opportunities for serious gamers to make a little cash for their efforts. And thanks to better internet speeds, Myanmar gamers are stepping out into international arenas. "I personally think by skill, they are a good match for the foreign players," Lu Min Khant said.
Gamer girls
All Ma Win Pa Pa Aung needs to go pro is to find another lady gamer.
Her sponsored team, the all-female Speed Gaming Witches, has been out of commission since one of their members left to study medicine. If her team can find a fifth player, they'll be back to competing on Speed Gaming's payroll. But women tend to be a minority in e-sports, and Myanmar is no exception.
"After I learned to play Dota 2, I played at every game shop, and all the boys were looking at me because I was the only girl in almost every shop. But I got used to it."
Now 22, Win Pa Pa Aung was 16 when she finally convinced her guy friends to teach her to play Dota 2. Even then, none of the boys wanted to play with her because they didn't consider her a challenge.
"I was too new. Nobody wanted to play with me because I didn't know how to play well," she said.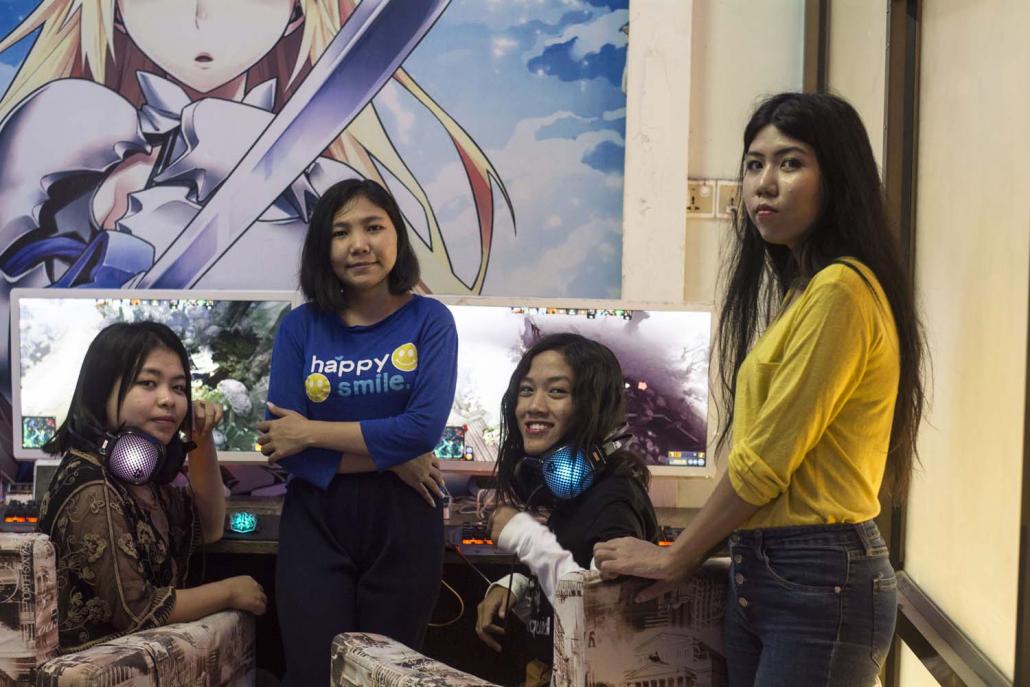 After six years of practice, Win Pa Pa Aung no longer feels like the odd-woman-out at the game centre, but her team has yet to find a fifth woman willing to commit to the life of a pro gamer.
There is a very small pool of players to choose from. Myanmar has only one other female team, the Yangon-based Fairies, and Win Pa Pa Aung said she struggles to convince others to give the male-dominated hobby a try.
"I tried to teach my girlfriends how to play, but they don't want to learn," she said. "It's so difficult to learn, girls don't want to do it."
But for the women who get into e-sports, she said male gamers have grown more used to the idea of sharing the cyber café with girls. As to whether or not the men still doubt her and her teammates' skill because of their gender, she simply doesn't care.
"It depends on us. If we play well, they will give us respect."
Going pro
Ko So Pyae Aung helped to launch HOG after returning to Myanmar from a stint in the United States, where he was involved in organising international gaming events.
He argues that despite the rising popularity of competitive gaming, Myanmar's gaming scene will need a change of attitude before players can begin winning prizes on the international stage.
For starters, he says, players should stop thinking of gaming as a pastime.
"Right now 'pro gamer' isn't really a career in Myanmar. They just ask money from their parents and play games," So Pyae Aung said. "I think if they started to play games like work, they would start to get better. Right now gamers are like friends together, having fun players. It needs to be more like work."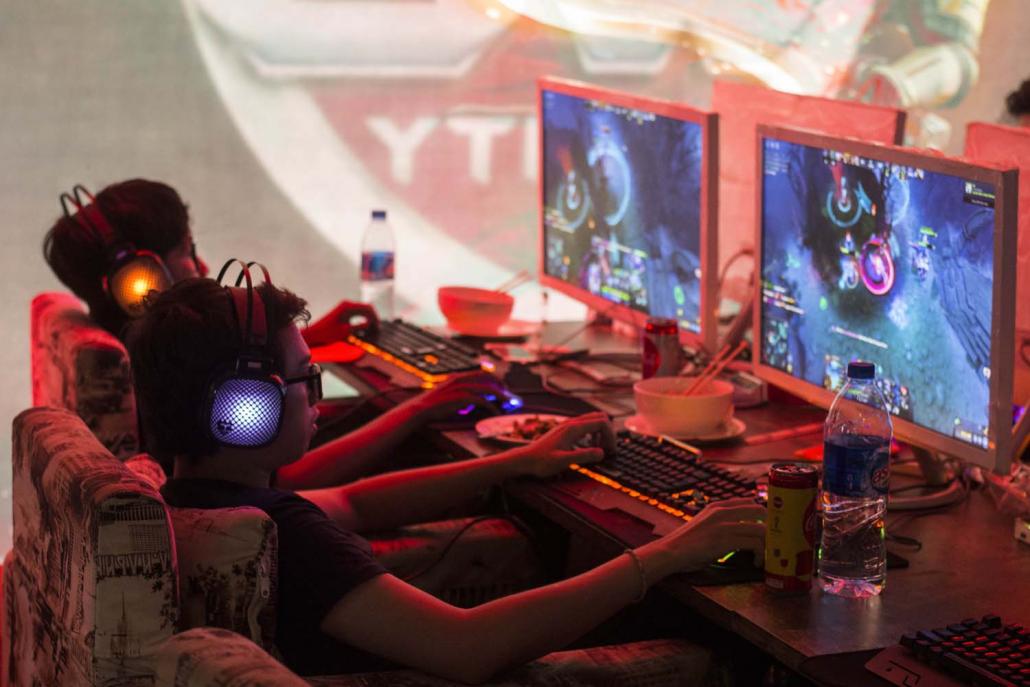 For Kyaw Zin Tun, transitioning from a gaming hobby to a gaming career is a problem of the chicken and the digital egg. Sponsors and international gaming leagues need to see committed gamers. But gamers need more financial resources and opportunities before they can commit to competing professionally.
"The players don't want to be worried about anything but gaming. If they are able to only think about gaming, they will be able to keep together as a team and not disband," Kyaw Zin Tun said.
For now, everyone agrees that e-sports in Myanmar are moving in the right direction, and fast. More than 400 teams entered the qualifying rounds for HOGCon's two tournaments, while more than 2,000 people bought spectator tickets.
The week-long event became a festival for Yangon's nerd scene in general. People milled about in military fatigues and wielding airsoft guns. There was a cosplay competition with spikey-haired anime characters and sculpture gallery featuring busts of Thanos and Deadpool.
Lu Min Khant believes this culture, not sponsorships and prizes, will be the secret to growing e-sports in Myanmar.
"[Here] those who surround you are also gamers. They love to play games," he said. "You don't feel that you're playing just for fun."
TOP PHOTO: A K2.5 million prize was on the line at the first annual HOGCon e-gaming tournament in Yangon in early July. (Steve Tickner | Frontier)