Despite formidable challenges, including legal ambiguity and drivers with an attitude problem, a grassroots group is striving to make Yangon more bicycle friendly.
By KATRIN SCHREGENBERGER | FRONTIER
FOR YANGON-BASED graphic designer Ko Zwe Pyae, 24, riding a bike offers freedom and independence on the traffic-clogged streets of the commercial capital. He acknowledges that he's taking a risk, though.
"Riding a bicycle in Yangon is like betting on your life," he told Frontier.
Zwe Pyae has never had a serious accident but is well aware of the dangers of cycling the city's roads.
In December 2016, his love for cycling and a determination to promote it inspired him and a friend to launch "Bikes in Yangon", which aims to get more people pushing pedals in the city. The group has 10 staff and about 200 volunteers.
People have always cycled in Yangon, but normally out of necessity – either to save money, or because there was no other transport option.
The Yangon Urban Transport Master Plan released in 2014 by Japan's overseas aid agency, JICA, and the Ministry of Rail Transportation, revealed that bicycles were the form of travel used for 22.5 percent of all trips in the city, excluding walking.
There's a small but growing band of people like Zwe Pyae for whom riding a bike is a lifestyle decision: they're choosing bicycles over driving a car or taking public transport.
Zwe Pyae's first priority for making Yangon more bicycle-friendly is to change the regulation that banned them, along with motorbikes, from most of the city's roads in 2003.
"The police almost never catches cyclists since 2007," he said, adding that illegal use of motorbikes in Yangon was probably a greater concern to the authorities.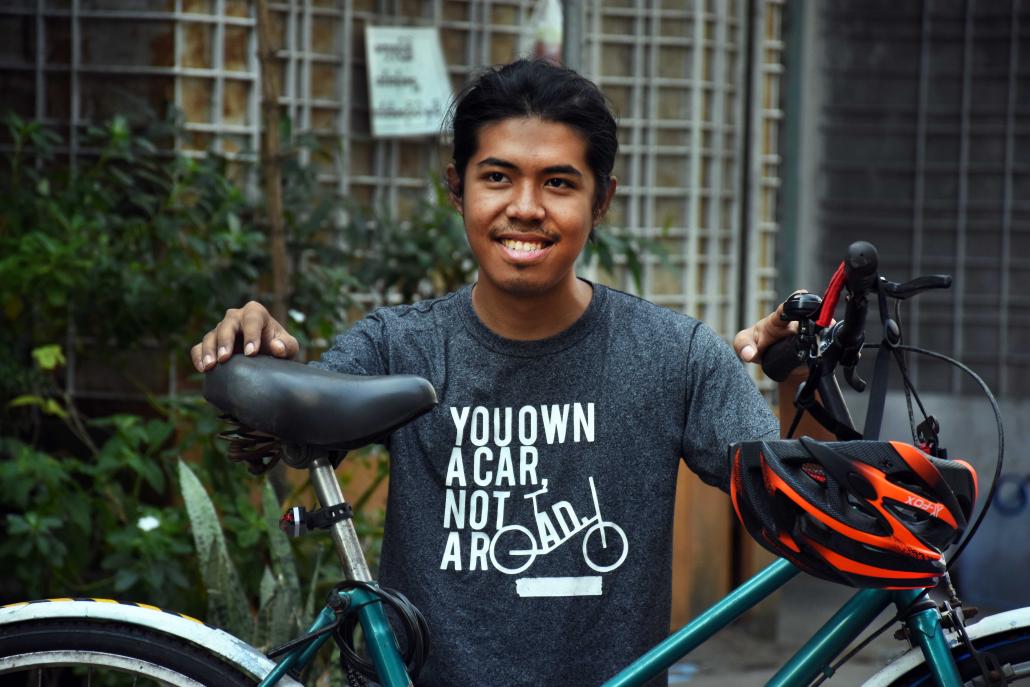 Zwe Pyae said that although the police were no longer enforcing the ban on cycling in Yangon, accidents were problematic.
"If there is an accident, there are no laws to protect cyclists," he said. "The young people of Yangon do not question that, but we should ask for our rights."
Zwe Pyae added that the test for a driver's licence should be amended to create greater awareness of cyclists' safety.
"Drivers don't respect traffic laws and they don't want to share the road with cyclists," he said, adding that cyclists also needed to show discipline and avoid breaking road use rules, such as by riding on footpaths.
Bikes in Yangon aims to "inspire" more young people and mainly targets students, Zwe Pyae said.
Funded by a grant from the United States embassy, Bikes in Yangon opened a bicycle rental shop last year at the Myanmar Maritime University in outer southeastern Thanlyin Township, and another at Dagon University, one of the country's largest, in North Dagon Township. The rentals shops are small; for now, they're not designed to help students get around on campus. "The shops are aimed to gather attention and to promote cycling culture," Zwe Pyae said.
But the authorities recently blocked an attempt to open a rental shop at Yangon University – despite its campus having cycling lanes built before the 2003 ban and 900 students voting in favour of the proposal.
"The administration did not want to take responsibility for cyclists on the campus so they rejected the idea," Zwe Pyae said. In its determination to popularise cycling, Bikes in Yangon provided courses at Yangon University last year that enabled 200 people to learn how to ride a bike.
The group also held a night ride in Yangon a few weeks ago, providing bicycles for people who can ride but do not own one.
Many people on the night ride told Zwe Pyae the experience had made them nostalgic for their childhood growing up in the countryside, where cycling is more common.
Zwe Pyae said encouraging more people in Yangon to use bicycles would help to reduce social isolation in the city.
"A lot of people suffer alienation because of the mobility crisis in Yangon," he said, citing a study by the London School of Economics on mobility in the commercial capital.
"Unlike in Yangon, in Mandalay it is perfectly normal for people to travel by bike when they visit each other," he said, adding that he was able to spend more time socialising since he resumed cycling in Yangon in 2013.
"I could never use public transport again," Zwe Pyae said. "It's stressful and gives me a headache."
As well as grassroots organisations promoting cycling as a cheap and practical way of dealing with Yangon's congested roads, bad traffic has been a boon for courier services that use bicycles, such as Yangon Door2Door, Deliverink and Food2U.
Yangon Door2Door has a team of about 80 messengers who push pedals for an average of 18 kilometres a day as they make deliveries throughout the city.
"Of course it is dangerous, but I like the thrill," said Ko Than Zaw, 22, who was crowned Yangon Door2Door's "Best Messenger of the Year" for 2017 because of his speed and competence in making deliveries.
He has never had a serious accident, though he suffered a fall once when a careless driver opened a car door suddenly without checking for other road users.
Despite enjoying the "thrill" of negotiating choked roads, Than Zaw puts safety first.
"On the road you need to concentrate and always watch what drivers are doing," he told Frontier.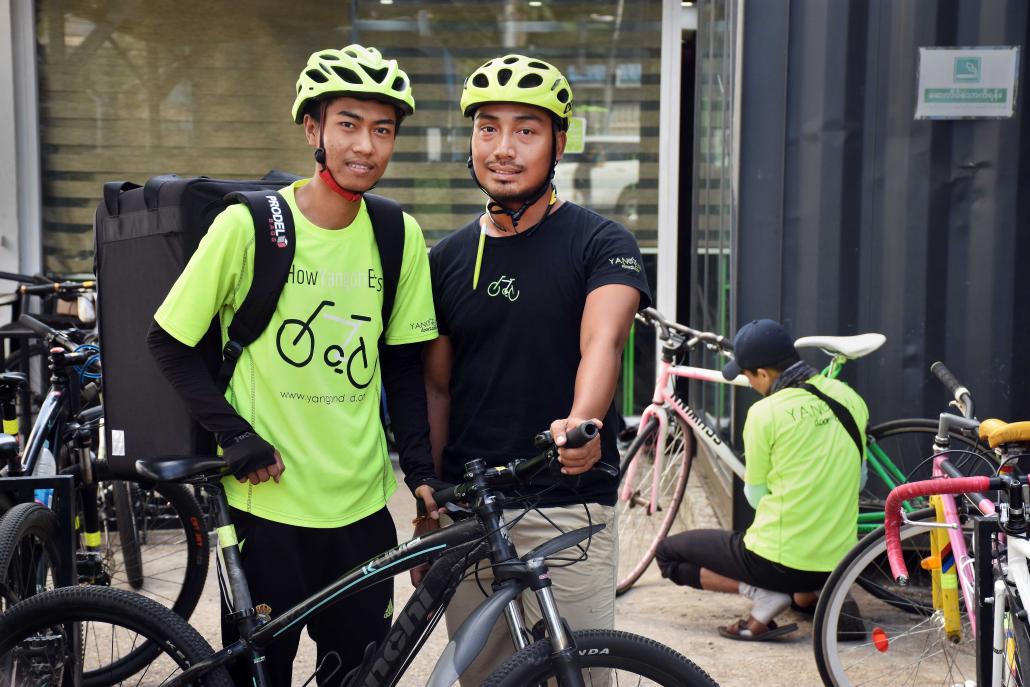 Than Zaw, who as a little boy wanted to be a professional cyclist like the riders in the Tour de France, delights in his job, as does his supervisor, Ko Aung Phyo Wai, 29, who has represented Myanmar in cycling at the Southeast Asian Games.
Aung Phyo Wai is optimistic that the number of people choosing to get around by bicycle will increase – to the point that the authorities will have to take action to make the city more cycling friendly. "The people of Yangon don't want to lose time in a car on choked roads," he said. "One day Yangon will be a city for cyclists; that's my dream."