Privacy violations involving revenge pornography are on the rise in Myanmar but seeking legal remedy can be a daunting experience for victims.
By JAIDEN COONAN | FRONTIER
Revenge pornography may seem an unlikely problem in a country with a sexually conservative culture like Myanmar but it has become increasingly common as more people use smartphones and the internet. Celebrities and ordinary citizens alike have been affected.
Victims of revenge, or non-consensual, pornography are understandably reluctant to discuss their experiences, but many people interviewed by Frontier knew of someone who had been humiliated by intimate images circulated by an ex-partner, or had heard similar stories from friends.
It has even been claimed that unscrupulous mobile phone shops have copied intimate images while servicing smartphones and have shared them online without the consent of the party or parties concerned.
Daw Hla Hla Yee, director of Legal Clinic Myanmar, an NGO that provides free legal aid to the vulnerable, particularly women and children, told Frontier that 20 victims of revenge pornography sought her advice last year.
Hla Hla Yee, a lawyer, stressed that the number of women who consulted her last year should not be regarded as an indication of the scale of the problem.
Victims don't want to go to the police when they find out that the process for registering a complaint is complicated, she said.
"Also, most women are ashamed that they have taken nude images of themselves," said Hla Hla Yee.
Charges for revenge pornography can be laid under Section 66(d) of the 2013 Telecommunications Law, that covers digital extortion and defamation, or Section 34(d) of the Electronic Transactions Law, that focuses on defamation involving doctored images. To launch a case, physical evidence must be mailed to the Myanmar Police Force cyber crime division in Nay Pyi Taw.
If a decision is made to prosecute, ministerial approval is needed and may take weeks. Lawyers say that in cases where the government wishes to prosecute, approval can be given in a few hours.
Victims face suffering extreme embarrassment if they decide to press charges in cases involving naked images because they have to prove to public servants that they are the person in the photo.
In most cases the submitted evidence is not enough for legal action, mainly because content is uploaded from fake accounts. In such a situation, the police must issue a warrant to seize the phone or computer in which the information may be stored.
Hla Hla Yee said the police were not fast to respond to complaints, which allowed suspects to flee or dispose of evidence. It can be almost impossible to prove that an ex-partner is circulating defamatory material.
U Than Zaw Aung from the Myanmar Media Law Network acknowledged the extreme difficulty of launching legal action in cases involving fake accounts. He also expressed concern about the difficulty of arranging technically-competent prosecution witnesses.
"The witness needs to be a technician or a Facebook expert or some other expert witness, but they aren't easy to find," he said.
Ma Htaike Htaike Aung, program manager for Myanmar ICT for Development Organization (MIDO), was an expert witness in the high-profile case involving Kachin activist U Patrick Khum Jaa Lee. He was convicted of breaching Section 66(d) of the Telecommunications Law in January and sentenced to six months in jail over a satirical Facebook post of Tatmadaw Commander-in-Chief Senior General Min Aung Hlaing.
"The judge had no idea what I was talking about, he also didn't care," Htaike Htaike Aung told Frontier. "He was going in and out while I was talking, four times. He was even ordering pork fried noodles while on the chair rather than listening to what I had to say," she said.
"In these cases the judges have already made up their minds before the case so they don't really care what you have to say," added Ma Phyu Phyu Thi, co-founder and development manager at MIDO.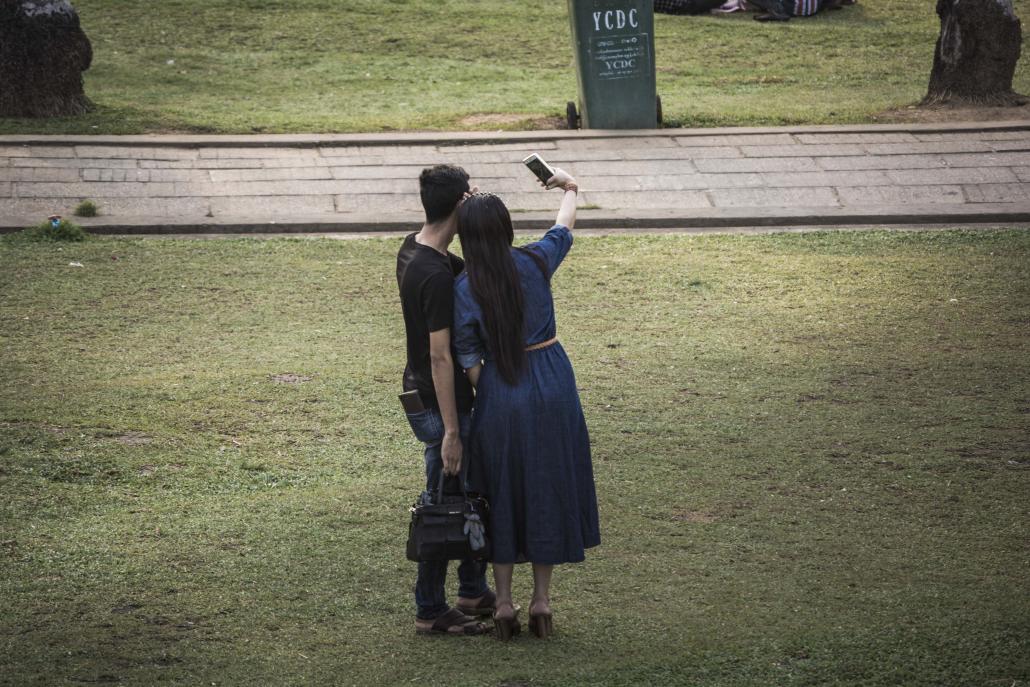 A campaign for awareness
Dr Michael Salter, a lecturer in criminology at the University of Western Sydney, has written that many men who use revenge pornography to humiliate a former partner believe a relationship is contractual. They believe that if their partner terminates the contract by ending the relationship they must seek retribution.
There are men with similar attitudes in all cultures and societies, and some of their victims have fought back.
Among them is an American, Dr Holly Jacobs, whose life was devastated after a former boyfriend posted explicit images of her on scores of websites after they broke up in 2009.
After three years of damage control, including changing her name, Jacobs decided to go public about her experience. She also created a website, EndRevengePorn.org, and established an NGO, the Cyber Civil Rights Initiative, of which she is chief executive and executive director. It campaigns to make non-consensual pornography an offence in every American state.
The international community has been slow to take action against revenge pornography, with the Philippines being the first country to outlaw it under a 2009 law that includes a maximum penalty of seven years in prison. Revenge porn laws have since been introduced in Israel, Germany, Britain, nearly 30 American states and the Australian state of Victoria.
The Myanmar Centre for Responsible Business warned of an emerging culture of non-consensual pornography in an impact assessment of the country's rapidly-growing ICT sector published last September.
The report warned that "when private intimate content is shared publically, it can often go viral, spreading beyond the original platform it was posted to, leaving the victim with limited options for remedy".
The centre's director, Vicky Bowman, told Frontier that legislation was needed and that it should use gender neutral language.
She said one option was an amendment to the draft law prohibiting violence against women, as was suggested by the centre in its ICT impact assessment last year.
"The alternative might be to address [the issue] in a data privacy law which we have argued is long overdue but for which there is no draft," Bowman said.
Advocates of laws prohibiting non-consensual pornography say gender neutral language is necessary to avoid any legal imbalance.
The importance of such language was mentioned in a submission earlier this year to an Australian government inquiry into non-consensual pornography from a branch of the Young Women's Christian Association.
"On the issue of gender inclusivity, when forming legislation, gender neutral language should be used, such as 'they', 'them', 'individual' or 'person', and terms such as 'he'/'she' should be avoided," it said.