By YE MON | FRONTIER
YANGON — A Yangon Region High Court judge has dismissed an appeal by Reuters reporters Ko Wa Lone and Ko Kyaw Soe Oo, upholding their sentence of seven years each in prison under the Official Secrets Act.
Judge U Aung Naing told the court on Friday that lawyers acting on behalf of the two imprisoned journalists had failed to submit sufficient evidence proving their innocence.
Wa Lone and Kyaw Soe Oo were arrested in December 2017 while investigating atrocities committed against the Rohingya, to which the military has since admitted.
Their arrest and eight-month trial, in which a witness for the prosecution testified that the pair had been set up by a police commander, prompted global concerns about deteriorating press freedom in Myanmar.
Aung Naing said on Friday that there was insufficient evidence to conclude the reporters had not intended to damage national security and the national interest. Defence lawyers failed to adequately explain why the law had been applied incorrectly; instead, they simply set out the facts of the case, he said.
He concluded that the Northern District Court sentence of seven years' imprisonment was "fair".
Defence lawyers at an appeal hearing on December 24 submitted seven reasons why the reporters should be acquitted. They said the district court's ruling was a "failure of justice" and that it had neglected to consider the testimony of Police Captain Moe Yan Naing, who revealed that documents were planted on reporters.
Wa Lone's wife Ma Pan Ei Mon, who was at the court on Friday to hear to the verdict, told Frontier that she had no words to express her feelings about the decision, saying only that she was deeply upset.
"Wa Lone is waiting for the result of the appeal. I don't know how to break it to him, he could be really disappointed about it," she said.
Reuters editor-in-chief Mr Stephen J Adler said today that the High Court ruling was "yet another injustice" inflicted upon Wa Lone and Kyaw Soe Oo.
"They remain behind bars for one reason: those in power sought to silence the truth. Reporting is not a crime, and until Myanmar rights this terrible wrong, the press in Myanmar is not free, and Myanmar's commitment to rule of law and democracy remains in doubt."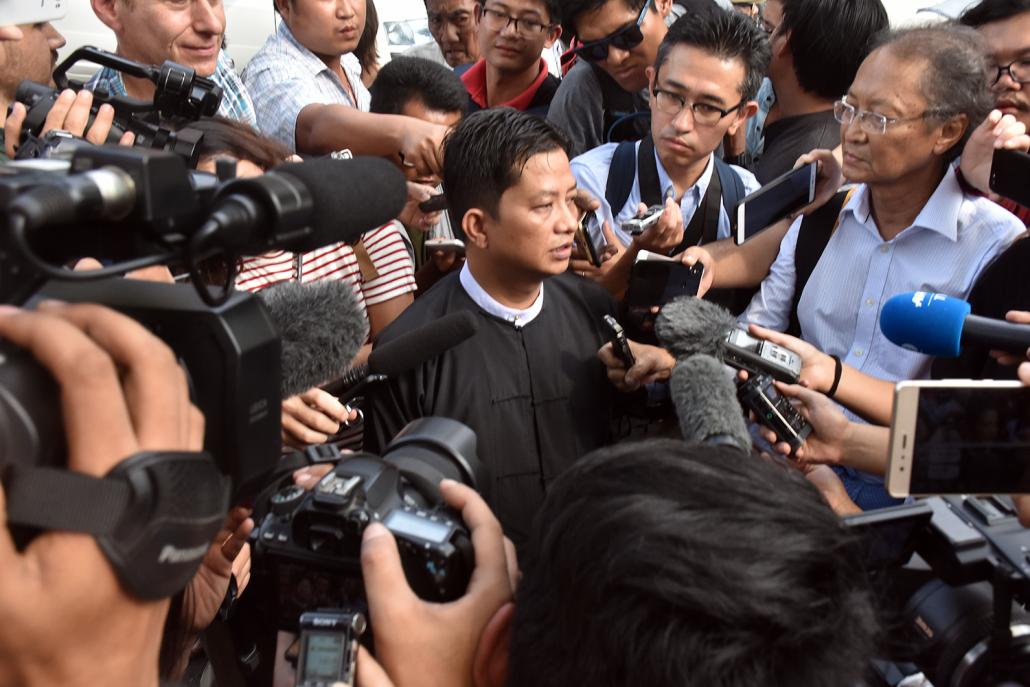 Lawyer U Than Zaw Aung told dozens of assembled reporters outside the Yangon courtroom on Friday that he was intensely disappointed in the decision. He said he would discuss the next steps, which could include an appeal to the Union Supreme Court, with the journalists and their families.
"Today's decision is a barrier to media freedom and freedom of expression," he said.
This view was echoed by Reporters Without Borders, which issued a statement to say it was appalled to learn the decision had been upheld and urged Myanmar's highest authorities to end the "nightmare".
"Everything about this case, both the substance and its conduct, called for their convictions to be overturned, but Myanmar's justice system has shown its determination until the very end to punish Wa Lone and Kyaw Soe Oo although they just did their job as reporters," said Mr Daniel Bastard, the head of RSF's Asia-Pacific desk.
"This decision constitutes yet further evidence, if any were needed, of the judicial system's unacceptable manipulation by the executive and dramatically signifies the end of Myanmar's democratic transition. We now call on its highest political officials to pardon these journalists as quickly as possible so that they can be reunited with their families."