By BEN DUNANT | FRONTIER
YANGON — A judge on Monday sentenced journalists Ko Wa Lone and Ko Kyaw Soe Oo to seven years in prison for possessing "secret" government documents, sparking global outrage and angry scenes outside the court in Yangon.
In his hour-long judgement, Yangon Northern District Court judge U Ye Lwin said the two reporters, who work for the Reuters news agency, had not followed "journalism ethics" and that journalists in Myanmar are duty-bound to respect state secrets.
Their trial under the Official Secrets Act, a colonial counter-espionage law, has marked a dramatic slide in press freedom in Myanmar, where the civilian government led by State Counsellor Daw Aung San Suu Kyi had pledged to further democratic freedoms.
The judge delivered an exhaustive account of the trial and said paper documents found at the time of their arrest, and information subsequently obtained from Wa Lone's smart phone, show that the journalists had consistently tried to obtain confidential government information that could have been passed on "to enemies of the state and terrorist organisations".
The judge mentioned that the phone number of an officer in the Arakan Army, an ethnic armed group in conflict with the Myanmar army, was found in an old notebook belonging to Wa Lone during a police search of his house.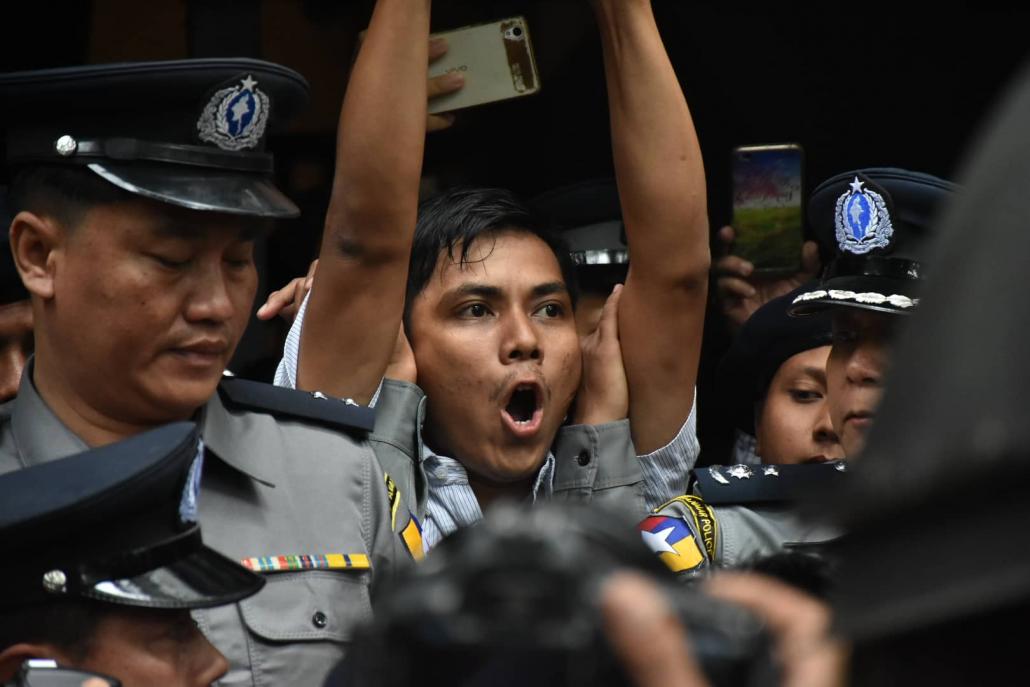 Wa Lone, 32, and Kyaw Soe Oo, 28, were both made to stand handcuffed throughout the judgement, flanked by police officers. Kyaw Soe Oo's family members sat close behind, his three-year-old daughter crying partway through the proceedings. Wa Lone's wife and daughter, born last month, were not present in the court.
Wa Lone told friends and reporters outside the courtroom afterwards, "We know we did nothing wrong. I have no fear. I believe in justice, democracy and freedom."
When the two journalists were driven out of the compound, on the way back to jail, angry activists and local reporters hammered on the police van and tried to block its passage. Wa Lone and Kyaw Soe Oo smiled and made thumbs-up gestures as they left.
Defence lawyer U Khin Maung Zaw told Frontier after the verdict that they would be "reviewing all options", including launching an appeal at the Yangon Region High Court.
He said the judge's decision was "bad for the rule of law, bad for freedom of expression, bad for the right to information, and bad for democracy."
The small courtroom was cramped with family members, local and foreign journalists, and diplomats, including the US and British ambassadors in Myanmar. British ambassador Dan Chugg told reporters outside the court, "the verdict today has struck a hammer-blow to the rule of law in Myanmar."
He said, "The judge has ignored the evidence in the case and also ignored Myanmar laws. We're extremely disappointed. It's a bad day for Myanmar and we call for the journalists to be released immediately."
The two reporters have been detained for eight months in Yangon's Insein Prison, making almost weekly court appearances. The trial has exposed substantial holes in the police's version of events.
The two were arrested on December 12 in northern Yangon. According to the reporters, police sources had invited them to dinner, where they were handed rolled-up documents; on leaving the restaurant, they were arrested and accused of acquiring confidential papers detailing security deployments in Rakhine State.  
Police officially deny the meeting took place, but a police witness, Captain Moe Yan Naing, told the court in April that a police commander had ordered junior officers to set up Wa Lone for arrest with planted documents.
During Monday's judgement, judge Ye Lwin said that Moe Yan Naing's testimony was not corroborated in the statements of other witnesses so could not factor into his judgement.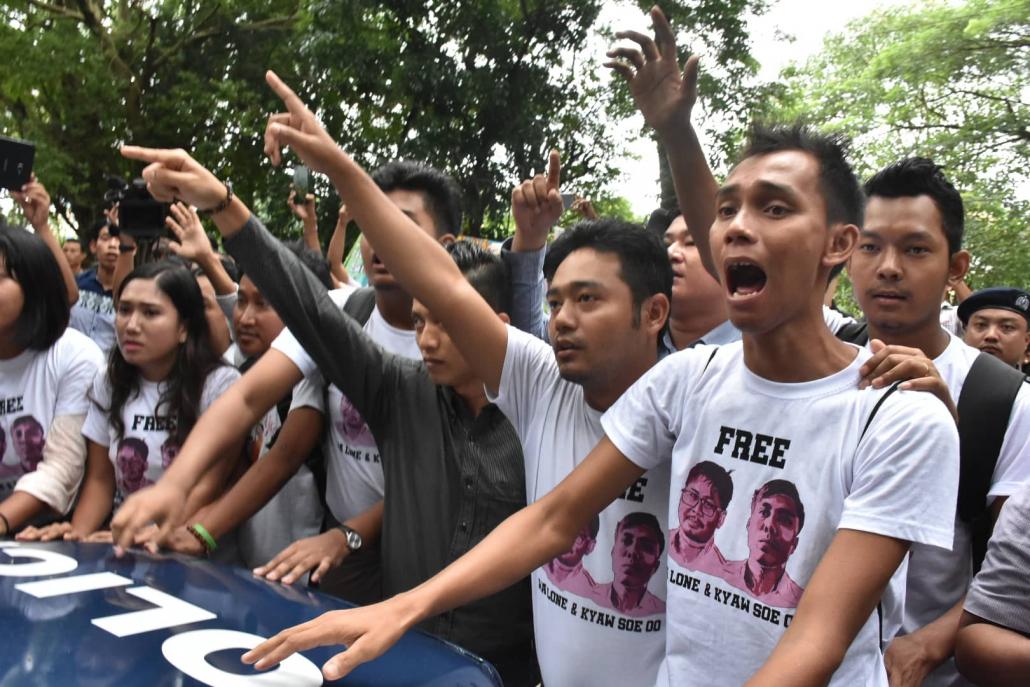 Wa Lone and Kyaw Soe Oo had been investigating an army-led massacre of ten Rohingya Muslims in Inn Din village of northern Rakhine State in September last year. After the journalists' arrest, the military admitted that the killings took place and in April said it had sentenced seven of its soldiers to ten years in prison.
"Today is a sad day for Myanmar," said Reuters editor-in-chief Stephen J. Adler. "Without any evidence of wrongdoing and in the face of compelling evidence of a police set-up, today's ruling condemns them to the continued loss of their freedom and condones the misconduct of security forces."
Adler said Reuters would consider "whether to seek relief in an international forum."
"The outrageous convictions of the Reuters journalists show Myanmar courts' willingness to muzzle those reporting on military atrocities," said Human Rights Watch's Asia director Brad Adams. "These sentences mark a new low for press freedom and further backsliding on rights under Aung San Suu Kyi's government."
United Nations Resident and Humanitarian Coordinator in Myanmar Knut Ostby said, "A free press is essential for peace, justice and human rights for all. We are disappointed by today's court decision."
He said, "Wa Lone and Kyaw Soe Oo should be allowed to return to their families and continue their work as journalists."