A planned survey of religious buildings to identify those constructed without permission has caused confusion and concern within the Buddhist and Muslim communities.
By MRATT KYAW THU | FRONTIER
ONE REGULAR criticism of the new government is that it is too often wasting time and energy on unimportant issues, rather than those that urgently require attention.
In some cases, the wider implications of policy decisions appear to have not been considered carefully. As a result, the government has provoked conflict unnecessarily, such as when the Yangon Region administration took on betel sellers – and, in the process, the whole betel supply chain.
More recently, the Ministry of Religion and Culture has issued an instruction that some fear could further heighten religious tensions for seemingly little gain.
Documents provided to Frontier show Mandalay Region's Religion Department sent an order to religious organisations and associations – Buddhist, Muslim, Christian and Hindu – to conduct a survey of religious buildings and identify those built without permission. The order states that illegal buildings of all religions would be the subject of action under existing laws. This is likely to take the form of a warning to residents to leave the buildings, followed by demolition.
The buildings are illegal because they have not been constructed with permission from the Ministry of Religion and Culture. To get permission, the buildings must be on land zoned as "green" – the official designation for religious sites.
The decision to survey religious buildings follows the destruction of a mosque in Kachin State's Hpakant Township in June. According to media reports, local Buddhists torched the building, which had been constructed without permission, after its owners failed to comply with a government deadline to tear it down.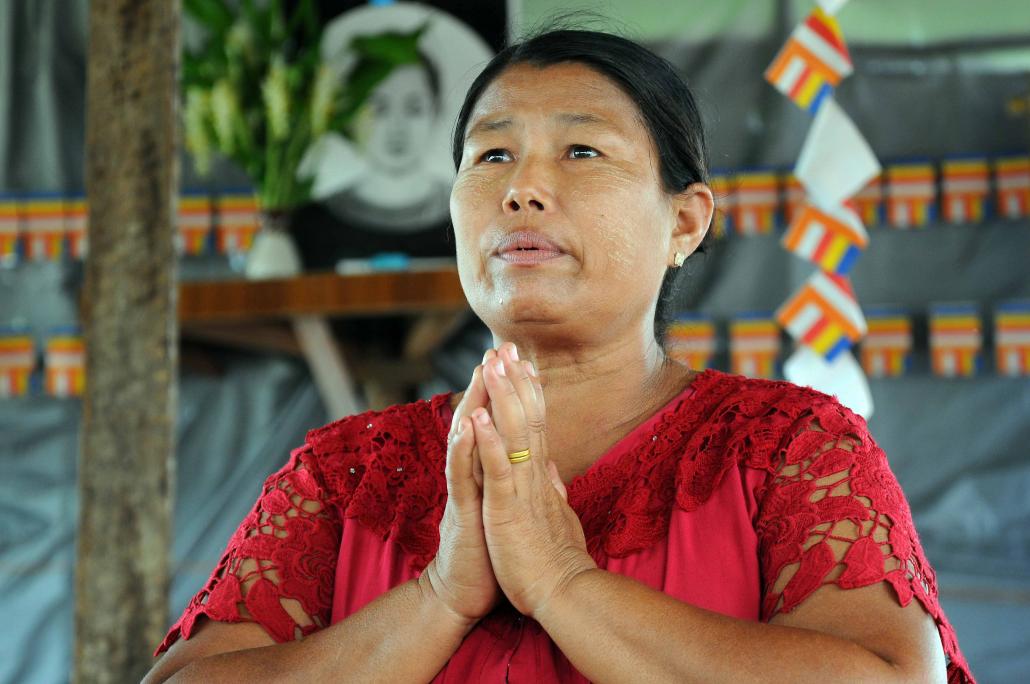 The August 8 order was sent from the regional office to township-level religious associations in Mandalay and Yangon. The order set an August 15 deadline, but sources in the Mandalay Region's Religious Affairs Department said they had not yet received any lists of illegal buildings.
Frontier has not been able to confirm if the order was sent to associations in other states and regions.
U Tun Nyunt, a director in the Religious Affairs Department, said the order was not new. Rather, it reaffirmed an existing order issued by the State Sangha Maha Nayaka Committee, the country's peak Buddhist organisation, in 1980.
"The order from 1980 remains in force," he said, declining to comment further.
In Yangon, the police and township authorities have already ordered the demolition of some monasteries and mosques that were apparently built without permission, although the orders have not yet been carried out.
One of the monasteries slated for demolition is in Mingalardon Township's Pyinmabin Ward. Nestled among squatter homes, the authorities say it has been built on state-owned land without permission. Both Yangon City Development Committee and the Tatmadaw claim ownership of the site, which has now been named a "military-municipal area".
The abbot, U Visuddha, 45, has already been forced to leave the building, and is staying temporarily at a monastery in the Shwe Paukkan area of North Okkalapa Township.
"The township authorities have allowed me to come once a week [to preach] as my devotees requested the authorities to allow me to do so during [war-dwin]," he said, referring to the approximately three-month period often referred to as Buddhist Lent. "But I have no idea where I should go after this three months."
U Visuddha bought the land on which the monastery sits for K4.5 million about three years ago.
Twice this year the authorities have demolished illegally-built homes in the area, but so far they have not touched the monastery.
There is likely good reason for this. Buddhist nationalist group Ma Ba Tha – officially known as the Association for the Protection of Race and Religion – has been using social media to campaign against the Religion Department order. It is encouraging Buddhist organisations to defy the instruction.
At Pyinmabin, about 200 households worship at U Visuddha's monastery. One of the devotees is Daw Hla Thein Yin, 52, who moved to the area about four years ago. She said that U Visuddha's followers would not stop the authorities from demolishing their homes, they would intervene if any attempt was made to destroy the monastery.
"We won't let them touch even a thin bamboo strip of the monastery. We'll sacrifice our lives if we have to," she said.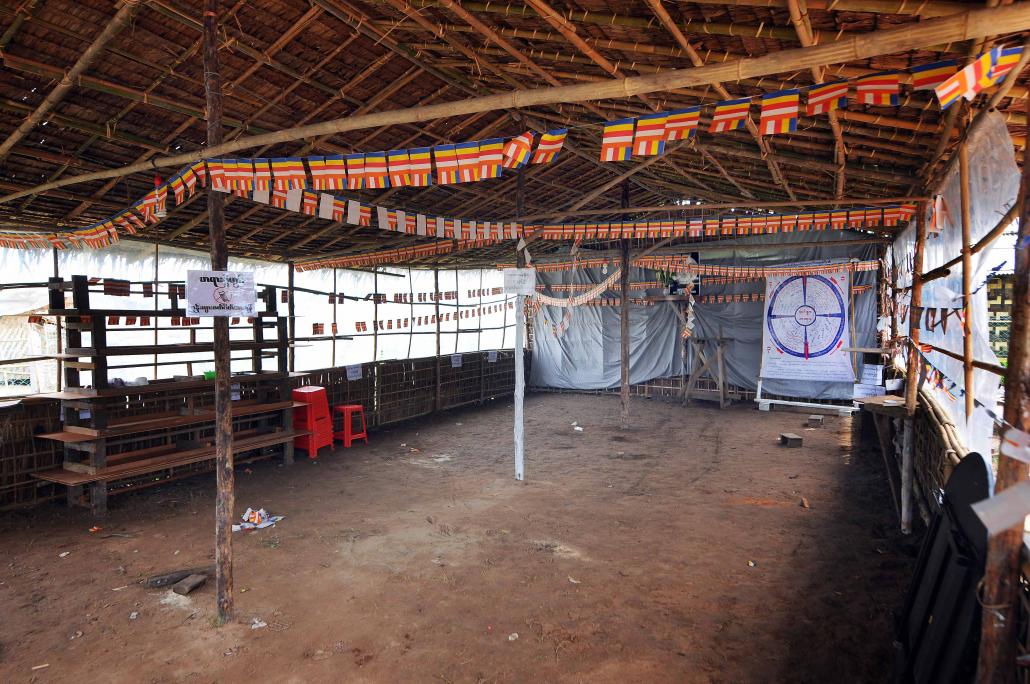 Her response, and the lobbying by Ma Ba Tha in the background, highlights the challenges the government will face in implementing the order.
Buddhism is by far the most popular religion in Myanmar, at 88 percent of the population according to the 2014 census, and the government's demolition list will almost certainly be dominated by Buddhist structures.
Because of its dominant status, many Buddhist buildings, including monasteries, have been built without official permission based on an "understanding" with local authorities.
The government said in an August 3 statement that 24 monasteries in the Nay Pyi Taw Council Area were "cleared" in February 2014, while another 173 illegal monasteries in Yangon Region, and 86 illegal monasteries and other illegal religious edifices in other states and regions, were "facing prosecution in accordance with the law".
While the majority of illegal structures are not a source of tension, occasionally they do become flashpoints for religious conflict.
In one recent high-profile case in Kayin State, a prominent monk, Myaing Gyi Ngu Sayadaw, built stupas inside the compounds of Baptist churches, as well as one near a mosque. He claimed that he built the structures after being inspired by a dream.
Generally, though, it is Muslim mosques and religious structures that are the source of tension. It's extremely difficult for trustees to get permission to expand even existing structures, let alone construct new buildings.
Earlier in August, Buddhist residents of Yangon's Thanlyin Township issued a warning to halt construction of a nearly-completed mosque and adjoining buildings.
It is unclear whether the mosque was being constructed with official permission. But to avoid further confrontation between residents, the authorities placed a sign on the building stating that they had forbidden any further construction.
Muslim leaders told Frontier they feared the illegal buildings order would be used to destroy long-established mosques and prayer halls.
Since the August 8 order, Buddhist nationalists have already begun identifying Muslim buildings they claim have been built illegally. His organisation has not received any request from the government to conduct a survey of illegal buildings, but rumours are spreading within the Muslim community about the plan.
U Kyaw Nyein, a Muslim lawyer and executive committee member of the All Religions Peace and Unity Association, said he expected there would be "many problems" if the government followed through with its plan to identify and take action over illegal structures, as many Muslim buildings do not have the necessary permits.
In particular, many mosques from the colonial era have no official permit and are technically illegal.
"When the government wants to demolish a mosque or worship hall, they always give the reason that there's no official permission for it," Kyaw Nyein said. "If they describe those heritage mosques as illegal, all will be demolished in the near future.
Top photo: An official government sign attached to a structure within the grounds of the Paanch Peer Dargah Mosque in Thanlyin Township warns of imminent demolition – as well as penalties for the removal of the sign. (Steve Tickner / Frontier)