Muslim organisations are dismayed at a recent order from the military-controlled General Administration Department restricting prayer and teaching, and ordering madrassas to teach only in Burmese.
By HEIN KO SOE | FRONTIER
ISLAMIC ORGANISATIONS have expressed concern at a recent order from the General Administration Department that mosques and madrassas only use Burmese language, and that religious services and classes only be held in permitted places.
They have warned that the order, which was circulated by some township GAD offices last month, could impact their right to freely practise their religion.
U Wunna Shwe, joint secretary of the Islamic Religious Affairs Council, said his organisation had confirmed that GAD offices in some townships in Yangon Region, Kachin State and Ayeyarwady Region had issued the order.
"We are worried that it will restrict the sharing and teaching of our religious curriculum to future generations," he said. "The order can destroy our freedom to teach our religious curriculum."
He said he was particularly concerned about the requirement to only teach and pray in permitted places. The government has not granted approval for the opening of new mosques and madrassas since 1962, according to Muslim leaders, while some existing Islamic sites have been closed as a result of communal conflict or pressure from nationalist groups.
In April 2017, the authorities closed two madrassas in Yangon's Thaketa Township under pressure from nationalist activists, who alleged the schools had been used for prayer services. Several months later, the authorities reportedly ordered Muslim leaders to close a madrassa in Yangon's Taikkyi Township that had been rebuilt without permission, four years after the original building was burned down in a communal riot.
Recent, reliable figures on the number of state-approved mosques and madrassas are rare. A 1996 book, Sasana Alin ("Light of Teaching"), gives a figure of 2,266 mosques and 759 madrassas nationally.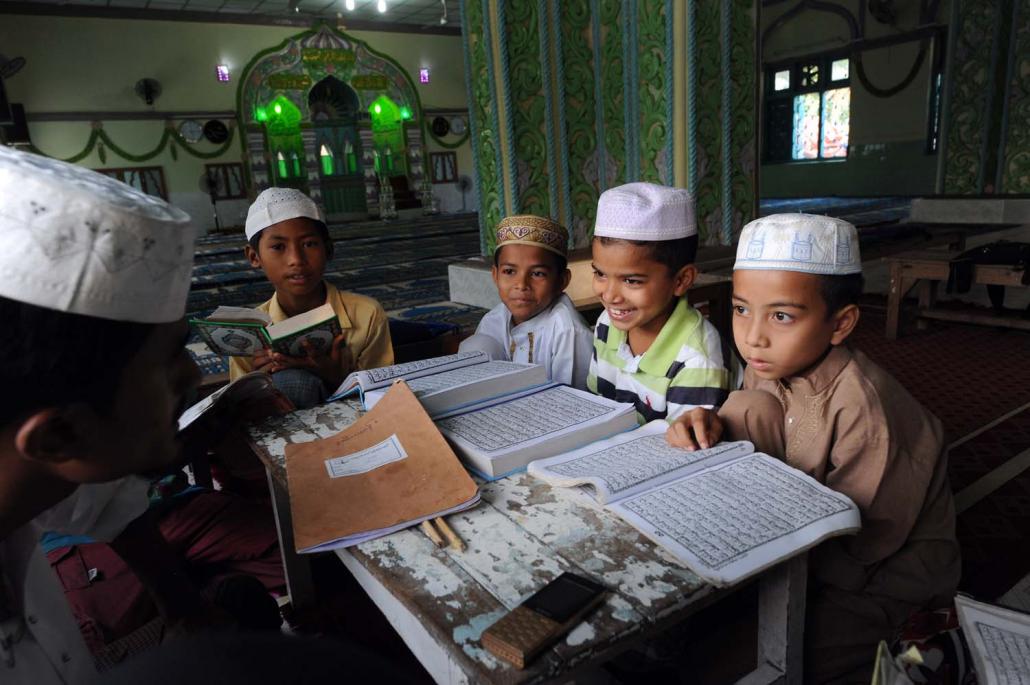 Wunna Shwe said Islamic groups had sought a meeting with Minister for Religious Affairs and Culture U Aung Ko to discuss the issue.
"We are teaching our religious classes at madrassas but some places have been closed by the government, and some places have no mosque or madrassa, so how can we teach and pray there? These are things we want to discuss with the minister," he said.
Mixed messages
Frontier confirmed that township administrators in Kantbalu Township, Sagaing Region, and Yangon's Mingalar Taung Nyunt Township had both issued a notice in late June instructing all ward and village-tract administrators in the township to check if Islamic classes were being held in buildings without the required permit so that it could "report back" to the Ministry of Religious Affairs and Culture.
"It has been reported that in some wards and residential areas and houses in some states and regions, Arabic-language Islamic culture schools are operating unlawfully. Praying and worshiping in residences and schools are prohibited," the notice said, warning that those who violated this prohibition would face legal action.
It added that a "management committee meeting" of the Ministry of Religious Affairs and Culture had decided that Islamic classes could only be held at mosques and religious buildings, and that the language of instruction must be Burmese. It also said that schools and mosques should translate their curriculum into Burmese and submit them to the state or region government along with the original curriculum.
The notice has caused confusion, however, because the Ministry of Religious Affairs and Culture in Nay Pyi Taw says it had only asked for Burmese translations of the curricula used in mosques and madrassas. Director U Aung San Win told Frontier that it had sent the request to the country's five major Islamic organisations on June 2.
"We don't understand their language so we just asked them [Islamic organisations] to translate it and send to the ministry," he said. "But there was no reference to only teaching in Myanmar language."
Aung San Win said that the restrictions on language and where classes can take place may have been added to the ministry's order by state and region governments. "They can do it, because we decentralised some decision-making in 2012," he said.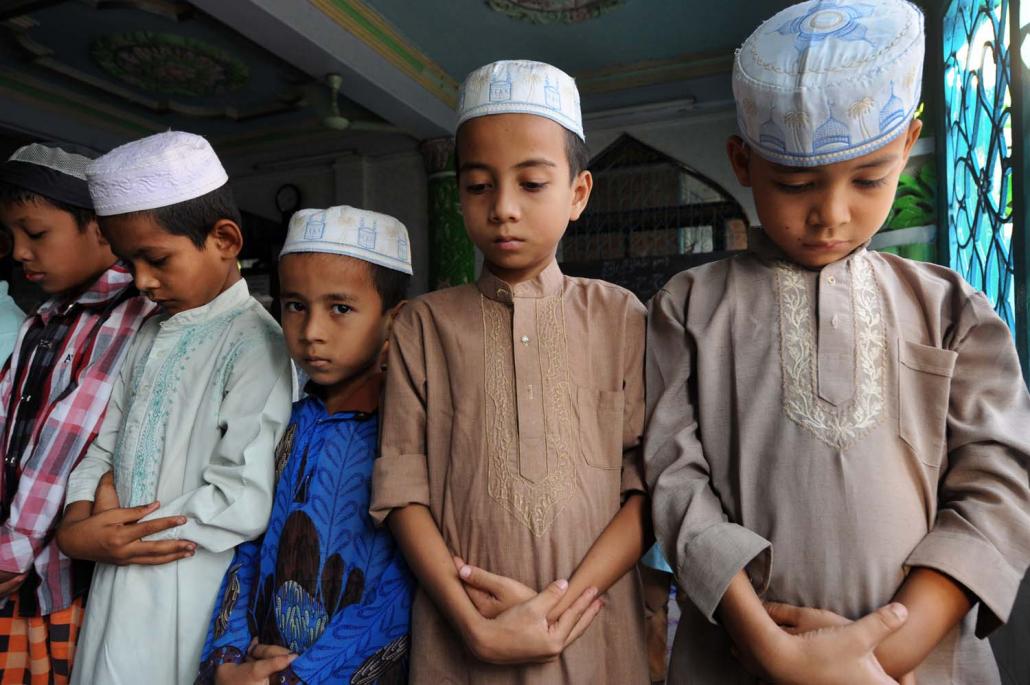 Mingalar Taung Nyunt Township administrator U Nyi Nyi Win said the regional government had sent the order to district and township GAD offices, but he was unsure whether it differed from the Ministry of Religious Affairs and Culture's original instructions.
Misusing the Annan commission
Aung San Win also said that the ministry had sought the translations because it wanted to write a curriculum for Islamic schools, and claimed this had been a recommendation of the Advisory Commission on Rakhine State, which was headed by former United Nations secretary-general Mr Kofi Annan.
But the advisory commission's final report makes no mention of reviewing or drafting curricula for Islamic schools. Its recommendations are also focused on Rakhine State, while the ministry's order applied to schools around the country.
Commission member Ms Laetitia van den Assum confirmed that the instructions from the ministry and GAD "have nothing to do with the Annan commission".
She said the order may be in contravention of both the Universal Declaration on Human Rights and the Child Rights Convention, which Myanmar is party to.
While the convention states that freedom of religion can be limited to protect public safety, order, health, or morals, or the fundamental rights and freedoms of others, this has generally been interpreted as not being only for one or a limited number or religions.
"In this particular case it would seem that because the instructions are only intended for Islam schools, they should be regarded as discriminatory," she told Frontier.
"I think it is important that the [Ministry of Religious Affairs and Culture] discusses any concerns it has with the various cultural and religious Islamic organisations. That should always be a first step, one that can promote better understanding and collaboration on both sides."
Nyi Nyi Win, the Mingalar Taung Nyunt administrator, said he didn't think the instruction was related to the Advisory Commission on Rakhine State. "At the moment in Yangon Region Muslim people are worshipping and studying in places without permission. The government just wants to enforce the law."
Muted impact
The GAD order does not seem to have much impact so far. Nyi Nyi Win said he had not yet even forwarded it to ward administrators, but planned to do so soon.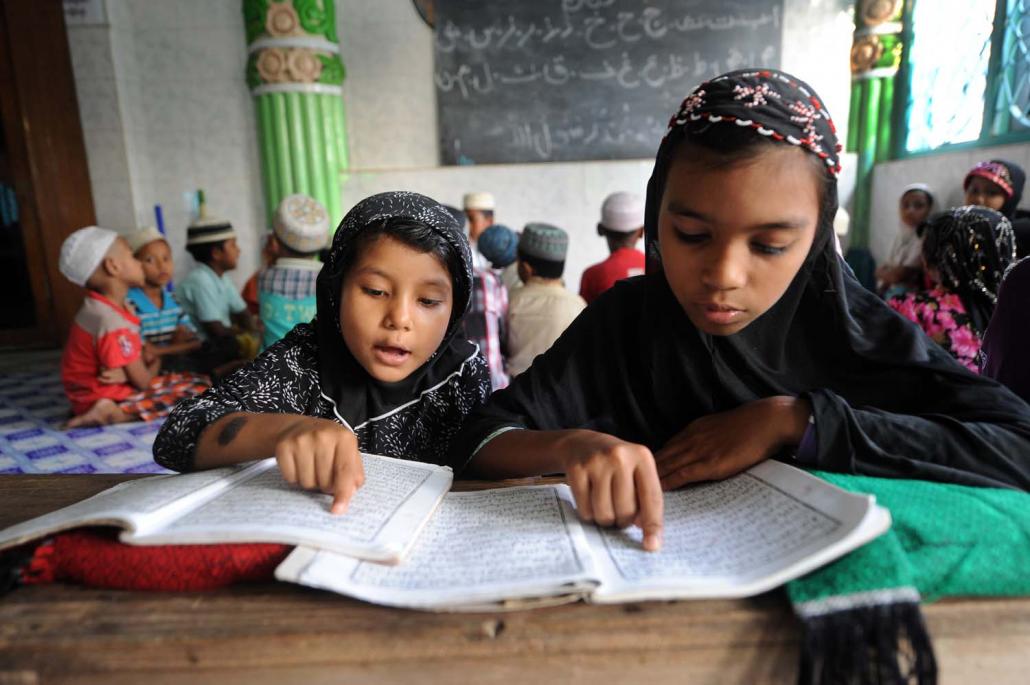 But the potential effects are significant, particularly because of the informal prohibition on opening new mosques and madrassas, and re-opening those that have been closed because of conflict.
Additionally, while madrassas in upper Myanmar already tend to teach in Burmese, most madrassas in lower Myanmar use Urdu because of their closer ties with South Asia. Arabic and Persian are also sometimes used, although less frequently.
In her recent update to the Human Rights Council, UN special rapporteur on human rights in Myanmar Ms Yanghee Lee said she was "seriously concerned" at reports an instruction restricting Islamic teaching had been introduced.
"The Myanmar government must respect the rights of all people to freely teach and study their religion in their chosen tongue," she told the council on June 27.
U Kyaw Khin, general secretary of the Myanmar Muslim National Affairs Organization, said madrassas are closed for holidays so there had been little immediate impact. However, once classes resume after rainy season there might be confrontations over the issue.
"Take South Dagon for example – there are no officially approved mosques and madrassas in the whole township. We normally run them after negotiating with the regional authorities," he said. "But if the authorities follow the GAD order closely, it will be very difficult for Muslims to worship or study."
TOP PHOTO: Muslim girls study the Koran at an Islamic school. The General Administration Department recently issued an order requiring classes be conducted in Burmese language. (Steve Tickner | Frontier)