Myanmar has one of the highest death rates in Southeast Asia from rabies, a 100 percent vaccine-preventable disease.
By OLIVER SLOW | FRONTIER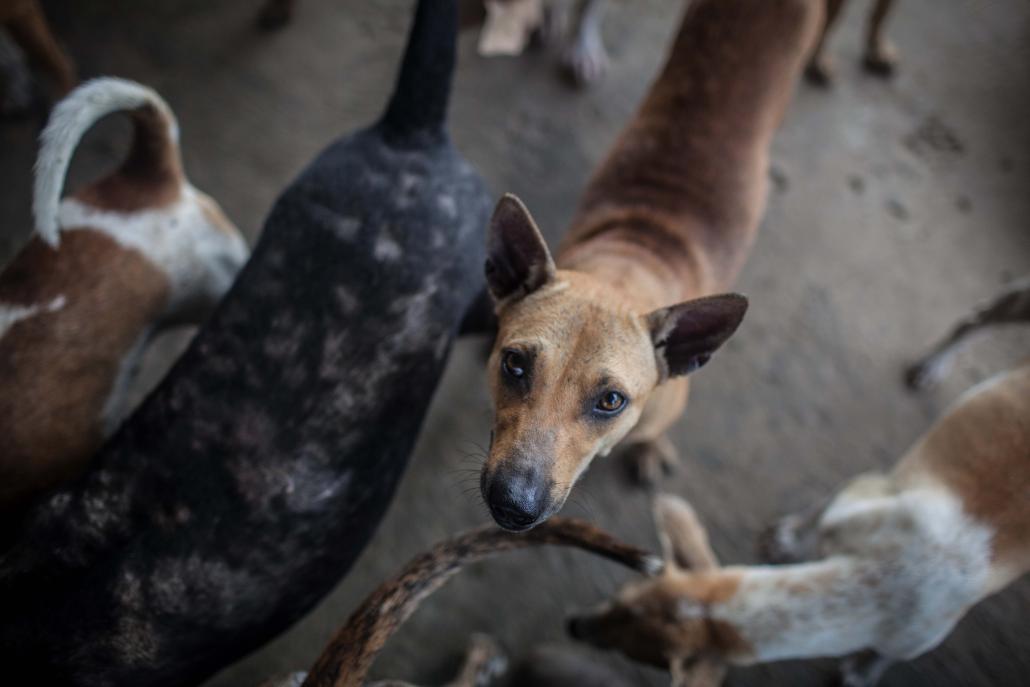 The spacious compound of the Yangon Animal Shelter is hidden down a quiet lane off a main road on the city's northern outskirts. As Frontier arrived for an interview, the shelter's 350 dogs collectively raised their heads and rushed to the gate to meet the visitors and vie for their attention.
"Don't worry, they won't bite," said U Maung Maung Lay, also known as Philip, who manages the centre. "Anyway, they are all vaccinated against rabies, so no problem." The dogs have all been recently vaccinated by the shelter's resident veterinarian, Dr Maw Maw Lwin. As we talk, it is difficult to hear what she is saying above the aggressive barking directed at her by Moose, an ageing hound. "He doesn't like me because I do the injections," said Dr Maw Maw Lwin, laughing. As she moves towards Moose to pet him, he whimpers and seems to enjoy the attention in what appears to be a display of grudging respect.
Although all of the shelter's dogs are vaccinated against rabies, Dr Maw Maw Lwin said she knows of two Yangon residents who have been infected with the disease in recent years. One was a man who had been bitten by a rabid cat, which had been bitten by a dog, and who died a few days after being admitted to Insein Hospital. The other case involved a young boy who was bitten by an infected puppy and survived because he received treatment in time.
Rabies is a 100 percent vaccine-preventable disease that kills between 35,000 and 59,000 people each year, World Health Organization figures show.
There are between 23,000 and 25,000 rabies deaths each year in the 11 countries that comprise the WHO's Southeast Asia region, of which about 20,000 deaths occur in India. Myanmar has the second highest death toll among the 11 countries — higher than Bangladesh, Thailand and Timor Leste.
"Rabies is a neglected disease of poor and vulnerable populations whose deaths are rarely reported and where human vaccines and immunoglobulin are not readily available or accessible," a WHO fact sheet says.
Humans are usually infected after a deep bite or scratch by an infected animal. In Asia and Africa the disease is usually transmitted by dogs, but bats are the main source of rabies deaths in the Americas, the WHO says.
Transmission occurs when "infectious material", usually saliva, comes into direct contact with broken skin. Human-to human transmission by a bite is theoretically possible, but has never been confirmed.
The incubation period for rabies is typically between one and three months, but may vary from one week to one year. Once the symptoms appear there is no cure. Residents and travellers in Southeast Asia are advised to be vaccinated against the disease and, if bitten, need a follow-up course of two or three injections. Anyone who has not been vaccinated is more at risk and should see a doctor immediately after first thoroughly washing the wound with soap and water to try to eliminate the rabies virus from the body.
There are between 23,000 and 25,000 rabies deaths each year in the 11 countries that comprise the WHO's Southeast Asia region, of which about 20,000 deaths occur in India.
Myanmar has the second highest death toll among the 11 countries — higher than Bangladesh, Thailand and Timor Leste — with about 1,000 reported deaths a year, though the number of fatalities is likely to be higher because many cases are unreported, especially in rural areas.
"In terms of vaccinations, in Myanmar the priority is Japanese encephalitis, followed by typhoid, then rabies. It is especially important for children playing with dogs to get vaccinated, as well as runners, bikers and hikers, who are more at risk of being attacked by dogs," said Dr Olivier Cattin, general practitioner at Yangon's Parami Hospital."It is important to treat every dog bite as a rabies case and seek medical help, because you never know [if the dog has rabies]. It is important not to take risks," he said.
In a January 2014 report, IRIN said it was estimated that "upwards of 75 percent of stray dogs in Myanmar have rabies", but that figure was likely to be heavily inflated, said Dr Hla May Oo, the assistant head of Yangon City Development Committee's Veterinary and Slaughter Houses Department.
"Although we have had incidences of rabies in Myanmar, the amount of dogs carrying rabies in Myanmar is very low, and the amount of humans being infected is even lower," Dr Hla May Oo said.
The department's rabies prevention activities include vaccinating pet dogs, with 6,221 animals vaccinated in 2014-2015. Most of its work centres on the challenging task of trying to control the city's stray dog population, estimated by the department earlier this year at 125,000, up from 73,000 in 2014.
The YCDC is planning to make Yangon rabies-free by strengthening its control and prevention activities, including a three-year program that will begin in Sanchaung and Mingalar Taung Nyunt townships. The program will include gathering detailed information about rabies and dog populations, raising public awareness about the disease, and providing information about preventing dog bites as well as stray dog sterilisation and vaccination campaigns.
The department has come under criticism in the past for using poison-laced meat to control the stray dog population, and in July 2014 introduced a sterilisation treatment program. It involves anaesthetising strays and taking them to centres to be sterilised and vaccinated.
It continues to use what it calls the "lethal method", which Dr Hla May Oo defended as being necessary to control the large number of strays on the city's streets.
She said a challenge to expanding the sterilisation program was the cost of anaesthetics.
"We are running out of these medicines, especially ketamine, and we have to rely on donors to provide them," Dr Hla May Oo said.