Across Sagaing Region, revolutionaries risk life and limb to fashion salvaged metal into weapons they hope will turn the tide in the war against the military.
By FRONTIER
There was an air of tense excitement as People's Defence Force fighters led the way to a broad, open field of yellow rice stubble. Frontier watched apprehensively as a young fighter positioned a newly made grenade launcher on his shoulder, braced himself for kickback, and pulled the trigger. There was a loud boom, smoke and a muzzle flash as the projectile exited the barrel.
The shooter grinned.
"I didn't die today. That means this weapon is ready to kill military dogs," he said.
Relief washed over the spectators. Improvised shoulder-fired weapons are increasingly being used to great effect in the war against Myanmar's military, but enemy soldiers aren't the only ones they have killed. Every time armament markers and PDF fighters test their new weapons, they risk their own lives in the process.
The military seized power in a coup in February last year, plunging the country into a political crisis that morphed into an armed uprising after security forces killed hundreds of peaceful protesters. Sagaing Region, in Myanmar's central Dry Zone, has emerged as a stronghold of newly formed anti-coup armed groups, while border states have also been wracked with fighting led by more established ethnic armed groups.
It is difficult to say exactly how many people have been killed or injured while testing weapons in Sagaing. The Tabayin PDF said about a dozen people have died with more than 20 injured in their township alone.
When Frontier visited Tabayin from January to March of this year, Ko Swe Min was lying in bed, recovering from wounds sustained to his left hand and leg while building an improvised explosive device.
Two of his friends in the PDF's weapons production team have sustained more permanent injuries: "one lost an ear while testing a shoulder-fired weapon. The other lost four fingers while making explosive devices. I'm glad I didn't lose any parts of my body," he said with a laugh, adding he will return to work as soon as he heals.
Since the coup, this Frontier journalist has travelled twice to Anyar, as the Burmese call the Dry Zone. Although historically spared from the fighting that has ravaged Myanmar's borderlands for decades, the people of Sagaing and neighbouring Magway Region have fiercely resisted the military takeover.
During the first visit in March last year the region was lively with anti-coup protests that were only just showing signs of transforming into armed resistance, as the military ruthlessly slaughtered protesters.
Obtaining weapons is somewhat difficult in central Myanmar, which is far from the smuggling lanes in the borderlands and the more well-equipped ethnic armed groups. During the first visit, budding resistance groups were gathering home-made single shot tumi rifles and Indian shotguns, both of which were traditionally used for hunting, while trying to smuggle more gunpowder in from India to make explosives.
By the second visit in January 2022, the region had become a war zone, with thousands displaced by clashes and military raids. But arms production had also grown by leaps and bounds, with many resistance groups now carrying far more powerful weapons.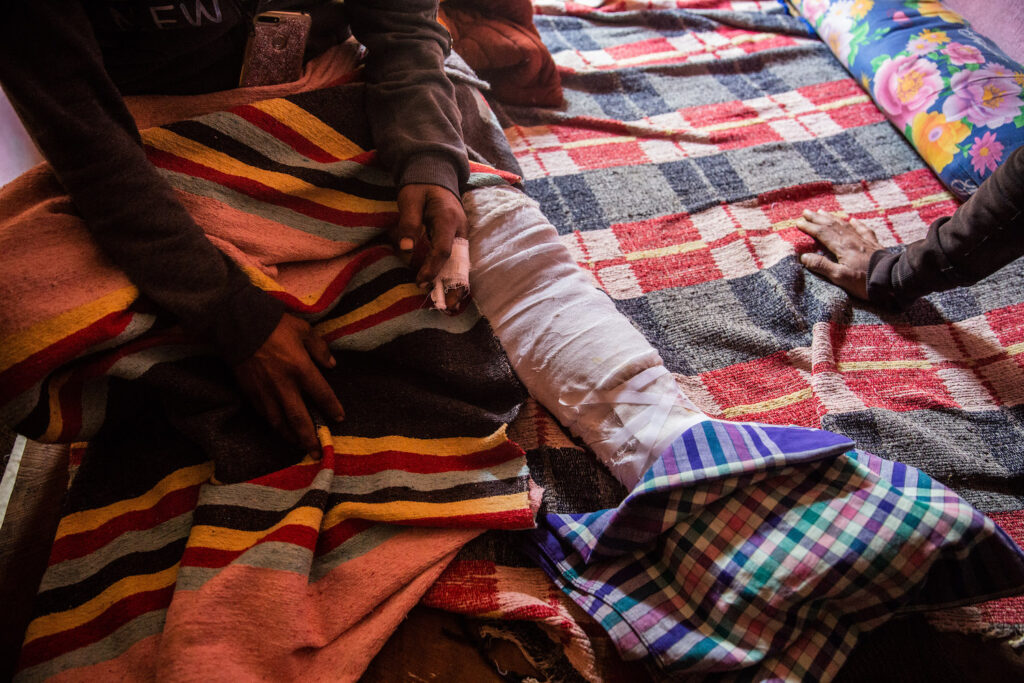 A community affair
Frontier visited at least five weapons-making workshops in Monywa, Ayadaw, Tabayin and Yinmabin townships of Sagaing.
In village compounds or shady jungle camps, men who once made a living as farmers or shopkeepers fashioned metal to make firearms ranging from pen-sized devices suitable for assassinations to 60mm mortars. However, the most impressive weapons were the shoulder-mounted firearms that function like a rocket-propelled grenade launcher.
These weapons are easily carried by one man and are highly destructive over a long range.
Another popular weapon was inspired by the Energa anti-tank rifle grenade, which was first produced in Belgium in the 1950s. The grenade is launched from specially made rifles and propelled by a cartridge filled with a smokeless propellant made from two explosives.
The weapons are so popular that the Ayadaw PDF declared October to be "Operation Energa" and is making the cartridges at makeshift workshops with donated money. The PDF says it costs about K40,000 (around US$20 at the official exchange rate) to make each cartridge and has appealed to the public for more donations.
Tabayin PDF fighter Ko Moe Wai said switching humble tumi guns for the new shoulder-fired weapons had allowed for more ambitious attacks.
For example, this May, the Ayadaw and Tabayin PDFs stormed a Tatmadaw camp while continuously firing homemade mortars and shoulder-fired grenade launchers. The Ayadaw PDF claimed in a statement that the enemy soldiers were pinned down for hours, with 10 killed including an officer.
"Our weapons became more effective than before because we have hardworking workshops," Moe Wai said, but conceded they are still not good enough to counter the military's weaponry, so are mostly used in guerrilla attacks and ambushes rather than open confrontation.
The Yaw Defence Force, based in Magway, said in August that it is developing a shoulder-fired rocket that could potentially down military helicopters, while appealing for public donations. The military's access to fighter jets and helicopter gunships gives it a major advantage over resistance groups, and the aircraft are often used with devastating effect on civilians.
"We don't have advanced factories, but we do have some basic technology, and according to our experiments, we believe our new weapons can take down the junta's helicopters," U Lin*, a spokesperson for the YDF, told Frontier. However, no military aircraft have so far been shot down by PDF groups.
One of the biggest challenges for the weapons workshops has been acquiring raw materials. Transportation restrictions imposed by the military have forced the resistance to improvise. They have sourced the metal they need from old pipes taken from ponds, broken-down tractors, old motorbikes and even ploughs. There have also been reports of resistance groups using metal from telecommunications towers that they have sabotaged because of their connections to the military.
In a village in Tabayin, weapons building is a community affair. Frontier watched as residents, including women and children, scoured the village for metal to fashion into projectiles and shrapnel.
After completing their search, they sat together, breaking the metal into small pieces and fitting them into gun and missile cartridges while snacking on tea leaf salad and sipping coffee.
"We put every bit of metal into production – cans, spoons, broken springs," said one villager. "In these villages, raw metal is even harder to find than gold, because even a child knows what to do when they find a piece of metal on the road – they pick it up and take it to the PDFs."
Here the villagers refer to small bits of metal as "dog food", a play on the fact that many refer to Tatmadaw soldiers as "dogs".
"Sometimes I feel pity for the soldiers who are hit by our explosives," said another villager. "He won't even know what kind of metal pieces are going into his body."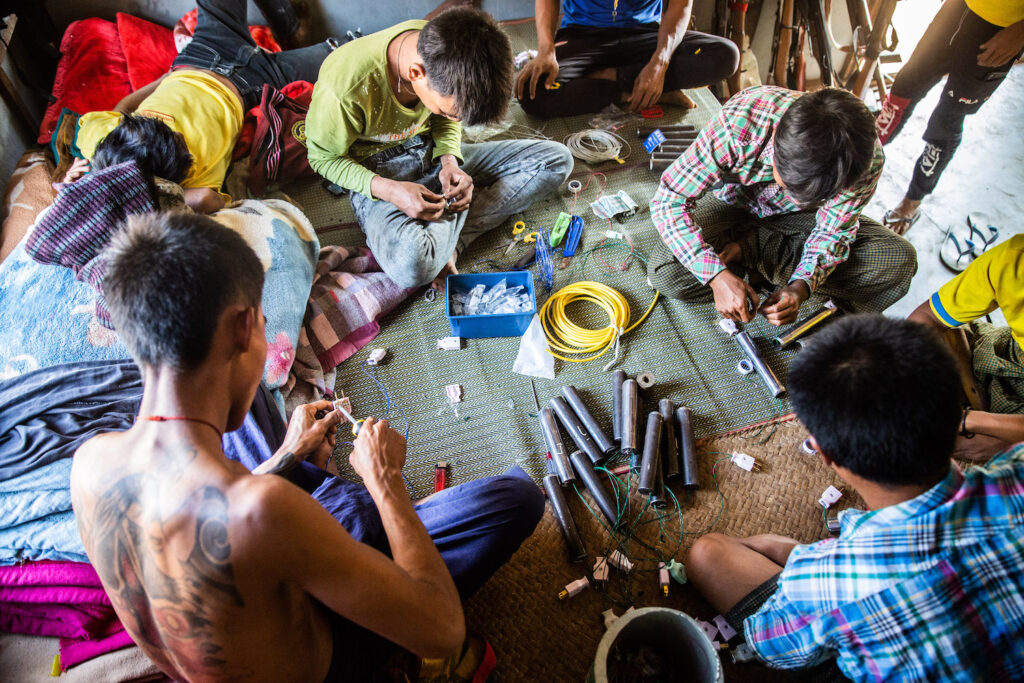 Little outside support
Resistance groups in Anyar are not exclusively dependent on homemade weapons. A limited number of weapons from the United Wa State Army and Kachin Independence Army – two of Myanmar's most powerful ethnic armed groups – are also in circulation, but not nearly enough to arm the thousands of revolutionaries.
The UWSA has not joined the broader anti-coup movement, so Wa-made weapons typically come from third-parties. The KIA has more deeply cooperated with the National Unity Government, a parallel administration appointed by elected lawmakers which is nominally in control of PDFs, although many operate with near-total autonomy on the ground.
The KIA does provide some arms directly to the PDFs, but most of these weapons go to groups operating near Sagaing's border with Kachin State, particularly in Katha, Kawlin and Kyunhla townships.
Bo Nagar, a popular resistance leader in Sagaing Region's Pale Township who heads the Myanmar Royal Dragon Army, complained in a statement on October 14 this year about a delay in the delivery of weapons his group had ordered from the NUG's defence ministry.
The statement said the MRDA paid $300,000 in June for "heavy weapons" including man-portable air-defence systems (MANPADS), which fire surface-to-air missiles that could diminish the military's aerial superiority. The UWSA's access to Chinese-made FN-6 MANPADS, for example, is often cited as a major reason it has been able to carve out a nearly fully autonomous area in Shan State.
In an earlier press conference, on June 6, NUG defence minister U Yee Mon admitted the parallel administration has had difficulty arming its fighters. "No country in the world is helping to arm the PDFs; we are supported only by the Myanmar people," he said. But he added that if a more formal chain of command is established, "then the arms will follow".
For now, though, resistance groups are putting their faith in their own humble production workshops, which run night and day, generators humming under small huts in quiet villages.
"I want to bet on who will shoot down a helicopter first," said U Lin from the Yaw PDF. "An FN-6 or my rockets."
* indicates a pseudonym upon request for safety reasons