More than 220,000 people displaced by conflict in Rakhine State risk being excluded from the November vote, while local election officials say they're struggling to operate and waiting for orders from above.
By KAUNG HSET NAING | FRONTIER
In February 2019, the Tatmadaw's Light Infantry Battalion 377 began pounding Arakan Army positions from a hill near Baung Duk village, in Rakhine State's Mrauk-U Township.
Two months later, as fighting worsened, resident U Htun Thein Maung, 50, and his family of six sought refuge at Myothit monastery in Mrauk-U town. They were far from alone: about 3,000 other people from Baung Duk village tract, about 20 minutes' drive south of Mrauk-U, also fled their homes.
Five members of his family are aged 18 or over, making them eligible to vote in the November 8 election. But he says they have no idea if they are on a voter list, let alone how they would cast a vote.
"We don't know yet if our names are on the list because it is impossible to return to our village to check it. We know nothing about casting a vote," Htun Thein Maung told Frontier on October 9.
His family is one of about 200 households – totalling more than 900 people – who live in the monastery, which has become a camp for internally displaced persons, or IDPs. Most of the IDPs are from Baung Duk, but there are others from Minbya, Myebon, and Buthidaung townships.
They are among an estimated 350,000 people in Rakhine State who have been displaced by conflict over the past decade and are still unable to return to their homes.
About 128,000 Rohingya and Kaman Muslims are still languishing in IDP camps as a result of communal violence that convulsed the state in 2012. Most Muslims in the state have been denied access to citizenship documents, meaning they have been unable to vote since electoral rules were changed in 2015.
But the number of people displaced by violence has increased sharply in Rakhine since the end of 2018, when fighting between the Tatmadaw and the Arakan Army began escalating.
In a statement issued on October 1, the Rakhine Ethnics Congress, a civil society group, said over 220,000 Rakhine and other state-recognised ethnic nationalities have also been displaced by violence in 10 townships, with most from Rathedaung, Buthidaung, Minbya, Kyauktaw and Mrauk-U. The group estimates there are 80,000 to 120,000 IDPs who are eligible to vote – between 5 percent and 7.5pc of all eligible voters in the state.
The government only recognises those in registered IDP camps. As of September 7, it said there were 81,241 people displaced in Rakhine State as a result of the conflict with the AA. The REC says the rest – around 140,000 – have made other arrangements, including living with relatives.
Despite being citizens who hold Citizenship Scrutiny Cards and household registration lists, it seems likely that tens of thousands of IDPs – and possibly more than 100,000 – may be unable to exercise their right to vote in November.
Without access to their villages, many do not know if they have been included on voter lists or how and where to cast ballots.
Rakhine civil society groups and camp residents say neither the Union Election Commission in Nay Pyi Taw nor its local sub-commissions have said anything about voting arrangements for IDPs.
"Nothing has been done for IDPs about voting," said U Nandathara, a monk popularly known as the Myatasaung Sayadaw, whose Myatasaung Foundation runs six IDP camps – two in Mrauk-U, three in Myebon and one in Minbya – that are sheltering around 5,700 people.
"No voting list has been announced [for them]; nothing has been said about voting by IDPs," he told Frontier on October 5.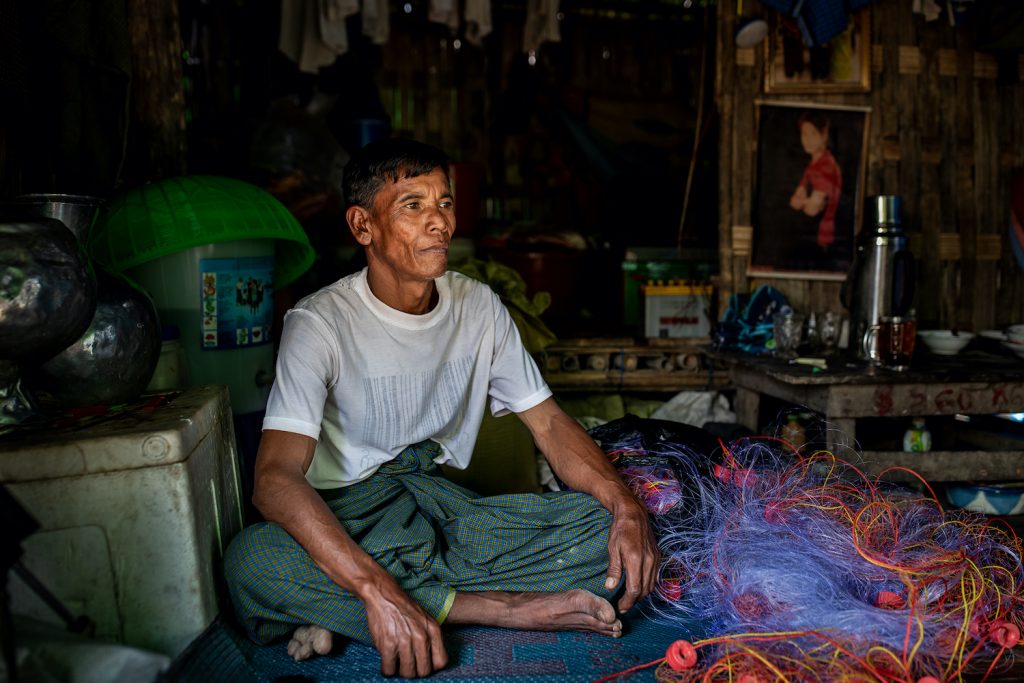 Waiting on the UEC
Election officials in the state concede that it's likely some – and possibly many – IDPs will miss out on exercising their right to vote. Daw Tin Hlaing, chair of the state's election sub-commission, said they aren't even sure how many IDPs there were among the 1.64 million eligible voters.
IDPs are dispersed throughout the state and because of the conflict election commission staff are unable to visit all of the camps to compile lists of voters, Tin Hlaing told Frontier on September 25.
Nevertheless, Tin Hlaing said the state election sub-commission has prepared a plan to enable some eligible IDPs to vote by setting up polling stations near IDP camps in urban areas.
She said the sub-commission would seek approval from the UEC to move the polling stations nearer to the camps once the commission had announced the list of wards and village tracts in which voting will not take place for security reasons. "We will then move the polling stations if the UEC approves," she said.
But she acknowledged that many IDPs would still likely miss out on voting, including those in rural areas and those living in a different constituency from where they are registered. IDPs outside official camps are likely to face the most significant barriers to voting, she said.
"We will not be able to shift polling stations near all IDPs because they are scattered around. If we get approval, we will move polling stations near IDPs in urban areas. It is not easy to set up a polling station any place there is a camp," she said. "Everything depends on the instructions from the UEC in Nay Pyi Taw."
The state sub-commission is facing a range of challenges organising the vote, including the fact that many village-tract administrators, who play a crucial role in electoral preparations, have resigned and its own officials are often too afraid to leave urban areas.
Meanwhile, fighting continues between the Tatmadaw and the AA, and the number of displaced people continues to rise each month.
Since July, the number of IDPs has increased by about 30,000, the REC says. Most are from villages on the Kaladan River between Kyauktaw and Chin State's Paletwa Township, villages on both sides of the Mayu River between Buthidaung and Rathedaung, and villages near the road linking Kyauktaw and Mrauk-U – all areas that have seen heavy fighting in recent months.
But political parties and civil society groups say the UEC could be doing far more to ensure that most, if not all, eligible IDPs are able to exercise their right to vote.
"We understand that it would be difficult but not impossible; it can be achieved if the UEC showed goodwill towards the right of IDPs to vote," said Ko Zaw Zaw Htun, secretary of the REC, which is compiling a list of IDPs.
Arakan National Party MP U Pe Than (Pyithu Hluttaw, Myebon), said it was laughable that the UEC did not know the number of IDP voters.
"It has had plenty of time; the IDPs did not just come into existence now," said Pe Than, who is a member of the ANP's policy committee. "If they wanted to do it, it wouldn't be difficult to arrange for IDPs to vote. The only reason they have no list of IDP voters is because they didn't prepare it. They should at least have a list of voters from the government-recognised IDP camps."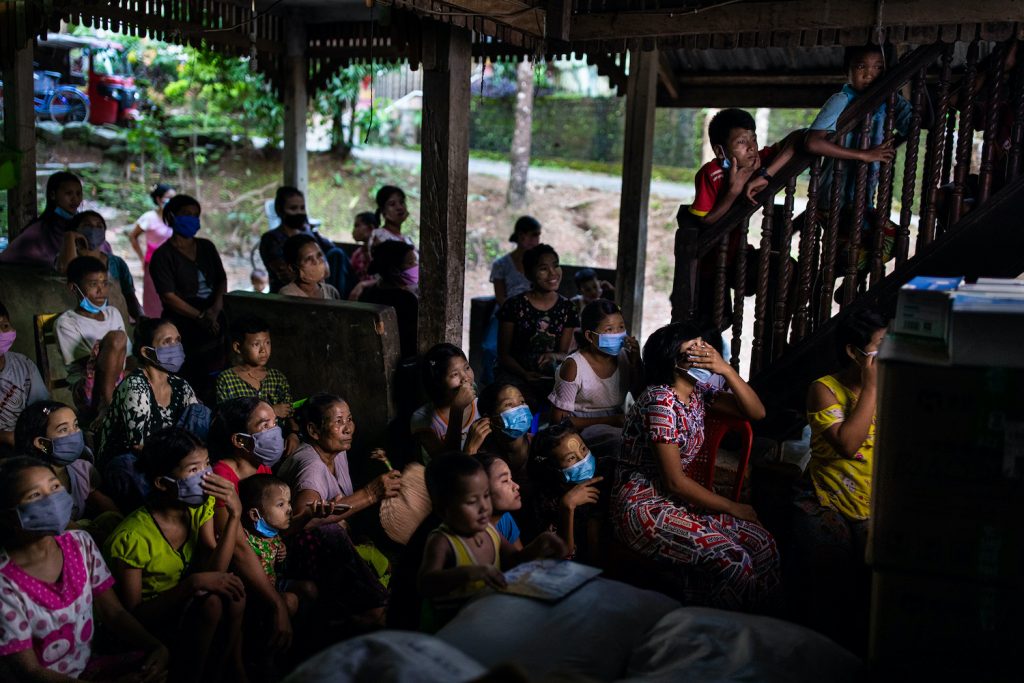 Unclear rules
The lack of information provided to IDPs about voting procedures is particularly concerning for those living outside their constituency, who generally would not be able to vote even if the sub-commission shifted polling stations near their IDP camp.
IDPs in this situation have three options: return to their village to vote, submit a request to change their constituency, using Form 3(a), or submit a request to cast an out-of-constituency advance vote, using Form 15.
Zaw Zaw Tun says many IDPs are too frightened to return to their home villages to cast a ballot. "In the end I think only 10pc of eligible IDPs will be able vote," Zaw Zaw Tun told Frontier on October 5.
Lawmakers and candidates have asked the election sub-commissions for clarity on whether IDPs can vote by submitting either a Form 3(a) or Form 15, but commission members say they are unsure and have not received any instructions from Nay Pyi Taw.
Most IDPs would appear eligible to submit a Form 3(a) to change their constituency because the rules, which are largely intended for migrant workers, state that applicants only need to have been in their new constituency for 90 days. However, the deadline to submit this form was October 10, and based on anecdotal evidence very few, if any, have done so.
The UEC recently announced an extension for Form 15 applications for those who are unable to go back to their constituencies because of COVID-19 travel restrictions.
Rakhine State Hluttaw MP U Tun Thar Sein (ANP, Mrauk-U-1), said the UEC should make a clear statement about whether IDPs are eligible to vote by using either a Form 3(a) or Form 15.
"Another problem is that the election commission officers even didn't even go to the camps to display the voter list," he said.
Neither Tin Hlaing nor the UEC could be reached for comment about use of Form 3(a) or Form 15 to enable IDPs to vote.
Pyithu Hluttaw MP U Aung Thaung Shwe, who won the seat of Buthidaung for the ANP but is contesting as an independent this year, said the election commission's apparent failure to ensure eligible IDPs are able to vote could damage the fairness of the election.
Fighting has emptied 11 villages in Buthidaung and all of their inhabitants are now IDPs, he said. Registered IDP camps in Buthidaung house more than 9,000 people, but another 20,000 displaced people are living at other locations.
If they can't vote, it could affect the outcome on November 8. In 2015, Buthidaung had just 36,000 eligible voters because the vast majority of its residents were Rohingya, who are mostly ineligible to vote. Aung Thaung Shwe won narrowly over his Union Solidarity and Development Party rival, with 45.5pc of the vote compared to 39.7pc.
"IDPs are Rakhine so they vote for ethnic Rakhine parties. Now it's not clear whether they'll be able to vote, but on the other hand military families are able to vote easily," he said.
As elsewhere in Myanmar, Tatmadaw soldiers and their familiars voted en masse for the USDP in 2015 and are expected to largely do so again in November, despite a reform that has mandated polling stations be moved from cantonments to civilian areas. Like other parts of northern Rakhine, Buthidaung has in recent years seen a considerable build-up of troops from the Tatmadaw and Border Guard Police, skewing the demographics of the area.
However, many IDPs seem less concerned about losing their right to vote than lawmakers and civil society groups. Many, like U Tun Thein Maung, another resident of Baung Duk village who fled to Myothit monastery, seem indifferent about voting. Many other IDPs in the monastery echoed his lack of enthusiasm, saying that all they wanted was for their political leaders to help them return home.
"If we have the chance to vote, it will make no difference to us," Tun Thein Maung told Frontier from the bamboo shack that he has been forced to call home for the past 18 months. "We will still be IDPs who have had to run away from our homes."