Members of national minorities criticise a proposal for Myanmar to change the make-up of the country's states and regions.
By HEIN KO SOE | FRONTIER
AS PLANS continue for the 21st Century Panglong Conference to begin on August 31, debate has erupted over a proposal by ethnic armed groups for Myanmar to have eight states representing the country's main ethnic groups.
One of the proposals discussed called for the seven Bamar-majority regions and the seven states named after their predominant ethnic group to be replaced by eight states: Bamar, Chin, Kachin, Kayah, Kayin, Mon, Rakhine and Shan.
Under the proposal, Bago, Mandalay, Magwe and Sagaing regions would be combined to create "Burma State". Tanintharyi and Ayeyarwady regions, which are said to have no dominant ethnic group, would be known as "States of Nationalities" and Yangon would become the "Federal capital of Myanmar." The proposal made no mention of the current capital Nay Pyi Taw.
It emerged late last month as one of the issues raised at a summit attended by leaders of most of the country's armed ethnic groups at Mai Ja Yang, a territory controlled by the Kachin Independence Army on the border with China.
The five-day summit was held to prepare for the Panglong summit and find common ground for creating a federal, democratic Union.
An eight-state principle has long been advocated by the country's national ethnic minorities. At the 1947 Panglong Conference, independence hero Bogyoke Aung San famously said to the ethnic minority groups present: "If Burma receives one kyat, you will also get one kyat." In 1961, a similar proposal known as the "Shan Federal Proposal" was put forward by non-Bamar ethnic groups.
The proposal has attracted criticism even before it was put to the Union government. Members of ethnic minorities have been asking what would happen to non-Bamar living in Bamar State if the proposal went ahead.
"In Kalay, there are many different ethnic groups living together," said Ko Thura, a resident of the town in far western Sagaing Region on the border with Chin State that has a high proportion of Chin, most of whom are Christian.
"If this state becomes Burma State, then some minorities may lose their identity and culture. That is not good if we want to form a federal state," Thura said.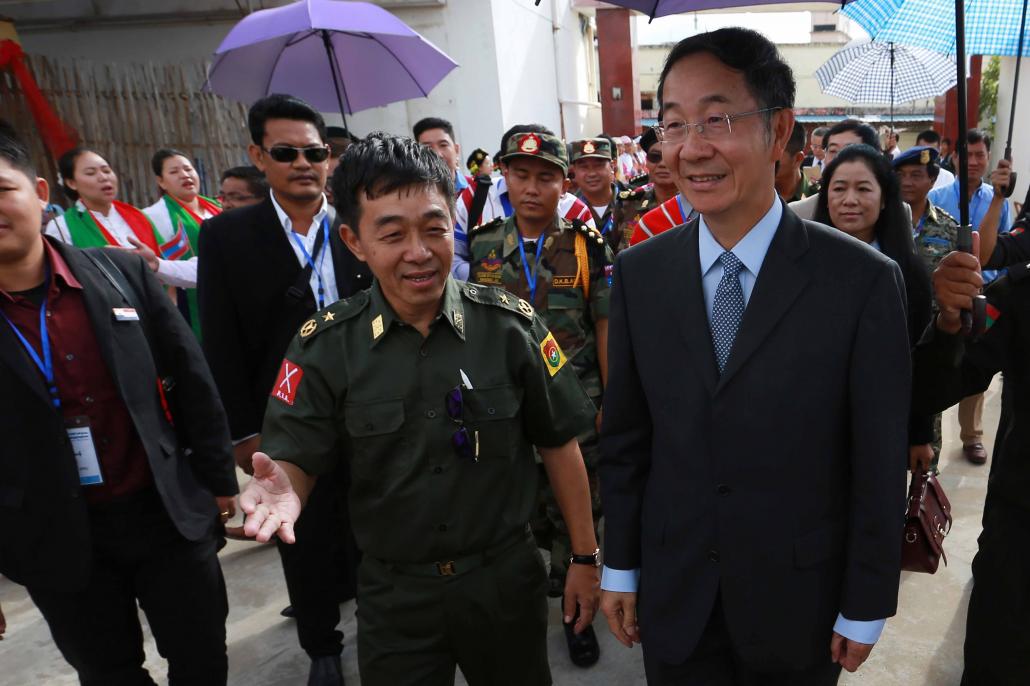 "I think the government and ethnic groups should try to promote equal rights for all ethnic groups in this country," he said.
U Min Aung Thu, a Mon who lives at Thanatpin Township in Bago Region, also expressed concern about the possible implications for smaller groups of living in a state with a Bamar majority.
"If non-Burmese live in the Burma State, who is there to support them? Also, it is important that the government protects the rights of other minority groups who do not make up the eight major groups," he said.
The most important point for ethnic groups is equal representation for all, U Aung Htoo, the principal of the Federal Law Academy in Mai Ja Yang, told Frontier.
"Eight equal states would help this country move towards national reconciliation," said Aung Htoo, a human rights lawyer and the founder of the Legal Aid Network, that established the academy in June 2014 to offer a two-year Diploma in Law.
U Khin Maung Swe, chairman of the National Democratic Force, also criticised the proposal to create a Burma State.
"I would like to suggest that the ethnic groups should not agree with this Burma State, which could bring problems for making peace in Myanmar," he said.
Mr Richard Horsey, an independent political analyst, said that any discussion about what Myanmar's federal system would look like should be encouraged.
"Five years ago in Myanmar it was not possible to talk to the government or military. We've moved very far, to the point where now federalism has more or less been agreed upon as the end point of the peace process," he told Frontier.
Horsey said that pushing too hard on the "eight state" creation might damage the federalism discussion if the Burman majority did not accept it.
"One would have to hope that everyone involved in preparing the paper and discussing it [at Mai Ja Yang] understand that it's an entry position and it's not a final statement of what [ethnic armed groups] have to achieve. This is one constituency putting forward their objectives, it's for others to put forward other possible solutions and then there can be a debate."
Notably absent from the Mai Ja Yang summit was the United Wa State Army, one of the country's biggest and most influential armed ethnic groups, that enjoys close relations with Beijing. Senior representatives of the UWSA, who met State Counsellor Daw Aung San Suu Kyi in Nay Pyi Taw while the summit was taking place, could not be reached for comment.
Also absent from the Kachin meeting were the Ta'ang National Liberation Army and the Myanmar National Democratic Alliance Army.
Khu Oo Reh, secretary of the United Nationalities Federal Council, was quoted as saying that the two groups could not attend because of "difficulties" but that they would cooperate in the next stages. In recent months, the TNLA has been in active conflict with the Tatmadaw and the Shan State Army-South, the armed wing of the Restoration Council of Shan State, the latter who attended Mai Ja Yang.
On August 12, the Myanmar Times reported that ethnic Ta'ang representatives meeting in Kyaukme, Shan State, had agreed to issue a demand for the creation of its own state.
"We Ta'ang want a specific Ta'ang state. We want a new constitution, which is based on protecting human rights and self-determination," Mong Cyrus, a Ta'ang youth leader was quoted as saying.
Top photo: A soldier from the Kachin Independence Army on a hilltop in Mai Ja Yang, Kachin State, where ethnic armed groups met for a conference in late July. (AFP)