Big players stayed away when the government invited tenders for five emergency power projects last June and the clock is ticking on a consortium racing to meet an April 3 deadline.
By THOMAS KEAN and KYAW YE LYNN | FRONTIER
ON A narrow backstreet in Yangon's Thaketa Township, trucks wait in a line to unload their cargo: gas-fired generators inside shipping containers that are designed to deliver power, fast. At a recently cleared site nearby workers are installing dozens of the high-speed generators, while a 230kV substation and a building to house eight larger gas-fired generators are well under construction.
Over in Thanlyin, to the southeast of Yangon, workers are laying 20-inch gas pipelines and clearing a jetty terminal beside the Yangon River – virtually the entire site is a mess of concrete, steel and dirt. In Rakhine State's Kyaukphyu, gas generators and other equipment have already arrived at a port run by South Korean firm Daewoo. Three projects, 900 megawatts of power.
But this is not just a Myanmar story. In the Chinese port city of Dalian, a 28,000-cubic-metre liquefied natural gas tanker is being put through its paces in preparation for shunting fuel into the shallow Yangon River. For months, Singapore has served as a staging point for equipment as it makes its way from China to Yangon and Kyaukphyu.
In Hong Kong and Beijing, executives continue to hammer out a shareholders' agreement between the partners in the three power projects that will cover capital commitments and management rights for the power projects.
Thaketa, Thanlyin, Kyaukphyu. Dalian, Singapore, Hong Kong and Beijing: all are ground zero in a race against time on the part of the government and a consortium of companies from China and Hong Kong to keep the lights (and air-cons) on this hot season.
The clock is ticking. The consortium – Hong Kong-listed VPower and Chinese state-run firm China National Technical Import & Export Corporation, working together with a local partner, RGK+Z&A Group – was given just seven months to complete the projects, after winning a tender in mid-2019. If it fails to commence delivery of power by April 3 it will face crippling fines totalling hundreds of thousands of dollars a day. For the government, failure would incur a penalty of a different sort: months of power shortages in an election year, when voters could potentially punish it at the ballot box.
Will they be able to pull it off?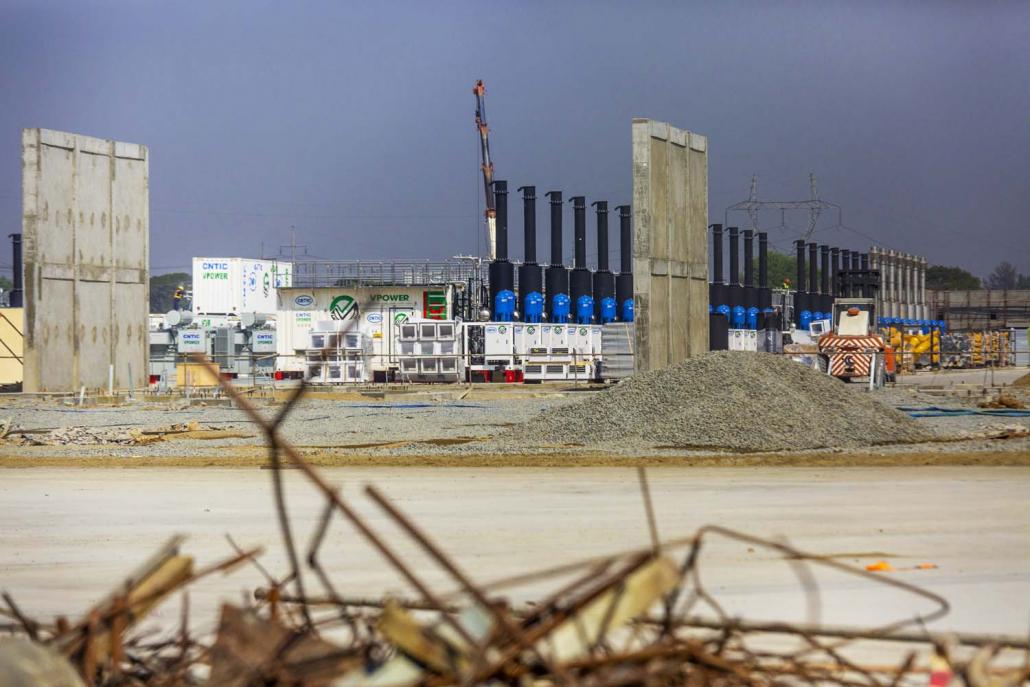 The 'impossible' tender
A 30-year veteran of the petrochemical industry, Mr Eduardo Perez Orue has run a consultancy, Small LNG Shipping, for the past eight years. He's not exactly a fan of emergency power tenders.
"I've seen a few, unfortunately," he told Frontier from Bilbao, Spain. "Rushing these things is never a good idea. You don't get as many proposals, or as good proposals, and in the end it just hurts the consumer, the ones who are paying for the power."
He added, "Every time that I see the words 'rush' and 'emergency' in a tender, I wonder what happened here."
What happened is that Myanmar attracted almost no investment in electric power generation over the past five years, even as demand for power rose at up to 15 percent a year and hundreds of thousands of households were connected to the grid for the first time.
A supply/demand analysis prepared for the Ministry of Electricity and Energy in June 2017 forecast that unmet demand from 2020-22 could be seven times worse than between 2012-16. With very few projects in the pipeline, the outages would only worsen unless the government took drastic action.
Then came the first major cuts in May 2019, when the ministry was forced to introduce scheduled outages for several months. Under pressure from the top levels of government, the Ministry of Electricity and Energy announced a tender in late June for five emergency power projects, totalling 1,040 megawatts: two smaller plants that would use gas supplied by the government, and three larger projects that would use imported liquefied natural gas.
The tender terms were highly unusual.
There was a window of just a month to prepare bids. The LNG-to-power projects had an implementation deadline of just 210 days, or about seven months, with steep penalties – up to K300 million – for every day that the winning bidder missed the deadline. The government would only pay in kyat, despite most of the costs being in foreign currency. The contract was only for five years, which meant the tariff would have to be incredibly high to get a return on the hundreds of millions of dollars in investment required.
For the LNG projects, bidders had to include the fuel cost, but could only bid a flat rate, despite the fact that LNG prices, like exchange rates, fluctuate.
"Bringing LNG from overseas, including building the jetty, pipeline and plant, all in just seven months. It's very challenging – no reputable company would dare to take the risk," one industry consultant told Frontier at the time.
And so all of the big players stayed away. Orue said the European company he was working with "wouldn't even look at it – it was too much pressure for too little reward".
Orue described some parts of the tender as "very strange".
"What didn't impress me in particular was that they had to come up with a proposal within one month. That's not a way to do things. You have to analyse the situation and come up with an optimal solution."
Because of the river's shallow draught, just finding an LNG tanker small enough to fit in the Yangon River would be a serious challenge. There are only about 75 such tankers under 40,000 cubic metres globally, and nearly all of them are committed to other projects. Building a new tanker takes 18 to 24 months.
But the tender terms that scared off other potential bidders handed the advantage to one consortium, comprising VPower and CNTIC. Working together with RGK+Z&A, which is better known as Zeya & Associates, the consortium bid aggressively on the projects, apparently confident it could both deliver and make a profit.
On September 6, the ministry issued letters of acceptance to VPower and CNTIC for the three LNG packages, as well as the 20MW Kyun Chaung project in Magway Region, which will use natural gas. That was when the clock began ticking.
Even some in the ministry were worried about the outcome, preferring the packages to go to different companies. One official told Frontier that there were disagreements after the bids were opened, with some wanting to cancel the tender and others confident that VPower could deliver, as it had done on other, albeit more conventional, rental power projects in Myanmar.
"Everyone's eyebrows were raised when they found out that VPower had bid the lowest price for all the [LNG] packages," the official said.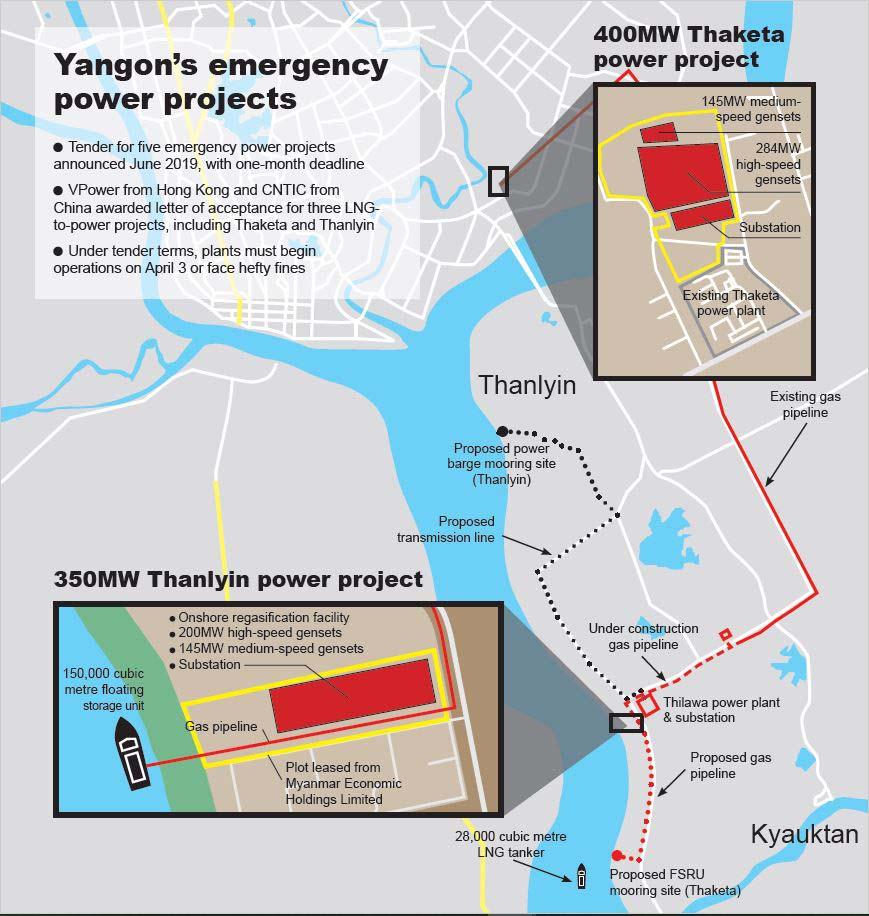 Down to work
The consortium of VPower and CNTIC wasted no time getting down to work,
On September 20, the consortium incorporated three companies in Hong Kong – one for each project – which each owned a corresponding Myanmar company registered on October 3. It then managed to navigate the Myanmar Investment Commission permit process in relatively speedy fashion.
On November 29 two of the newly incorporated companies received approval for the Thaketa and Kyaukphyu projects, agreeing to invest $363.1 million and $140.5 million, respectively. Two months later, on January 24, the commission gave the Thanlyin project the green light, at a projected cost of $297.4 million – a total of more than $800 million for the three projects.
VPower Group International Holdings Limited announced on February 10 it had formed a 50-50 joint venture with CNTIC to invest in, develop and operate the three projects.
On the ground, things have been moving too.
The tenders for the Thanlyin and Thaketa projects had proposed separate infrastructure located at opposite ends of the Thilawa terminals, a row of 37 plots strung out along the Yangon River in Thanlyin and Kyauktan townships.
Under the original proposal, the Thanlyin project would have comprised floating power barges, with power distributed through a new high-voltage line to a substation nearby. Thaketa would have the plant based on land, supplied by pipeline with fuel offloaded onto a floating storage and regasification unit (FSRU) at the southern end of Thilawa, not far from Kyauktan.
VPower declined to comment on the specifics of the projects, but said in a statement it "invest[s] in Myanmar for the long term to provide reliable electricity to the people".
"We had been confident to bid on these packages due to the pre-existing track records and experience of the partners involved in this endeavor," it said. "Zeya & Associates, which has been engaged by VPower for the implementation of power projects for years, is the local partner to the consortium to provide local know-how and support instead of being a consortium partner."
But officials from EPGE and Myanma Port Authority confirmed to Frontier that the consortium had developed an alternative plan: one that combined both projects into a single facility on plot 14 at Thilawa, which is owned by Myanmar Economic Holdings Limited, a military holding company. This plan will be more cost effective and faster to implement, as it will feature a single LNG import terminal with onshore generation, and require less in terms of new gas pipelines and transmission lines.
The officials told Frontier the consortium will bring LNG into the Yangon River using a small tanker with a shallow draught that will then transfer the LNG to a floating storage unit moored at the Thilawa terminal. An onshore regasification unit will turn it into natural gas, which will supply 350MW of gas-fired generators at the Thilawa site and also be piped to the 400MW of generators at Thaketa. Transmission lines will send power from Thilawa and Thaketa to nearby substations for distribution to the grid.
In recent months generator manufacturers Rolls-Royce and Wärtsilä have announced large orders from VPower. Rolls-Royce said in November that it had begun supplying more than 200 of its MTU Series 4000 natural gas generators to VPower the previous month – at 430MW total output, the largest single order it has received for the MTU series.
Wärtsilä said it had received an order late last year for 16 50SG gas engines with a combined output of 292MW for delivery by the end of this month. Half of the Wärtsilä generators will go to Thanlyin and half to Thaketa.
When Frontier visited both Thaketa and Thanlyin sites in late January, they were full of workers laying pipelines, installing generators and laying foundations for new buildings.
U Than Naing Oo, the managing director of EPGE, said the consortium would dock a 150,000 cubic metre FSU in the river and ship gas to Yangon on small tankers. "Later, large tankers will docked at Kalargote [in Mon State] from where the LNG will be transferred to small tankers and shipped to Thilawa," he said.
Using marine tracking websites, Frontier identified a 28,000 cubic metre LNG tanker undergoing sea trials in the Chinese port of Dalian that appears to be destined for Yangon. The ship, originally known as the Qi Yuan, was supposed to begin sailing in 2016 but appears to have never been completed due to financial issues. In December 2019 it was renamed the CNTIC VPower Global and issued a Hong Kong flag.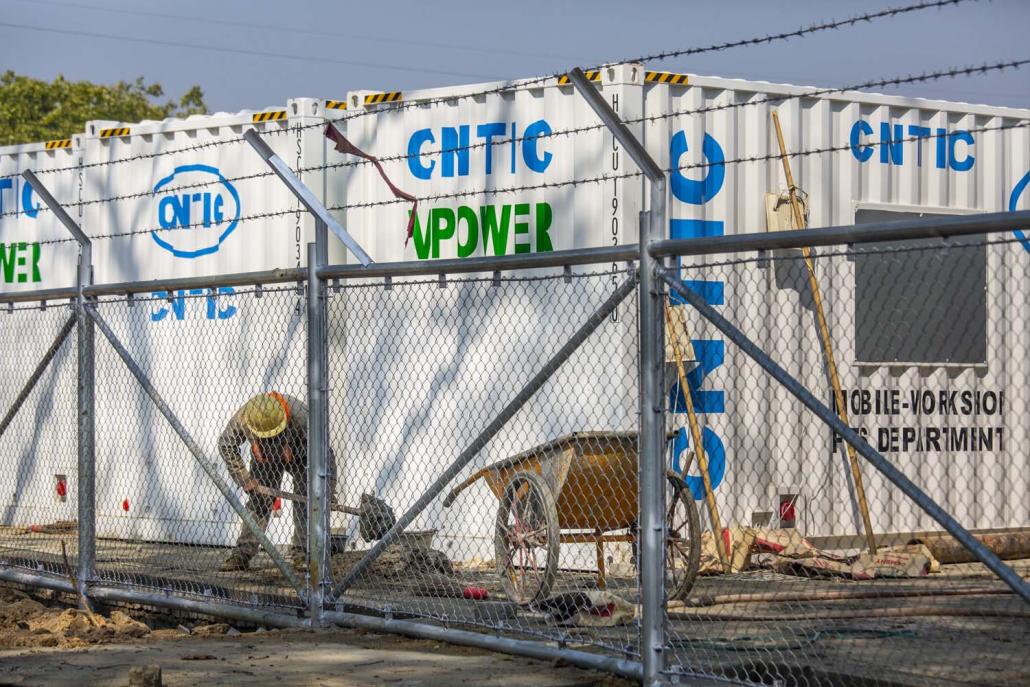 '100% confident' of success
But six weeks out from the deadline, much remains to be done.
Although Thaketa is nearing completion, with the high-speed generators in place, and the substation and housing for the Wärtsilä engines under construction, the Thilawa terminal remains a dusty construction site.
Than Naing Oo from EPGE said this was in part because it had taken two months longer to get an MIC permit for the Thanlyin project than for Thaketa and Kyaukphyu.
"The arrival of generators and materials [for Thanlyin] was delayed because we had to wait for the MIC permit," he said on January 28.
"One-third of the materials and machines required for the Thanlyin project are already in place, and the rest are on their way."
He said that to save time, the company had already shipped the equipment from China to Singapore while it was waiting for MIC approval. "The cargo ship is preparing to leave for Myanmar from Singapore," he said.
On February 1, Deputy Minister for Electricity and Energy U Khin Maung Win visited the Thanlyin site to inspect progress, and urged VPower engineers to "exert the utmost effort to finish the plant earlier than the target date".
He viewed construction work on the onshore regasification unit and the jetty. Work on both had barely begun.
One industry source building the jetty could be the stumbling block for the consortium. The jetty will be needed to moor the FSU, and without it there will be no gas for the generators at either Thanlyin or Thaketa. "Even so, it should be ready by the end of April or early May."
A senior official at Myanma Port Authority said the consortium had received permission to operate a 150,000 cubic metre FSU and tankers of up to 40,000 cubic metres, which would bring in LNG shipments from Singapore. One shipment would provide enough gas for 14 days, he added.
The official dismissed concerns the jetty could delay the project. "A jetty for an FSU would usually take up to two months, but can be done in 28 days or in a month if implemented at full speed," he said.
Some project documents are also apparently yet to be finalised ­– most notably the power purchase agreement, or PPA, which sets the price at which EPGE will pay the consortium for the power it generates. The tender documents set a 150-day deadline for signing the PPA, meaning it should have been concluded by February 3.
Than Naing Oo said the PPA was still being reviewed by the Auditor General's Office, Attorney General's Office, Central Bank and Ministry of Planning and Finance. Once approved it would be submitted to the National Economic Coordination Committee, which would give the green light for signing to take place. "Everything is in place for the PPA to be signed before power delivery commences," he said.
The terms of the joint venture are still also being hammered out. VPower's February 10 statement said that it and CNTIC "have been in negotiation on the terms of the shareholders' agreement which include, among other things, the capital commitments and the management rights of the parties in the joint venture company".
One source inside the ministry said discussions had been taking place to relax some of the requirements so that at least some of the generation capacity could come online in April.
"The idea of these senior officials is to meet the deadline partially – they want VPower to finish at least the first phase of the projects by the deadline, even if the whole project can't be implemented in time," the officials said.
But Than Naing Oo, the EPGE chief, said he was "100 percent confident" that all five of the emergency power projects would be completed by the deadline.
"I understand there is concern from both the public and industrial experts" as to whether the projects can be completed on time, he said. "If someone goes to look at the [Thanlyin] project area now, they wouldn't see much. But now I can say the projects will be finished in time."
If they miss the deadline, he said, the consortium will face fines as outlined in the tender documents. "Don't worry, there will be no exceptions. Everything must be in line with the agreements."
EPGE seems to be taking no chances, however. Data published on its Facebook page shows it has significantly increased production at gas-fired plants since the end of the monsoon, compared to the previous year, in an effort to preserve water in the country's hydropower dams for later in the hot season.
A costly band-aid
Even if VPower and CNTIC pull off a surprise success this hot season, as now appears possible, it will be a band-aid solution to a bigger problem: the failure to attract investment into long-term power projects.
Instead, the government has come to rely increasingly on short-term power generation contracts for gas-fired plants, with VPower alone already providing 360MW of capacity. By the time the five emergency power projects come online later this year, the country will have about 1500MW of installed capacity on contracts of five years or less.
These short-term deals tend to be more expensive than long-term investments and have lower efficiency, which means they use more gas, yet the contracts are nearly always rolled over because ending them would exacerbate the power shortages.
Rental contracts have been a factor in the rapid rise in the cost of power production, which has forced the government to increase electricity prices for consumers and businesses.
The Myanmar Times reported last March, citing ministry figures, that the production cost to produce and distribute a unit of hydroelectric power was K89 per unit, while for gas-fired electricity it was K178 a unit. At the time prices were K35 to K50 a unit for residential users and K75 to K150 for businesses, and the government was losing around $500 million a year.
Last June the government announced the first electricity price increase in five years, raising the highest residential tariff to K125 a unit, and hiking it to K180 for heavy business users.
The emergency power projects will further drive up the average cost of production, one source in the ministry said, and likely necessitate further electricity price increases for consumers.
"Because of all the recent rental power, the cost of supply has exploded," the source said. "Even though they only recently increased tariffs, less than 2pc of customers are paying more than the cost of supply."
The situation appears unlikely to improve in the medium term. "This is not a one-off crisis. They're going to be resorting to rental power, these kinds of highly polluting projects, for years to come," the source said. "That's the calculation that VPower made – they've figured they'll be here [at Thaketa, Thanlyin and Kyaukphyu] for 10 years at least. It's exactly what's happened in Bangladesh. They've been stuck with rental power for decades now."
If the emergency power contracts are extended in five years' time, the LNG-to-power projects could thus be a band-aid with costly long-term consequences.
U Khin Maung Win, the managing director of MSP Group, which operates the Ywama power plant in Yangon Region, said rental or emergency projects should only be an interim solution.
"They make sense when you also have a long-term plan," he said. "I hope that moving forward [the government] will have more long-term visions and plans, and commit to them."
Khin Maung Win said the emergency power tender was poorly conceived, because the large investment required for LNG-to-power projects made them mostly unsuitable for short-term projects. "LNG supply is not a short-term investment. To make it viable [for investors], the projects should be permanent," he said.
He urged the government to be more transparent about the LNG-to-power projects at Thaketa, Thanlyin and Kyaukphyu, including what it intends to do in five years' time. He suggested the long-term future of the projects could be resolved through direct negotiations with the investors. "They [the government] should really be transparent about whether these projects are just for five years, or whether they will be permanent."
Others are urging the Ministry of Electricity and Energy to consider alternative generating solutions. Mr Guillaume de Langre, an energy consultant advising the ministry, said that while Myanmar urgently needs power to sustain growth, it also need to be wary of the "rental power trap".
"To avoid it, the only fast and cheap solution in Myanmar is solar energy. It's 60pc cheaper and can be built in 18 months."
TOP PHOTO: VPower and CNTIC have leased land from military owned Myanmar Economic Holdings at Thilawa to implement two short-term liquefied natural gas-to-power projects. When Frontier visited the site in late January, construction work appeared to have only just got underway. (Hkun Lat | Frontier)