Nearly two years since its formation, the National Unity Government's acting president Duwa Lashi La speaks to Frontier about military strategy, the parallel government's relations with China and ethnic armed groups, its achievements so far and its plans for the future.
By FRONTIER
This interview has been translated from Burmese and edited for length and clarity.
While most Western countries are friendlier to the NUG than the military, many countries in Asia still prefer to deal with the junta. Why is this, and how can the NUG establish better relations with China, India and ASEAN countries?
We don't only want to build positive relations with Western nations. We aim to develop positive relations with all nations that support federal democracy based on the will of the people. The neighbouring nations are more important. India, Thailand and China are important countries, but until now, we haven't seen any overt signs of support from any of them. We want them to understand and support the federal democracy that the people desire. It's our policy to maintain friendly ties with our neighbours. If neighbouring countries, especially China, help us, the revolution will succeed, and the country will be stable. They would no longer have to be concerned.
What does the NUG expect from Indonesia's chairmanship of ASEAN this year, in terms of resolving Myanmar's crisis?
The ASEAN Five-Point Consensus is good, but we can see clearly over the last two years that ASEAN is ineffective at implementing it. Our expectation was that Indonesia would lead well, and that they would sympathise with our problem. I'm not sure why the chairman said they need more time to solve the situation. They may face some difficulties. Politics is challenging. But Min Aung Hlaing must be pulled out of politics through a variety of methods.
There has also been some debate about whether or not Myanmar should be booted out of ASEAN. Because the State Administration Council does not represent the country, only the SAC should be expelled from ASEAN. The country can't be kicked out of ASEAN. Then, ASEAN must recognise the NUG, which represents and is accepted by the people.
China appears to be getting closer to the military. Has it made any direct contact with the NUG?
We have set up two or three communication channels with China, including on political issues. We are speaking with them. They approached us through the culture sector. China is attempting to help Myanmar become a stable and peaceful country in order to achieve its interests. It would be great if they could put pressure on the military. It's going to be difficult to maintain a good relationship with China if they continue to back the military. We would appreciate Chinese government involvement if it stood with the Myanmar people and put pressure on the military.
What impact has China's recent engagement with northern ethnic armed groups had on the NUG and its relations with these groups?
We know that China prioritises engagement with ethnic armed groups near their border. China continuously talks about border stability and peace. That is expected. We have a good relationship with the northern ethnic armed groups. They come to us when they have challenges or difficulties. As a result, several issues have been resolved, but I can't go into detail.
We would be quite happy if China helped these ethnic armed groups become strong and overthrow the military. China may or may not want to do that, I'm not sure. We have the same mindset as the ethnic armed groups. We've already agreed to overthrow the military. If the ethnic armed groups are strong, we are too. There's nothing we can't agree on.
When meeting with the military, the United Wa State Army and National Democratic Alliance Army requested recognition of their territories, while the Shan State Progress Party asked that all Bamar-majority regions be consolidated into one state. Is the NUG in favour of the eight-state principle or the granting of autonomy to the UWSA and NDAA?
Because this is a time of conflict, it's our opinion that a thorough discussion should wait until the military has been removed from power. Our roadmap already makes reference to that. It will be decided in a fair manner. The NUG has no intention of deciding the issues of an area without consulting the people of that area. Min Aung Hlaing said that he accepted these demands for self-administered areas, but the people have not delegated authority to him. Therefore, these meetings and conversations, I would say, are simply a waste of time and unnecessary.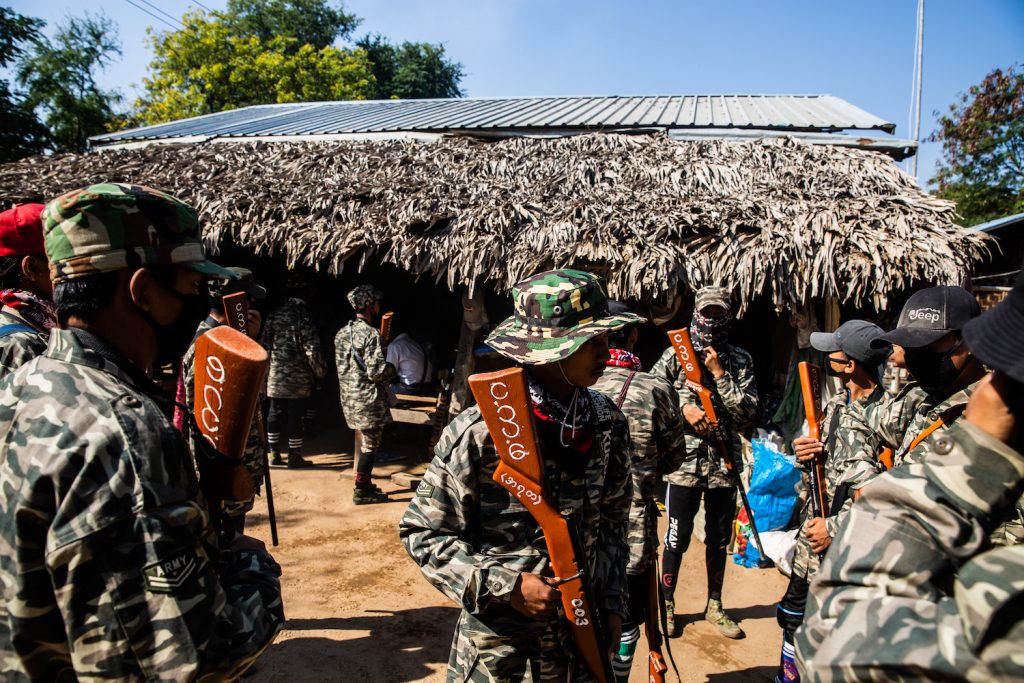 The NUG's Southern Command forces seem better equipped and more connected to the parallel administration than resistance groups operating in the Dry Zone. If so, is this due to geography or other factors?
When fighting, you must consider strategic points. We think our central and southern regions are both significant. Even if simultaneous strengthening is not possible, we must work together to strengthen both. That's why I don't believe the south or the central region is stronger than the other.
Our Regional Command 1 is in the centre [of Myanmar]. We have reinforced our strength there, but there is no border to deliver weaponry. Because they are brutally oppressed by the military, the revolutionary spirit is really quite strong there. Military discipline is quite good in the south, due to the leadership of allies with many decades of conflict experience, such as the Karen National Union and Karenni National Progressive Party. As a result, I believe that all forces can annihilate the military simultaneously. If we supply enough guns and raise enough funds, our revolution will be over quickly.
What are the difficulties in supplying weapons, and how do these relate to the NUG's control over territory?
When we combine the dominance of the People's Defence Forces and ethnic revolutionary organisations, our forces control half the country. The trouble in the revolution, though, is that guns are hard to obtain. We also don't have a weapons factory. Some people pawned or sold their gold rings and diamond earrings to help fund the revolution. So, the finances aren't that bad. Weapons can also be invented by our Generation Z, [including] 60mm and 90mm mortars that are now being used in battle.
Although delayed, holding an election remains one of Min Aung Hlaing's main objectives. What is the NUG's policy on it, and how can resistance groups ethically disrupt the process, given that low-ranking civil servants and members of groups like the Myanmar Red Cross have reportedly been forced to assist it?
Preventing the election is included in our plan for this year. Min Aung Hlaing is attempting to hold the election because he has a delusional goal of becoming president. The coup hasn't even been fully accomplished due to widespread opposition. Because of his failure, the only option he has is to try to achieve international recognition through an impossible sham election. We must prevent this from happening. We are also raising public awareness about the sham election and have already urged the international community not to support or recognise it. To prevent a sham election from taking place, certain measures must be taken, but we are a government of the people. We have already stated that we must take extra care not to disrupt people's lives and livelihoods.
A draft policy issued by the National Unity Consultative Council recommends that non-participants in the Civil Disobedience Movement be punished after the revolution pending an investigation. Does the NUG think these punishments are necessary?
Politics is very complicated. There are those who agree with you and those who do not. That is acceptable. The large majority of civil servants have joined CDM. There are a few non-CDM persons. They may encounter challenges. We wish for them to make the sacrifice and join CDM. Our strategy is to convince those on the opposing side to become neutral and then support the NUG.
On what conditions would the NUG negotiate with the junta?
The people know the mindset of the military. They are never honest. They have regularly pretended to do peace since 1963. They don't want peace. They don't look out for the people; the military only looks out for itself. Therefore, there will be no real peace talks. But we are a government of the people, and we will follow the will of the people. So, it depends if the people want to discuss it.
What do you consider the NUG's most important accomplishment so far, and what do you expect to achieve by the end of the year?
The revolution will be accelerated in 2023, according to the plan we are implementing. Our biggest success is far is providing a strong foundation for the revolution. We can say the public's involvement in preventing Min Aung Hlaing's coup from succeeding has been the most crucial aspect of this. Another success is that we could swiftly convert PDFs with tumi rifles to PDFs with machine guns.
We never say the words, "if we don't succeed". The revolution will succeed. We will remove Min Aung Hlaing and his military, who are carrying out cruel attacks on the people.
The NUG has so far only declared a 'defensive war', so is there a plan to formally escalate it?
We should think about it. D-day still has not been declared. If we need to accelerate the revolution, we will most likely declare it. I think the war we initially declared [in 2021] is going really well, but we may need another declaration to speed up the revolution. It depends on the political situation.