Legal changes are urgently needed to protect sex workers from violence and abuse, say activists, but political sensitivities may be delaying reform.
By SU MYAT MON | FRONTIER
PROSTITUTION IS big business in Myanmar though it's not sex workers who are cashing in on the world's oldest service industry, but their pimps, brothel keepers and corrupt officials, including members of the Myanmar Police Force.
Sex workers are one of the most persecuted groups in Myanmar and, as prostitution is illegal, they are vulnerable to being exploited by their customers, as well as pimps and corrupt police.
Under the 1956 Suppression of Prostitution Act, convicted sex workers were liable to a prison term of between one and three years. An amendment in 1998 increased the jail term to five years and made offenders also liable to a fine.
The first moves for reform to the law came in 2013, when National League for Democracy lawmaker Daw Sandar Min proposed decriminalising sex work. Although that motion was voted down by the Union Solidarity and Development Party-dominated legislature, a bill that would replace the existing law and focus less on prosecution and more on training and rehabilitation is being drafted, according to the government.
Another draft law, on the prevention of violence against women, could also help to protect sex workers from exploitation, while also bringing Myanmar into more effective compliance with the 1979 Convention on the Elimination of All Forms of Discrimination against Women (CEDAW).
But with the government and parliament giving no timeline for the introduction and implementation of the new laws, sex workers – of whom UNAIDS estimated there were 70,000, back in 2010 – remain at risk of violence, extortion and arrest.
Nowhere to go
Most women become sex workers because they are victims of hardship or poverty, or because they are the victims of traffickers.
"Women become prostitutes not because they are immoral, but because they had no choice," said Daw Khin Khin, 43, who became a sex worker nearly 20 years ago.
Khin Khin and her son were deserted by her husband in 2000 when he left her for another woman. She moved in with her sister at Yangon's eastern Thaketa Township, but fled after being raped by her brother-in-law.
"I was sitting beside a road in Pazundaung Township, crying because I had nowhere to go, when I was approached by a young woman who offered to help," Khin Khin told Frontier.
Khin Khin was taken to Insein Township where the woman was working as a sex worker with a pimp.
On her first day as a prostitute, Khin Khin's pimp said she had to accompany a soldier to a military compound in Mingaladon Township.
When she arrived at the compound, she was shocked to find "more than 20" men waiting for her.
"It was a dark night and they led me to a tree where I was gang raped," she said, her voice choking with emotion.
"When I begged them not to continue, they said I deserved it because I was a prostitute and some of them beat and kicked me," she added.
"Then I started to cry and they told me to run otherwise they would kill me."
Khin Khin said physical and verbal abuse and persecution are part of her life as a sex worker.
"There should be a law to protect us when we are abused without our consent," she said.
Khin Khin said sex workers are sometimes exploited by police informers who threaten to report them to the authorities.
"We either have to pay them to leave us alone or give them free sex," she said.
Over the years Khin Khin has served three terms in Insein Prison, of between 15 days and a month. The first time she was detained it was by a policeman who told her he needed to meet a monthly arrest quota.
Khin Khin has been HIV-positive since 2006 and is receiving anti-retroviral medicine from Washington-based health care NGO, Population Services International, for whom she has been working to promote condom use and to improve the rights of sex workers.
Although semi-retired, she still sometimes provides services to regular customers whom she has met through a dating service on Facebook. While she does not like the work, she said she needs the money to educate her son and help support her parents.
New laws planned
In 2017, the Ministry of Social Welfare, Relief and Resettlement's Department for the Development of Women began working on a law to replace the Suppression of Prostitution Act, director Naw Tha Wa told Frontier. The draft has been completed and is now at the Attorney General's Office.
She said an objective of reforming the law was to enable sex workers to change their livelihoods.
"It is to make a platform for them to change how they make a living," Tha Wa said. "At first the law will try to create job opportunities for them rather than giving punishment."
But she said it was impossible to decriminalise sex work and drop punishments completely because of "the country's norms and culture". The law will take a three-strikes policy, after which sex workers will be punished. She declined to comment further on the contents because the draft has not been finalised.
The government's refusal to decriminalise prostitution has concerned advocacy groups. Daw Nway Zin Win, executive director of Pyi Gyi Khin, an NGO formed in 1997 to empower vulnerable women and children, said it was contradictory to have sections on helping sex workers as well as others that would punish them.
"I'm worried about whether prostitutes will actually get protection under the law," she said. "I also wonder how they will implement it. It may encourage corruption because the [sex workers] can [pay money and] just keep saying it is their first time."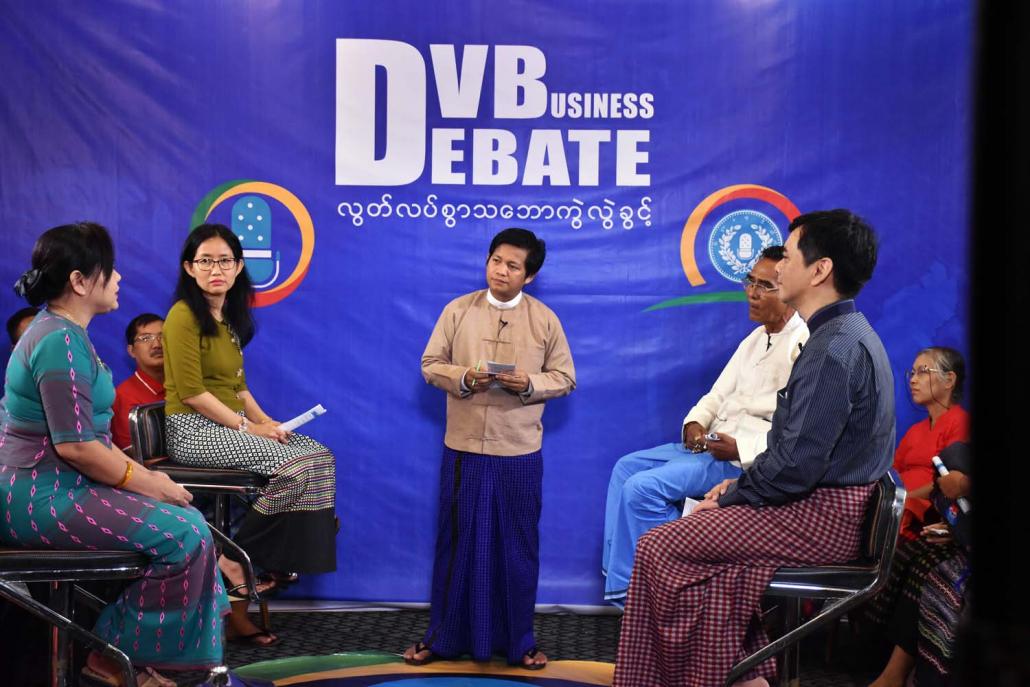 She suggested that the conflicting priorities of the law were because some parts of it had been taken from an earlier version drafted by the Ministry of Home Affairs that was abandoned by parliament in 2015.
"I think that if the Ministry of Social Welfare, Relief and Resettlement had been the focal ministry from the start the law wouldn't have had a focus on punishment."
The decision on whether to include punishments is important, as it can affect whether sex workers are able to access their rights. Presently few are willing to complain if they are abused by pimps, police or clients because it is likely to result in the sex worker being charged.
Criminalisation can also make it difficult for sex workers to access health care, which not only affects their rights but also hinders efforts to stop the spread of HIV and other sexually transmitted infections.
Daw Thuzar Win, who leads Sex Workers in Myanmar, a group that campaigns for legal protections for sex workers, said legal reform is overdue as the existing law is badly outdated. Not only are the punishments harsh and focused only on sex workers, but the law also lacks clear definitions in many places. Focusing on arresting sex workers also hinders efforts to reduce HIV prevalence, she said. "The law needs to be amended in cooperation with experts, including lawyers."
Political sensitivity
Nway Zin Win acknowledged the considerable political sensitivity over the reform of laws affecting sex workers because of strong opinions over the issue. She said she believed the National League for Democracy government was worried that it might be criticised if it approved reforms to laws affecting sex workers.
"I think that is the biggest challenge for reforming the law," she said.
But the Suppression of Prostitution Act amendment is not the only legal change that activists have their sights on. The draft law on the prevention of violence against women could also help protect the rights of sex workers.
The main reasons why sex workers endure inhumane conditions is because they do not have the same level of protection as other women, Nway Zin Win said, citing situations where sex workers are helpless to do anything if they are abused or exploited by the police or customers.
"If a customer refuses to pay, there is nothing the sex worker can do about it," she said.
"What we want is a law that provides sex workers with the same level of protection from abuse as other women."
Amyotha Hluttaw MP Naw Susanna Hla Hla Soe (NLD, Yangon 10), secretary of the Women and Child Rights Committee in the upper house, said the prevention of violence against women law had not been discussed in the Hluttaw since it was drafted in 2013 by the Union Solidarity and Development Party government.
"As far as I know, it has been revised nine times at the Attorney General's Office, and there has been much argument over the definition of 'rape'," she told Frontier in a telephone interview on July 6.
Susanna Hla Hla Soe then declined to continue the interview, in line with NLD rules for MPs, because the matter was yet to be discussed in the Hluttaw.
TOP PHOTO: Defendants in a recent high-profile prostitution case arrive at court. (Steve Tickner | Frontier)