China's decision to close all border trade gates with Myanmar is having a devastating effect on exporters, who had already been hit by restrictions introduced more than a year ago to counter COVID-19.
By FRONTIER
When China closed all trade gates with Myanmar shortly after noon on July 8, truck driver Sai Hla Phone found himself stranded in the border town of Muse.
He's steeled himself for a long wait, but he said he is not too worried about being stuck in northern Shan State since he's carrying beans, which are not susceptible to rot. Many others have been less fortunate, however.
"It doesn't hurt the drivers so much because we're paid a day rate for every day extra that we need to stay," he said. "The ones who suffer are the owners of the goods, particularly if they are perishable. The truck beside me is carrying onions, so they're not so lucky."
The snap border closure has stranded more than 1,000 drivers like Hla Phone at Muse's 105-mile border trade zone. Drivers estimate there were probably another 2,000 trucks on the highway between Mandalay and Muse when the gates shut indefinitely.
Hla Phone said drivers are just killing time, waiting to see how the situation develops. But given the scale of Myanmar's COVID-19 outbreak, he's not optimistic. "Nobody has turned back yet. But I think the gates are unlikely to open soon."
This closure is likely to put significant pressure on the economy, as border trade with China through Muse accounts for 70 percent of all trade over land.
COVID-19 began affecting border trade in April last year when China imposed restrictions after the first cases of the coronavirus were reported in Myanmar. The restrictions involved thorough checks of Myanmar trucks and their cargo, as well as drivers and their assistants. Drivers then had to be replaced by Chinese drivers before the trucks were driven across the border, a process that contributed to lengthy delays. But the complete closure of the border gates in July is likely to have a far more dramatic impact, at a time when the World Bank is already forecasting Myanmar's economy will shrink by 18 percent due to the coup and COVID-19.
'Prices are dropping exponentially'
The closure of Kyin San Kyawt and Pansai gates in Muse came a day after China locked down its city of Ruili, opposite Muse, after 20 new cases of COVID-19 were reported there, and the virus was detected among trading agents and workers in the border trade zone.
This followed the closure of the Mann Wein gate in Muse on March 30, and the closure of two gates in Kachin State, two in the Kokang Self-Administered Zone, and another in Moneko, northeast of Muse, in the first week of July.
Now, all trade has stopped with the exception of medical supplies and equipment. The Myanmar Pharmaceuticals and Medical Equipment Entrepreneurs Association said it was advised by the Myanmar Chamber of Commerce for Pharmaceutical and Medical Devices on July 11 that the Chinese government would allow Myanmar to import medical equipment.
"Since all the border gates are closed, there is no more business here," said Sai Khin Maung, vice president of a fruit buying centre in Muse, an intermediary business that connects fruit sellers from Myanmar to buyers from China.
The restrictions came at a bad time for farmers, traders and exporters because March and April are the harvest season for watermelons, and any delay in getting it across the border affects freshness and quality and therefore, price. Much of the fruit destined for China has now spoiled, causing heavy losses.
This is the second year in a row that fruit exports have been badly affected by COVID-19. After cases were reported in China's Yunnan Province bordering Myanmar last March, the Chinese authorities responded with restrictions that proved devastating for fast spoiling goods like watermelon and muskmelons.
During the harvest season last year, a tonne of watermelons fetched up to RMB6,000 (US$930, K1.5 million). But with many unable to export and instead forced to sell on the domestic market, the price fell this year to between RMB3,000 and RMB4,000 per ton, said fruit merchants at Muse.
Ministry of Trade and Commerce figures show that only 460,000 tonnes of watermelons were exported between October and June in fiscal 2020-21, compared to 590,000 tonnes during the same period the previous year. Fewer than 19,000 tonnes of mangoes have been exported compared to the previous year's 29,000 tonnes.
The general secretary of the Myanmar Mango Market and Technology Development Association, U Kyaw Soe Naing, said that more than 1,000 trucks loaded with mangoes had been stranded at the Kyin San Kyawt crossing in May, and the situation had not significantly improved in June or July.
"Prices are dropping exponentially. The export of seintalone mangoes to China has also fallen to half of what it was last year," he said.
The seintalone, or solitaire diamond, mango is one of the most coveted varieties in Myanmar and is a top seller in China, but export prices have fallen to below RMB100 a basket, down from about RMB120 last year, according to Kyaw Soe Naing.
Meanwhile, it's likely that a lot of onions destined for the Chinese market will have to be thrown away.
Myanmar exported more than 200,000 tonnes of onions up to June this fiscal year, most of which left the country through border trade. With the border closures, export volumes are likely to plummet — unfortunate news for those hoping to sell the crop whose season lasts until November.
U Aye Swe, an onion grower and trader in Mandalay Region's Pyawbwe Township, said the export outlook was grim. In addition to border trade with China being shut down, demand had fallen in Bangladesh, which he said was a bigger market for onions.
According to Aye Swe, the collapse of export demand has sent domestic prices plunging to K500 a viss (1.6kg), compared to K900 this time last year.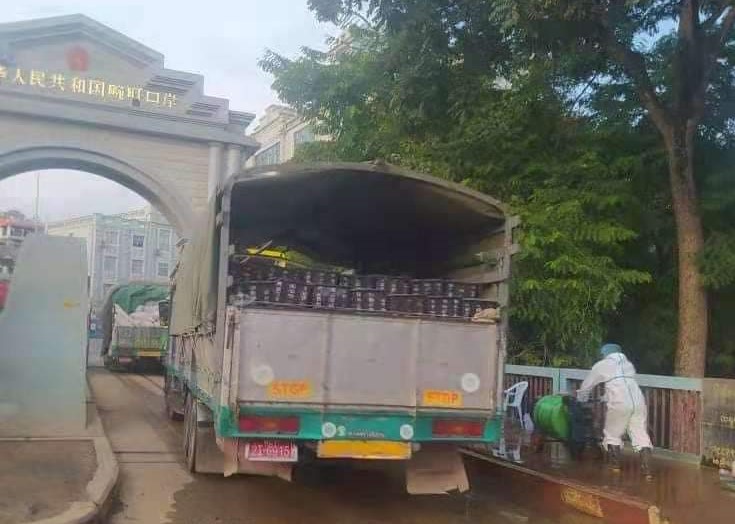 Transport costs double
Even before the border gate closures, traders were already dealing with the issue of rising transport costs caused by the pandemic and the February 1 coup. The cost of renting a 12-wheel truck to transport cargo from Mandalay to Muse had doubled in recent months, from around K1 million to K2 million, melon traders told Frontier.
Shipping has also been impacted due to both domestic and global factors. This has been especially problematic for rice exporters, and exports so far this year are just 900,000 tonnes – nearly 400,000 tonnes down on the same period last year. One of the reasons for rising transportation and logistics costs, particularly to the European Union, is that cargo ships were avoiding Myanmar ports in the immediate aftermath of the coup.
The cost of sending smaller volumes of goods from Mandalay to Muse had also risen sharply. Last year, a 16 kilogramme basket of mangoes could be shipped from Mandalay to Muse for between K1,200 and K1,400. The same basket would cost K2,000 to ship now.
On top of this, on April 19, nearly three weeks after the Chinese authorities closed the Mann Wein gate in Muse, they began testing all drivers and cargo for COVID-19, for which they charged RMB2,100 (about K500,000) a truck. The cost was lowered on April 22 to RMB260 (about K65,000) a truck.
Ko Ko Naing from the MMMTDA said it may not make sense for mango growers to rely on exports this year.
"Mangoes will mainly be sold in Myanmar – they are unlikely to be exported to China," he said.
Restrictions on exports
Border trade with China from October to June this fiscal year was worth US$3.8 billion, down $600 million on the previous year. With the border shut, the year-on-year decline is likely to increase in the remaining months of the fiscal year, which ends September 30.
Reduced border trade has contributed to a decline in the overall value of foreign trade, to $22 billion in the first nine months of the current fiscal year, compared to $27 billion during the same period last year, Ministry of Commerce figures show.
"Because COVID-19 checks at the gate take a long time and the number of people allowed in is restricted, the freshness and quality of agricultural produce such as melons has been affected," said a fruit merchant in Muse, speaking before the trade gates were closed. "They don't fetch a good price."
Myanmar will have to wait until China relaxes its border trade restrictions before there is any prospect of a recovery in exports, which apart from agricultural products, include mining and forestry products, seafood, and finished products. Imports include industrial raw materials, commodities and raw materials for industries such as the garment sector.
"I hope China will relax the restrictions when COVID-19 infections begin to go down," said U Tin Oo, a bean and sesame farmer from Kyi Kan village in Magway Region's Myaing Township. "Most crops are exported to China but we could only expect to receive good prices if border trade resumes in time for the rainy season harvest."