In rural Chin State, a health committee is helping provide much needed access to finance for villagers in the event of a medical emergency.
By TANIELE GOFERS & KHALEB BROOKS | FRONTIER
FOR DECADES, people in Pan Par village, Mindat Township, Chin State, have suffered regularly from illnesses including malaria, diarrhea and skin infections. Women died during childbirth because the nearest hospital was more than a day's walk away, and transport was arduous and expensive.
To address these issues, in 1997 seven villagers started a health committee. By offering education sessions and providing simple solutions to reducing the spread of disease, the committee had an immediate impact.
"Because we had clean water, clean toilets and mosquito nets, and people followed the lessons from the health education sessions, there was a reduction in the amount of disease," said U Ling Law Ha, chairman of the Village Health Committee in Pan Par, which has a population of 101 people in 27 households.
Soon it became clear, though, that a lack of access to finance was still a major factor in preventable deaths. In emergency situations, patients did not have enough money to get to the care they needed. In response, the committee established a village health fund in 1998.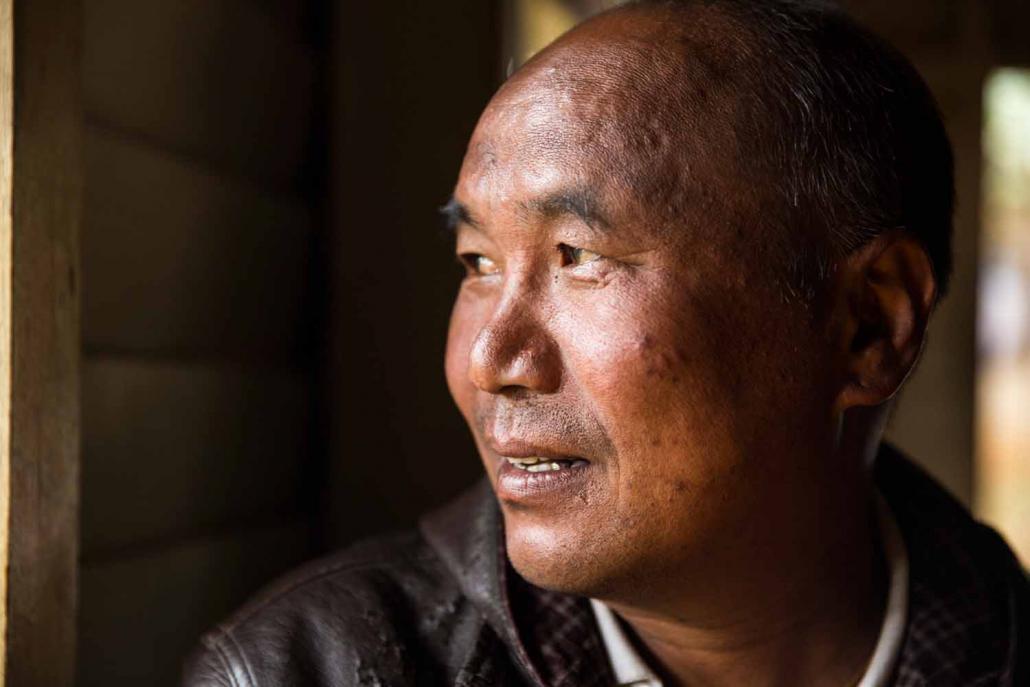 Every month, each household gives a small amount – whatever they can afford, but typically about K5,000 per month– to the fund, meaning that financial support for local health emergencies is available to all the villager's residents. All households are covered, even if they cannot afford to make a contribution.
When required, villagers borrow the amount necessary and have three months to pay it back at a rate of three percent interest. In the case of families who cannot afford it, the interest can be waived.
Ling Law Ha said poor-quality roads and access to care were the biggest healthcare obstacles in the region. By addressing these issues head on, the fund has made a big difference, he said.
"If someone was seriously ill, sometimes the men had to carry them on their shoulders to get to the government hospital in Mindat, which is 25 miles away. Now that we have ways of getting money, and the roads are improving, it's getting easier," he said.
Village health funds have been set up across Myanmar with the support of non-government and community-based organisations. The funds are a sustainable, locally-owned way of giving people in hard-to-reach areas access to healthcare services. How the funds operate — including how they are set up, the duration of the loan, interest rates and member payments — can vary depending on local regulations and by-laws.
To set up a fund, the Village Health Committee must first raise its own start-up money. This is usually achieved through donations, products sold at markets and contributions from villagers. The money raised is then matched by organisations such as the K' Cho Land Development Association for Pan Par village, or Myanmar Red Cross Society.
The funds can also be used in conjunction with other mechanisms. For example, the Three Millennium Development Goal Fund (3MDG) Emergency Referral Programme aims to reduce maternal and child deaths by providing, in emergency situations, money for transportation to nearby health facilities, food during the hospital stay and some other costs, such as medicines or investigations that are not covered by the government.
This creates critical linkages between different parts of the Myanmar health sector. When an emergency is highlighted by health staff, the money required can be taken directly from the village health fund and later reimbursed via 3MDG and its partners.
Some of the groups who support the initial setup of the village health funds and committees are financed through 3MDG, a multi-donor fund for health in Myanmar working in partnership with the Ministry of Health and Sports. Funded by Australia, Denmark, the European Union, Sweden, Switzerland, the United Kingdom and the United States, and managed by UNOPS, 3MDG supports the ministry to strengthen the health system at all levels, focusing on maternal, newborn and child health, HIV, tuberculosis and malaria.
These type of funds and local financing mechanisms are not only useful for health emergencies. Across Myanmar, harnessing local investment has provided financing for the purchase of new agricultural equipment and livestock, and helped start businesses and pay for education.
These funds have proven to be sustainable as well. A survey conducted by the Livelihoods and Food Security Trust Fund of 25 villages, which set up similar funds, found that 96 percent of villages were maintaining the funds after LIFT support to the programme had ended.
The initiatives provide access to finance and they also empower communities, meaning they are more likely to be sustainable. For example, the Par Pan village health fund was created when the entire community recognised that they face serious health issues that required joint solutions.
As documented in the report Collective Voices: Exploring barriers to healthcare in Myanmar, published in September 2016 as a result of more than 500 meetings with community members, trust in health staff is a key factor in whether or not people access healthcare.
Trust between communities and healthcare staff has to be cultivated. Initiatives such as the village health fund strengthen these relationships because they help communities become more aware of what services are available to them, and who can help them when they need it most.
Editor's note: This article was published in partnership with 3MDG/UNOPS