At least three Myanmar National League clubs face an uncertain future after losing either their home grounds or the support of wealthy patrons in the last year. 
By HTUN KHAING | FRONTIER
WHEN Nan Min Aung headed into the net a cross from Brazilian player Marcio Gomes, a jubilant roar went up from 3,000 Zayar Shwe Myay fans at the Monywa People's Sports Ground. The winning goal ended Yadanarbon's record 16-match unbeaten run in the Ooredoo Myanmar National League. But the victory was bittersweet for Zayar Shwe Myay fans; the match on July 10 was the last at their team's home ground.
"On the day of the match, there was an opening ceremony for the Sagaing Region Chief Minister's Cup football tournament. The two events clashed, so we could not let them use the ground for the tournament. The case [of ground ownership] was then raised in the Sagaing regional assembly," said U Thein Aung, manager of Zayar Shwe Myay Football Club.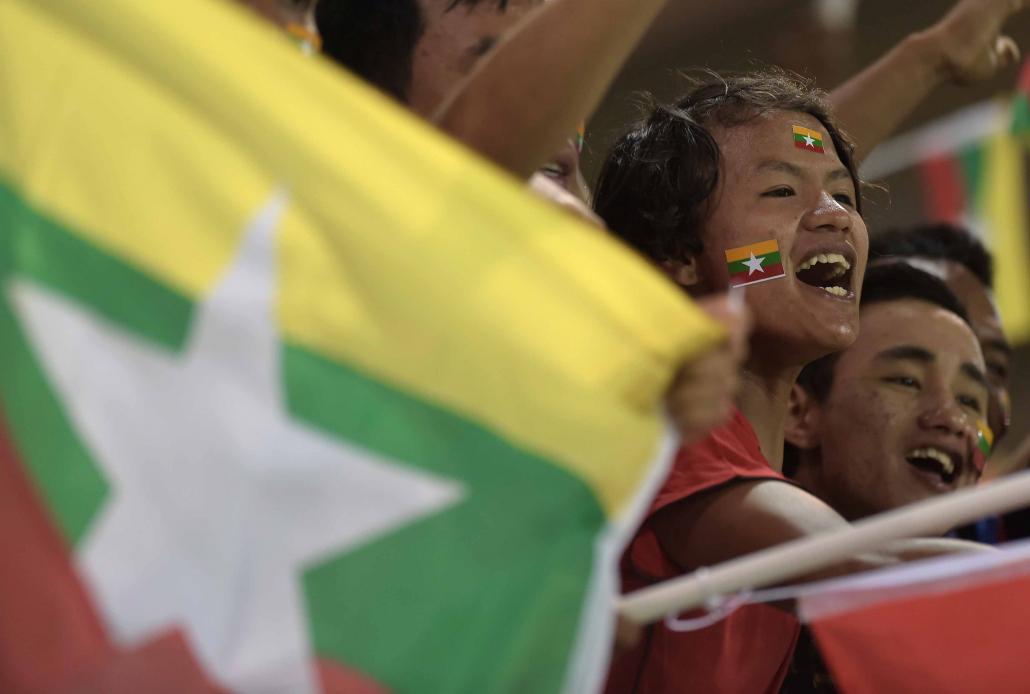 On August 12, the Sagaing regional assembly decided that the Monywa People's Sports Ground was a public venue and should be returned to the public.
Soon after, Zayar Shwe Myay – one of the MNL's founding members – announced that it would quit the league. Manawmyay FC, which represents Myitkyina, and Zwegabin FC, representing Kayin State, have also announced their intention to leave the MNL.
A good investment?
During the golden age of Myanmar football, the national team won every major Southeast Asian championship between 1965 and 1973. Years of neglect under junta rule resulted in Myanmar becoming one of the weakest teams in Asia, though a few successes in recent years have highlighted its potential to regain some of its past glory.
An attempt to revive the game was launched in 2009, a few years after tycoon U Zaw Zaw became chairman of the Myanmar Football Federation.
He launched the Myanmar National League to replace an amateur competition, receiving approval from the generals to abolish teams representing government ministries and replace them with eight teams that were each backed by moguls favoured by the junta for infrastructure and other projects.
The club owners have always denied receiving preferential treatment from the junta and said they were acting out of patriotism to support the development of football and the national team.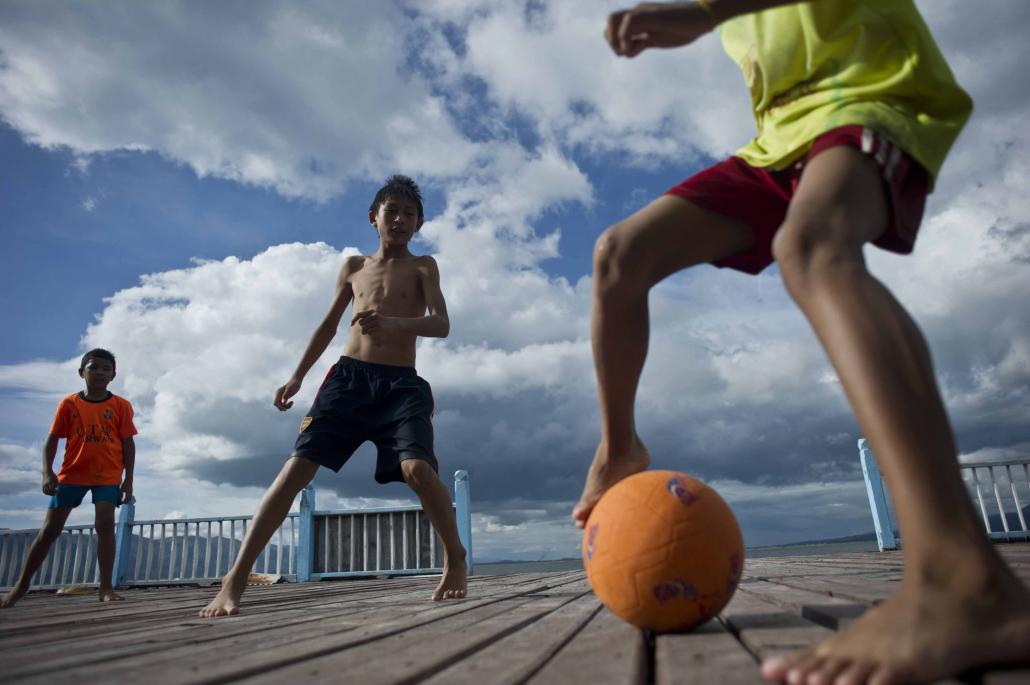 They are U Tay Za of Htoo Group (Yangon United FC); Dr Sai Sam Tun of Loi Hein Company (Yadanarbon FC, Mandalay Region); U Tun Myint Naing, also known as Steven Law, of Asia World (Magway FC, Magway Region); U Aung Moe Kyaw of IBTC (Hanthawaddy FC, Bago Region), U Htay Myint of Yuzana (Southern Myanmar, Tanintharyi Region); U Win Myint of Shwe Naga Min (Zayar Shwe Myay; Sagaing Region), U Chit Khaing of Eden Group (Ayeyarwady United — formerly Delta United, Ayeyarwady Region) and U Aung Ko Win of Kanbawza Group (Shan United, Shan State).
The managers of the clubs say yearly expenses range from K600 million (about US$492,000) to K10 billion, but they generate little income.
U Ye Naing Win, founder of Myanmar Special Media, which has been covering football exclusively since 2010, said it was well known in Myanmar that clubs could not turn a profit.
Nevertheless, investor interest rose in the league's early years. Since its launch in 2009 with eight clubs, the MNL has expanded to two divisions, each with 12 teams.
Asked why the rich continued to invest in the MNL, Ye Naing Win said: "The Myanmar people's number one interest is politics and football is number two."
Zaw Zaw, of Max Myanmar fame, has spent billions of kyat of his own money to promote football in Myanmar (as well as providing to other charitable causes). As a result, he is regarded by many as a "hero" rather than a "crony".
An MFF statement released last month said Zaw Zaw had spent more than K19.4 billion of his own money supporting the game since becoming federation president in 2005.
He could not be reached for comment. But at an MNL-focused seminar on August 27, he insisted that his contribution and that of football club owners was altruistic.
"We are not involved in football for our personal benefit. If we were acting for personal benefit only, we would not be involved in the MNL at all," he was quoted as saying.
Zaw Zaw's money and management expertise contributed toward Myanmar's debut in a World Cup competition, when it qualified for the 2015 FIFA Under-20 World Cup in New Zealand, though it failed to advance beyond the group stage.
"Other cronies also provide social assistance, but Zaw Zaw chose football; that's the difference," said U Chit Win Maung, editor of sport journal Tet Lann.
It is hardly a Myanmar phenomenon. It is common internationally for corporations and tycoons to own football clubs to promote their image.
But the special privileges the military government once handed out to favoured companies have largely ended since the National League for Democracy government came to power. The league is under financial pressure and at least three of its 24 clubs face an uncertain future.
Some are thinking of disbanding their teams and saying goodbye to the beautiful game, the country's most popular sport.
Failed project
Eight years after the launch of the MNL, it is clear that the tycoons who said they were investing in the sport for the national interest have had little success in realising many of their goals for the game.
Announcing plans for the competition in March 2009, Zaw Zaw said that Myanmar football had suffered due to a lack of "international exposure and youth development programs".
"If we do not introduce the Myanmar National League now we will never see improvement. This is the right time for Myanmar to begin to catch up with other countries," he was quoted as saying.
Although they hoped that changing from an amateur competition to a professional league would contribute to national success regionally and further afield, the results suggest this has not been the case.
The national team achieved more success in the ASEAN Football Federation's top competition before the MNL was launched in 2009. The national team played in the AFF championships in 2004 (when it was known as the Tiger Cup), 2007 (when it was called the AFF Championship), and 2008 (when it became known as the Suzuki Cup).
Over the three tournaments it played 12 games, winning four and averaging 1.3 points a match. Its best performance was in 2004, when it finished fourth to Malaysia.
Myanmar achieved three draws but failed to win any games in the nine matches it played in the AFF Suzuki Cup in 2010, 2012 and 2014, and averaged only 0.3 points a match.
The national team's poor performance in international games since 2009 is thought to have affected interest in the MNL.
Matches between the most popular teams – such as the Zayar Shwe Myay clash with Yadanarbon in July – can draw in several thousand fans. The clashes between Yadanarbon and Yangon United regularly attract tens of thousands.
But these are the exception, rather than the rule. Most encounters draw sparse crowds, with some games attracting as few as 100 supporters.
Chit Win Maung, who has been writing about sport for about 20 years, said another reason for the poor attendance at MNL games was because it was widely known that clubs were owned by tycoons. "In the opinion of local people, the football club owners are cronies," he said.
Another issue is that while the teams ostensibly represent the different geographic regions around the country, they are mostly based in Yangon. One example is Manawmyay FC, which represents the Kachin State capital, Myitkyina, and this season won the MNL-2.
Salai Khwe Shing, a sport reporter at the Myitkyina Journal, said the team had few followers in Kachin.
"Only a few people know that Manawmyay was demoted to the lower division last year," he said.
Football and politics
Club owners are under increasing pressure because of the change of government. This has upset the delicate political economy that made football teams an asset, even as they lost money.
"Football club owners won privileges for establishing football clubs in the past, but the change of government means there's no privileges available to them any more," Chit Win Maung said.
Zayar Shwe Myay was established to represent Sagaing Region by U Win Myint, a member of the Union Solidarity and Development Party and minister for commerce in the Thein Sein government. Prior to joining cabinet in 2011, he had been head of the Union of Myanmar Federation of Chambers of Commerce and Industry.
The club, which is run by Win Myint's son, U Thu Rain, is a foundation member of the MNL. When it launched in 2009, the military government granted it a lease to the Monywa sports ground. After the change of government, it came under increasing pressure to make it a public venue.
The issue was raised in the Sagaing regional assembly by NLD MP Daw Aung Kyi, representing Monywa 2, who accused Zayar Shwe Myay of "monopolising" the sports ground and refusing to allow its use by Monywa residents.
Aung Kyi said she raised the issue on behalf of the residents of Monywa and did not intend to create a crisis for the football club.
"It's not related to politics at all," she said.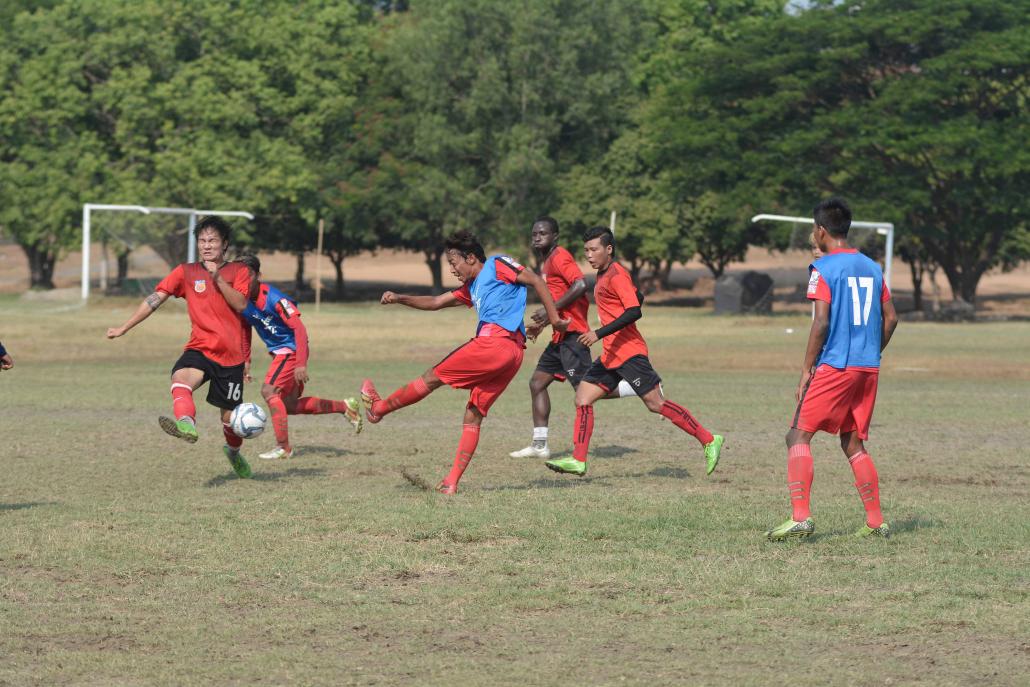 Among the town's residents who supported her call was Ko Zaw Thurein Htun.
"The people don't like the club founders using public facilities when they can afford to build their own stadiums and training grounds," he said.
Zayar Shwe Myay is not the only MNL club facing the prospect of losing use of its home ground.
Shan United (formerly Kanbawza FC), owned by Aung Ko Win's KBZ Group, and Nay Pyi Taw FC, a second division club, are also facing demands for the grounds they use to become public venues.
U Phyo Ko Ko Tint San, whose father U Tint San served as minister for sports and minister for hotels and tourism in the Thein Sein government, became chairman of Nay Pyi Taw FC in 2010.
Nay Pyi Taw FC was established during the military government to represent the national capital. It uses the Paung Laung Sports Ground in nearby Pyinmina – where residents are demanding the club go elsewhere.
U Ohn Lwin, a member of a sub-committee campaigning to regain public control over the stadium, said petitions signed by 100 people in 2011 and more than 1,200 people in 2012 were submitted to the government demanding that the football ground become a public venue.
"We repeated our demand in July and MPs are trying to raise questions about it in the Hluttaw," Ohn Lwin said.
"Paung Laung Stadium was not built by a government; it was built in 1973 by the people of Pyinmana with their own money. Since the government seized the stadium and gave it to the club, residents have not had a stadium," he said.
One club has already bitten the dust: Manawmyay FC, which won promotion to the MNL's first division during the 2016 season, which ran from January to August.
The club is owned by the family of U Zahkung Ting Ying, who leads a Border Guard Force known as the New Democratic Army-Kachin.
In last November's elections, Zahkung Ting Ying was elected to represent Kachin-5 constituency in the Amyotha Hluttaw. The result was later annulled by the Union Election Commission and his NLD rival, U Yaw Na, was declared the winner.
After losing an appeal over the decision, Zahkung Ting Ying's family told the MFF it no longer wished to support the club.
Khwe Shing said he had asked club officials if the family's decision to disown the club was related to the political situation. "They did not give me an answer," the journalist said.
Difficult times ahead
On September 10, the MNL released a statement saying that Manawmyay had disbanded, while Zayar Shwe Myay had resigned from the league.
For the owners of Zayar Shwe Myay, part of the problem was not just control of their home ground; there was also a lack of appreciation from the people of Sagaing.
"The owners … were disappointed when the people spoke ill of them," said U Thein Aung, the club's general manager.
Thu Rain, son of Zeyar Shwe Myay owner Win Myint, said: "We did as much as we could for developing Myanmar football together with the MFF."
While the club will continue as a legal entity, at least for the time being, Manawmyay's licence has been revoked. Staff entitlements are an issue, as it is unclear whether Zahkung Ting Ying will abide by Myanmar labour laws. Initially the league said it would pay one month's salary to all staff and players, but then on September 15 it extended that to two months, at a cost of K26 million. It has given Zahkung Ting Ying until the end of October to pay the rest of their entitlements.
Frontier understands that a number of other clubs are also facing uncertain futures. The decisions forcing some clubs to return their home grounds to the public have prompted other MNL sides that hire public venues to reconsider their plans.
U Soe Moe Kyaw, MNL's chief operation officer, declined to comment on the future of the clubs. "We will release a statement in a few days," he told Frontier by telephone on September 6.
On September 13, the Myanmar Times reported that the MNL-1 would retain 12 teams for the next season, which begins in January. Southern Myanmar, which finished second from bottom, will now avoid relegation, while an additional team, Nay Pyi Taw FC, will be promoted.
With football receiving little financial support from the government, the league – and the game more broadly – will face a difficult future if tycoons withdraw their support.
"It would have been difficult for the MNL to exist without the tycoons," said U Bo Bo Aung, a diehard Yangon United fan.
Ye Naing Win said it was time for the MFF and the government to tackle the problems facing the game.
"If we don't overcome these issues," he said, "the calibre of Myanmar football will suffer a sharp decline."
Translation by U Ko Ko and Aung Kyaw Oo. Top photo: Players from Ayeyarwady United warm up before a training session. (Teza Hlaing / Frontier)