The eviction ended an early-morning raid in Yangon on staff housing where most workers had joined the Civil Disobedience Movement, and who now say they have nowhere to go.
By FRONTIER
Police and soldiers evicted more than 1,000 Myanma Railways staff from their state-owned homes today for participating in the Civil Disobedience Movement, which has seen workers across government refuse to attend work in order to topple the military.
Hundreds of police and soldiers raided the staff housing compound in Yangon's Tarmwe Township at about 6am and for much of the morning blocked all exits and entrances to and from the compound, raising fears among residents of imminent violence.
Police initially arrested three locomotive drivers but by noon began forcibly evicting everyone, shouting that their homes would be bulldozed and they and their families would be shot and killed if they refused to leave.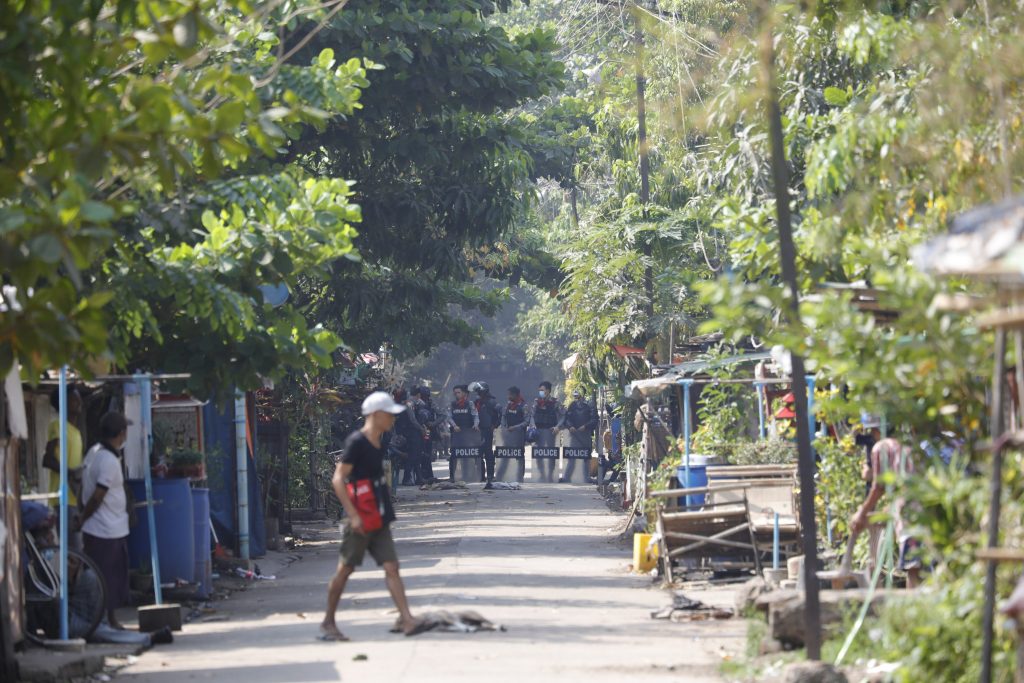 "They have a list of people in the CDM who [they are] going to arrest, but if they want to arrest people in this compound who support the CDM, we will all be arrested," a railway employee and compound resident told Frontier this morning, before it became clear the residents would all be evicted. "There is no one here who doesn't support the CDM."
About 1,000 Myanma Railways personnel and their families lived at the compound, which adjoins the Ma Hlwa Gone railway station, and have been participating in the CDM since February 8. One resident told Frontier many of them have nowhere to go, and are worried about keeping children and elder relatives that live with them safe.
Before the eviction orders, Frontier witnessed many residents fleeing the compound with their belongings hastily packed into plastic bin bags, fearing they'd either be arrested or forced to quit the CDM and return to work.
Police and soldiers who stormed the housing compound confiscated rice and other goods that had been donated by the public for railway staff taking part in the CDM.
One resident said that shortly after the raid began about 50 police had entered the compound from the east, before the main entrance on the western side was blocked by army trucks and a large number of soldiers. At about 11:30am, another 40 police arrived at the compound in six vehicles, and by late morning a total of 15 military vehicles, five police cars, and hundreds of police and soldiers had surrounded the compound and blocked all exits.
"It means that we are locked in," the resident said this morning. "I think we are in for a bad situation tonight. The problem is there is no way out. I have only two choices: be quiet or fight back."
The raid at Ma Hlwa Gone follows a series of failed attempts by the Tatmadaw to coerce striking railway personnel into returning to work. In Mandalay on February 17, soldiers tried to force rail workers to return to work at gunpoint but failed.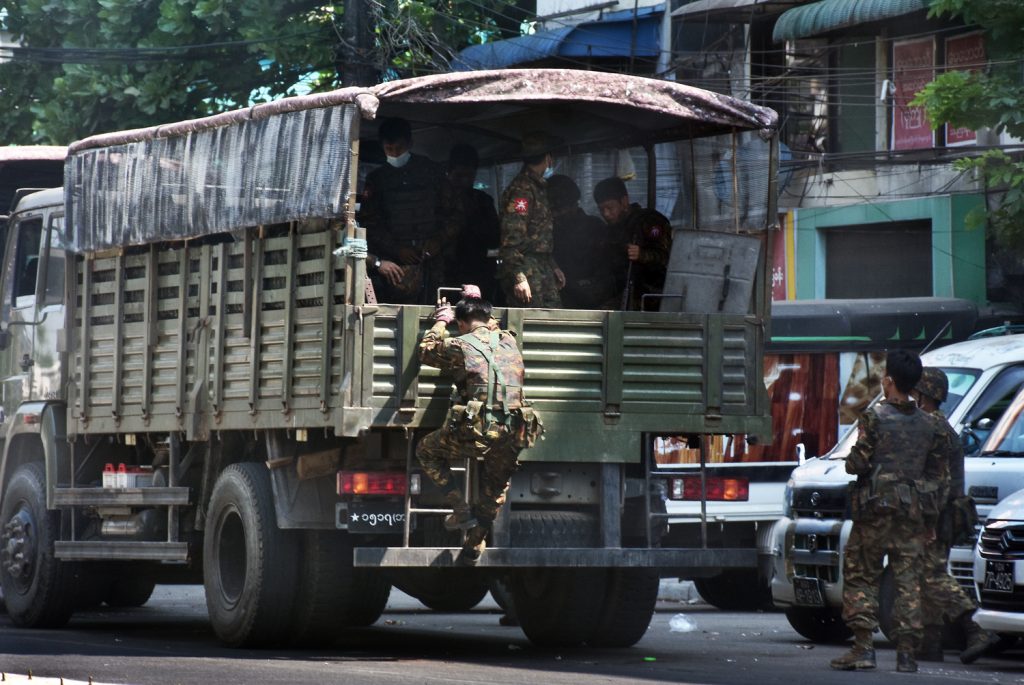 Nationally, an estimated 90 percent of the 30,000 Myanmar Railways employees have joined the movement, halting train transit across the country since early February.
Striking workers have been supported by public donations of food and money that volunteers have helped distribute to personnel at all levels.
"Most of the donations go to the big railway workshops such as those at Ma Hlwa Gone and Insein [in northern Yangon]. People don't notice the other railways staff ­– the people who check tickets and maintain the tracks – so we are making sure the donations also help them," said U Htay Hla, a deputy general manager of Myanma Railways' railbus engine and maintenance department, who has gone into hiding from the Tatmadaw.
Despite threats to not pay striking workers, the military administration paid the February salaries to striking Myanma Railways staff in the beginning of March.