By MRATT KYAW THU | FRONTIER
MANDALAY — U Kyaw Myo Swe, the plaintiff in the ongoing defamation case against prominent Yangon journalist Ko Swe Win, was himself arrested at a Mandalay court on Monday for taking part in last week's anti-government demonstration.
The Chan Mya Tharzi Township police station issued an arrest warrant for the plaintiff on Saturday, the same day the demonstration was dispersed by police and many of its participants were arrested.
Kyaw Myo Shwe had been participating in the nationalist protest — which was calling on the government to resign for what participants alleged was efforts to undermine the Buddhist faith — and had run away from police during Saturday's confrontation.
Yet two days later, Kyaw Myo Shwe decided to attend proceedings against Swe Win at a hearing in the Maha Aung Myay court across town.
Shortly before midday, Swe Win's lawyer moved to halt proceedings until a decision had been made on whether the warrant against the plaintiff should be executed.
After a brief recess, the presiding judge ruled that proceedings were to adjourn and ordered Kyaw Myo Shwe to be taken into police custody.
Outside the court, a crowd jeered Kyaw Myo Shwe as escorted away, shouting their delight at his arrest.
Swe Win was appearing in the Maha Aung Myay court for the second time, following his arrest at Yangon Airport on July 30.
Last week, Swe Win was bailed to appear before the court on Monday and returned to Mandalay in the company of several activists and former political prisoners.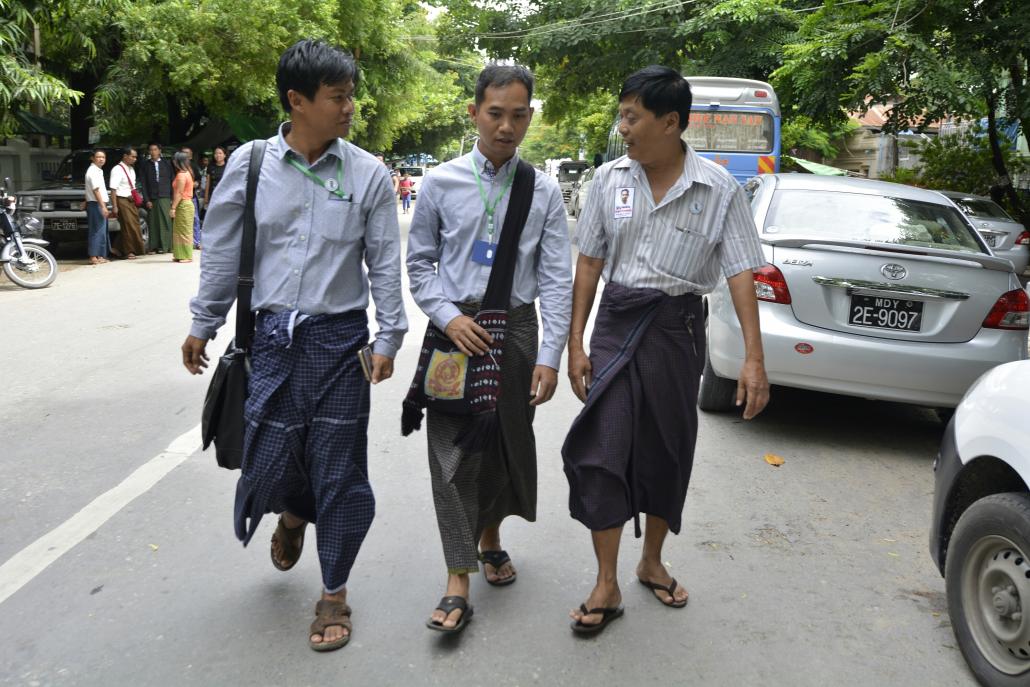 Kyaw Myo Shwe had filed a complaint under Section 66(d) of the Telecommunications Law against Swe Win in March, alleging the Myanmar Now editor had defamed senior Ma Ba Tha member U Wirathu on Facebook.
The post in question had questioned whether Wirathu was fit to be a monk after celebrating the assassination of government advisor U Ko Ni in January.
Kyaw Myo Shwe later attempted to withdraw the charges, telling media his mother had urged him to drop the case.
Following his arrest, Kyaw Myo Shwe was remanded in custody at Obo Prison and will face court in the coming days under Section 505(b) of the Penal Code, a statute dealing with public tranquility.
Swe Win will next face court on August 21.