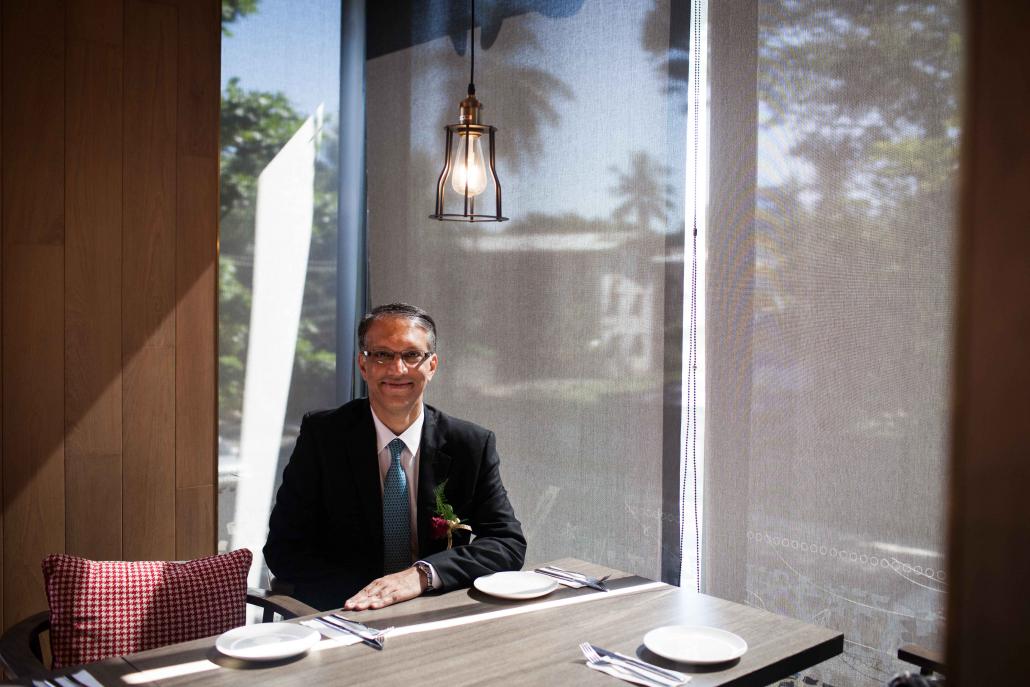 Fast food giant Pizza Hut officially opened its first Myanmar branch in Yangon's Golden Valley on November 24. Pizza Hut is a subsidiary of big global fast food company, Yum! Brands, that opened its first KFC outlet in Yangon in June. Pizza Hut's Myanmar branch is operated by Jardine CM Restaurant Group Company, a joint venture between City Mart Holding Co., Ltd, and Jardine Restaurant Group Myanmar Pte Ltd. Vipul Chawla, the managing director of Pizza Hut Restaurants Asia Pte Ltd, spoke to Frontier about the company's expansion plans in Myanmar and how it hopes to take advantage of the country's growing economy. 
What opportunities do you see in the Myanmar market?
In a country with a population of 50 million people, it's a great opportunity for a consumer brand, so that's one. Clearly we feel that the time has come for international brands like ourselves to be present here and build the business. 
This business will take several years to build. We are also finding that the early response to brands like ours are very positive, because the market is clearly hungry for the opportunity. Many people have travelled abroad. They have heard about the brands and want to be part of that experience. 
When you look at an asset like this, in our view it is a world-class asset. We've spared no expense in building this. So the market is ready and therefore I think it's a great opportunity for us to build. Building of the brand will take five to 10 years. 
What is the strategy for building the Pizza Hut brand in Myanmar?
It's pretty much the same in most other markets. We obviously focus on the brand experience, which is the dining experience. We focus on great training for our staff. We offer entry-level jobs, which we believe build life skills, and many people start in jobs like this and go on to other things, and many stay with us. 
We have already created 100 jobs for this restaurant, and the plan is to have 500 jobs in the next couple of years. I am only talking about direct jobs, not indirect jobs. 
We believe certainly in moving in early. Moving in at the right time is important and we believe that the time is right. 
Our plan is to open 15 to 20 restaurants in the next five years. Our sense is that it will be mainly around Yangon, but we will certainly test the waters in other cities. It's too early to name [our second outlet] but we will have a second store next year, that is a certainty. 
It's still early days for the fast food market in Myanmar. Who are your main competitors?
We compete for a  share of the stomach, so we really compete with everybody. Our aim is for unbelievable tasting food at good prices, and a very hospitable dining experience and that's what makes us unique and distinctive. 
Pizza Hut has a big presence in Southeast Asia. How can you use that regional experience to your advantage in Myanmar?
I think firstly in terms of the entire emerging market experience. For example, Vietnam, where we focussed on training, and that is an important part of what we do, making sure there is consistency in terms of the standards we are offering. So we draw on that experience, and in fact many of the staff here have been trained in Vietnam. 
In terms of the quality of our food, things like the pasta and the appetisers, a lot of that [experience] comes from a developed market like Hong Kong. So we actually draw on both emerging and developed markets.
What is your target market in Myanmar? 
Usually we target families because we think that this is a family experience. Our demographic here is likely to be younger because we think the first to adopt this will be the millennial customers [born between the early 1980s and early 2000s], and the atmosphere is conducive to them and is conducive to families. 
Has it been a challenge to source ingredients?
We are committed to supporting the local supply chain and businesses, and working with local suppliers where possible, without compromising on Pizza Hut's international quality standards. There are ingredients like cheese, sauce and toppings, which come from overseas. While the flour that goes with the dough is sourced locally, in addition to many other items.
We use this kind of combination in other countries and this seems to apply well here. It works commercially and it works in a sense of our ability to bring in international standard menus and tastes.  
Some nutritionists have raised health concerns about greasy food in Myanmar. A pizza is greasy food. What is your take on this?
As a responsible brand, what we do is give the customers choice in our menus, from salads to baked vegetables to core pizzas and pastas. We believe that it is our responsibility to provide options and educate customers, which allows them to make informed decisions about what they eat. That's our global position and that's our position as well in Myanmar.