Long overlooked, Pinlaung in southern Shan State offers stunning waterfalls, coffee farm tours and even a bridge for lovers.
Words & photos by DOMINIC HORNER | FRONTIER
Only Pinlaung's remoteness can explain why it receives so few visitors. Set in a valley in southern Shan State, the small town offers thrilling outdoor excursions delivered with rough and ready charm amid rolling green hills. With Myanmar tentatively reopening to domestic travel, adventure seekers would do well to enjoy this lesser explored corner of Myanmar – before everyone else does.
Trekking tours
Unlike neighbouring trek-hub Kalaw, you are likely to have Pinlaung's surrounding countryside to yourself. One-day circuits take in rugged hilltop pagodas and quaint villages of ethnic Pa-O – distinctive for their brightly coloured headscarves – but local guides say there are homestay options too. As tourism in Pinlaung is still in its infancy, it's best to make enquiries a few days in advance because they need to be organised on a case-by-case basis.
Need to know: Wine Wine Lae Hotel and Hotel Pinlaung can put you in touch with several local guides.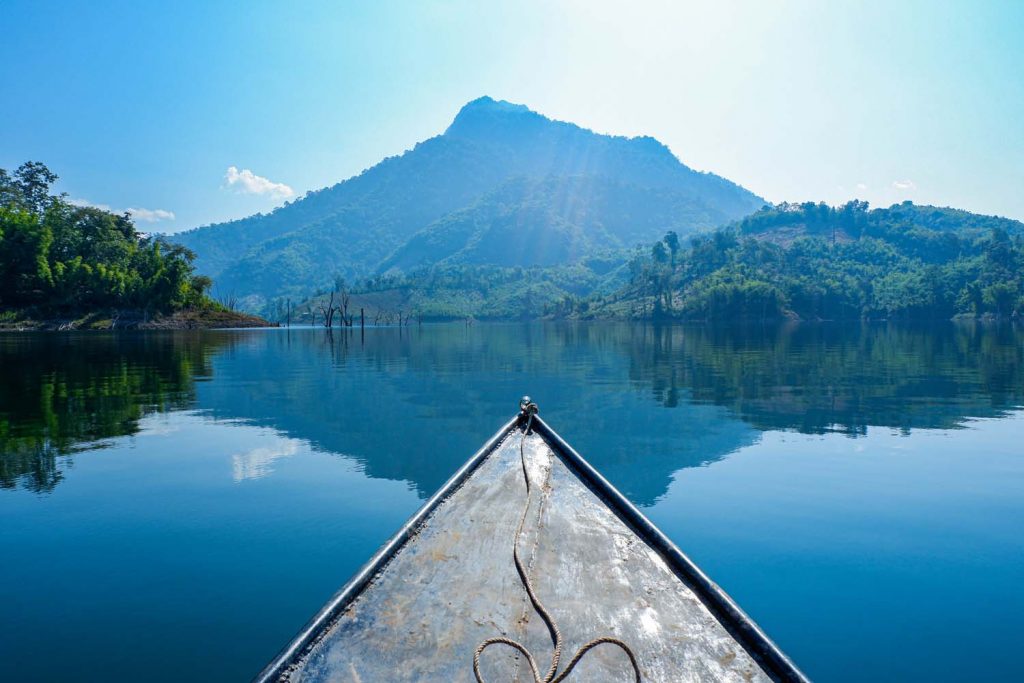 Spectacular waterfalls
Nant Mon Gyi
Without question one of the most stunning natural attractions in Myanmar, Nant Mon Gyi (often Nammongyi on maps) has a little bit of everything, including a fantastic boat ride through a valley, rushing jade-green waters and a couple of formidable jumps. There's even a restaurant with some cosy bamboo bungalows lining the river should you wish to make a weekend out of it (you should). I've stayed twice at Nant Mon Gyi without a problem, but foreigners have apparently sometimes been refused accommodation. It's best to arrive early so if that does happen you can turn it into an epic day trip.
Need to know: From Pinlaung it's about 90 minutes west to the river where you can hire a boat (K60,000) for the hour-long voyage to the falls. The pick-up is at Paung Long restaurant (19.986640, 96.581004). Bungalows cost K20,000 to K30,000 per night.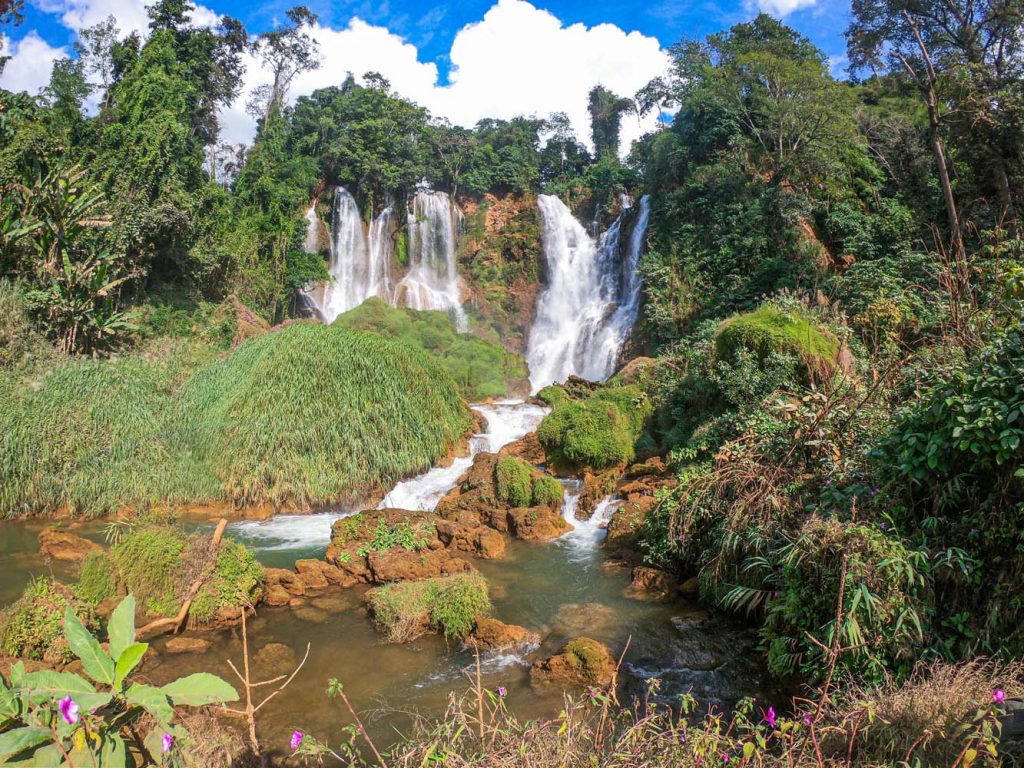 Har Waterfall
Remember all the gushing praise I poured over Nant Mon Gyi? Double it, put it on a six-month course of steroids followed by a tab of acid and then blast it into space. Har Falls really is something else. Winding its way through jungle backwaters, the boat trip is worth the price of admission alone. But then come the staggeringly beautiful falls – and with barely a scrap of litter, which in Myanmar is not often the case.
Its sheer remoteness guarantees an authentic into-the-wild adventure that I would recommend to anyone. It's one of the best waterfalls in Myanmar – if not the best.
Need to know: It's easier to reach Har with a guide (inquire at your hotel). Once you reach the drop-off, (19.985115, 96.628789), expect to pay around K40,000 for a boat.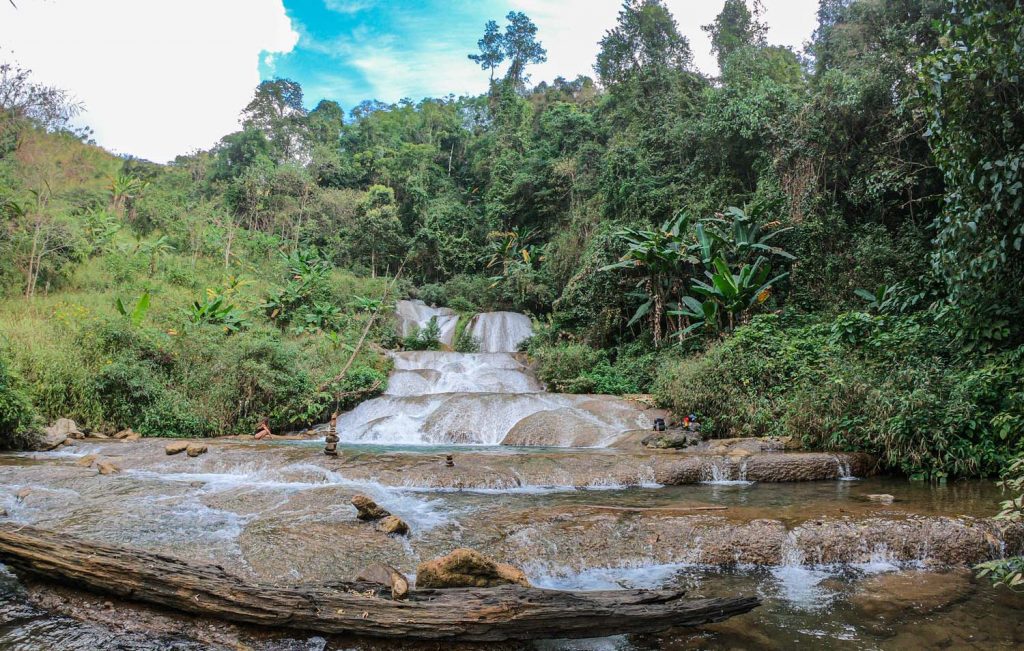 Sin Sim Waterfall/Wingabar Taung
On paper Sin Sim looks by far the easiest of the three waterfalls to access. In reality, once you get off the main highway the road deteriorates rapidly, so consider riding pillion on a guide's motorbike if you lack confidence driving.
Sin Sim doesn't come close to scaling the dazzling heights of Har and Nant Mon Gyi, but let's face it – very few places do. Judged on its own merits, Sin Sim is a quiet, secluded spot where you can bathe and enjoy a packed lunch before canning it back up the rocky mountain road.
En route to Sin Sim, consider a quick cultural pit stop at Wingabar Taung, a complex of stupas large and small scattered over a craggy cliff with a cave at the foot of the hill. As detours go, it's a good one.
Need to know: Allow about an hour to reach the waterfall from Pinlaung by motorbike (a car isn't possible).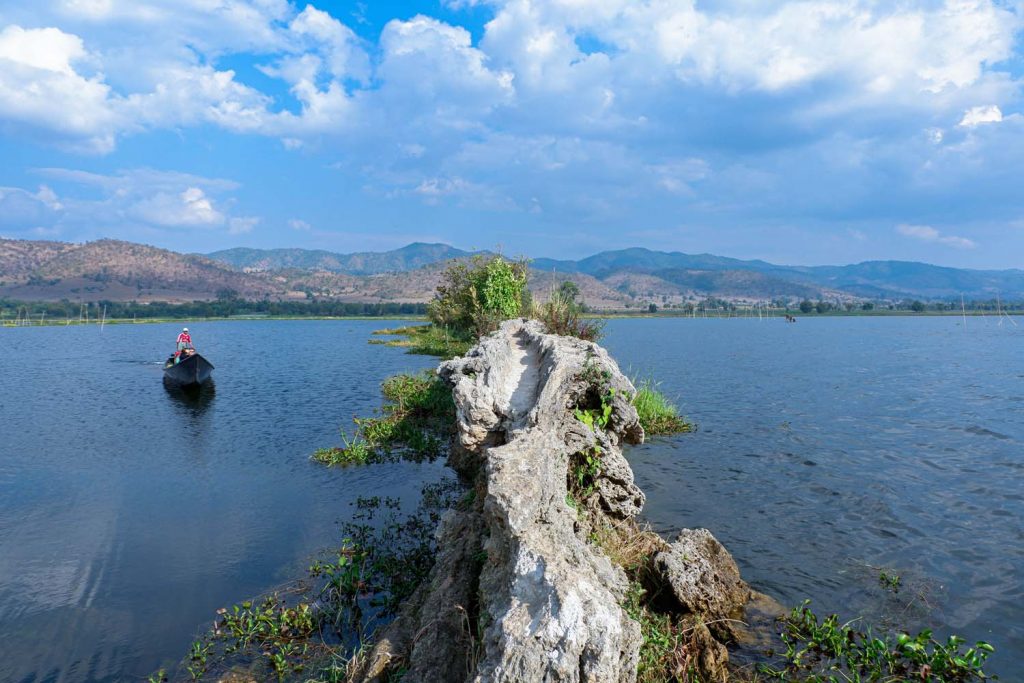 Lovers' bridge
Love the scenery but not the crowds at Inle? Samkar Lake delivers on the former but has none of the latter. Much like Pekon to the south, you could easily make the case that Samkar and Inle are the same lake partitioned off by a series of narrow, reedy channels. A boat trip to Samkar takes you through a number of these pretty channels and past several handsome pagodas and monasteries. By far the biggest draw though is the "Romeo and Juliet" bridge (Tin Yoe), a narrow tree-lined stone walkway that crumbles into the water at the centre of the lake. The history of the bridge is somewhat opaque (something about a Shan prince who wanted to be closer to his lover?), but it's a super fun mini-ramble and an ideal spot to load up on pretty pictures.
Need to know: From Pinlaung it's about an hour to the lake and then about three to four hours for the boat ride. The drop off is (20.212870, 96.913454) and a boat should cost K10,000 to K20,000, depending on the length of your trip.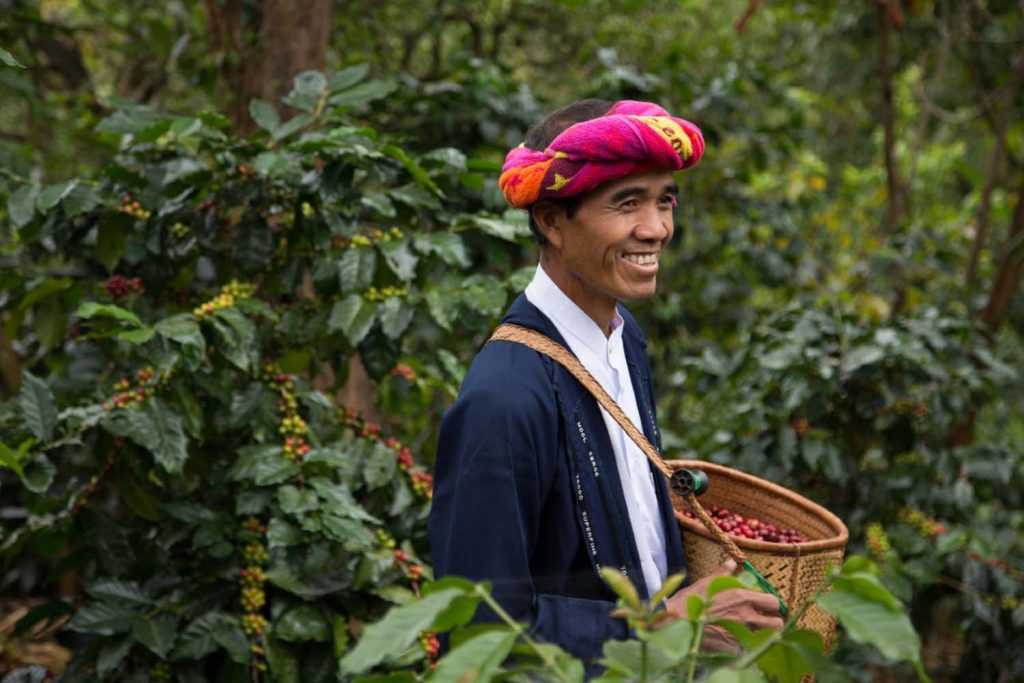 Coffee farm tours
Caffeine junkies are in for a treat at this coffee farm 20 minutes outside of town. Behind the Leaf Coffee, a major player in the budding Myanmar coffee industry, has a plantation nestled snugly in the hills where you can not only sample the local blends, but also (during harvest season) take a guided tour to see how the coffee is produced from seed to cup. Afterwards head up to the café and enjoy the view while sipping your double espresso.
Need to know: The farm is open year-round from Monday to Saturday (8.30am-5pm) with guided tours running during harvest season (December-February).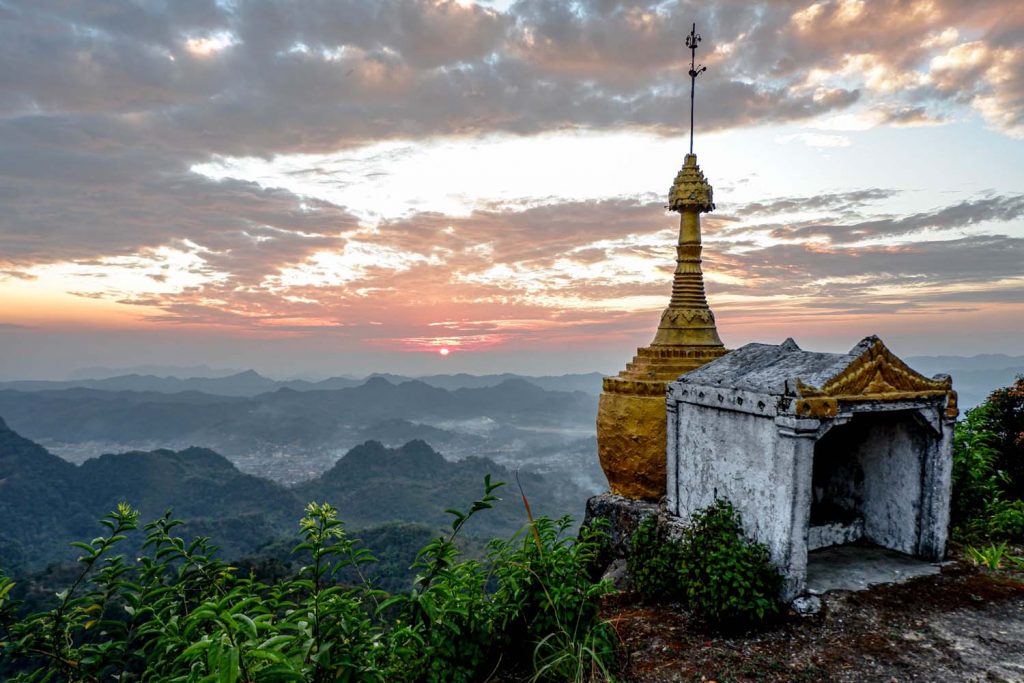 Sunset views
No trip to Shan State is complete without a Shan sunset; when in Pinlaung, Loi Maung Taung Pagoda is the place to enjoy it. Located to the west of town, from Loi Maung Taung you can peer down into the valley onto Pinlaung itself. To the east is mile after mile of undulating hills, tiny villages and, far off into the horizon, Lake Samkar.
Need to know: It takes about 15 to 20 minutes either by car or by motorbike to reach the pagoda.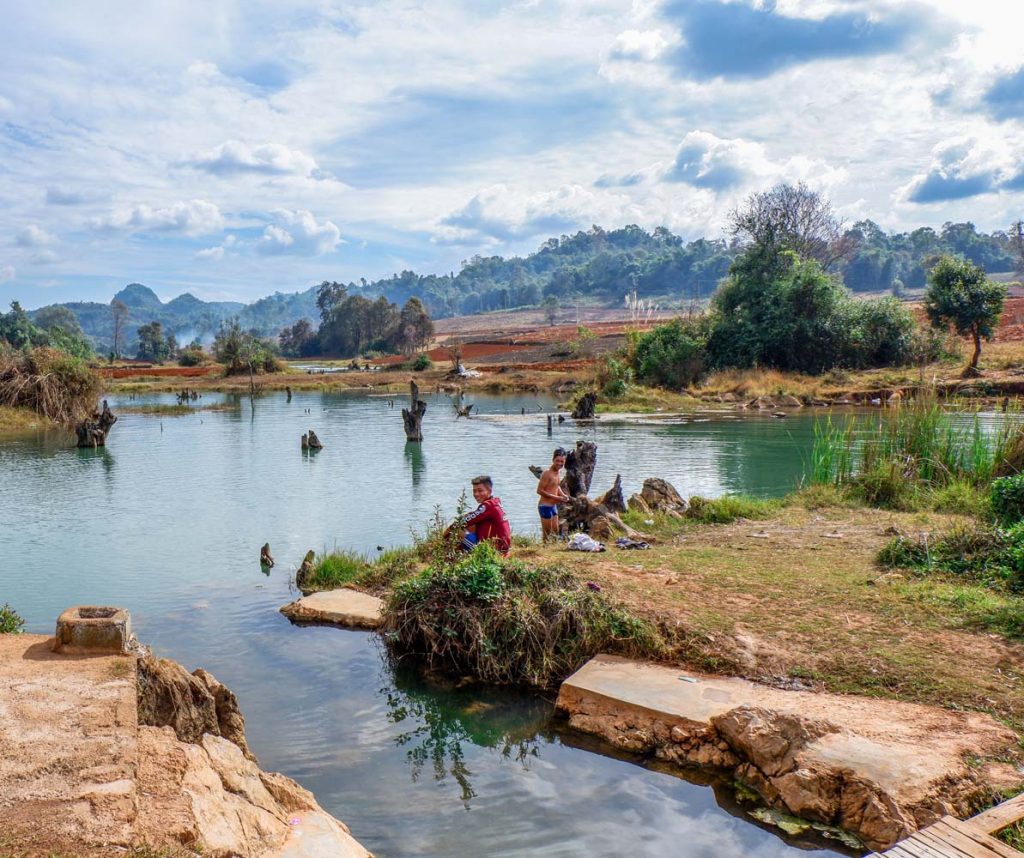 Cool off in the Balu Chaung
The Balu Chaung River (20.148801, 96.748398) just outside of town is a great cooling off spot – especially after a sweaty trek through the hills – and its deep, cool waters draw in plenty of locals, making it an ideal setting for a chilled afternoon of beer drinking and outdoor swimming.
Need to Know: The stream is located next to a small village about 10 to 15 minutes' drive from Pinlaung.
How do you get here? Getting to Pinlaung can be a bit of a pain. If you can, it's best to be in either Shan or Kayah states to begin with and to work in Pinlaung as part of a larger trip. Here are all the available options:
From Heho airport it's 2.5 to three hours by car.
From Loikaw it's two to 2.5 hours by car.
From Nay Pyi Taw it's five to six hours by bus.
From Yangon it's about 12 hours on a Loikaw-bound bus.
How long will you need?
To do everything you'll need five to seven days.
Where do you stay?
Friendly family-run Wine Wine Lae Hotel (+95 8154 065) is based in the centre of town (K25,000 to K30,000). Hotel Pinlaung (+95 9250 142 083) is located at the foot of a hill just outside town and is considered to be the more upmarket option (US$35 to $45). Both hotels can help to organise guides and transport.
Note: At the time of writing Hotel Pinlaung was not accepting foreigners due to the COVID-19 pandemic. If you plan to visit, make sure you call in advance.
Best time to visit? Tourism in Pinlaung is pretty evergreen (as long as you don't mind trekking in the rain). Nant Mon Gyi and Har Waterfall are closed off during monsoon season (mid-May to mid-October).