Following the devastation of Cyclone Mocha, the Arakan Army says it will work with the military regime to help people in Rakhine, but that cooperative spirit appears to be one-sided, with the junta still facing accusations of holding up aid for political purposes.
By FRONTIER
Four days after Cyclone Mocha tore through Rakhine State, a local rescue group filmed their arrival in Thea Khon village, near the mouth of the Kaladan River on the Bay of Bengal. "There's nowhere to live and nothing to eat. It would be better to die," an elderly woman told one of the rescuers in the video.
The Pauktaw Township village experiences destructive tidal incursions most years, but the May 14 storm reduced almost the entire community to a stretch of beach littered with rubble. Of the 400 households, only 20 were left standing.
Ko Lin Lin, chairman of the foundation shown in the video, told Frontier on May 19 that residents were in urgent need of tarpaulin sheets to provide temporary shelter while their homes are being rebuilt, as well as clean water and food. Sea water has contaminated most reservoirs, making the water undrinkable.
"This is the worst-hit place in Rakhine State because nearly the entire village disappeared into the sea," he said. "How can we even identify whose house is whose by looking at these stumps?"
Ko Maung Maung, a 30-year-old resident of Thea Khon, told Frontier he lost his house and his boat in the cyclone. Like many others in the area, his livelihood depended on his boat, which he used to carry passengers and goods, or to catch fish and make ngapi to sell. He said he and his family only survived the storm because they sheltered at a monastery in a neighbouring village.
"When I went to look at the house the next morning, all I saw was a vast empty plot. There is nothing left. It's difficult for us to rebuild because we're living hand to mouth. I'm at a loss on what to do," he said.
The military regime has put the death toll at around 145, while the parallel National Unity Government says the true figure is likely much higher. Many of the victims are Rohingya Muslims, who have been discriminated against for decades, with about 140,000 of them confined for over a decade in camps in Rakhine after being displaced by intercommunal violence in 2012. Meanwhile, the United Nations World Food Programme said some 800,000 people are "in urgent need of emergency food assistance".
Competing or cooperating?
Residents from eight townships across Rakhine told Frontier people are in urgent need of building materials, clean water, food and healthcare services.
In most countries, it would be relatively straightforward for international organisations to cooperate with relevant authorities to deliver aid. But as in many parts of Myanmar, the military junta is not in full control of Rakhine, where the powerful Arakan Army has established a parallel local government.
The AA and the military fought a fierce war from 2018 to 2020, but since the 2021 coup, the AA has taken a different approach from the newly formed anti-regime resistance groups and their ethnic armed group allies. Other than around four months of fighting last year, it has observed a ceasefire since November 2020, using it to quietly consolidate control while the regime is distracted with armed uprisings elsewhere.
Rather than assassinating or expelling the regime's local administrators, the AA has sought to co-opt them. It has discouraged civil servants in Rakhine from joining a mass strike that hobbled the military regime in other parts of the country, but which also undermined essential public services like healthcare and education. At the same time, the AA has rolled out its own parallel public services.
The AA seems to be following a familiar pragmatic pattern in the aftermath of Cyclone Mocha. The group's spokesperson, Khaing Thu Kha, told Frontier the AA and its administrative wing, the United League of Arakan, will cooperate with anybody if it helps the people.
He said it is "more appropriate" for the ULA to take the lead on recovery efforts but it will work with the military where necessary.
"If we can work together, it is good for the Rakhine people," he said, claiming the ULA had given permission for a military aid convoy to travel from Sittwe to Ann Township on May 18.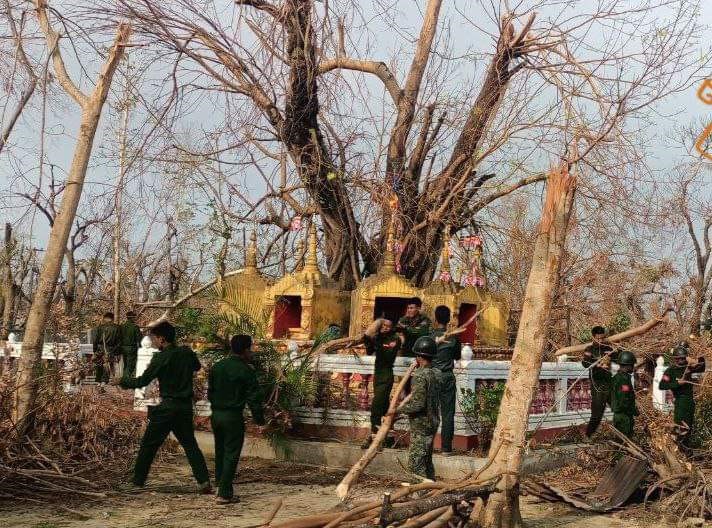 "In cyclone-affected areas, the ULA/AA is now delivering food and providing health care services to Rakhine locals," he added. "We're also cleaning up and rebuilding houses."
Residents of Rathedaung, Myebon, Minbya and Pauktaw townships confirmed to Frontier that they've received rice, oil, other food and clothing from the AA. Meanwhile, sources in Sittwe, Rathedaung, and Pauktaw townships also told Frontier that they have received rice, oil, food and drinking water from the military regime.
Khaing Thu Kha said the AA, in cooperation with civil society groups, managed to evacuate more than 120,000 residents from six townships before the storm hit. Junta leader Senior General Min Aung Hlaing claimed in state media that the junta relocated over 700,000 people to safer areas before the storm, including more than 60,000 who had been living in camps for those displaced by conflict.
Locals from cyclone-affected areas in Rakhine also told Frontier that they received advance warning from both AA officials and junta administrators.
When asked if there was any rivalry developing over the delivery of aid and services, Khaing Thu Kha said: "The most important thing is to help the people."
But the AA's cooperative spirit has seemingly not been reciprocated.
Many people interviewed said they have more faith in the AA than the regime to provide assistance, pointing to other examples of the military allegedly holding up aid supply.
"If the Myanmar military truly cares for the Rakhine people in the aftermath of the storm, why does it not allow international and local NGOs to assist and rescue the victims?" a resident of Rathedaung asked.
"They should take political benefit from this by rehabilitating what was damaged as soon as possible. But if they try to get political benefits by letting more people starve and die, then this won't be successful. It's inhumane," Wai Hin Aung, a well-known Rakhine author, social activist and philanthropist, told Frontier on May 19, four days before he was briefly arrested along with five other people while they were traveling to deliver aid in Rathedaung.
Aid denied
While the junta claims it has allowed local and international organisations to assist in relief efforts "in line with rules and regulations", those on the ground tell a different story.
"We can't go to the storm-affected villages because the state government hasn't granted us authorisation," said a woman working for an international organisation, who asked to withhold its name and the township it operates in.
She said they only have been able to offer some supplies, such as materials to rebuild homes, to residents who can reach their office.
U Hla Thein, spokesperson for the State Administration Council, as the junta calls itself, in Rakhine, told local media that checkpoints would be relaxed for the delivery of humanitarian aid. But Rakhine volunteers and charity groups told Frontier that trucks carrying food, construction materials and medical supplies were still being blocked because they didn't have permission from the regime's Ministry of Border Affairs.
Repeated attempts to reach Hla Thein were unsuccessful.
"When there is an emergency, limiting aid and relief could worsen people's suffering," said a volunteer from a local charity group. "I want to advise international organisations that if they wait for the military's approval, people will suffer more," he added, suggesting that organisations work with other groups on the ground.
Khaing Thu Kha said there has been little outreach from the international community to the AA so far.
"We are pleading with international organisations, including United Nations agencies, to assist the Rakhine people. Until now, they have provided very little support," he said.
The AA has reportedly received financial aid from the NUG, formed after the coup by ousted lawmakers, and other ethnic armed groups.
The International Committee of the Red Cross told Frontier on May 25 that since the cyclone hit, it had distributed food and hygiene packs to 10 camps for internally displaced persons, provided water and sanitation services to four more camps, distributed food to 1,500 people in Maungdaw Township, and helped deliver drinking water to 4,000 families in Sittwe.
"Amidst the limitations or lack of conditions we have to reach certain areas of the country, we carry out activities to help the most in need, and they are meaningful to hundreds of thousands of people every year," ICRC said, adding that it publicly advocates for "better humanitarian access to areas affected by armed conflicts".
ICRC said it cooperates with "other humanitarian organisations, including the International Red Cross and Red Crescent Movement and UN agencies", but did not answer a question about whether it was working with the AA or Rakhine civil society groups.
Dr Thura Aung*, who volunteered to provide healthcare to those hit by the storm, said even medical relief teams can only travel close to the major towns. He worries those in more remote areas are not receiving the help they need, and the coming rainy season could bring more health risks.
"The diseases that come along with a flood are diarrhea and seasonal flu. Many other illnesses may arise, like dengue fever. The spread of these diseases will be quite high," he warned.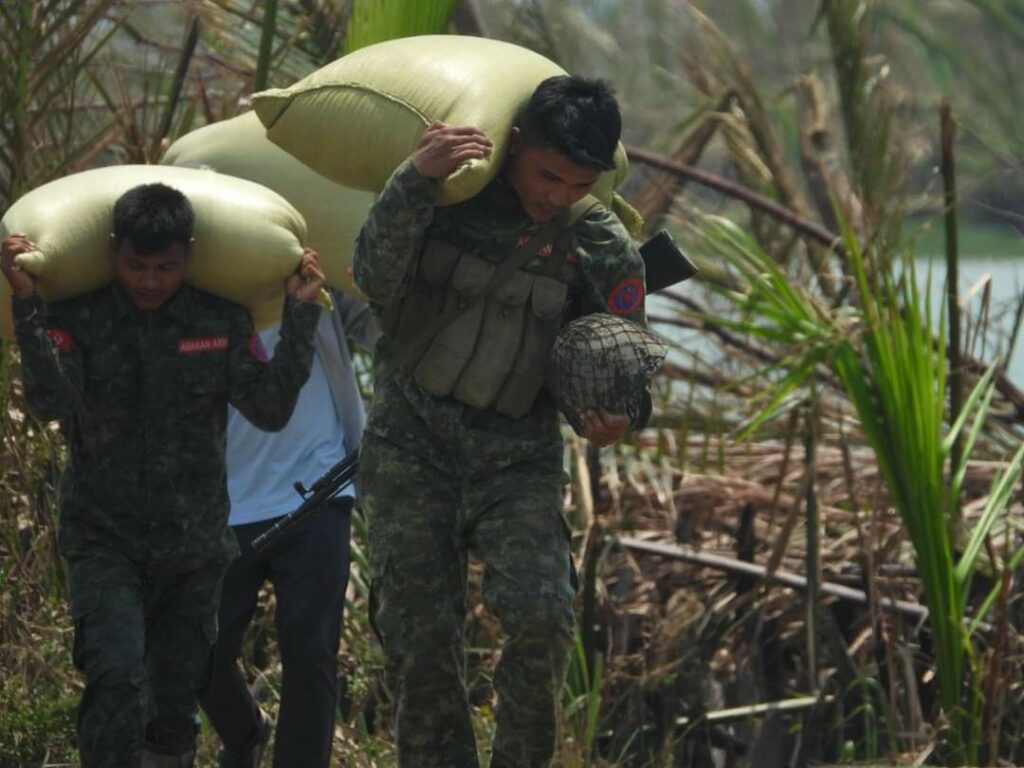 Winning the PR battle
While the cyclone was devastating for local communities, it was an opportunity for both the AA and the regime to present themselves as competent authorities capable of responding to a crisis.
"The people rely on both the military council and the AA. They want support from both sides," said U Kyaw Than, a village tract administrator in Nga Man island in Myebon Township.
There has been a clear winner in that contest. If the military's purpose in restricting aid and refusing to work with the AA was to bolster its authority, it appears to be having the opposite effect. Some sources indicated they've received aid from the regime, others said they haven't, but all said the military's controlling approach has further tarnished its image among the Rakhine population.
"The regime could undoubtedly use the military budget and international funds to try to show Rakhine people that they are the ones who can assist the victims," said U Pe Than, a veteran politician and former lawmaker with the Arakan National Party.
"If the regime provides Rakhine people with food, locals will accept the aid. But if there is a political rivalry between the military council and the AA, Rakhine peoples' hearts are with the AA."
It's clear the AA has won the battle for hearts and minds based on the heroic stories told by Rakhine civilians.
Kyaw Than, the village tract administrator, said the AA evacuated more than 5,000 residents from Nga Man island to Minbya Township before the cyclone hit, and posted three soldiers at each village during the storm to act as security and emergency responders.
"When the locals fled for their lives during the storm, the AA arrived and rescued them. As a result, we prefer to rely on the AA rather than the military council," said Ko Kyaw Thar Hla* from Shwe Laung Tin village, on another island in Rathedaung.
Ko Than Tun, a farmer in Rathedaung, said the AA is largely in control of the entire township other than Rathedaung town.
"It would help Rakhine people more if civil society organisations worked with the AA… Rakhine people trust the AA more than the military council," he said.
Maung Maung Tun*, a chicken breeder from Minbya Township, said this is the third major storm he's experienced in his life, and claimed the military has consistently responded with indifference.
"Now that the AA has appeared, they helped the Rakhine people in time to prevent more suffering," he said.
*indicates the use of a pseudonym for security reasons