Rival parties competing in the central Kayah State township are accusing one another of dishonest tactics, and even potential voter fraud, ahead of Sunday's election.
This article is part of Frontier's Tale of Five Elections series. We're following the election through five townships across the country, capturing events and local voices through the campaign, voting and declaration of winners. Scroll to the bottom for the first two articles on Bawlakhe.
By EI EI TOE LWIN | FRONTIER
"We've received no complaints and it's all going well."
U Kyaw Lin, secretary of the Bawlakhe Township election sub-commission, painted a placid picture of the thinly populated Kayah State Township. He was speaking to Frontier on November 6, just two days before the vote.
Campaigning in Bawlakhe, which borders Thailand to the east, has been low key. Due to nationwide restrictions put in place to deal with the coronavirus pandemic, most candidates are spreading their message by going door-to-door, while maintaining social distancing, and organising rallies of no more than 50 people.
But Kyaw Lin's claims do not appear to tally with what some parties competing in Bawlakhe are saying. Despite his protestations that all is well, rival parties have accused one another of resorting to under-hand tactics, and even potential voter fraud, to try and win the five seats on offer in Bawlakhe – two each in the state hluttaw and Amyotha Hluttaw, or Upper House, and one in the Pyithu Hluttaw, or Lower House.
Four of the seats are currently held by the military-aligned Union Solidarity and Development Party, with the other – Kayah-9 in the Amyotha Hluttaw – won in 2015 by retired Tatmadaw naval commander and former President's Office minister U Soe Thane, who ran as an independent candidate because of a factional squabble within the party. He has returned to the USDP this year and will contest Bawlake's Pyithu Hluttaw seat.
Soe Thane is one of 40 candidates from eight political parties, as well as one independent, who are competing for the seats, and in such a competitive race, the accusations between parties are piling up.
Sai Gyi, the National League for Democracy's Bawlakhe Township chair, who ran unsuccessfully for the Kayah-2 seat in the state hluttaw in 2015, expressed concern about the potential misuse of advance voting in the upcoming election, especially by military personnel, to benefit the USDP. His son, Sai Lin Lin Oo, is running for the NLD this year for the Pyithu Hluttaw seat.
Out-of-constituency advance voting by soldiers is shrouded in secrecy and remains a potent fraud risk. In townships with resident military populations, election sub-commissions posted ballots to soldiers serving temporarily in other parts of the country. The soldiers had between October 8 and 21 to mark these ballots in circumstances arranged by their commanding officers, beyond the view of any election officials, let alone independent monitors or political party observers. The marked ballots then had to be posted back to the relevant township sub-commission for counting on election day.
Bawlakhe is home to three Tatmadaw battalions and one Border Guard Force base, and according to the township sub-commission, of the township's more than 8,000 eligible voters, 980 are soldiers or their family members. Of these, 72 have cast out-of-constituency advance ballots. This may not sound like a lot, but it could make a difference in a township with such few voters.
In the 2015 election, 1,292 of Bawlakhe's 6,802 registered voters cast advance votes, the majority of which were out-of-constituency advance ballots from soldiers, according to staff at the township sub-commission.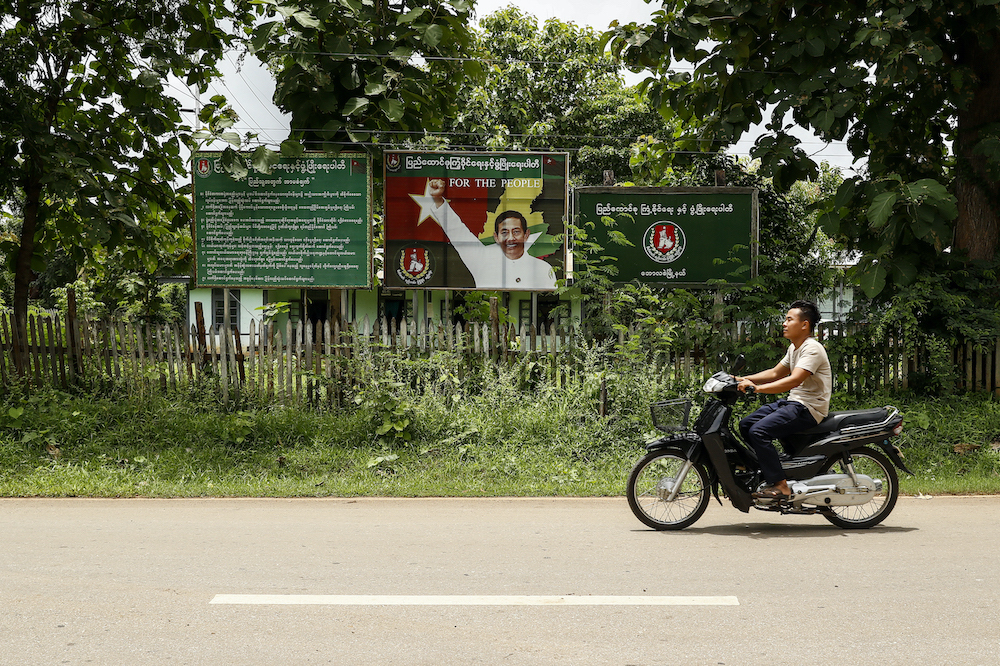 In that vote, Sai Gyi lost out to U Soe Reh from the USDP for the Bawlakhe-2 state hluttaw seat, with 586 votes to the Soe Reh's 939. Of the 2,821 total votes in that contest five years ago, 551 were cast in advance, with the USDP candidate receiving 323 and the NLD 57, according to UEC data from 2015.
Advance votes did not determine the result of that race – before advance ballots were counted, the USDP's Soe Reh was still 87 votes ahead of Sai Gyi based on ballots cast on election day – but Sai Gyi worries that the lack of transparency built into the process still leaves the USDP with a handy tool for clawing back its advantage in the township. In contrast to 2015, on November 8 military personnel and their families nationwide will cast their ballots in polling stations located outside military cantonments, but Sai Gyi pointed out that, despite this reform, the advance voting process remains unchanged.
However, U Than Htut Aung, who is contesting Bawlakhe-2 for the USDP, disagrees that his party will automatically receive votes from military personnel in the area.
"I think they can vote freely for candidates as they wish to. If they vote for us, it's because of their wish, not because of pressure [from their seniors]," he said.
It's not only the USDP, however, that is being accused of using or benefiting from dishonest methods to win votes in the upcoming poll.
Lin Lin Oo, the NLD's candidate for the Pyithu Hluttaw seat in Bawlakhe, said he had witnessed members of both the USDP and the Union Betterment Party, which was founded by former Tatmadaw general U Shwe Mann, transporting elderly voters to polling stations for advance voting by car and motorbike and "persuading elders to vote for them".
He was referring to the process for in-constituency advance voting, which the UEC extended to voters aged over 60 nationwide in order to protect this more vulnerable segment of the population from contracting COVID-19 in crowded polling stations on election day. These older voters could cast ballots between October 29 and November 5 at makeshift polling stations in their ward or village tract. Turnout was extraordinarily high in Bawlakhe: township sub-commission secretary Kyaw Lin told Frontier on November 6 that of 649 eligible elderly voters, about 600 had voted in advance.
"Some village-tracts are made up of three small villages, and if the polling station is set up in one village, then [the people] from the other two have to go there," Lin Lin Oo told Frontier on October 30. "Because of that, parties are taking them to the polling stations and telling them to vote for their parties." He said he had reported the issue to the township sub-commission, urging them to address it before Sunday's vote.
Lin Lin Oo said he expected the USDP to perform well in Bawlakhe due to the heavy military presence but said the results were hard to predict amid the pandemic, which has muted campaigning. He put his party's chances at "50-50".
Meanwhile, Daw Nyunt May, who leads the UBP's Bawlakhe campaign, told Frontier on October 30 that members of her team had witnessed members of another political party, which she refused to name, pressuring older voters casting advance ballots to vote for "a particular candidate". She rejected accusations that her own party was providing transport in exchange for votes.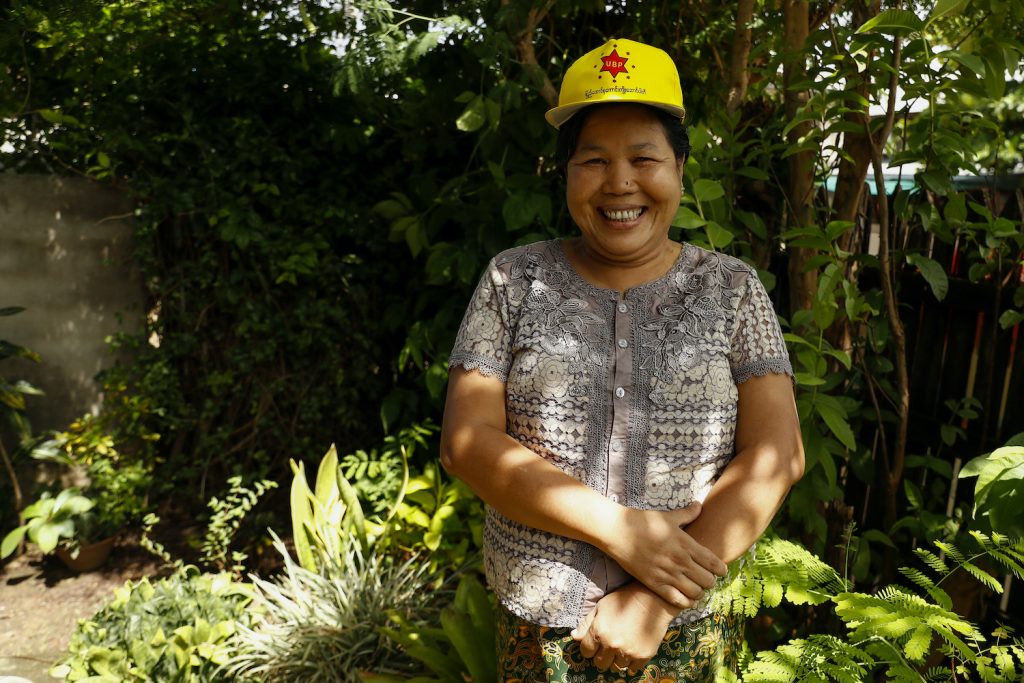 Nyunt May referred to an incident at a polling station for advance voting in Ywathit village, close to the headquarters of the No.1005 Border Guard Force.
"Elders don't know how to cast [their vote] and don't have a preferred party, and polling station workers are taking advantage of this by pretending to help these elders," she said. "We have asked the village-tract commission to take action."