The sentencing of journalists Wa Lone and Kyaw Soe Oo to seven years each in prison has sparked global outrage. Here's how it unfolded in the courthouse.
By BEN DUNANT | FRONTIER
TWO YOUNG journalists stood handcuffed in a colonial-era courthouse in northern Yangon's Insein Township. On the flaking walls of the small courtroom, posters exhorted citizens against bribery and the sin of corrupting justice.
Several dozen Myanmar and foreign reporters, diplomats and family members sat behind the handcuffed men. The judge, wearing a pale gaung baung and a gown fringed in lime green, delivered a dry account of eight months of court proceedings.
Halfway into the hour-long judgement, the electricity cut. Fans whirred to a stop and the room became stifling. Suspense grew as the judge's words turned against the journalists in the dock. They had violated "journalist ethics" by plundering "state secrets" that could have been useful to "enemies of the state and terrorist organisations", he said.
At 10:30am on September 3, Yangon Northern District judge U Ye Lwin sentenced Ko Wa Lone, 32, and Ko Kyaw Soe Oo, 28, to seven years in prison each for breaking the Official Secrets Act, a law drawn up by the British 95 years ago to protect its empire from spies.
The two journalists, who work for Reuters, had exposed an army-led massacre of ten Rohingya Muslims in Rakhine State, and were to pay the price for it.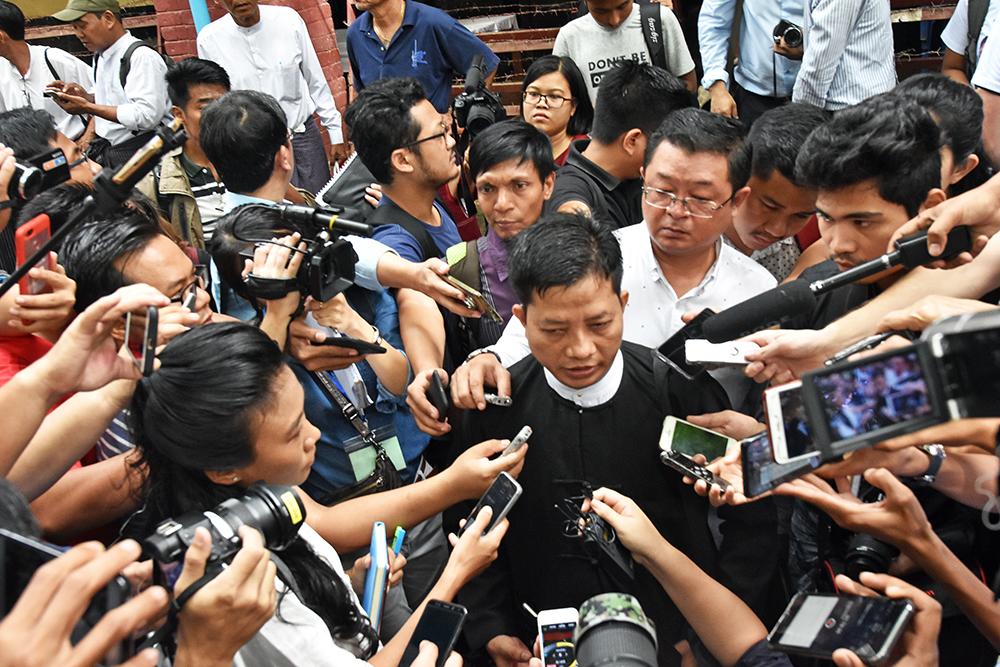 The two were arrested in northern Yangon on December 12, when their investigation into the killings was at a late stage. They say police officers had invited them to meet over dinner, where they were handed rolled-up documents; they were arrested on leaving the restaurant and interrogated at a secret site for two weeks. The police have insisted on a different version of events, in which the journalists were stopped at a traffic checkpoint with the secret documents already on them.
The Reuters report on the massacre in Inn Din village, published in February, prompted a rare admission of guilt by the military, which announced in April that it had sentenced seven of its soldiers to 10 years in jail. But the military, which had denied all allegations of murder, rape and arson – and even absolved itself in an internal investigation – had been embarrassed; and this was not to be forgiven.
'Let them speak!'
As people filed out of the courtroom on September 3, Kyaw Soe Oo's wife Ma Chit Su Win collapsed in tears. She had spent the previous hour stifling the cries of her three-year-old daughter, Moe Thin Wai Zan. Wa Lone's wife Ma Pan Ei Mon was absent, caring for their daughter Thet Htar Angel, born last month.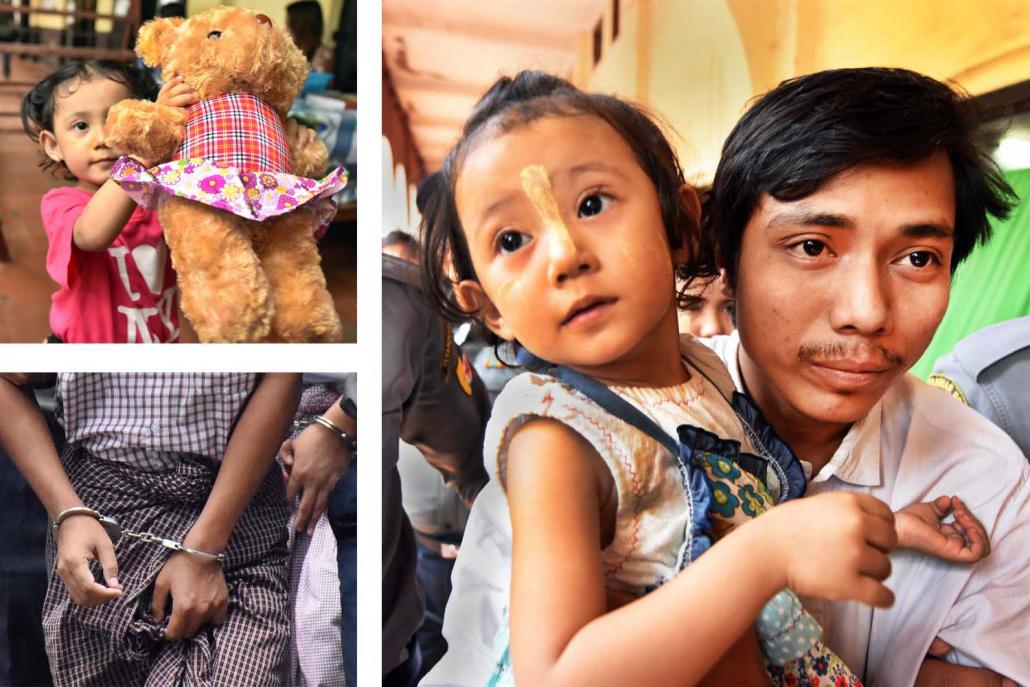 Barring a presidential pardon or amnesty, the children will grow up apart from their fathers. The baby Thet Htar Angel had not yet set eyes on Wa Lone, but Chit Su Win would later tell a press conference of her struggle to explain Kyaw Soe Oo's jailing to a daughter who asked, "Why doesn't father come home? Doesn't he love us?"
After the verdict was delivered, police led Wa Lone and Kyaw Soe Oo out to the threshold of the courthouse, where they were allowed a few minutes to address reporters. They spoke with the same defiance expressed over more than two-dozen court appearances.
"We know we did nothing wrong. I have no fear. I believe in justice, democracy and freedom," Wa Lone said. If eight months' confinement in Yangon's Insein Prison had worn down his and Kyaw Soe Oo's dignity and resolve, they showed little sign of it.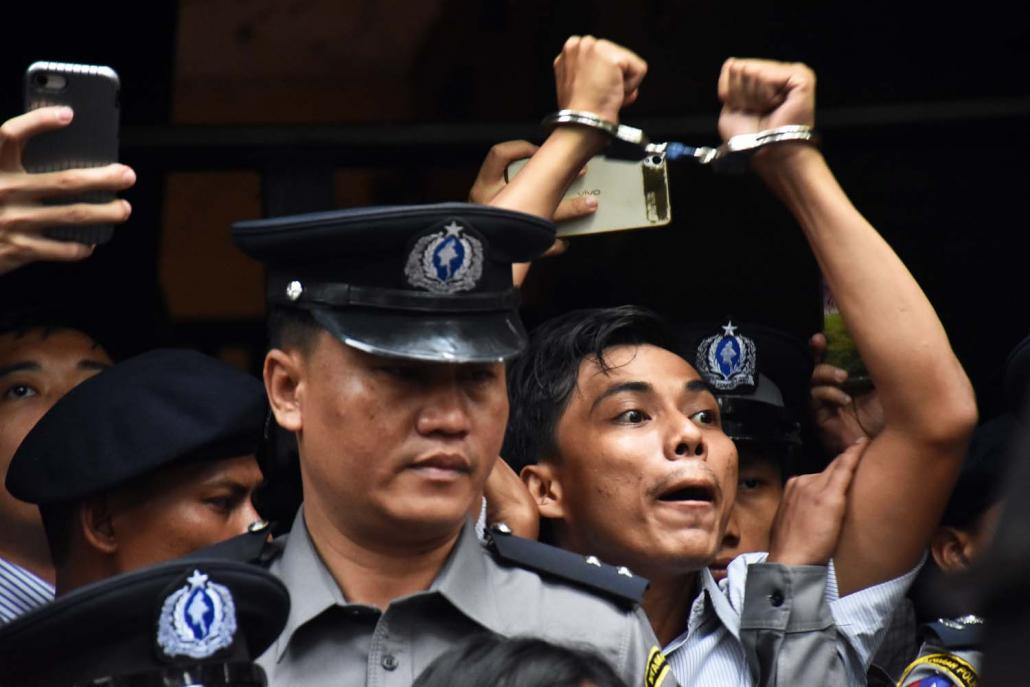 They were pushed into a small police van, which was instantly surrounded by angry Myanmar reporters and activists, who hammered the bonnet and shouted, "let them speak!" Police shoved them out of the vehicle's path. As the van rounded the gate of the court compound, Wa Lone and Kyaw Soe Oo gave their supporters a double thumbs-up and a broad smile.
Several of those who stood before the police van had marched two days earlier through Yangon's Hlaing and Kamaryut townships to the edge of Inya Lake. They had held banners and repeated chants demanding the release of Wa Lone and Kyaw Soe Oo and released black balloons stencilled with the faces of the two men.
The group of less than 40 represented a small, and overwhelmingly youthful, vanguard of activists who have decried government attacks on press freedom in the face of general public apathy.   
Unprecedented rigour
After Wa Lone and Kyaw Soe Oo were taken back to Insein Prison, reporters surrounded lawyer U Khin Maung Zaw in the inner yard of the courthouse. He had defended the journalists throughout their trial, and he knew Myanmar's court system well. Like others in the legal team hired by Reuters, he had been prepared for defeat. Yet, his face was pale with shock.  
He said his team would be "reviewing all options", including filing an appeal at the Yangon High Court, and declared the judge's decision "bad for the rule of law, bad for freedom of expression, bad for the right to information, and bad for democracy".
Over eight months at Insein Court, with hearings falling roughly once a week, he and his colleague U Than Zaw Aung had picked apart the police's case against the journalists with a degree of rigour that legal experts say is more or less unprecedented in Myanmar's court system, where guilt is effectively presumed and defence lawyers are left to chase more lenient plea bargains.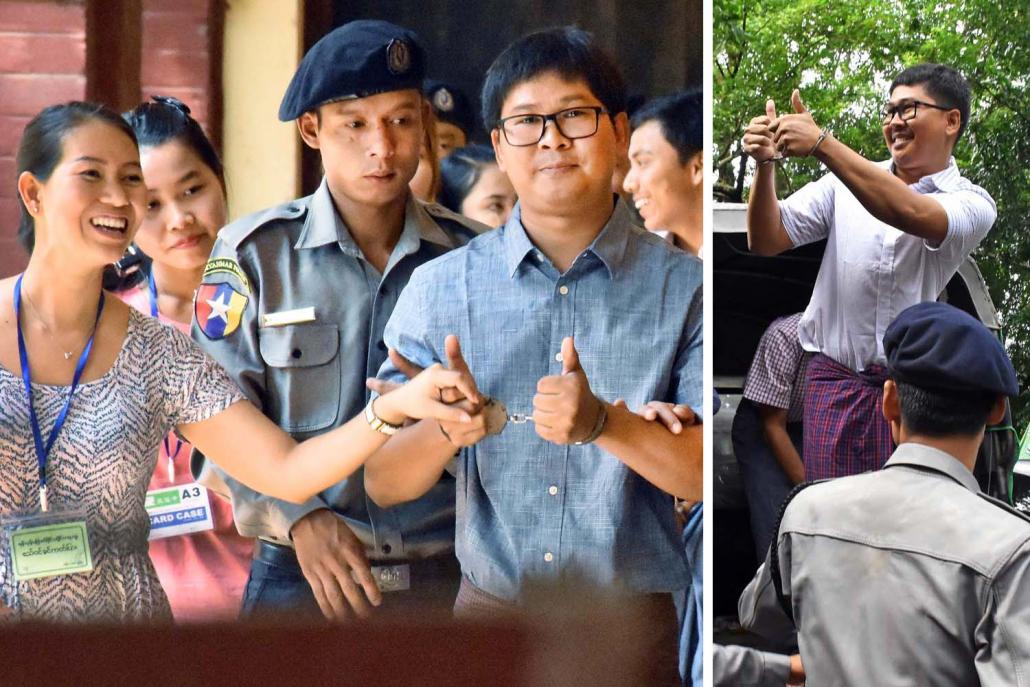 Police witnesses put forward by the prosecution had crumbled on cross-examination. Asked about discrepancies in the police report of Wa Lone and Kyaw Soe Oo's arrest presented in court, one officer claimed he had burned the initial report, for no apparent reason. Another officer claimed, mid-testimony, not to have known basic report-filing procedure. One witness, a local official, turned up with notes about the supposed location of arrest scribbled onto his hand. When the defence pointed this out, he explained that he was a forgetful man.
Yet, efforts to pinpoint basic inconsistencies in the police's version of events seemed redundant when, in an April session, police witness Captain Moe Yan Naing went dramatically off-script, testifying he had been in the room when a senior police commander, Brigadier-General Tin Ko Ko, had ordered junior offices to entrap Wa Lone with planted documents. The police officially denied this – right after sentencing Moe Yan Naing to a year in jail for violating police discipline.
During his September 3 judgement, judge Ye Lwin said there was insufficient evidence of a police set-up.
A hammer blow
In the inner yard of Insein Court, Britain's ambassador to Myanmar Mr Dan Chugg was caught in a circle of cameras and voice recorders. Speaking on behalf on the UK and the European Union, he said, "The judgement today has struck a hammer blow to the rule of law in Myanmar". Declaring it "a bad day for Myanmar", he called for Wa Lone and Kyaw Soe Oo's immediate release.
US ambassador Mr Scot Marciel, who had also sat in on the judgement, declared his own disappointment with the verdict to reporters, and the American government's wish that the journalists be set free.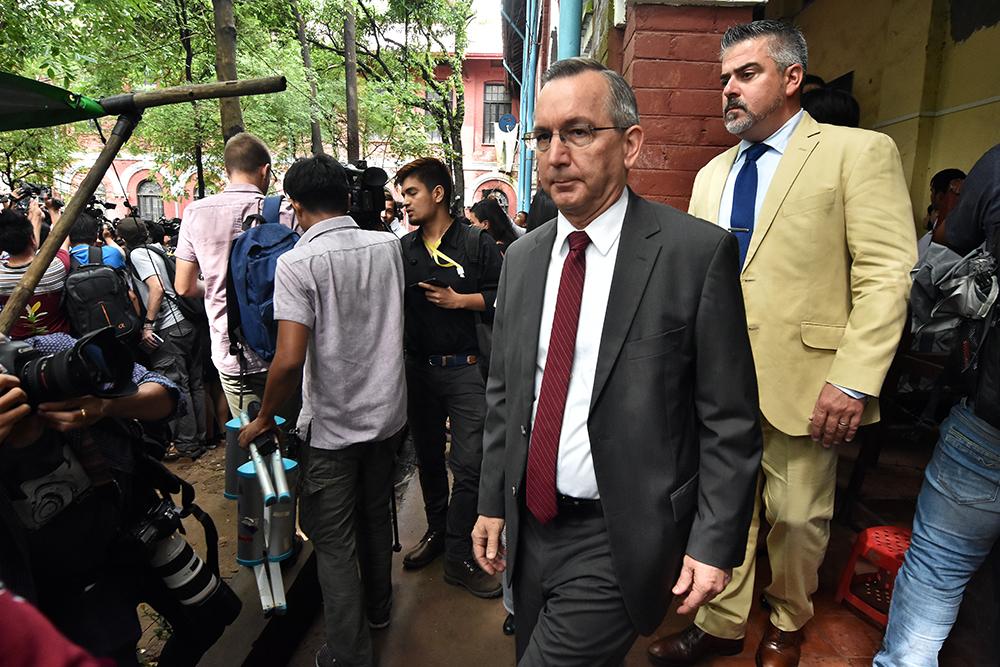 While defence lawyers Khin Maung Zaw and Than Zaw Aung spoke before foreign television crews, government prosecutor U Kyaw Win Aung left without taking questions. He had refused comment throughout the trial. An inscrutable man in black robes and a cream gaung baung, he had watched his witnesses fumble and contradict themselves again and again. Yet, in the end, it didn't matter. He won.
Staying behind after the lawyers and diplomats had left, reporters sat on plastic chairs under the tarpaulin of a makeshift teashop. They made calls and typed news copy into their laptops while emails bearing condemnation from human rights groups and foreign governments poured into their inboxes.
"Wa Lone and Kyaw Soe Oo should be allowed to return to their families and continue their work as journalists," read a quote attributed to United Nations Resident and Humanitarian Coordinator in Myanmar Mr Knut Ostby.
In a statement from Human Rights Watch, Asia director Mr Brad Adams said, "These sentences mark a new low for press freedom and further backsliding on rights under Aung San Suu Kyi's government".
Next steps
The last reporters left to hail taxis for the traffic-choked journey back to offices in downtown Yangon, and the yard became desolate. For the teashop, business had been unusually brisk during Wa Lone and Kyaw Soe Oo's weekly court appearances.
The decrepit Insein courthouse, built by a colonial regime whose repressive laws are still in vigorous use, became a regular meeting place for journalists reporting on the trial or showing support for Wa Lone and Kyaw Soe Oo as friends and colleagues. A greater sense of solidarity emerged among people who felt suddenly vulnerable and exposed.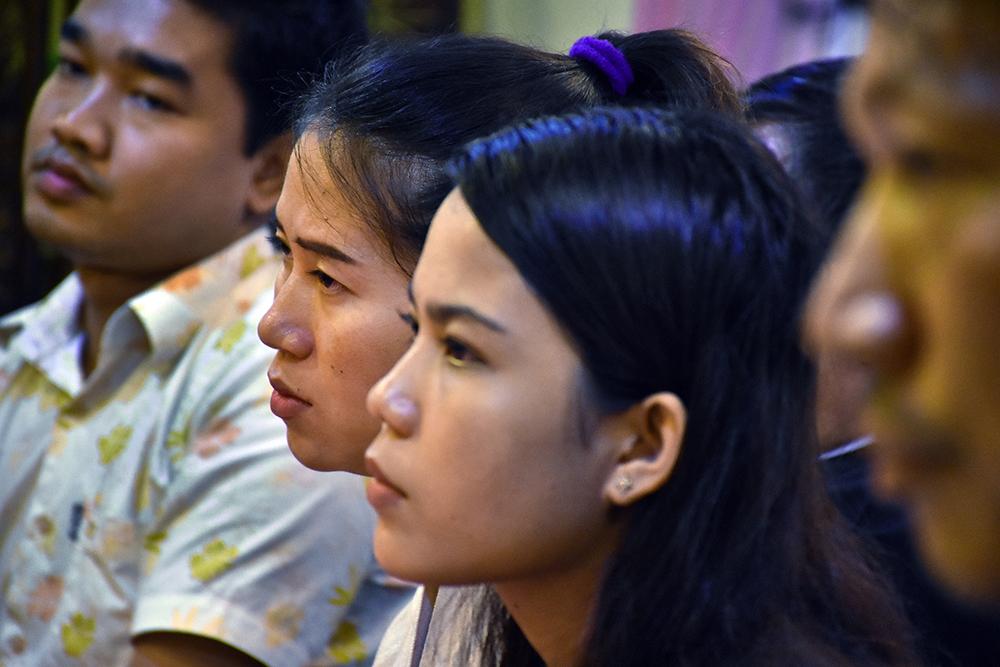 Several Myanmar journalists present at the verdict held a meeting the following day in Yangon, where they debated the next steps. Protests in the capital, Nay Pyi Taw, were discussed, alongside campaigns to educate a public that had been turned against critical media by government propaganda.
Small demonstrations went ahead in Mandalay and Pyay, and 83 civil society groups signed a statement that condemned the "completely manipulated" verdict.
Ko Thar Lon Zaung Htet of the Protection Committee for Myanmar Journalists told Frontier, "We journalists will fight back. We don't accept this kind of undemocratic behaviour."
"This is not only about press freedom, it's also about the public's right to information," he said. "If a free press collapses, democracy collapses."
TOP PHOTO: Journalists and activists block the police van taking Ko Wa Lone and Ko Kyaw Soe Oo back to Insein Prison on September 3. (Steve Tickner | Frontier)