By MATTHIEU BAUDEY & CAROLE OUDOT
Myanmar's largely-hidden lesbian community was a focus of the second &Proud LGBT film festival at the French Institute in Yangon from January 28 to 31.
The first edition of the festival, which features movies about the lives of LGBT (lesbian, gay, bi and transgender) people in Myanmar and throughout Asia, was held in November 2014.
The festival aims to give greater visibility to the LGBT community in Myanmar while also helping it to find expression through the cinema.
Lesbians were given a focus in the festival this year because the organisers wanted to give space to those in the LGBT community who were rarely seen.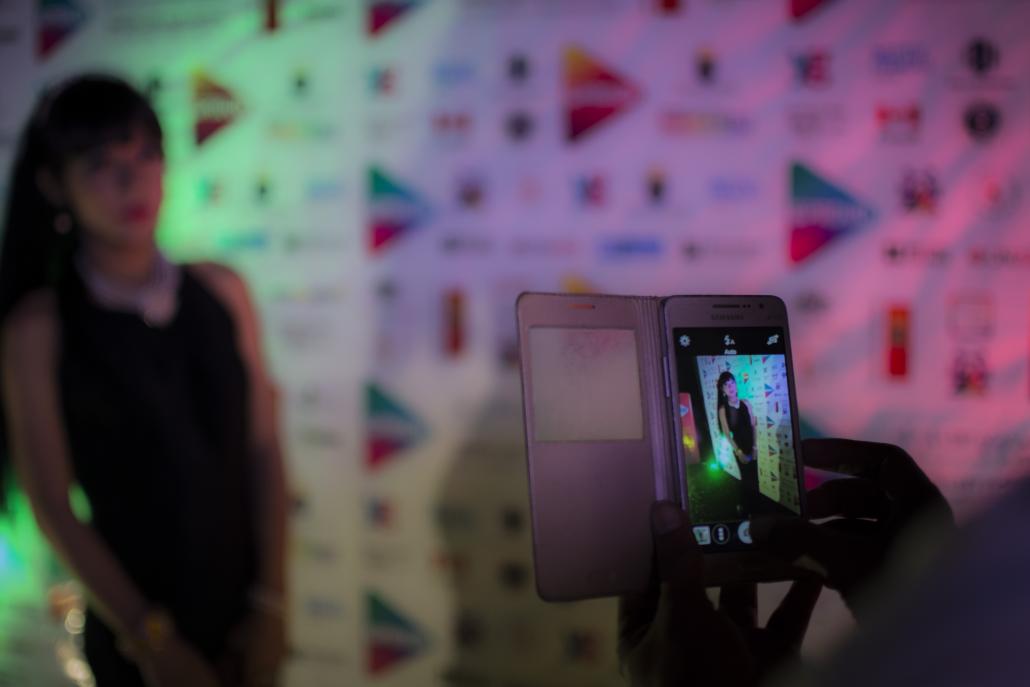 "Soulmates", a short film by Lei Lei Aye, is about a couple living in a rural area. "He was selling popsicles, he followed me everywhere," says a women as she recounts meeting her "soulmate" 15 years ago. They live together, raising the woman's nieces. Details of their simple daily life unfold on the screen as it tells their story with compassion and humour. "We are lucky to have each other," the woman says of her partner, Ko Toak Gyi (Mr Stout), as he is affectionately called, who is the man of the house. He cuts his wife's hair, bathes the children and performs the household chores. Mr Stout, who is rather short with tattoos on his arms and wears a longyi, seems the strong silent type with the shy smile who has always been there for the woman he loves.
And yet, Mr Stout is a woman. Dressed as a man, he assumes the identity and role of a husband and is "better than any man could be for me," his wife says. Their quiet, loving relationship continues unnoticed or implicitly accepted by those around them.
"Soulmates" was created in the festival's Rainbow Reels workshops, which are aimed at encouraging LGBT youth to tell stories in their own way. The movie brings to light the living arrangement of many lesbian couples, in which one of the partners assumes a "tomboy" role and adopts a more masculine-oriented identity.
"This year, we wanted to try to give lesbians their part in the LGBT community and try to empower them," said &Proud founder, Billy Stewart. Lesbians were more "low-key" than others in the community, he said, and this was reflected in their limited presence at the festival.
"We are not present enough in the LGBT community yet. For instance, there are only six of us involved in the festival," said Aw Zar Moe, 22, a tomboy activist from the Kings'n Queens group.
A reason for this is the dominant role in Myanmar society of men, who hesitate less to assert themselves, resulting in the prominence of gays and transgenders in the LGBT movement.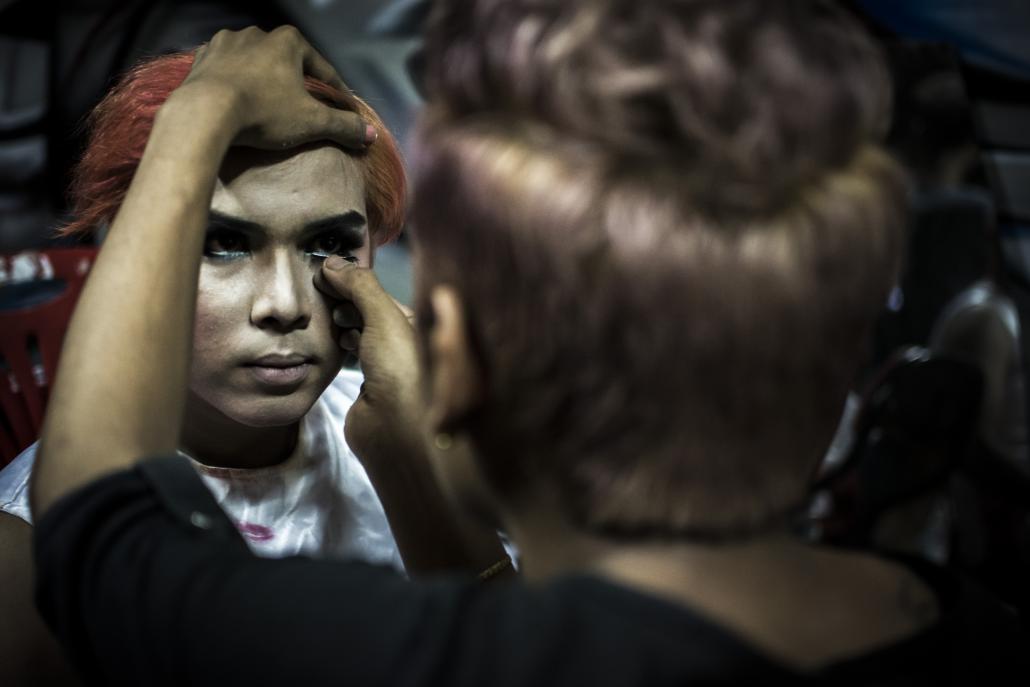 "The problem is that, gay or straight, men are men, and women are women, so they keep their respective attitude whatever their sexual orientation. So gay men will be more outspoken, while women will remain quite undercover," said Aung Myo Min, founder of Equality Myanmar, a group that promotes human rights.
It is usually easier for gays and transgenders to secure an economic role in which they are able to thrive, such as hairdressers, beauticians and spirit mediums, than it is for lesbians.
"For tomboys and lesbians the situation is different," Aw Zar Moe said.
"They can't really be entertainers and they don't want to; they don't want to be beauticians either. That's one reason why they can't show themselves," she said.
The harsh public reaction to tomboys and the way they dress is explored in "Love and other matters", a documentary by director Su Su Hlaing. It's about Lu Lu and the difficulties and challenges in her life.
"Whenever I'm going to the toilet, I don't know where to go. If I go to the women's, people stare at me, same in the men's room," Lu Lu said.  The same documentary also features U Nay Win, an elder woman who lived her entire life as a man, a preference she hid in plain sight.
"Most of them don't want to be called 'she', they want to be boys, so it's difficult when the community doesn't accept. So they try to avoid that situation by not telling," Aw Zar Moe said.
In the diversity of lesbian lifestyles, in which some such as Mr Stout and U Nay Win almost always conceal their gender, younger tomboys face difficulties coming out.
Yu Malar Myint made a movie to explain her sexual orientation to her mother. "My boyfriend is not what you could expect," she says in "Dear Mom", one of the shorts screened as part of the Rainbow Reels program. Yu Malar Myint's mother was unable to attend the screening. She hopes to show it to her "as soon as possible" and is hoping for an understanding reaction, though it may not be forthcoming.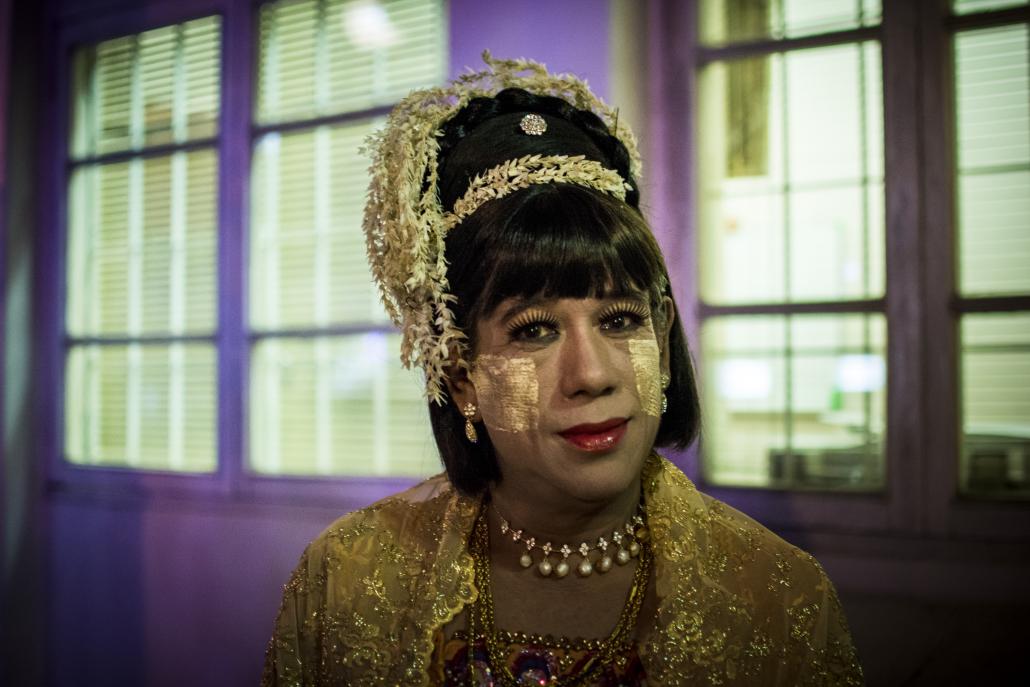 "There is no space in Myanmar society for lesbians," said Aw Zar Moe. "Most of the time when they come out they have to leave their family," she said. "They run away from their family. Sometimes they have to sleep on the streets and can be sexually abused."
Despite being virtually invisible in society, the contribution of lesbians is welcomed by the LGBT movement as it continues to struggle against discrimination and persecution.
Section 377 of the Penal Code, the infamous sodomy law, criminalises same-sex sexual relations. It is the main obstacle to LGBT rights and members of the community blame it for many of the abuses they suffer.
"We are trying to advocate and discuss the amendment of this law with members of parliament, but they still think we are just abnormal," said Hla Myat Tun, from Colors Rainbow, one of the festival's founding organisations.
There is optimism that LGBT rights may improve under a National League for Democracy government.
"We have hopes, but for now we haven't started talking with anyone yet," Aung Myo Min said.
There were seven productions from Myanmar among the 33 movies and documentaries on the festival program, with the others from elsewhere in Southeast Asia and beyond.
Organisers say this year's event attracted at least 500 people every night, up slightly on the inaugural festival.