A former spokesperson of Christian anti-drug movement Pat Jasan, Nhkum Tang Gun, now directs the youth department of the Kachin National Consultative Assembly, also known as Wa Ma Ra. He spoke to Frontier about Pat Jasan, whose vigilante methods are controversial but continue to enjoy local backing due to the havoc drugs have wreaked on Kachin communities.
By EMILY FISHBEIN | FRONTIER
When and why was Pat Jasan established?
Pat Jasan was launched in Kachin and northern Shan states on April 25, 2014, in response to the serious impact of drugs on our community, especially among youth. Many users were sentenced to jail, transmitted diseases were widespread, and early deaths [from overdoses] were rising. Existing laws prohibiting drug abuse were not effectively enforced. From the perspective of Kachin society, we realised individual church activities to combat drugs did not have sufficient impact. So, in 2014, we shifted our strategy to an all-inclusive anti-drug campaign. In addition to Kachin and northern Shan, the [campaign] now extends to Kengtung [in eastern Shan].
Describe Pat Jasan's approach.
The core aim is to liberate people from drug abuse. Raising awareness, taking action, detoxification, and destroying poppy plants are the four main activities undertaken so far. Taking action means arresting drug users and referring them to detoxification centres or to be prosecuted under the anti-drug law.
What effect did Pat Jasan have on drug abuse?
Before 2014, drug issues were in a desperate situation. Many injecting users were visible on streets, in cemeteries and in public places. Staff from [harm reduction groups] were cleaning up used syringes. We raised users' awareness of drug-related issues, and many people stopped using of their own will. Many were also rehabilitated through detoxification centres [but] others have gone back to drug abuse. Due to our efforts, drug abuse is relatively decreasing in some areas, but many areas remain congested with users. Overall, the number of users has been stopped from increasing.
Is there any data on Pat Jasan's results?
We have measured both qualitative and quantitative results. Data is continuously collected, but cannot yet be combined. After the collection process is over, it can be clearly stated to what extent achievements have been reached.
What policy changes are needed to address drug abuse in Kachin?
The purpose [of drug policy] should not be to send all users to jail, but to save them from illegal actions and their impacts. Now, drug cases account for many prisoners. Most of them are ethnic [Kachin] people. Many ethnic people feel oppressed by drugs, as though they are facing a silent genocide.
Another main issue is the formation of people's militias. The government formed these militias, equipped them with weaponry, and designated areas under their control. Rule of law is lacking in areas controlled by people's militias. Further, some personnel cannot support their families with the salary provided, leading them to misuse their power. Reconsideration of the constitution's guarantee of militia formation should be taken or the clause prescribing the establishment of militias should be comprehensively amended.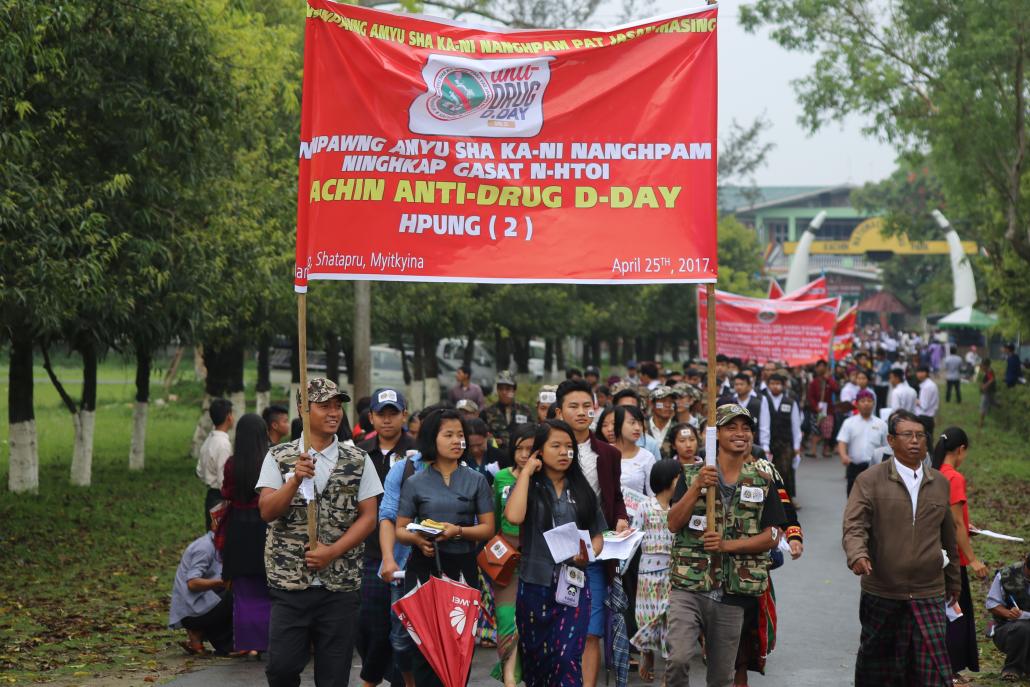 What are Pat Jasan's standard detoxification procedures?
When [users] experience withdrawal symptoms, Pat Jasan members have to get them under control. They must not be allowed to escape. They have to be treated like breastfeeding babies, who must not be breast-fed again once you decide to wean them. The international system for alleviating withdrawal symptoms is to use a substitute substance such as methadone and provide awareness and counselling. The local system is to get users to take a bath, which can alleviate symptoms for around 10 minutes.
The period of withdrawal symptoms doesn't last long. For some users, it only takes three or four days or a week. [During this time], users are closely attended by a Pat Jasan member, who massages them, talks with them, gives them herbal medicine. If users feel a lot of pain, they are given paracetamol. After users are detoxified to some extent, they are allowed to play sports.
Is detaining users with shackles part of Pat Jasan's standard procedures?
Your question mostly pertains to the internal procedures of centres rather than Pat Jasan rules. There is a slight difference in practices applied in each centre.
Those who haven't seen it might assume users are confined like caged animals. Newly-arrived users are not leg-shackled; at their arrival, they are oriented to the rules. Users not abiding and [attempting to] escape are shackled as agreed upon from the beginning. From a human rights perspective, it might appear that users' rights are violated. But, shackling is a last resort when [a user] is aggressive due to severe withdrawal symptoms. Tying their whole body is not good. It is fairer just to shackle their legs for temporary control. If they request to unshackle their legs when it becomes too much, it is allowed.
What rules apply to Pat Jasan volunteers?
Not to be violent, and to treat users as gently as possible. We take disciplinary action against members who go outside the rules. We have to take care not to have Pat Jasan's reputation defamed by a particular member's actions.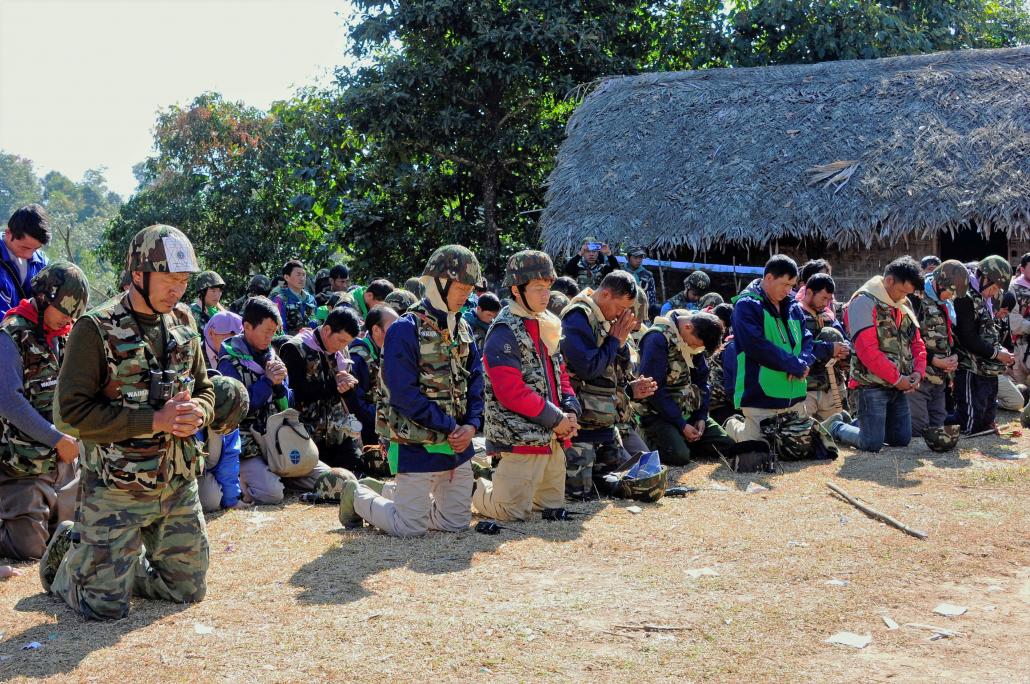 Who does Pat Jasan represent?
It is hard to say that Pat Jasan represents all people of Kachin State. There are people who dislike its activities, and we appear as an enemy to those who do drug business. For example, some Kachin deter us from cutting their poppy plants, but other non-Kachin people also stand up for our activities.
How is Pat Jasan funded?
Pat Jasan is funded by the public, mainly by churches. [Any] deficit is addressed by fundraising and donations. Until now, we have never taken NGO funding. All our members are volunteers.
Is there anything you have learned from other countries that is relevant to Kachin?
I visited Indonesia, where I observed that a great deal of awareness is delivered to users. When users decide to stop, they help them detoxify. [In Kachin] this non-coercive approach has convinced many users to come to centres, but there remain some very stubborn users. We have to weigh the pros and cons. If we applied this concept in Kachin, users and many young people around them would end up at the cemetery. The idea is to clean users for the sake of young people around them.
My point is [that there are] differences between the two contexts. In Indonesia, users cannot [hurt] their surroundings because people are well educated and their rational thinking is quite mature. The opposite is true in Kachin. Most people are farmers, jobless, illiterate. The solution must be tailored.
Are there any misconceptions about Pat Jasan that you want to address?
There is a misconception among some that we are acting in an extreme manner, as Christian extremists. We are aware of human rights concepts. We base our values on the non-violent teachings of Jesus Christ, saving souls. We carry out the activities that are deemed to be most effective, suitable and compatible with our Christian values.
I don't think [our] kind of drug eradication campaign exists internationally. Some people might be shocked. We have come up with an idea of getting users experiencing withdrawal symptoms to take a bath. I have no idea how this relates to a medical perspective; anyway, we are endeavouring to save our people from the severe situation leading them to almost vanish.
My message is to please understand us. If we don't take any measures to save our people from drug abuse, our generation will become extinct. The campaign will not be conducted forever.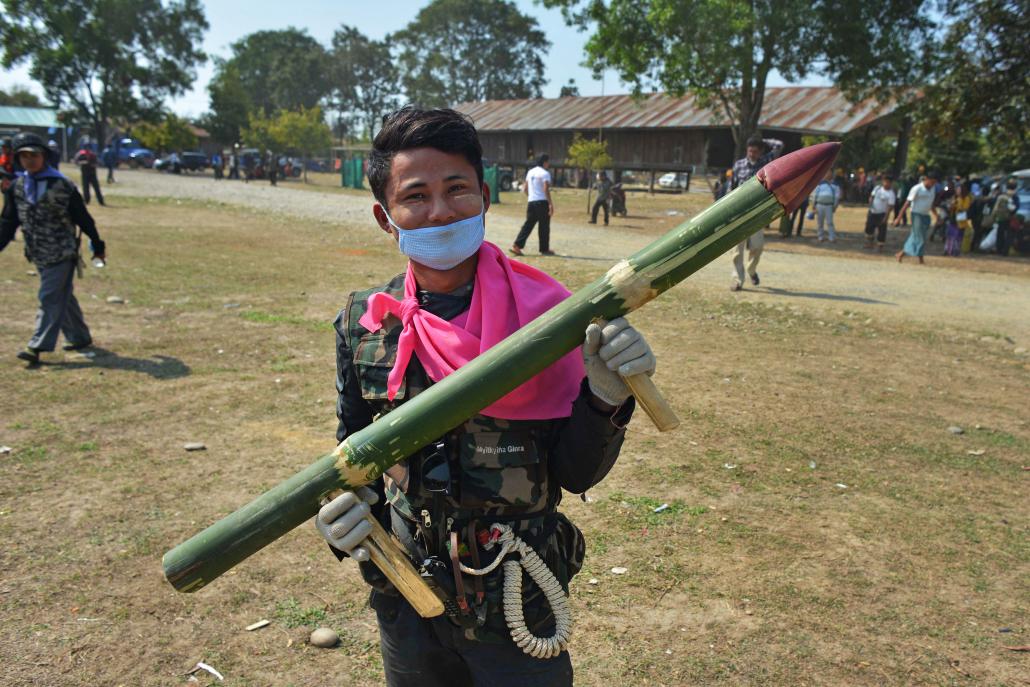 What is the role of Wa Ma Ra?
At its start, Wa Ma Ra was intended to consult Kachin armed groups for their unity. As it has progressed, its scope has extended to engaging with the entire Kachin society.
What is Pat Jasan's relationship to Wa Ma Ra and the Kachin Baptist Convention?
Very simple, but also very complicated. Wa Ma Ra's advisory board includes church leaders of different denominations. [With] Pat Jasan, church leaders also play roles. You'll see many faces from a variety of organisations involved in these campaigns. Generally speaking, everyone in the Kachin community is interconnected in every process.
The United States Agency for International Development has pledged US$6 million to fund "local solutions to local problems." What are possible local solutions to the drug problem?
I don't think that just focusing on eradication will succeed. It is now time to take an integrated approach. Programmes on harm reduction, rehabilitation and sustainable development still [need] to be extended. We [the community] will identify and analyse root causes, such as joblessness, lack of education, few vocational training options and broken families, and develop tailored solutions for each issue. Pat Jasan's current strategy and approach need to change if these new programs are to be carried out, because their four main activities do not cover all areas.
My understanding is that harm reduction seeks to give users a way to use drugs safely, whereas Pat Jasan seeks to stop drug use. Do you think there is room for both?
Integrating approaches such as harm reduction and rehabilitation is the most sustainable option at the moment to save local people.
TOP PHOTO: Nhkum Tang Gun speaks at an anti-drug day event in the Kachin National Manau Park in Myitkyina on April 25, 2018. (Supplied)