By THOMAS KEAN | FRONTIER
Ooredoo Myanmar chief executive officer Rene Meza discusses his company's efforts to catch up with MPT and Telenor, and why there is still plenty of growth potential in the Myanmar market.
It's been a whirlwind two years since you launched back in 2014. What's the single biggest challenge Ooredoo has faced in entering the Myanmar market?
Most of our challenges were at the beginning of our journey, when we had to roll out network and deploy fibre optic cable across Myanmar. Today those challenges are behind us. We have built a world-class 3G network with over 4,200 sites, and growing, covering [about] 80 percent of the population. We built over 11,500 kilometres of fibre optic and we have also launched the first and only 4G network in Myanmar, currently covering over 4.6 million people and growing. Our total investment in Myanmar stands at over US$2 billion.
If you look at the raw numbers, Telenor has twice as many subscribers as Ooredoo, and MPT is even further ahead. What does this tell us about Ooredoo's rollout?
Our current commercial approach is focussed on the mass market, which is anyone who needs access to basic telecommunication services – this was not the case at the beginning of our journey.
Over the past nine months or so we have been the fastest-growing mobile operator in Myanmar. Our customer base doubled over the past 12 months to over 8.2 million customers at the [end of] June 2016. We've also expanded our distribution network quite aggressively and made voice and internet services very affordable.
The market is maturing rapidly – there are now more than 43 million active SIMs, according to the government – so expanding your business will mean luring customers from other operators. What strategies will you use to achieve that?
SIM card penetration is around 85 percent currently, driven by dual SIM usage, however human mobile penetration is only 50 percent, so there's still room for growth in the industry. We are still expanding our both 3G and 4G network.
The rural part of Myanmar is still untapped and we expect the future growth will come from this part of the country. Smartphone penetration is on the rise, as well as 4G-enabled devices, and we are the natural choice for customers looking for fast internet speed and a superior network quality.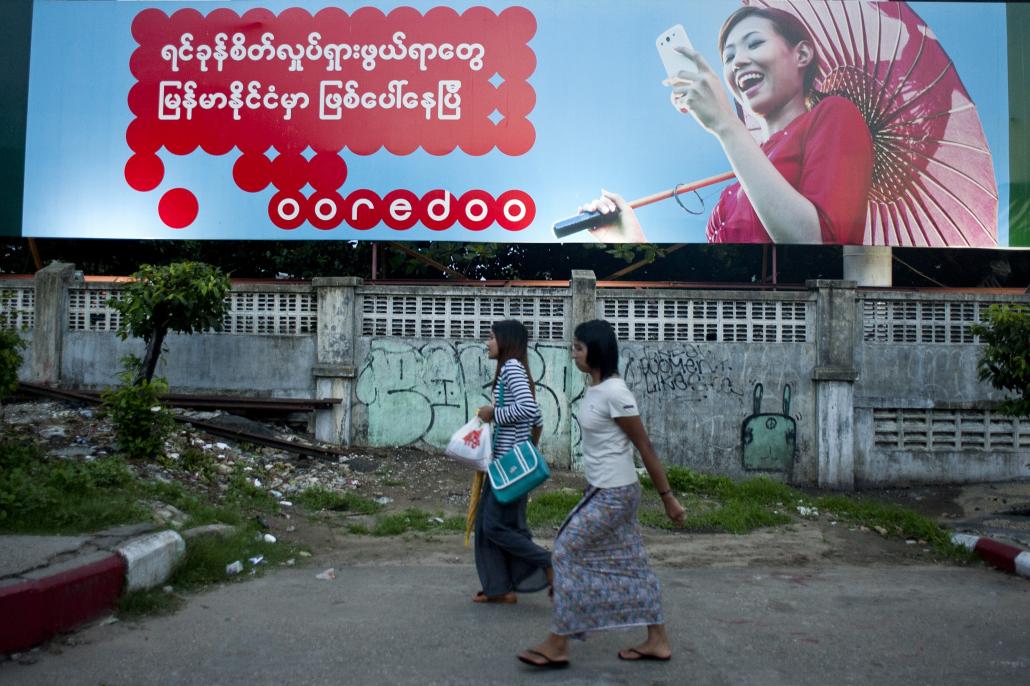 Where do you expect Ooredoo to be in 12 months, and how will you get there?
We have big ambitions for this market. It's a growing economy and a growing mobile industry. We will continue to invest in infrastructure, expanding our network coverage and making internet affordable for all the people in Myanmar.
Mobile money will soon be reality in this country and I had the opportunity to spend 10 years in East Africa, across Kenya and Tanzania, where mobile money has not only transformed the lives of people but also fundamentally changed the economy in those countries.
More broadly, what trends should we expect to see in the telecoms market over the next 12 months? What will separate the winners from the losers?
There's a fourth operator expected to launch this year, which would add a new dimension to the market. Customers in Myanmar want quality products and good value for money, unlike other emerging markets where customers simply go for what's "cheap".
This is something we stand out for. We offer a superior quality of service, much faster internet speed and differentiated customer experience. We will continue to offer our customers the best network quality with the fastest internet speed and an outstanding value for money.
How has the change in government affected the telecoms sector? Are we likely to see any big regulatory moves?
We are extremely pleased with the progress and the pace at which the new government is moving in regards to important industry matters. We are working very closely with the government and the regulator and a lot has been achieved over the past three to four months. The dialogue between the government and the industry is very open and we don't expect any surprises that may affect the industry.
Recently, the government announced that all mobile users would have to register their SIM cards by March 31, 2017. How has Ooredoo been responding to this order?
We have been registering SIM cards for a while now. Our technology and processes are in place and working. SIM card registration will require a joint effort between customers, mobile operators and the regulator. We will continue educating customers about SIM registration and customers will have to take the responsibility of walking into the registration points across the country to comply with the regulation.
This interview was originally featured in Frontier's Digital Myanmar 2016 special edition.