Although ten-pin bowling is yet to catch on in the mainstream in Myanmar, a small, scrappy community of local and expat bowlers are helping to keep the sport alive.
By JARED DOWNING | FRONTIER
Photos VICTORIA MILKO
AT 10am on a scorching March morning, the Myanmar national bowling team were playing their daily six-game regiment, hurling ball after ball down two well-worn wooden lanes, and knocking down pins as diligently as the creaking old machines were setting them up again.
The team's headquarter, at the Right Track Bowling Centre in Yangon's Tarmwe Township, is easily recognisable by the giant, peeling bowling pin that sits out front. Of the 20 lanes at the centre, the only ones lit are the two being used by the national team.
Most of the other lanes have not had a ball thrown down them in months, maybe even years. Their old Brunswick pinsetters wait patiently in the gloom, alongside stacks of scuffed balls with rubbed-out finger holes.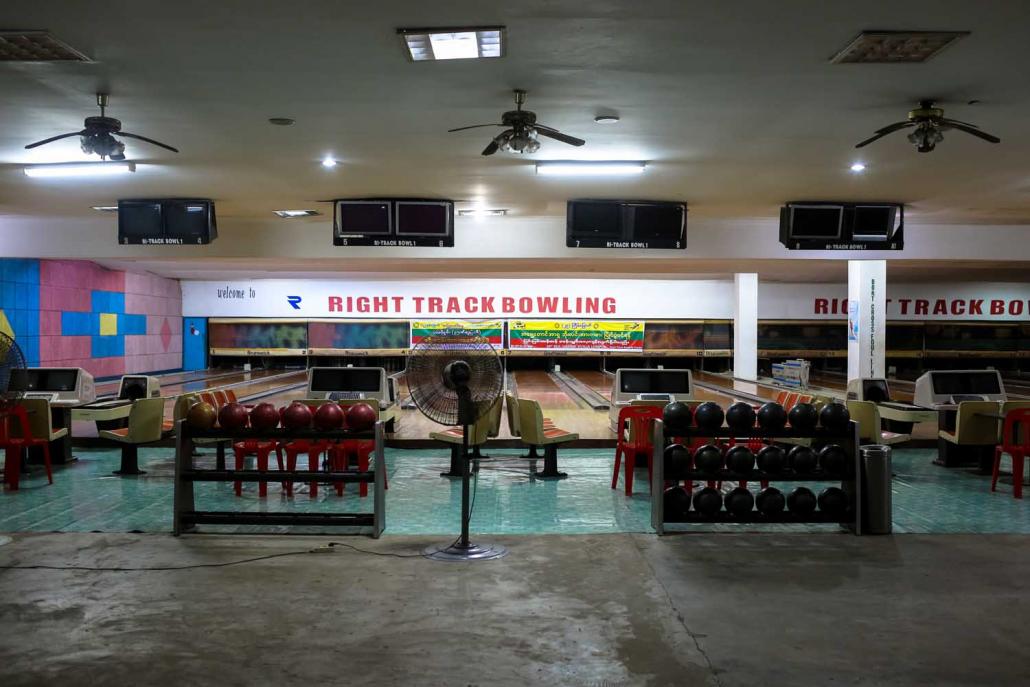 But Ko Nyein Chan, the team's newest recruit, doesn't care about the dust and dim. He was given paid leave from his government job in Nay Pyi Taw to move to Yangon and practice ahead of this year's Southeast Asian Games, which are due to take place in Kuala Lumpur in August.
"I'm nervous, but I'm new here and I have to do my very best for the team," Nyein Chan told Frontier.
The Myanmar ten-pin bowling team gave its best performance yet at the 2015 SEA Games in Singapore. Although it was placed in the lower half of competing teams in most events, team member Ko Zaw Lwin ranked 5th out of 41 in the men's singles event.
National coach U Myo Aung, who is also a co-founder at Right Track, believes the fact that Myanmar can hold its own in international competitions is impressive for a country that has only three modern bowling alleys – two in Yangon and one in Nay Pyi Taw – all that make little, if any, profit.
Picking up the pins
Ten-pin bowling does not enjoy widespread popularity in Myanmar, according to Myo Aung. A lack of interest from much of the population means he often has to cover losses at Right Track through his shipping and export businesses because he is so passionate about the sport.
When he opened the centre in 2000 the only other bowling centre in the country was the Asia Point Bowling Centre in Thaketa Township, on the edge of the Bago River. Fresh out of university at the time, Myo Aung said neither he nor is partner, a South Korean entrepreneur, had much bowling experience, but they saw an opportunity and invested around US$1 million (about K1.3 billion at current exchange rates) for the building, as well as to import equipment including balls, bowling shoes and computer systems.
"Even the special oil for the lanes is the second most expensive bill, after the lights," he said.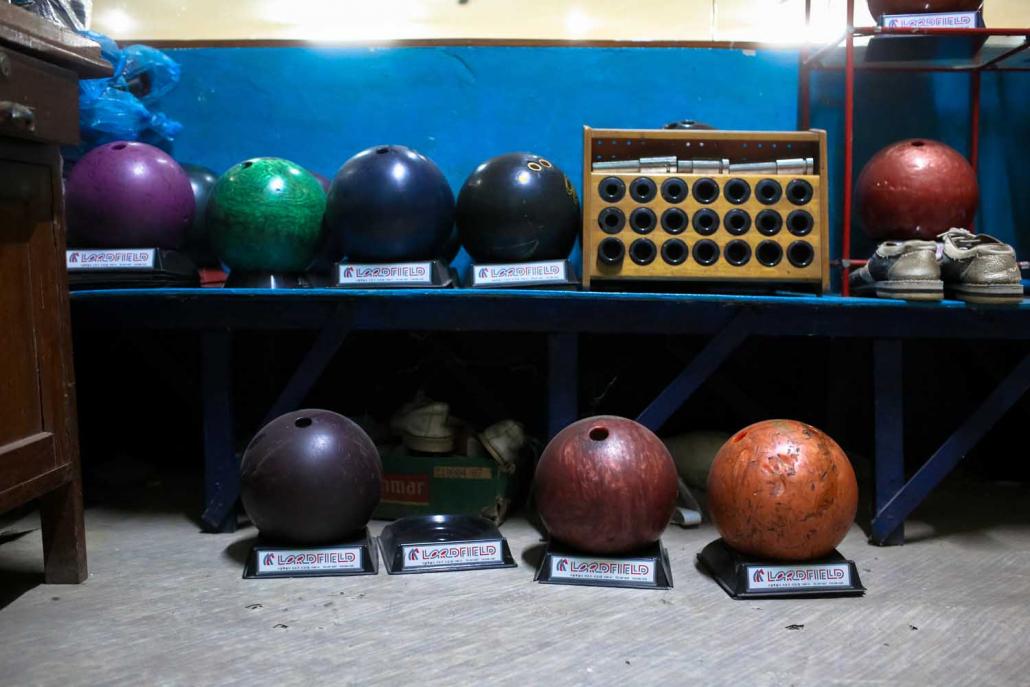 Myo Aung quickly fell in love with the sport. He took a training course in South Korea and helped start the first national team ahead of the 2001 SEA Games in Kuala Lumpur. Over the next few years, Right Track partnered with Asia Point to organise open tournaments and student leagues as well as a league for people with mental disabilities.
The bowling community was small but passionate. Many people would come along once and never return, and Myo Aung grew accustomed to entire nights of empty lanes. The imported balls lost their shine, the finish on the lanes began to wear and the computers and pinsetting machines would break down more frequently with each year that passed with a loss of profit.
Bowling is an odd fit for Myanmar society, Myo Aung told Frontier. It is difficult to attract wealthy people, who prefer playing golf, and even though a game costs about K2,000, working class people tend to prefer playing snooker or pool for far less.
"If you compare us to other countries, we charge one third of the price," Myo Aung said.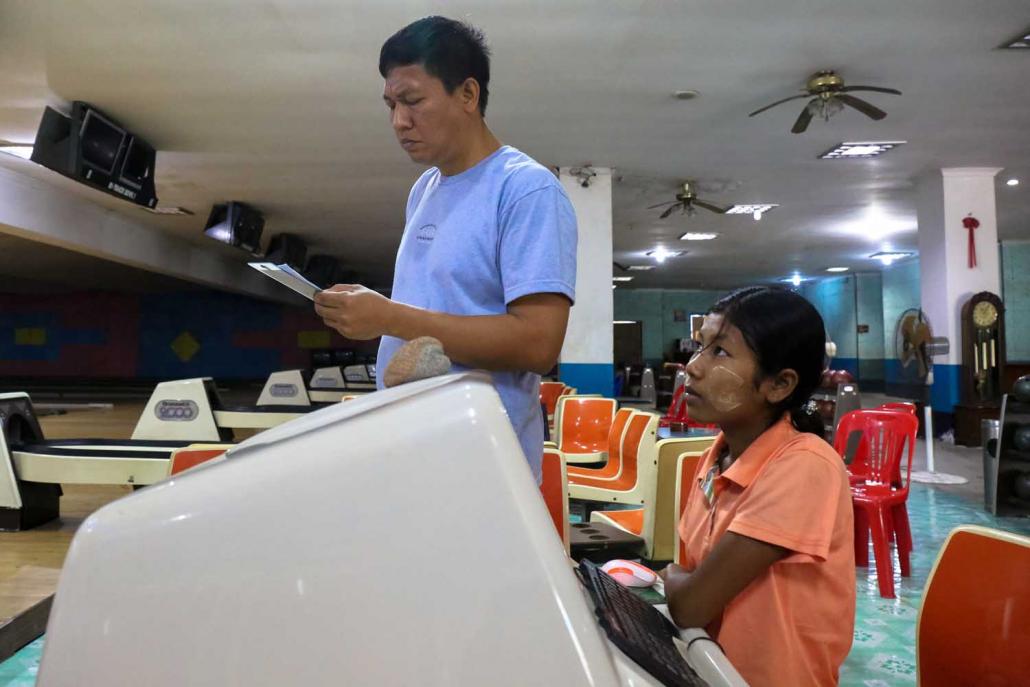 Aung Myo said Asia Point operates in a similar way, subsidised by other business – such as the adjoining Chinese restaurant – by owners who have a passion for the sport and the community that plays it.
New bowling balls cost K200,000 each and a pair of bowling shoes about K150,000. His Brunswick pinsetters breakdown constantly, and since he is one of the only people in the country who knows how to maintain and repair them, he cannot stray too far from the centre.
But despite the challenges, Myo Aung said that when the kids come down for the student league, or when the regulars battle it out in a tournament, when the place is fully lit and all the functioning lanes are full, those are the nights that make it all worthwhile.
"I can't just tear it down and haul this stuff off," Aung Myo said. "This was the first thing I did after university and I have a connection to it. I never had a family, but my team members, the students who practice here, my workers from Ayeyarwady Region who send money back home – they are my family."
Bowling for Myanmar  
When U Htay Win first took up bowling in the early 1990s, the only place he could practice was at a makeshift two-lane alley at Theingyi Market in downtown Yangon, where he had to set up the pins by hand. When he travelled to Malaysia as part of the national team for the 2001 SEA Games, he was dazzled by the immaculate bowling balls and perfect, smooth lanes.
But what the Myanmar really lacks, he said, isn't a state of the art bowling alley, but formal training and a competitive environment enjoyed by teams in countries like Thailand and Singapore. Most of what he and his teammates know about the sport they learned from Aung Myo, via online videos or by practicing themselves.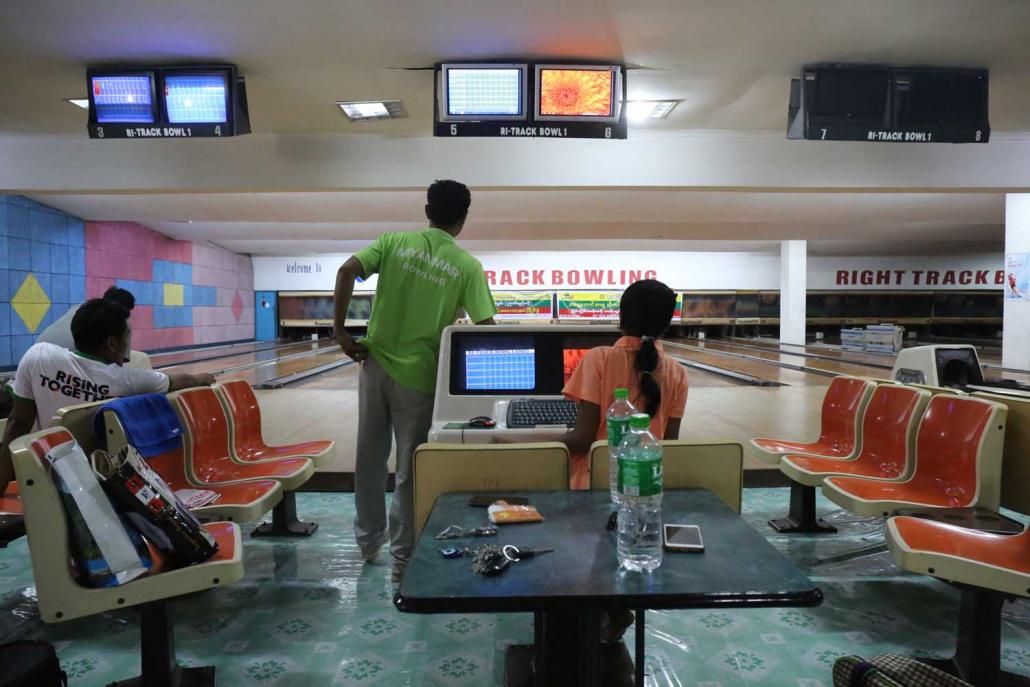 However, next month the team will travel to China for a three-month training camp with participants from around Asia. Htay Win attended a similar camp several years ago but for Nyein Chan, the team rookie, it will be his first such event.
"I'm excited to finally play with bowlers from other countries, to see how they play and learn their techniques, so that we can learn from the best and bring the best techniques back to Myanmar," Nyein Chan said.
Lighting the lanes
The rustic facilities do not put off everyone though, and there is a growing number of expatriates living in Myanmar who are helping to bring in business at alleys like Right Track.
"Going to Right Track is a bit like travelling in time," said Mr Leander Ketelhodt, from Germany, who is a co-founder of the Burma Bowling Club, also known as BBC. "Of course I sometimes wish all the lanes are working, but the way it is makes it unique. It matches our playing style – rough and barefoot."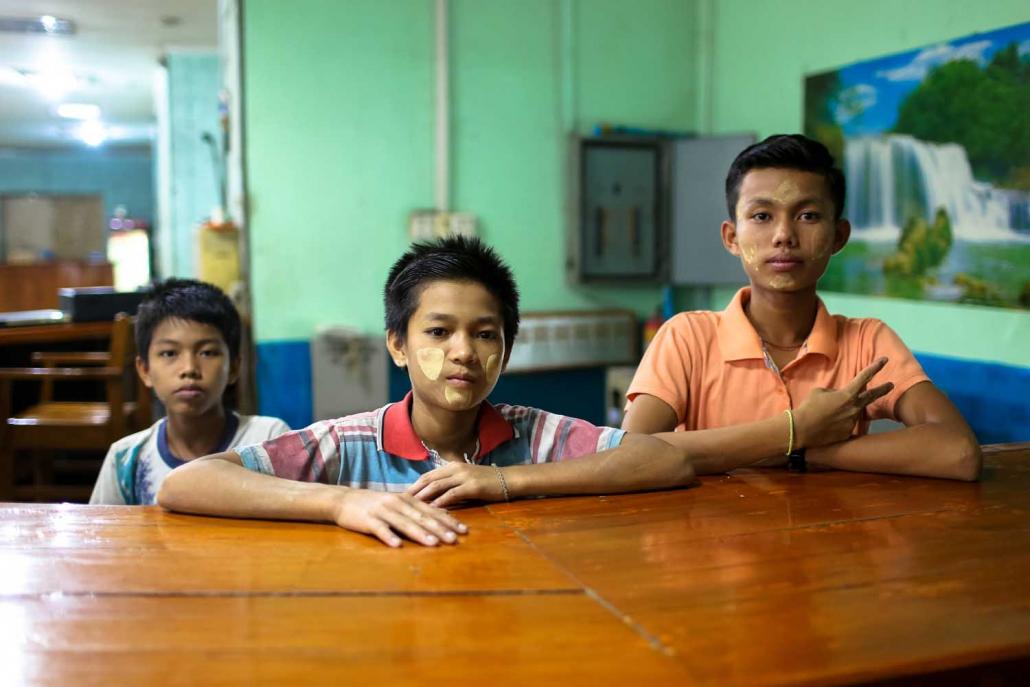 A bowling alley was one of the only hot spots in Ketelhodt's small hometown. One night in December in Yangon he asked some co-workers to go bowling, found Right Track online and called to reserve a lane – a concept that baffled the staff.
Sure enough, when they arrived they thought the place was closed, until someone turned on the lights and got a lane up and running.
"This is what it's all about," said BBC member Mr Mex Barrows from the United States. "If I wanted to go to a nice, bright shiny alley, I could do it at home."
The BBC now has about 30 members who meet at Right Track on Monday nights for league matches, with team names including Dagon Dragon and Shan 999.
Although Myanmar's population has been slow to catch onto the sport, bowling fills a perfect niche in expat society, BBC members said. It is a fun, low stress activity that brings people together and doesn't necessarily require drinking alcohol.
"You go and you have a great time with your friends for a couple of hours, and the maximum you spend is K10,000," said Mr Amir Virani from the United Kingdom, a member of the team Flower Power.
The BBC is fun and accessible. Players don't need experience and most bowl barefoot. But it is also a proper league with well-organised matches and an end-of-season awards ceremony.
But its members don't expect it to get too large. For one thing, the bowling alley couldn't handle it.
"The highest number we've had in one night is 30, and there were a lot of problems," said Virani.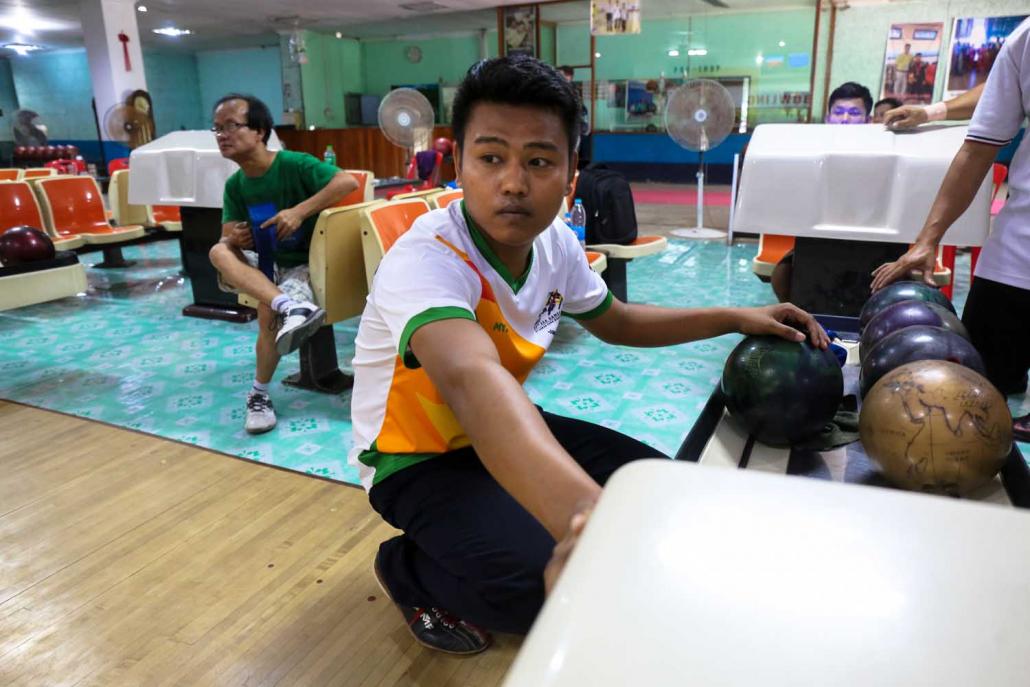 The first season of the BBC culminated earlier this month, with Shan 999 being crowned the inaugural champions in a rare buzzing night at the bowling alley.
In the morning it was back to business as normal, as the Myanmar team prepared to square off against bowlers from Singapore and Malaysia.
But for that evening, there were beers, pizzas, strikes, gutters and bare feet, and when the pinsetter broke down, it was the perfect excuse to mingle with players in the next lane.
Victoria Milko also contributed to this report.