Although Omicron is thought to be less severe than Delta, public health experts warn Myanmar could still face a deadly fourth wave due to low vaccination rates, a reliance on less effective Chinese-made vaccines, and a weak public health system.
By FRONTIER
Barely six months after the Delta variant of COVID-19 swept through Myanmar – and likely killed hundreds of thousands of people – Myanmar could soon face a deadly fourth wave, health experts warn.
A combination of factors has left Myanmar vulnerable to another devastating outbreak of the virus. Its public health system has been badly weakened by the coup, barely half of the adult population is vaccinated, and most of those have received Chinese-made vaccines that are less effective against the fast-spreading Omicron variant.
The outbreak may not turn out to be quite as severe as the Delta wave, because Omicron appears to be relatively mild, some people are now vaccinated and many others have a level of immunity from a previous infection.
But the threat Omicron poses is still serious enough to have some experts worried. "A smaller percentage than during Delta will get a severe infection within a very short time. But this number can still be substantial, particularly for a weak healthcare system," said one anonymous public health expert.
Dr Ooi Eng Eong, an infectious disease expert from the Duke-National University of Singapore Medical School, told Frontier that experiences from countries with high vaccination rates suggest that almost 90 percent of the eligible population would need to be vaccinated to prevent the health system being overwhelmed with COVID-19 cases. Barely half of the adult population is vaccinated in Myanmar.
"Populations with low vaccination rates will remain vulnerable to large surges in severe COVID-19 cases," he said.
The Omicron wave begins
The military regime's Ministry of Health reported Myanmar's first Omicron infections in late 2021, among four people who returned from Dubai on December 14.
Most of the subsequent confirmed cases were also among returning travellers who had been quarantined upon arrival. In late January, however, the junta announced that genomic sequencing showed community transmission of Omicron in Kalay and Tamu townships in Sagaing Region, close to the border with India.
Since then, the number of Omicron cases has risen to 348. This includes 84 cases of community transmission, of which 72 were in Sagaing Region and 12 in Yangon Region.
As was the case during last year's third wave, the numbers don't tell the full story, however.
Experts say the real number of Omicron cases is far higher than the data suggests, and that Omicron may already be the dominant variant in Myanmar.
Because Myanmar has limited capacity to carry out genomic sequencing, few samples have been submitted for lab analysis, so in most cases the variant is not known. However, a high proportion of those that have been analysed have turned out to be Omicron.
Ten of Yangon's Omicron cases, for example, were from a large cluster at a factory in Mingaladon Township: of the 2,233 workers tested, 718 were confirmed positive. Only 10 of those samples were submitted for sequencing, and all came back as Omicron, suggesting the other 708 are likely to be Omicron as well.
Meanwhile, some doctors and residents in Yangon told Frontier that the number of people exhibiting Omicron-like symptoms seemed to have increased in February.
The Jivitadana Sangha Hospital in Bahan Township in Yangon has been in lockdown since February 5 after more than 40 monks and hospital staff were confirmed to be infected with COVID-19.
Dr Than Naing Soe, a spokesperson for the junta's health ministry, told BBC Burmese yesterday that a fourth wave has started in Yangon, but not the rest of the country.
Tamu has the highest number of confirmed Omicron cases to date with 45. But Dr Thura, the superintendent of Tamu District General Hospital, told Frontier on February 5 that nearly all the samples he had sent to Yangon's National Health Laboratory for analysis turned out to be Omicron.
"In the previous month there were about 20 to 30 new COVID-19 cases found each day in Tamu District so … we sent 48 samples from COVID-positive patients," he told Frontier. "We have to make a lot of arrangements to send those samples for testing."
He said that the health department had not been able to send any more samples to Yangon for further analysis.
One Tamu resident said it seemed clear there were more cases present in the town than officially recorded. "I've seen people in town these days who show signs of nasal congestion and coughing – if they were actually tested, they might be confirmed as Omicron patients," one told Frontier.
The good news is that so far Omicron seems to be having only a limited impact. Dr Thura said no patients were severely ill, and most had mild symptoms. More than half are fully vaccinated, with either the Chinese-made Sinovac or Sinopharm vaccines, or Indian-made Covishield.
This contrasts significantly with the third wave of COVID-19 in Myanmar, when hospitals were quickly overwhelmed with oxygen-starved patients who had caught the Delta variant. A Frontier investigation estimated that the junta's official numbers may have undercounted the actual death toll by hundreds of thousands nationally.
The devastation was exacerbated by the political crisis, as hundreds of thousands of public servants, including many health workers, had been on strike since February to protest the military coup.
Striking doctors and nurses tried to provide care to COVID-19 patients outside of formal institutions but faced crackdowns from security forces. With hospitals overwhelmed, thousands died in their homes as family members begged for oxygen on social media.
But the World Health Organization has cautioned against underestimating the risk that Omicron poses. On January 23, WHO technical lead on COVID-19 Dr Maria Van Kerkhove said that although Omicron was less severe than Delta, that did not mean that the new variant was mild. People who are infected with Omicron have the full spectrum of disease, she said – everything from asymptomatic infection all the way through to severe disease and death.
"This is putting a significant burden on our health care systems, which are already significantly overburdened given that we're entering into the third year of this pandemic," she added.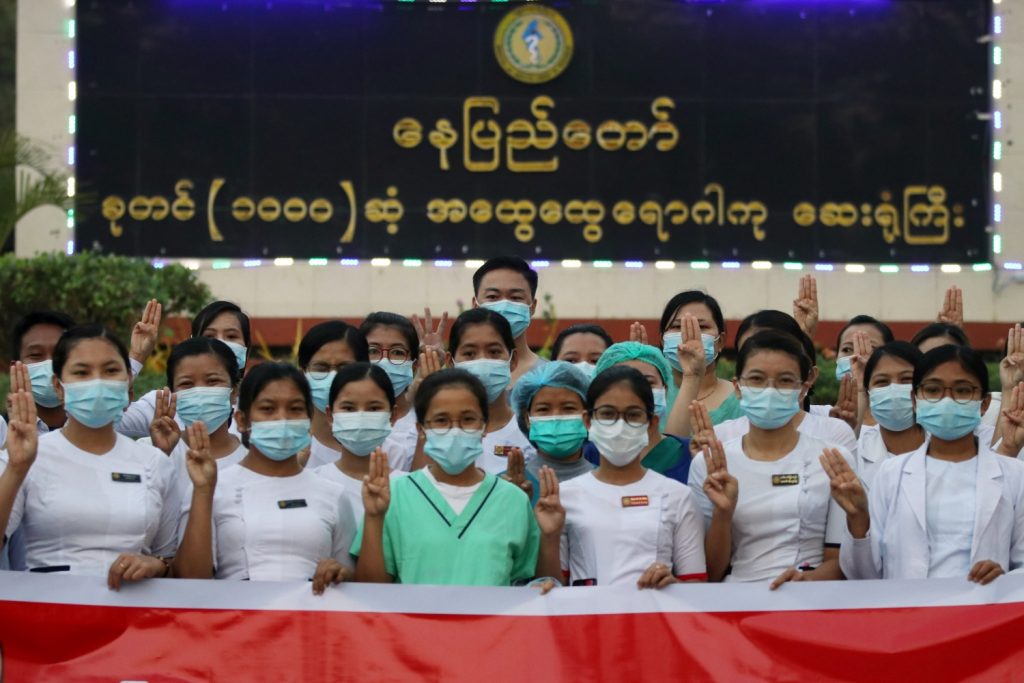 Health system 'very weak'
Given Omicron is also more contagious than Delta, health experts in Myanmar warn that a spike in positive cases could still quickly overwhelm the already strained health system.
"Myanmar will likely see more COVID-19 infections and deaths as a result of the small number of tests conducted by the ministry and the lack of health staff," said one public health expert, who spoke on condition of anonymity. "I'm worried that … there may be a fourth wave."
"If Omicron infections are very high, the number of patients who need to be admitted to hospitals and clinics could increase exponentially," Dr Khin Maung Lwin, a former rector of the Mandalay University of Medicine who now advises the National Unity Government's Ministry of Health, said at a recent public forum.
The NUG is a cabinet appointed by lawmakers elected in the November 2020 election which the military refused to recognise.
"Myanmar's stagnant healthcare system means it [Omicron] could hit the people harder than the third wave," Khin Maung Lwin said at the forum, which was hosted by the NUG's health ministry.
Despite doubts over its testing and treatment capacity, the junta's health ministry insists it is prepared for a fourth wave.
Spokesperson Dr Than Naing Soe told Frontier on January 20 that even before the confirmed Omicron cases, the ministry had been preparing intensive care units, isolation beds and oxygen plants at government hospitals in anticipation of a surge of Omicron cases.
It was also setting up community-based centres for people who tested positive for COVID-19 but are not unwell, and community-based quarantine centres for close contacts of positive COVID-19 cases, he said.
In a December 13 article in the state-run Myanma Alin newspaper, Than Naing Soe said the junta has established more than 1,000 treatment centres with the capacity to treat over 66,000 patients, and 1,672 quarantine sites with capacity for nearly 65,000 returnees. The article also claimed the junta had prepared 1,000 intensive care unit beds equipped with oxygen therapy throughout the country.
But experts have questioned whether these numbers are an accurate reflection of the public health system's true capacity, given the ministry's limited resources, and the fact that it has lost so many workers since the coup. The CDM Medical Network estimates around 50,000 government healthcare workers are still on strike.
"The problem is that they use words that have little meaning – for example, what is a treatment centre? Do you treat mild COVID there? Well, you can do that anywhere. Or is it to treat severe COVID, which is essential? The important thing is how many treatment beds they have with oxygen," said one public health expert, who spoke on condition of anonymity.
The source said that the focus should be on expanding treatment capacity, as it was already too late to ramp up vaccination and prevention measures would not be very effective against the fast-spreading Omicron – lockdowns, in particular, "do more harm than good".
"They need many beds with oxygen but the hospital care situation is extremely weak in Myanmar. It is caught in the middle of the political battlefield. And let's face it, both parties have to stop this. Acute medical life-saving care should be taken out of the political battlefield," they said.
Another medical doctor who requested anonymity said: "Due to the shortage of medical doctors at government hospitals, they may only be able to receive a limited number of patients during the fourth wave … The government is not properly prepared."
Than Naing Soe responded that the regime's "preparation numbers" were improving day by day, and that state-run hospitals and treatment centres were "prepared as best they can be".
The private sector is not likely to be able to alleviate much of the burden, industry sources say. Just 12 private hospitals accepted patients during the COVID-19 third wave, handling a tiny proportion of those sick with the disease.
One barrier to the private sector treating more COVID-19 patients is the fact it relies heavily on medical professionals from the public sector, who supplement their low government salaries by working at private hospitals and clinics.
"The major problem of the private health sector is the shortage of medical doctors and nurses in the meantime," said one official from the Myanmar Private Hospitals' Association, estimating that about 95pc of staff at the country's 250 private hospitals also work at government hospitals.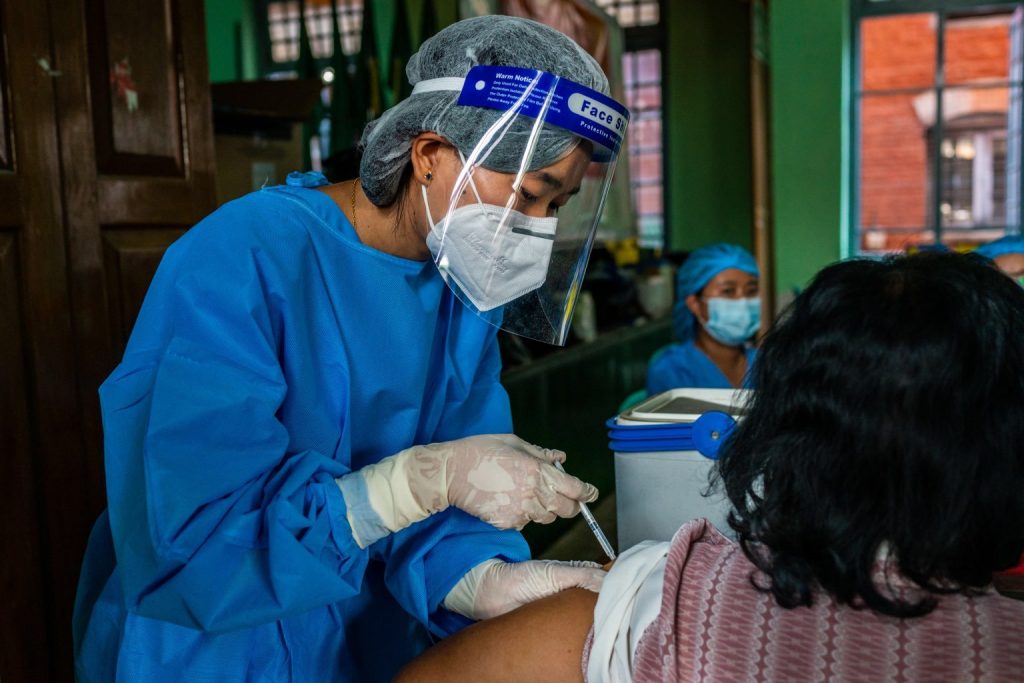 How protected is Myanmar?
Another area in which Myanmar lags behind much of the world is in vaccination rates. Official figures from the regime's Ministry of Health show that only around 53 percent of the adult population is partially or fully vaccinated, and few booster doses have been administered.
As of February 1, 18.97 million people in Myanmar have received two shots of the vaccine, while another 3.14 million have received their first dose, according to junta figures.
Another potential problem is that most people in Myanmar have received the Chinese-made Sinovac or Sinopharm vaccines, both of which are "inactive" vaccines that are thought to offer less protection against Omicron than mRNA vaccines like Pfizer or Moderna.
Ooi from the Duke-National University of Singapore Medical School said this was because the vaccines worked in different ways.
Vaccines like those produced by Sinovac and Sinopharm trigger antibody responses to the virus but do not efficiently trigger immune cells known as "killer T cells", which detect and kill virus-infected cells in a person's airway. As a result, he said, variants like Omicron that are able to evade antibodies to a significant extent "are likely to cause breakthrough disease as there are insufficient killer T cells to kill the infected cells and prevent the virus from spreading in the body".
Although many people in Myanmar will have natural antibodies from a previous Delta infection, this may not be enough to provide protection.
"For reasons we still do not fully understand, immunity from infection appears to be less efficient at preventing a second episode of COVID-19 compared to vaccination. However, vaccination after recovery from infection produces what has been loosely termed, hybrid immunity, which has thus far appeared to give the most robust protection against COVID-19," Ooi said.
A junta health ministry spokesperson told Frontier on January 20 that the ministry had already started providing boosters to priority groups, and planned to later make them available to all of those who are fully vaccinated.
"There will also be a booster program for the general public, depending on the availability of the COVID vaccines. Let me just say that it is still being prepared," he said.
A microbiologist who requested anonymity said only priority groups were able to access boosters for free from the military regime's Ministry of Health, and that the majority of people would likely have to wait a long time to gain access to a third dose. 
The only other option is to buy a booster from a private provider for around K35,000. The microbiologist said this meant urban residents would have a better opportunity than their rural counterparts to access a third dose, as private providers are mostly in urban areas, and urban households tend to have more disposable income. 
"In Myanmar, booster shots may be concentrated in places where people can afford vaccines," agreed one public health official interviewed by Frontier. "Only people in urban areas will have access to [boosters]."