Against all odds, Myanmar's independent music scene is on the up and up.
By NATALIE WONG | FRONTIER
MUSIC LOVERS from as far afield as Austin, Texas, have heard of Side Effect, an indie rock band hailing from Myanmar. The beloved band is one of the few Burmese ensembles to break through to the international stage, thrilling audiences across Germany, and at the South by Southwest film and music festival in the United States. Part of their appeal is the band's bold originality; unlike so many new musical acts, Side Effect isn't a cover band and they reject the very notion of the "mainstream".
But these ambitious rockers are somehow struggling to find their stage at home. While Myanmar has had a long and lively underground music scene, there simply aren't enough venues, and bureaucratic hurdles still stand in the way of organising large public gatherings such as music concerts. 
"Venues have the potential to make things happen," said Darko, the band's punk-inspired front-man. Most local music festivals are held outdoors at places like People's Park, Kandawgyi Lake, or Mahabandoola Park in Yangon. Darko said that organising such events can be a logistical nightmare, as musicians are required to go through up to seven separate application processes to get permission from all relevant authorities.
Fortunately for Myanmar's new wave of musicians, nightlife is changing quickly in Yangon. New bars are proving fertile ground for fresh talent, and producers are finding ways to bring tunes to more audiences eager to hear the sounds of the country's democratic dawn.
Eaiddhi and Ye Ngwe Soe are two such innovators. In 2012 they founded a concert series called 'Jam It!' with the aim of providing a platform for local underground bands and solo artists. To date they have organised 27 concerts, mostly in small, intimate venues such as bars.
"They provide the equipment and the venue, and they take a profit from ticket sales," explained Eaddhi, who is also a member of the punk band No U Turn. He said 'Jam It!' would eventually like to settle in at a more permanent venue. "It doesn't need to be big, just a small place that can hold one hundred people."
Myanmar's nascent underground music scene is all about punk, rock and hip-hop, at least for now. While still limited in scope, it has come a long way over the past decade. In the past, fans of different musical genres couldn't be in the same room together without getting into raucous fights, but Eaddhi said things were changing and more inclusive, cross-genre attitudes were taking hold.
"Before Jam It!, there was no concert that brought together hip-hop, punk and metal, because they would only fight," Eaddhi told Frontier. His band-mate and 'Jam It!' co-organiser Ye Ngwe Soe said the events offered an alternative to the intolerance by showing people that different sounds can work together, united by their break from the mainstream.
"We bring peace," Ye Ngwe Soe said. "We shouldn't be fighting each other because of music."
'Jam It!' provides more than a welcoming environment for musical talent – it also offers artists the space and tools they need to pursue their craft. Many musicians in Myanmar cannot make a living on music alone, and some don't even own their own instruments. Ko Nay Soe Myat, for instance, plays in two of the country's most famous rock bands – Side Effect and Suicide Plan – and owns only one acoustic guitar.
"Many drummers don't have their own drum sets," said Side Effect's Darko, "they can only play when they rehearse, like when they are in the Jam It! studio."
A lot of musicians have day jobs to get by, cutting loose with their instruments after hours and on weekends. Eaddhi works as a sound engineer, and Darko as a lab manager for a non-profit called Turning Tables Myanmar, which offers musical education and access to production resources to youths across the country. Nay Soe Myat works with him as an assistant music trainer and producer.
Aside from traveling throughout the country to find and foster new musical talent, Turning Tables also produces an annual programme called Voice of Youth, which consists of a training series and a two-day festival that features both well-known bands and new, up-and-coming acts. Selected artists are given the opportunity to contribute to a compilation album.
"We open the door for them, but they have to walk through it on their own," Darko said. "We do our best to motivate them, I hope they won't let go of their dreams."
Spreading the Sound
For those who can manage to make a living, pool their resources and commit the time to fine-tuning their sound, getting heard is still a struggle. One way to break through is TV, as music video production values become more sophisticated and support for local artists increases.
Mr Leopold Belanger and Ms Angele de Lorme produce a weekly music show called "On Air", which plays on MRTV-4 channel 7 every Sunday. The producers seek out young, undiscovered talent and provide them with resources to show off their skills to a broader audience. 
"The idea is to bring people who are not yet famous onto the stage, and for them to show what they can do," Belanger told Frontier. Though the programme is often perceived as mainstream, he said they were trying to bring in more underground acts. In the past, On Air has worked with artists like G-Tone, an underground rapper, who made a popular appearance on the show.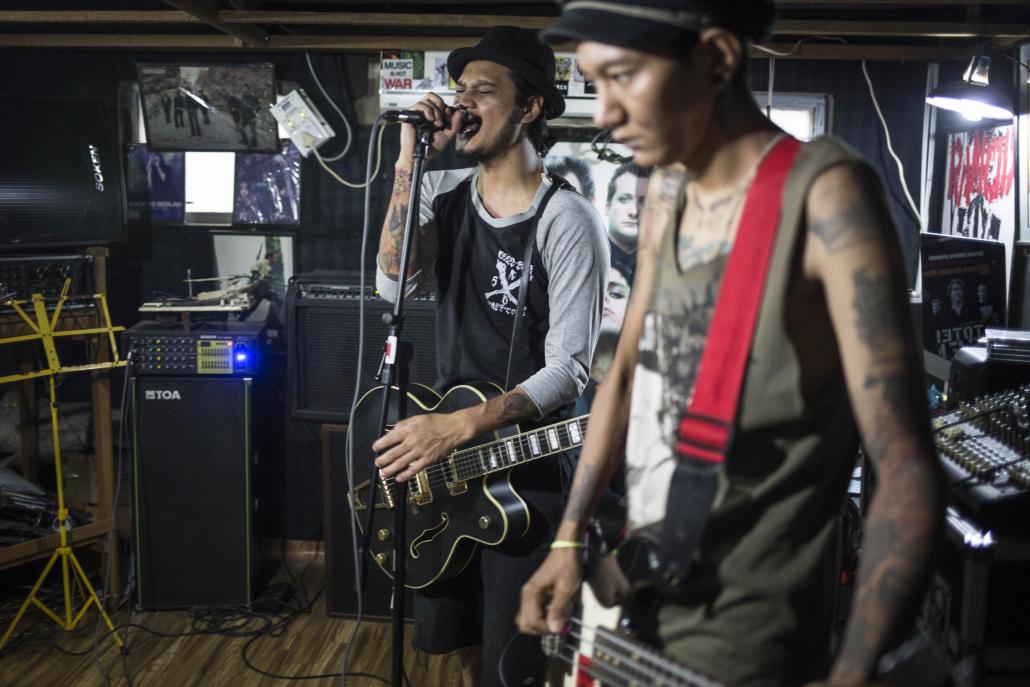 "We haven't quite reached the underground scene yet," de Lorme said, but they do want to strike a balance between mainstream pop acts and more obscure genres. By giving artists of various styles the chance to showcase their talents and meet each other, de Lorme believes Myanmar's musicians will have greater potential to "export" their work throughout the country and even abroad.
Strides are also being made to optimise Myanmar's music platforms for the digital era.  One local record label, 9 Night Records, is pioneering Myanmar's move to online distribution platforms such as iTunes, Google Play and Spotify. The label's founder, Ko Yaw Myat Oo, known by friends as JJ, said that online sales will be key to thrusting Myanmar's music onto the global stage. No U Turn is one of the first Myanmar bands to tap into the digital market, with two records currently available on online platforms.
JJ sees enormous potential in overseas markets. While some online platforms, such as Spotify, are not currently available in Myanmar, people in other countries are already buying music from the golden land. Some customers are among the millions of Myanmar people living and working abroad, who long for the familiar sounds of their homeland and mother tongue. Others are musical connoisseurs from other cultures who are curious about sounds from afar.
As Myanmar's independent music scene steadily broadens, so does its potential audience, industry professionals predict. New tunes from emerging bands could find a great musical appetite abroad, as most of the world is still unfamiliar with Myanmar's once-isolated and long-repressed culture. While it may be hard to make a living as a musician, and even harder to round up a base of loyal fans, Darko urged young creatives to take up the task: "Just do it."