Riders for online food delivery service Foodpanda have gone on strike, accusing the German-owned company of slashing rates while putting workers at risk as they navigate Myanmar's increasingly dangerous cities.
By FRONTIER
It's been 70 days since Ko Pyae Phyo last went to work.
The 26-year-old Foodpanda rider from Yangon's Sanchaung Township has been on strike since June, one of thousands of workers for the German-owned app-based delivery service who are demanding better working conditions.
With motorbikes long banned in Yangon, delivery workers routinely cycle long distances across the sprawling city in monsoon rains or searing heat to bring food to customers.
But the striking riders say they are no longer being compensated fairly for their grueling work. When Foodpanda launched in 2019, it paid riders K1,100 per delivery, but since the coup had slashed the fee by almost two-thirds. "Now we are struggling with skyrocketing basic food prices in the aftermath of the coup and we only get K400 per ride," said Pyae Phyo.
At current market exchange rates, K400 is roughly 16 US cents. Riders in the lowest batch of the internal ranking system receive a baseline pay of K580 if they travel 0.5 km, but say they are paid less for shorter trips. Fares increase as distance increases. Drivers in higher batches start with a higher baseline and receive more additional payment for distance traveled.
Pyae Phyo has been working for the company for around two years, and said he used to earn around K30,000 per day. Since the coup his income has fallen to K11,000-15,000, including freelance orders he takes outside of the app.
The striking workers have demanded that Foodpanda take responsibility for injuries suffered during working hours, calculate the correct distance for delivery, pay at least K670 per ride and allow one day off every week. Pyae Phyo said the company only calculates deliveries based on the suggested route, offering no compensation for detours taken for security reasons. He said if drivers take a day off, they drop in the internal rankings, resulting in lower fares.
Foodpanda's fee reductions have come at a time when Myanmar's economy is reeling from the effects of COVID-19 and the February 2021 coup. The junta's mismanagement of the economy has sent the value of the kyat plummeting and commodity prices soaring. It is the second time delivery riders have gone on strike, after an attempt in March ended without any concessions from the company.
While Foodpanda finally compromised on the pay rate, it has failed to meet other demands, and the company is also being accused of targeting striking workers.
"Now the company is shutting down the accounts of those who are participating in the strike as well as applying stricter rules to the riders," Pyae Phyo said.
Given the economic desperation and the problems with the company, Pyae Phyo said many riders are simply selling their Foodpanda accounts so they can get back their K85,000 registration fee.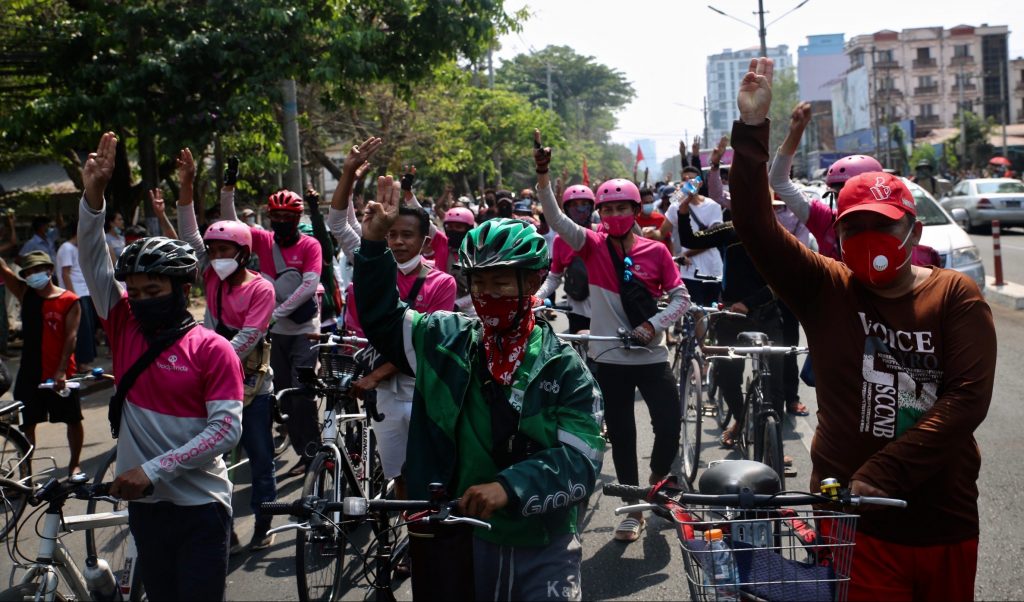 High risk, low reward
While COVID-19 has been bad for much of the economy, it was a boon for delivery services. Restaurants were ordered by the government to operate takeaway only, leading to a surge in demand. With many other jobs disappearing, workers jumped at the chance to get paid for delivering food across Yangon.
It has never been an easy job. Delivery riders risked their health to bring food to people during the pandemic and were often treated with fear by the general public.
"Sometimes we had to leave [orders] at doorsteps since they thought of us as virus carriers," Pyae Phyo recalled. "We were also scared of the virus. We also had family members at home. But that was our job, and I had no choice since it fed my family."
But the post-coup work environment is even scarier.
"Some riders faced tremendous challenges during the coup as security forces stopped them and questioned where they were going. In the worst cases, some were beaten by soldiers and detained for a while," he said.
A 20-year-old Foodpanda driver was reportedly shot dead in March 2021 during a protest crackdown while attempting to help an injured protester in Sagaing Region's Monywa Township.
The brutal crackdowns on peaceful protests against military rule left hundreds dead and convinced many young people to turn to armed resistance. Open warfare has exploded across large parts of rural Myanmar, while guerrilla attacks like bombings and assassinations have become commonplace in big cities like Yangon and Mandalay.
This has in turn led to a heightened security presence, a proliferation of military checkpoints and widespread suspicion and fear of the general public among members of the armed forces.
Pyae Phyo said Foodpanda had cut its fares despite these increased risks, and also did not offer leave or provide support to injured workers.
Mr Stephen Campbell, an assistant professor in the School of Social Sciences at Singapore's Nanyang Technological University, said this reflects a broader deterioration in workers' rights in Myanmar since the military takeover.
"Since the coup, employers have leveraged increased unemployment and the insecurity of renewed military rule to reduce wages, shift workers to casual arrangements and cease paying severance and other benefits," he said, adding that companies have also sought to fire union members and organisers.
He said foreign companies operating in Myanmar should "at the very least" pay minimum wage and respect workers' legal rights. "But given increased labour law violations across the board in Myanmar, it is not at all clear that such so-called responsible investment is even possible under current conditions of military rule," he added.
Both Foodpanda and its parent company Delivery Hero declined to comment. Foodpanda referred Frontier to a Facebook statement in July, where it said it was providing workers with "defensive riding trainings" and "care packages" of food and medicine.
Ma Khine Zaw*, a striking motorbike driver from Mandalay, said that when she was injured in a traffic accident in February the company showed little concern for her wellbeing.
"I hit a car in front of me because I was driving in heavy rain and couldn't see anything. I had to take leave for one week, and when I reported the accident to the company, they only cared about the remaining orders," she recalled.
She said she feels compelled to continue working even when the weather is bad.
"I wouldn't dare to take a rest as my points immediately decrease as soon as I stop working," she said, referring to the same ranking system Pyae Phyo mentioned.
Khine Zaw, who has worked for Foodpanda for 18 months, said that while her pay is falling living costs are only going up. "Every day, I need to top up K3,000 to use the internet and call customers. Then I need to buy fuel for my motorbike, which is around K8,000. That's K11,000 just to start a day of work," she said.
While motorbikes are legal in Mandalay, meaning delivery riders don't need to ride bicycles, resistance fighters have increasingly relied on motorbikes for drive-by assassinations in urban areas. The military has often gunned down motorbike riders for failing to stop at checkpoints, including a 19-year-old woman who was shot dead in urban Mandalay in April last year.
Before she went on strike, Khine Zaw said orders were declining and the job was becoming more dangerous due to an increase in guerrilla attacks and heavier military presence in the city.
"We have to avoid checkpoints and make a detour to reach our destination when we see them [soldiers] because they always stop us and question us about where we're going," she said.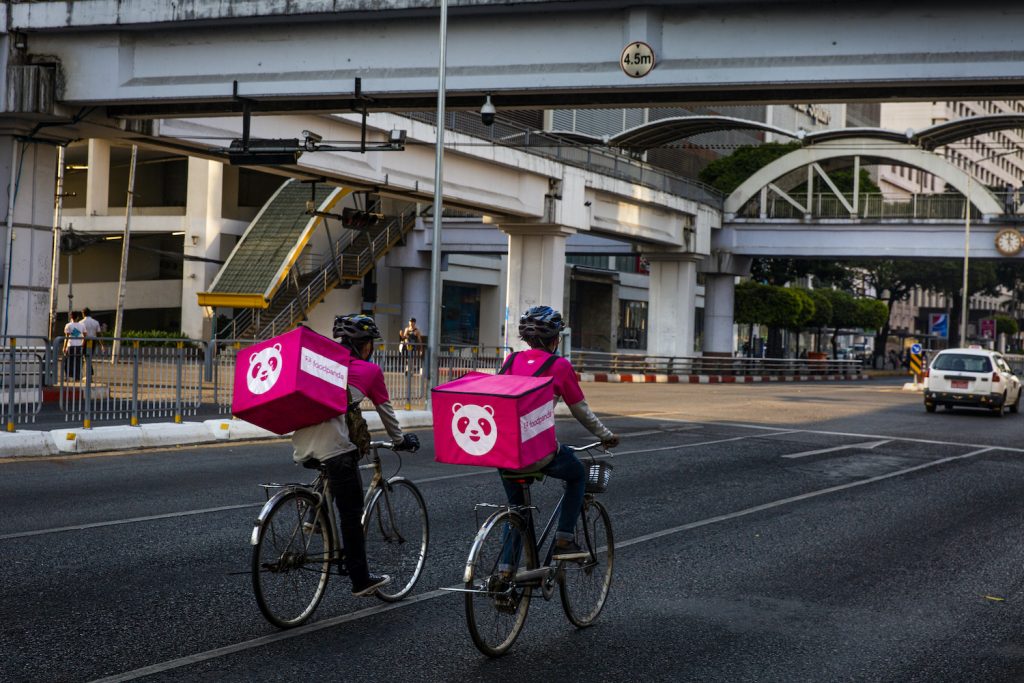 Appealing to the public
While Foodpanda drivers fight for better treatment, some have simply abandoned the company, turning to competitors like GrabFood or setting off on their own.
Ko Nyi Nyi, a 28-year-old rider from Yangon's Ahlone Township, posted his phone number on social media, appealing to netizens to order food from him directly and pay what they think is fair.
"I am battling every day to eat, and now I have to apologise to my landlord for not being able to pay rent for the month," he told Frontier.
"So, like many of my fellow riders, I chose to post about my issue on Facebook groups, and it helped. Now I am taking a few orders daily and regular customers ask me to buy food for them every day, and sometimes medicine and other necessities."
Khine Zaw and other strikers have also appealed to customers for support, urging them to boycott the company by refusing to use the app and giving it a zero-star rating on Apple's App Store and the Google Play Store.
"We believe that the company will act on our requests if the customers pressure it enough," she said.
In addition to braving COVID-19 to keep cities fed, Foodpanda workers were also a visible presence at anti-coup protests, including the first mass demonstration on February 6.
Campbell said workers in general were "critical in catalysing the Civil Disobedience Movement and mass street protests" after the coup. The CDM is a mass strike of civil servants who have refused to work for the new regime, hobbling the barely functioning military administration.
While the revolution has since shifted to armed resistance, Campbell said "workers continue to organise and collectively struggle in their workplaces", which is an important example of "democratisation from below" and serves as "bulwarks against any elitist co-option of the opposition movement".
But despite the role Foodpanda workers played during COVID-19 and the coup, many say they don't feel like they are receiving enough support from the public in their time of need.
"Honestly, Foodpanda is still going strong as I see riders on the street as usual. That means people are still using Foodpanda because their delivery fee is cheaper than others, such as GrabFood," said 24-year-old customer Ma Yadanar. She said Foodpanda charges customers up to K500 – although sometimes there is no fee at all – while GrabFood typically charges around K1,200.
A restaurant owner who requested anonymity told Frontier he uses Foodpanda because it takes a 30 percent commission from every order while Grab takes 40pc, but he has more problems with Foodpanda. (A Grab Myanmar representative told Frontier that Grab takes only a 25pc commission on orders and shared a contract template that cited this figure as a "standard merchant rate".)
"The Foodpanda team is very hard to work with and reach out to. I've complained to them twice about some issues, and they are still not solving them for me," he said, referring to the corporate side rather than the delivery workers. "But if they want discounts from my restaurant, they call me every day until I say yes. And then they vanish and never call me back."
A spokesperson for the Solidarity of Trade Unions Myanmar told Frontier the group is providing limited financial assistance and basic food supplies to striking Foodpanda workers.
"We need to support them as much as possible. We issued statements and met face-to-face with them. We are also working with people from the international community [to help them]," she said.
The spokesperson said she worries many in Myanmar are ignoring the plight of workers like the Foodpanda riders, as they believe there are more important issues to focus on now.
"As workers, they cannot choose the time and place to demand their rights," she said. "No one was interested in the oppression that workers were facing in the past. Now it's worse as everyone is focusing on the revolution, and some even see this as the wrong time."
A previous version of this article incorrectly stated the fares for Foodpanda riders. Frontier apologises for the error.
This article has been updated to include a clarification from Grab Myanmar about the commissions they charge to restaurants.