The fatal poisoning of Kim Jong-un's half-brother in Malaysia in February came more than 30 years after Pyongyang sent assassins to Yangon to try to kill the South Korean president.
By HTUN KHAING | FRONTIER
THE BRAZEN assassination of a prominent North Korean in Malaysia in February was a distant echo of one of Pyongyang's bloodiest attempts to eliminate perceived rivals in Southeast Asia.
At 10.25am on Sunday, October 9, 1983, a powerful explosion reverberated through central Yangon; the bomb's main target was the South Korean President, Mr Chun Doo-hwan.
Malaysia is seeking several North Koreans over the killing of Mr Kim Jong-nam, 46, son of the late former dictator, Mr Kim Jong-Il, and estranged half-brother of its current ruler, Mr Kim Jong-un.
Kim Jong-nam died after a highly toxic VX nerve agent was smeared on his face at Kuala Lumpur International Airport on February 13 by two women, an Indonesian and a Vietnamese, who are in custody, along with a North Korean.
Malaysia has named seven other North Koreans as suspects or wanted for questioning over the airport incident.
After the Yangon bombing there were three North Korean agents on the run.
President Chun was on a state visit at the invitation of Myanmar's military junta, during which, as is customary for visiting leaders, he was to lay a wreath at the Martyrs' Mausoleum honouring Bogyoke Aung San and the eight men gunned down with him at the Secretariat on July 19, 1947.
The North Koreans had planted bombs in the ceiling of the mausoleum.
The three agents were members of the Korea People's Army: Major Zin Bo (also known as Kim Jin-su), and two captains, Kang Min-chul and Shin Ki-chul.
Kang later told investigators the plot had been planned by a special forces officer, General Kim Chan-Su, who had farewelled them when they left North Korea for Yangon by ship on September 9, 1983, a month ahead of the bombing.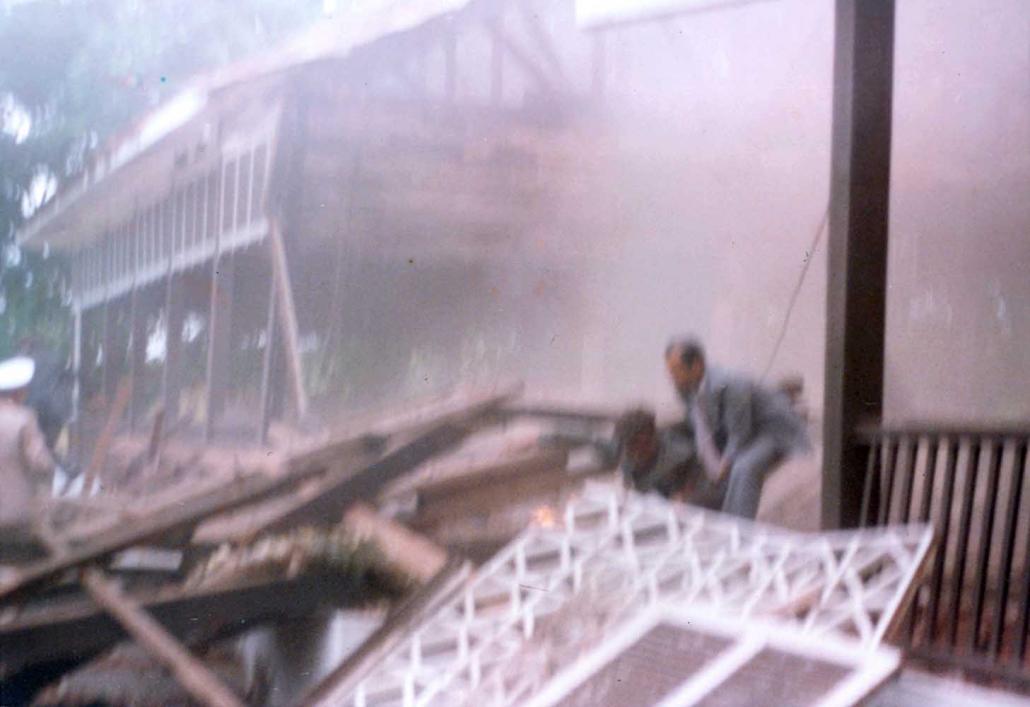 The ship arrived in Yangon about two weeks later and some reports said the trio sheltered at the home of the North Korean military attaché in Ahlone Township.
A declassified US Central Intelligence Agency report dated October 19, 1983, said the North Koreans had "an excellent opportunity" to survey the mausoleum and plan the operation.
"A delegation from North Korea's Supreme People's Assembly visited Burma and performed the same wreath-laying ceremony less than two months before Chun's visit," the CIA report said.
On October 6, the three agents moved their bombs to an island on Kandawgyi Lake opposite the Japanese embassy. At about 2am on October 7, they infiltrated the grounds of the mausoleum and in its ceiling planted three bombs that could be detonated by remote control.
Rather than returning to a North Korea diplomatic mission, the trio hid out in parks the next day. When Zin Bo, mingling with a waiting crowd at the mausoleum on the morning of October 9, pressed the button, only one of the bombs exploded.
It created bloody carnage, killing 21 and injuring 46. The dead included 16 South Koreans, including four government ministers, as well as presidential advisers, security officials and journalists. The four Burmese dead included three journalists.
Chun, the main target of the operation, had a narrow escape because the presidential motorcade was running a few minute's late for the wreath-laying ceremony.
After watching the grim aftermath of the bombing, Zin Bo and the others separated and made their way towards the Yangon River where they were expecting to find a North Korean ship waiting for them.
Zin Bo made his way to Pazundaung Creek. On October 11, near the Nyaungdan Jetty (also known as the Thida Seit Jetty), he rested beside a trawler. It was a mistake. Thieves had been raiding vessels moored in the creek and a crewman raised the alarm.
"I heard the shout, 'Thief! Thief!' and saw a group of men gathering to catch him," recalled Daw San Yi, 86, who was running a small liquor shop near the jetty in 1983.
"When he [Zin Bo] was climbing out of the water, he said to me, 'I'm your friend. I am Chinese,'" she said. Foreigners were rarely seen in Burma then because it had adopted a policy of self-isolation under General Ne Win's socialist regime.
San Yi said some of those on the creek bank thought Zin Bo was a harmless foreigner but she was suspicious. "I had been watching continuous TV coverage about the explosion at the Martyrs' Mausoleum and I knew the suspects were at large," she told Frontier.
When Zin Bo climbed up the bank he was encircled by a crowd eager to see a foreigner – an experience that was rare in 1980s Burma – and he retreated to the water's edge.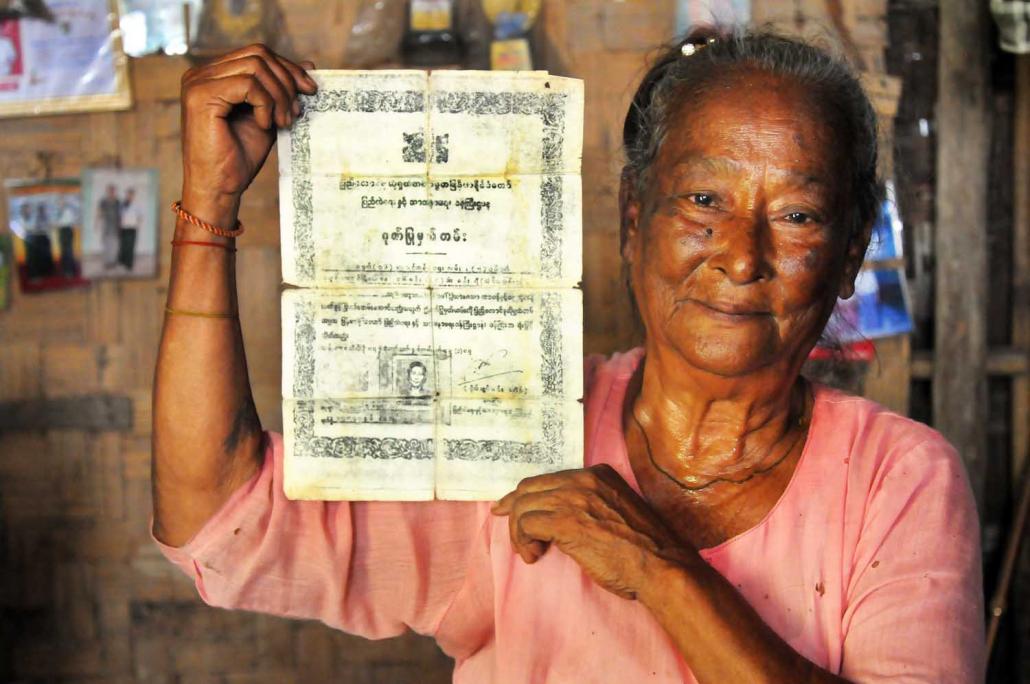 When San Yi and other members of the crowd moved to apprehend him, he detonated two grenades in an apparent suicide attempt but they blew off both his hands. He was seized and underwent emergency surgery for his injuries.
Meanwhile, Kang and Shin had made their way to the vicinity of Thakhutpin village in Kawhmu Township, southwest of Yangon. The village is near a long embankment on the Yangon River.
The two foreigners were noticed on the bank of a waterway by Ko Soe Nyein, then 23, who was fishing from a boat with a friend.
"They beckoned to me and indicated they wanted to go to the nearest village," said Soe Nyein, who said the two men reached into the Shan bags they were carrying and handed him US dollar notes.
Under Ne Win's socialist government, it was illegal to possess foreign currency.
As they were nearing the village, Soe Nyein pretended that he needed to use a toilet but after disembarking he went to a nearby police outpost and raised the alarm.
When the police arrived and demanded to search the North Koreans' bags, they fought back and threatened them with grenades. Shin detonated his grenade, killing himself and a policeman. Kang managed to escape, holding a grenade in one hand and firing a pistol with the other.
The Tatmadaw launched a massive search operation with troops ordered to take Kang alive. He was eventually cornered, partly-submerged in a paddy field, early on the morning of October 12. Kang responded to a first attempt by three charging soldiers to detain him by hurling a grenade that killed them all. When a second group of three soldiers rushed him, the badly injured Kang was overwhelmed.
Zin Bo, who had lost both arms, his left leg and an eye when he detonated his grenade, refused to cooperate with his captors, other than giving his name and rank in the Korean People's Army. He was sentenced to death and was hanged in Insein Prison.
Kang confessed to his role in the plot and was sentenced to life imprisonment. When he died in Insein of liver cancer on May 18, 2008, aged 53, he was Myanmar's longest-serving prisoner.
Kang's admission led to Burma's decision to cut diplomatic ties with North Korea on November 4, 1983, when the hermit nation's diplomats were given 48 hours to leave Rangoon. The two countries did not resume diplomatic ties until April 2007.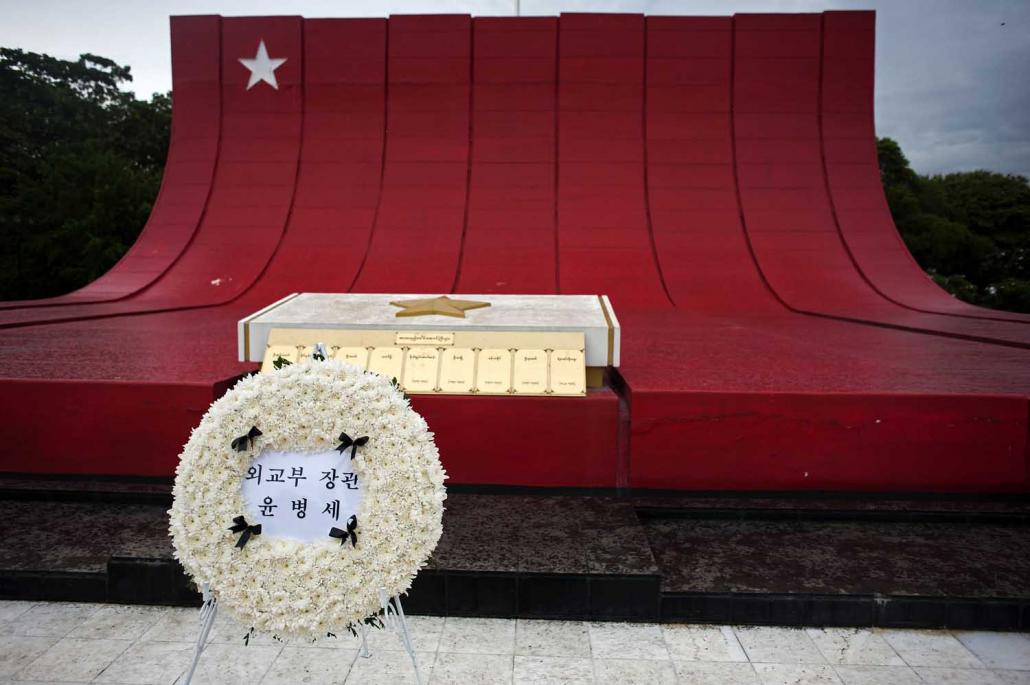 Kang, who learned to speak fluent Myanmar in prison, was usually a friendly person, said U Thein Win, a former warder at Insein.
"He told me the Myanmar people were not his enemies; he had to follow orders [for the assassination plot] and he was sorry to learn that Myanmar people were killed," Thein Win told Frontier in an interview last August.
Kang lived comfortably in a small house in the prison grounds. It was rumoured that Ne Win liked the young North Korean and decided to let him live. Ne Win was also reported to have declined repeated requests from Chun to send Kang to South Korea.
The junta was not kind to some of those involved in Zin Bo's capture, including San Yi, who was accused of being an interpreter for the North Koreans.
"They [intelligence officials] told me if I didn't tell them the truth, they would soak me in ice and then make me touch electricity. But when a policeman intervened to say he knew me, I felt relieved," she said.
San Yi said the junta rewarded those who helped to capture the North Koreans by giving them a cassette recorder that didn't work and two cassette tapes.
"The cassette recorder they gave me was wet, so I gave it to someone," she said.
San Yi, who is struggling to support herself and begs for food, observed that the authorities in Malaysia were yet to arrest all of North Korean suspects in the airport assassination case.
"Successive Myanmar governments neglected me, looking down on me as a beggar," said San Yi, adding, "But we caught the culprits, risking our own lives."
TOP PHOTO: The scene immediately after the North Korean bombing of the Martyrs' Mausoleum in Rangoon in 1983, which targeted South Korea President Chun Doo-hwan (AFP). Coverage of the bombing may be viewed here.