Activists say security forces and regional governments are cooperating to restrict demonstrations and other political activities, in breach of constitutional provisions guaranteeing the right to peaceful assembly and freedom of expression.
By HEIN KO SOE | FRONTIER
"Open the door."
That's what Daw Shwe Zin Yu heard when police came to her house in Dawei's Wae Kyun Myothit Ward at 5am on November 8.
When she opened the door, more than 20 officers together with ward officials were standing outside. One officer was holding a warrant from the court authorising her arrest, and that of three relatives inside her house.
"We didn't even have time to clean our face or eat breakfast. They just took us in the car to the police station," she said.
Three other people in Wae Kyun Myothit were also arrested that morning, on the same charges: trespassing and obstructing a public servant on duty.
The charges date from 2015, when Shwe Zin Yu and 10 other farmers protested against the former Union Solidarity and Development Party government's seizure of 350 acres (140 hectares) from 64 people three years previous.
The government appropriated the fields on the outskirts of town to build a new regional assembly, government offices and housing for public servants. Shwe Zin Yu lost four acres and did not receive compensation.
The farmers protested three times under the USDP government. They have continued to protest since the National League for Democracy government took office, and say they are disappointed that the party has failed to resolve the dispute.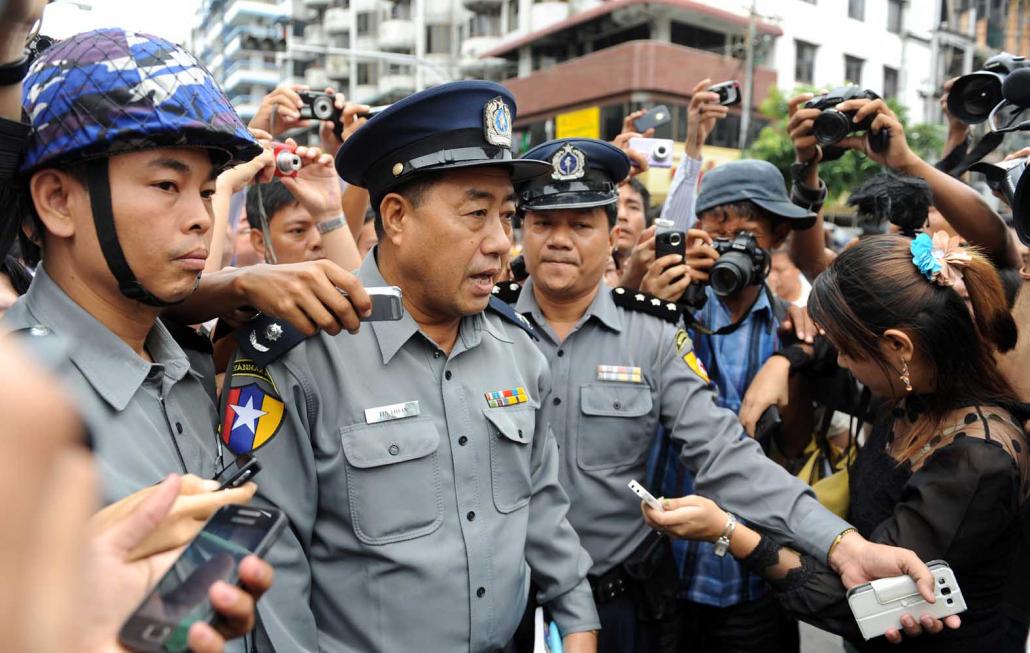 The 11 were summonsed to appear in court in 2015, 2016 and 2017, but did not appear. The seven suspects arrested under warrant in the early hours of November 8 were granted bail when they appeared in court later that day; the other four farmers remain at large.
Shwe Zin Yu told Frontier she believed they were arrested under the old charges because they had participated in a protest against Tanintharyi Region Chief Minister Daw Le Le Maw and other members of her cabinet in Dawei on October 18.
Four days before the October 18 protest, the farmers had approached the police and township General Administration Department office and were asked to delay the demonstration because Le Le Maw was working on a solution to their grievance.
When the farmers formally gave 48 hours' notice of their intention to protest, as is required under the Right to Peaceful Assembly and Peaceful Procession Law, police said the demonstration could not go ahead because of slogans that were critical of the regional government, including calls for the chief minister to resign.
"[Authorities] reached to the campaign site two hours before us and blocked our starting point with iron barriers, so we lost our rights," said Shwe Zin Yu.
"The land grab by the previous government was not solved by the new chief minister; her government is using the buildings erected on our land but she won't allow us to protest."
The arrests in Dawei come amid indications of a crackdown on demonstrations being driven by several state and region chief ministers and the military-controlled Ministry of Home Affairs, which oversees the bureaucratic apparatus known as the General Administration Department.
When the Right to Peaceful Assembly and Peaceful Procession Law was enacted by the USDP government in 2012, protesters had to seek permission from the township GAD and police officials for demonstrations.
After many applications were rejected on spurious grounds, the NLD amended the law last year so that the Myanmar Police Force does not have the authority to refuse permission for a demonstration.
However, Home Affairs is authorised to issue bylaws, regulations and orders governing the implementation of the law.
Using this provision of the law, Yangon Region Minister for Security and Border Affairs Colonel Aung Soe Moe issued a controversial directive in early October banning demonstrations in 11 downtown townships in the commercial capital. The order said the decision had been taken by the Yangon Region cabinet, headed by Chief Minister U Phyo Min Thein, because protests pose a safety risk, worsen traffic congestion and are "unpleasant for the public". It noted that VIPs needed to use major roads in these townships to get around town. Those who notify the authorities of their intention to protest in these townships will instead be ordered to hold their demonstration at the "hittaing" ground in Tarmwe Township.
Critics said the regional government had no right to issue the directive because the law was enacted by the Pyidaungsu Hluttaw, Myanmar's national assembly.
But they also said that the NLD, as a party that purportedly supports democratic rights, should not be stifling freedom of expression.
"The police and the GAD have been abusing the law and now a minister has banned our right to demonstrate, which reflects very badly on our democratic government," said Daw Nyo Nyo Thin, an independent MP in the previous Yangon regional government.
The public's right to freedom of expression was an important check and balance on government in a democracy, she said.
Nyo Nyo Thin said she believed the moves to curb demonstrations were being issued by senior figures within state and region governments.
The rights to freedom of expression and peaceful assembly were enshrined in section 354 of the 2008 Constitution. Moves to curb protests should be referred to the Constitutional Tribunal for a ruling on their legality, Nyo Nyo Thin said.
However, tribunal member Daw Khin Htay Kwel said the issue was outside the panel's mandate. "We only rule on disputes between the Union government and the state and regional governments, and some other matters of the constitution," she said.
Amyotha Hluttaw MP U Aung Kyi Nyunt (NLD, Magway-4) said that people should go to their local MP to complain about the issue in order for them to raise a question in parliament.
Aung Kyi Nyunt said he opposed referring to the issue to the tribunal because it was outside its remit.
Yangon Region MP Daw Sandar Min (NLD, Seikgyikanaungto-1) advised a different approach, saying that people should complain to the hluttaw committees.
She added that protests should only be held as a last resort, and that some people were holding them too hastily.
"Having so many demonstrations was not good for Myanmar's regional image, so they [police, GAD] had tried to address the situation," Sandar Min said.
But authorities in some states are going even further to restrict political activities. In Kayah State, the Loikaw Township GAD issued a letter on May 17 instructing all "NGOs, INGOs and CSOs" in the township to seek permission for a range of activities at least 10 days in advance.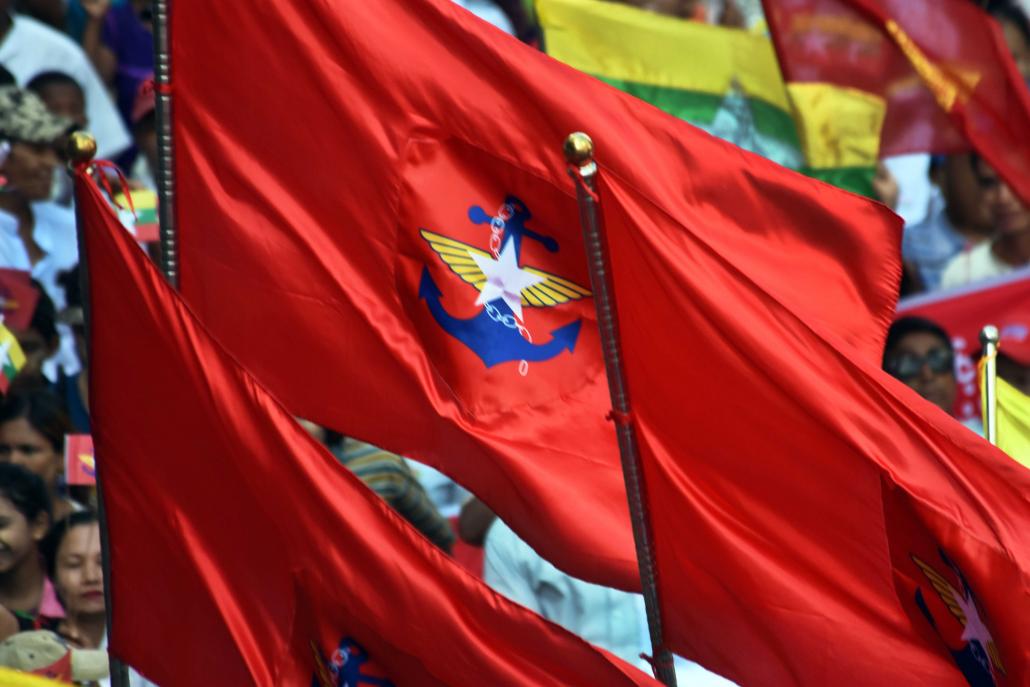 Restricted activities include "sharing knowledge, delivering training courses, giving lectures, providing aid, and carrying out regional development".
"If not permitted by the state government, organisations will not be allowed to perform their activities in Loikaw Township," the letter said.
The letter indicated that the order had come from the state government and applied across Kayah State.
The legality of the order is unclear, as it does not specify the law or authority under which it was issued. The GAD and state government could not be reached for comment.
Activists say a similar restriction is in place in Kayin State. Ko Moe Thwe, a leading member of Generation Wave, said that when his group was organising an International Democracy Day event to be held in the state capital Hpa-an on September 20, Kayin-based activists informed his group that because of the regional government's policy they would need GAD permission to hold a political event on private property.
He said organisers received permission for the indoor event, but police ordered them not to conduct a planned march on the same day.
"The constitution guarantees our freedom of assembly and expression but governments stop us by using regional orders and regulations," he said. "I would say the governments are breaking the law. What's really surprising though is that the civilian members are doing this in cooperation with the military."
Sometimes the police resort to harassment in an attempt to thwart protests, as they did at the Kayin State capital, Hpa-an, on November 7 when activists gathered for an event to pray for the cancellation of a planned coal-fired power plant in the township.
After the event, police stopped the demonstrators and seized seven unlicensed vehicles. Only unlicensed vehicles used by demonstrators were seized, said Saw Thar Boe, an environmental activist who participated in the protest, while other unlicensed vehicles were ignored by police.
When activists challenged police over the seizures, they were told they were acting on orders from their superiors.
The coal project in question is strongly supported by the state's chief minister, Nang Khin Htwe Myint, and Thar Boe said he had no doubt she was involved in the decision to seize their vehicles.
"They want to stop our protests against the coal power project, but they didn't come in person to stop it," he said. "Instead, they used other tactics to control and pressure the participants."
In Dawei, Shwe Zin Yu said she was disappointed at the state government's crackdown on freedom of expression and refusal to solve legacy land disputes.
"The U Thein Sein government negotiated with us even though it did not resolve our dispute," she said, "but the new regional government that we voted for will not even discuss the land dispute with us. This is a denial of our rights."
TOP PHOTO: An activist dressed as a soldier stands next to toy dolls and babies during a peace protest in downtown Yangon in October 2016. (Steve Tickner | Frontier)