Karen human rights defender Naw Ohn Hla, who has been jailed many times for defying authority, says the National League for Democracy has betrayed its values.
By NAW BETTY HAN | FRONTIER
DEMOCRACY activist and human rights defender Naw Ohn Hla is proud to have devoted much of her life to the cause of the Karen people but is bitterly disappointed with the National League for Democracy and Daw Aung San Suu Kyi.
Ohn Hla, 53, a former NLD member, once led services to pray for the release of Aung San Suu Kyi during the pro-democracy leader's many years under house arrest.
The chair of the Karen Women's Union has been jailed eight times since 1989 for her activism, including for her association with the NLD and for helping Buddhist monks during the protests in 2007 known as the Saffron Revolution.
She gained prominence for helping to organise protests outside the Chinese embassy in Yangon in 2014 after a local woman was shot dead by security forces during a demonstration in Sagaing Region against the Letpadaung copper mine, which is operated by a Chinese company.
She burned a Chinese flag during the protest and in early 2015 was sentenced to 52 months' imprisonment by Bahan Township Court over the incident, but was released in April 2016 during the first mass pardon under the NLD administration.
"The first time I was detained by the military regime it was for my role in the prayer movement for NLD leader Daw Aung San Suu Kyi, but now I am not sure if I can trust the government she leads," Ohn Hla told Frontier.
She said the NLD seemed to have drifted away from its professed ideology and values, and had also alienated ethnic minority groups with its authoritarian approach to political freedom and its friendly stance towards the Tatmadaw.
Ohn Hla is particularly bitter about her arrest and jailing this year, along with two Karen youth activists, for their role in organising a ceremony to mark the 69th anniversary of Karen Martyrs' Day. The event marks the death of KNU founders Saw Ba U Gyi and Major-General Sai Kay in a Tatmadaw ambush in Karen State's Kawkareik Township on August 12, 1950.
The commemorative event was originally going to be held at a monastery in Insein Township on the northern outskirts of Yangon on August 12. After the Yangon Region General Administration Department wrote to the organisers ahead of the ceremony on behalf of Yangon Region Chief Minister U Phyo Min Thein to say the use of the word "martyr" was banned, the location was changed at the last minute to City Hall and nearby Maha Bandoola Park, right in the centre of Yangon.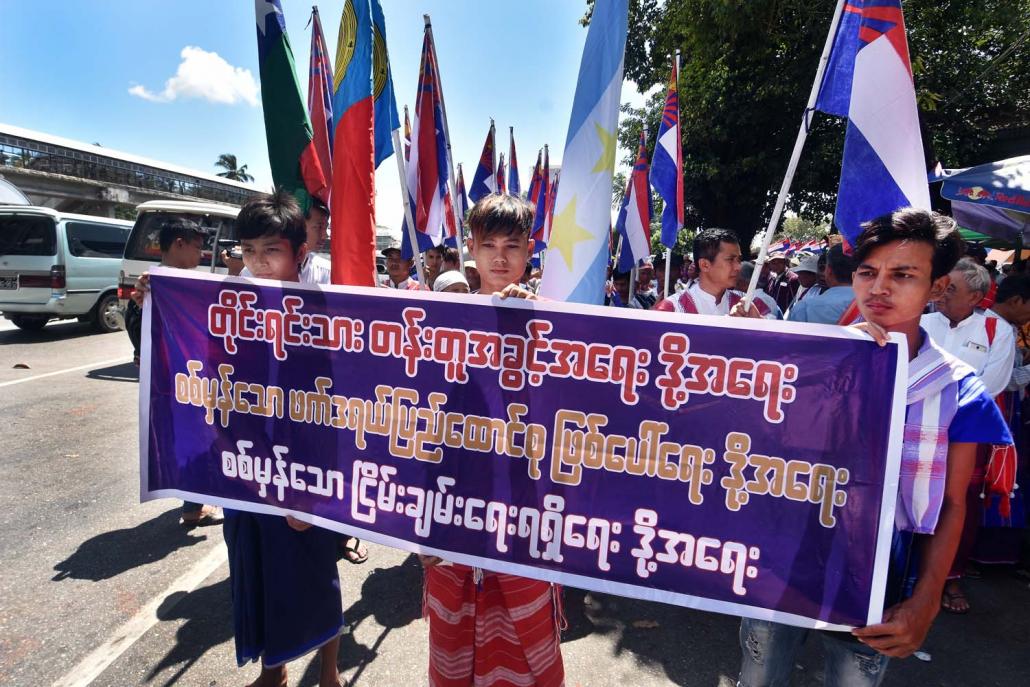 On September 9, Ohn Hla and the two youth activists, Saw Albert Cho and Saw Thein Zaw Min, were arrested under section 20 of the Peaceful Assembly and Peaceful Procession Law on a complaint filed by the police.
In Kyauktada Township court on October 2 they were sentenced to 15 days' imprisonment, but released due to time served. As they left the court they were greeted by a rapturous crowd of hundreds of people, many waving Karen national flags and displaying posters calling for equal rights for ethnic nationalities.
Ohn Hla condemned the regional government's response to the anniversary event.
"Charging and arresting us for holding the Karen Martyrs' Day ceremony is like punching us in the gut and spitting in our face," she told Frontier on October 2. "For most Karen, nothing is more important and sacred than Saw Ba U Gyi's legacy. Arresting Karen people for commemorating his death and legacy is a gross insult and [shows] disrespect."
In an apparent reference to the assassination of independence hero Bogyoke Aung San, a Bamar, and eight others on July 19, 1947 – a date commemorated annually as Martyrs' Day – Ohn Hla said the NLD government seemed not to accept that there were ethnic minority martyrs.
Ohn Hla said when she was released from prison in 2016 the NLD was in government and she thought it would never allow the human rights violations, abuses of ethnic equality and disregard for the environment that had occurred under military rule.
"But my thoughts were not really correct and Karen Martyrs' Day is a significant example of what has happened under the NLD government," she said.
The Martyrs' Day incident marked the first time Ohn Hla had been imprisoned under the NLD administration. In May 2019 she was arrested for staging a demonstration in Myawaddy Township, Kayin State, over the Shwe Mya Sandi housing project, but she was bailed immediately and did not have to spend a night behind bars.
At a ceremony at Law Khee Lar in Kayin State's Hpa-an District on October 4, KNU chairman Saw Mutu Say Poe presented Ohn Hla, Albert Cho and Thein Zaw Min with certificates of honour in appreciation of their stand on Karen Martyrs' Day.
The KNU chairman praised the trio for their courage in honouring the Karen people and their history.
Ohn Hla said the certificate would inspire her to continue as an activist.
"This certificate from the KNU together with the support that the Karen people have shown for our case have reinforced for me the value of continuing my activism for ethnic rights," she said.
"I will stop my work as an activist only when Myanmar has become a federal union and there are no more human rights violations."
As well as heading the Karen Women's Union, Ohn Hla is also a co-founder of the Yangon-based Democracy and Peace Women Network, which raises awareness about human rights and land and natural resources rights and also campaigns against domestic violence.
The DPWN also works with ethnic women's groups on peace building activities and campaigning for the protection of women in conflict areas.
TOP PHOTO: Naw Ohn Hla emerges from Yangon's Kyauktada Township Court on October 2. (Steve Tickner | Frontier)