Though rooted in old beliefs about a primordial realm of serpents, snake temples, or mway paya, are a growing phenomenon in Myanmar.
By NICOLE TU-MAUNG and AUNG LIN HTET | FRONTIER
HEADING EAST from Mandalay, a thick, white dust coats the winding road up to Pyin Oo Lwin on the Shan plateau. Between hillsides half denuded by a recent highway expansion, rows of rubber trees provide reprieve. In this changing landscape, a Buddhist temple on a modest two acres undergoes a transformation of its own. Dozens of men and women prepare an awning for the building of a new, 109-foot (33.2 metre) stupa while their children play between budding concrete pillars. In the shadow of the construction stands a spindly Bodhi tree.
The Bodhi is a staple of Buddhist temples in Myanmar, with some said to be propagules, or direct descendants, of the tree under which the Buddha attained enlightenment two and a half millennia ago. However, this tree is said to sit atop a thaik, or sacred treasure hoard.
Tangled in its branches and laying in its sparse shade are 11 Burmese pythons (Python bivittatus) regarded as manifestations of nagas, the primordial serpents of Buddhist lore. According to local legend, these snakes must guard the treasure belonging to the naga clan. The exact nature of the treasure, whether precious gems of former kingdoms or relics of the Buddha, is left to the imagination.
A marble monolith reads that the first snake made its home at the temple in 2014, seven days after Thadingyut, the holiday usually falling in October that marks the end of Buddhist lent, when it was brought by a local couple. They had found the python near their home and saw no other option but to bring it to the Bodhi tree, when plans were being made to turn the hilltop into a religious site.
As the story goes, a local woman later had a dream in which the python appeared, foretelling the arrival of other snakes – all guardians of the thaik. Since then, the temple has accepted a plethora of pythons from donors as far away as Yangon, cementing its reputation as a mway paya, or snake temple.
This mway paya is one among many in central and southern Myanmar. Several Buddhist temples on the outskirts of Mandalay and Yangon have been accepting serpents since the late 1990s, some up to 12 feet in length. Each temple has its own backstory, but these often cite dreams and possessions as testaments to the holy power, or dago, of the land that they are built on.
Za-ba-ohn, the Burmese name for python, is formed by letters correlating to astrological numbers that add up to nine, a particularly auspicious figure in Theravada Buddhist cosmology. That is why, according to Sayadaw Ottama, 65, the Burmese python is a sacred animal.
"A naga in the water is a snake on land," he says, explaining the link between pythons and nagas, who are rumored to have inhabited oceans, rivers and mountains since before the time of Gautama Buddha. The abbot Ottama officiates at a mway paya west of Mandalay, where, over four acres of temple next to three acres of untouched forest, nearly 20 Burmese pythons curl up behind images of the Buddha, in a small shaded pond and under fleece blankets.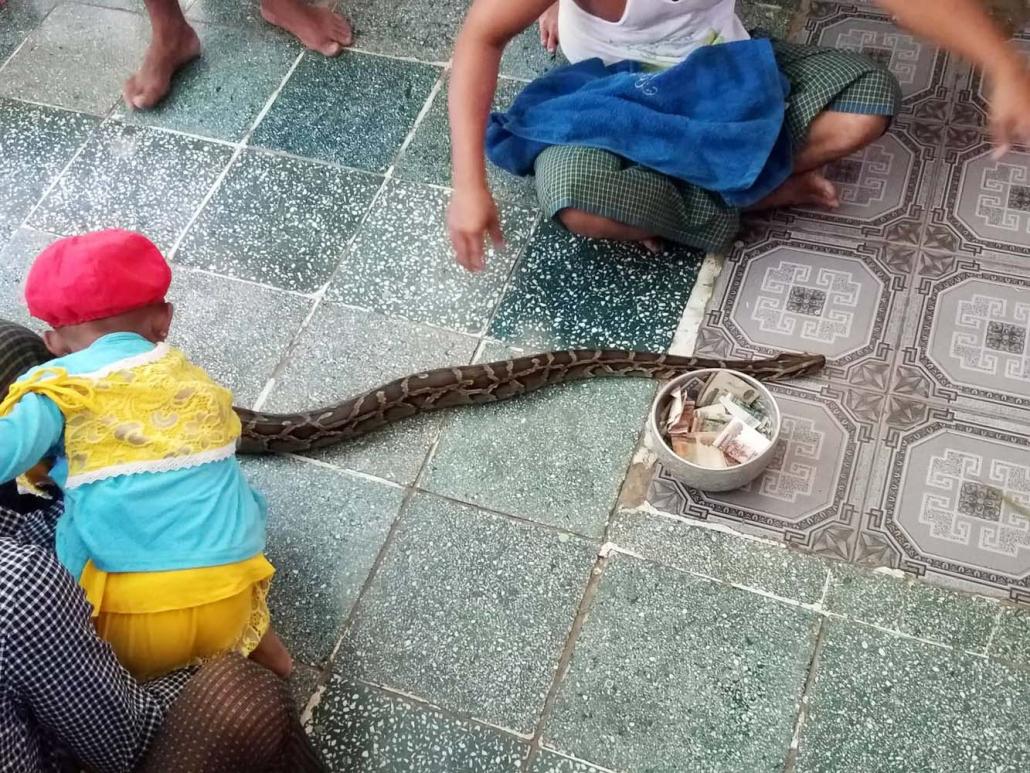 At a mway paya, pythons are typically donated by villagers who want to keep them from harm's way or who want to earn merit by pleasing local spirits, or nats. At the temple, the snakes find a home among dozens of other pythons, hundreds of daily visitors and a cluster of nat shrines. The shrines honour specific local nats, outside of the official pantheon of 37 in Myanmar Buddhist cosmology, who belong to the naga cult and are said to be embodied by the pythons. According to those who tend the shrines, the identities of the individual pythons are made known to villagers and temple-goers through vivid dreams and temporary possessions called win-puu.
Daily rituals include making pwé, sacred offerings, and recitation of paritta, holy incantations. Visitors have the opportunity to view the pythons and to take sheddings as relics to keep in shrines at home. Some come to su-taung, make wishes for good health, passing exams, success in business or winning the lottery. Others come simply to tha-thana-pyu, that is, to follow and spread the teachings of the Buddha. Local men often act as caretakers for the pythons, being responsible for feeding and bathing them while visitors make donations of money, flowers and milk.
In addition to helping visitors make merit, the pythons provide other benefits. Outside a mway paya south of Mandalay, the owner of a tea shop said the large number of visitors to the temple had boosted the local economy. She said she had seen improvements in roads and temple infrastructure and in the income of other businesses. A nearby taxi driver and a flower seller both agreed, attributing their recent prosperity to the good will, or metta, of the pythons. Each month, mway paya tend to receive large sums in donations, often exceeding hundreds of thousands of kyats, or even millions during religious festivals.
While mway paya are laden with good intentions, the captive environments pose serious risks to the survival of the large, carnivorous constrictors. The pythons sometimes fall into poor health, especially during the dry, cooler months of the year. Recalling the death of one python, a caretaker said, "We called a veterinarian, but there was little she could do. She had only treated cows and horses."
Though caretakers try their best to keep the pythons healthy, their efforts are often frustrated by digestive problems and disease. As a result, it is not uncommon for a python to "be reborn into their next life" shortly after being brought to a temple.
Whether viewed as living deities or deadly carnivores, Burmese pythons, native to Southeast Asia, are in sharp decline. The International Union for Conservation of Nature conservatively estimates that throughout Southeast Asia their numbers have fallen by 30 to 50 percent over the past decade. Other causes of species loss include habitat reduction, declining prey populations, the harvesting of their bodies for leather or traditional medicine, and indiscriminate killing driven by people's dislike or fear of snakes.
Explaining why he had worked at a mway paya for more than 20 years, feeding and cleaning up after the pythons, one caretaker said, "I am interested in snakes and passionate about working with them. I always have been."
As populations dwindle, could mway paya be giving Burmese pythons an alternative to an otherwise lethal fate? Or, like their ancient naga counterparts, are they better off being left to thrive in the wild?