The Naga Self-Administered Zone on the border with India is poor and isolated, but a new bridge and upgraded roads carry promises of development. Meanwhile, its administrative autonomy is likely to remain limited.
By VICTORIA MILKO | FRONTIER
AT THE END of a northbound flight from Yangon or Mandalay, passing over the jade mines of Kachin State, or a truck journey that follows the Chindwin River, lies Khamti. The small town in northwest Sagaing Region is a gateway to one of Myanmar's remotest, least-developed corners, the Naga Self-Administered Zone.
Native to a mountain tract that overlaps northeastern India and northwestern Myanmar, the Naga, who number about two million people, are comprised of more than 40 tribes that had little contact with the outside world until British colonisers made inroads in the nineteenth century.
Colonisation resulted in many tribes being introduced to, or induced into, Christianity, which contributed to a more unified "Naga" identity. More than 95 percent of the Naga are now said to identify as Christians, most being Baptist, though some remain animists.
In World War Two, the Naga sided with the Allies and fought against the Japanese and the legacies of that conflict include old aeroplane parts and bomb shells still used as gates or flower pots in Naga villages.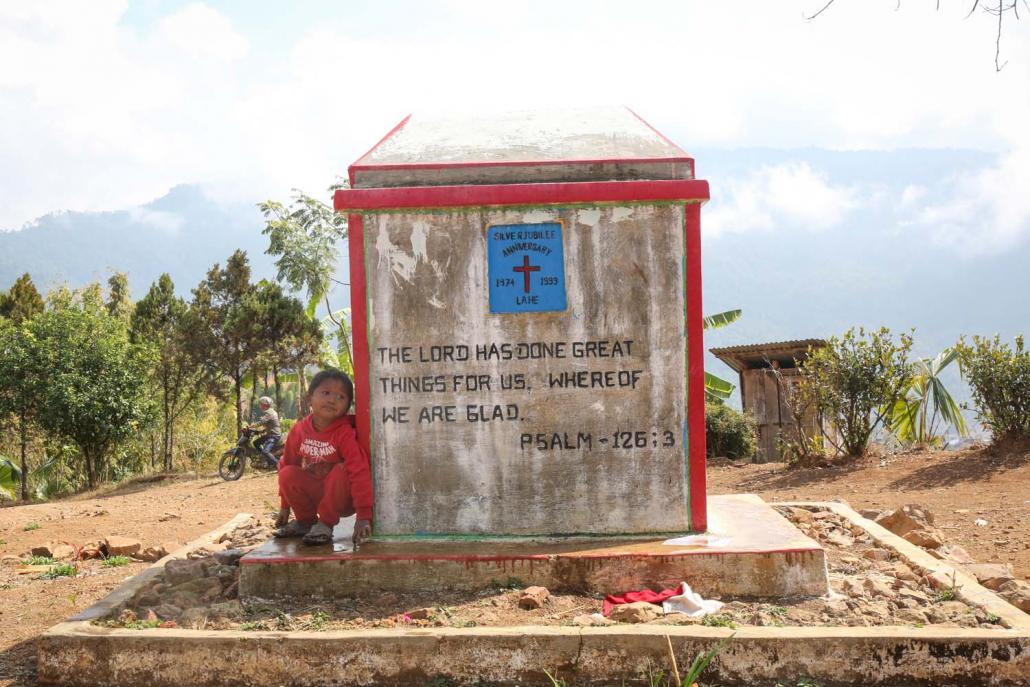 Limited autonomy
In Myanmar, the Naga live in the far north of what became known as Sagaing Division after independence in 1948. In the following decades, the Burmese government tried to expand its control over frontier areas, which under British rule had exercised a large degree of self-governance.
The 1974 constitution, written under the military-controlled Socialist government that took power in a 1962 coup, did not grant any autonomy to the Naga, who still considered themselves distinct from other citizens. That ostensibly changed when the Naga Self-Administered Zone became one of five such zones, alongside one self-administered division, that were created under the military-drafted 2008 Constitution.
The Naga SAZ comprises the three townships of Lahe, Leshi and Namyun. While the Naga form the majority, there are also Shan, Kachin and Bamar communities.
The SAZs are each run by "leading bodies" of ten people or more, whose chairpersons have the status of state or regional ministers and answer to the chief ministers of the given region or state. The constitution grants the leading bodies legislative powers over 10 areas of policy, including urban and rural development, road construction and maintenance, and public health.
However, this "self-administered" status entails little meaningful autonomy.
Line ministries and departments of the Union government, including the General Administration Department, still exercise power in the Naga SAZ, determining everything from when and where the Naga New Year festival can happen to the implementation of national legislation such as the Vacant, Fallow and Virgin Lands Management Law, which threatens to upend traditional tenure systems.
The Tatmadaw is also present in the SAZ and has become more conspicuous in recent months with the seizure of the headquarters of the National Socialist Council of Nagaland-Khaplang, an armed ethnic group that wants to establish a sovereign Nagaland spanning Naga ancestral territory on both sides of the India-Myanmar border. The Tatmadaw has accused the NSCN-K of assisting insurgents across the border in India's Manipur and Assam states.
Tatmadaw soldiers patrol villages in the Naga SAZ carrying weapons with the safety switch turned off, a blunt reminder of the Union government and military's continued grip on the region.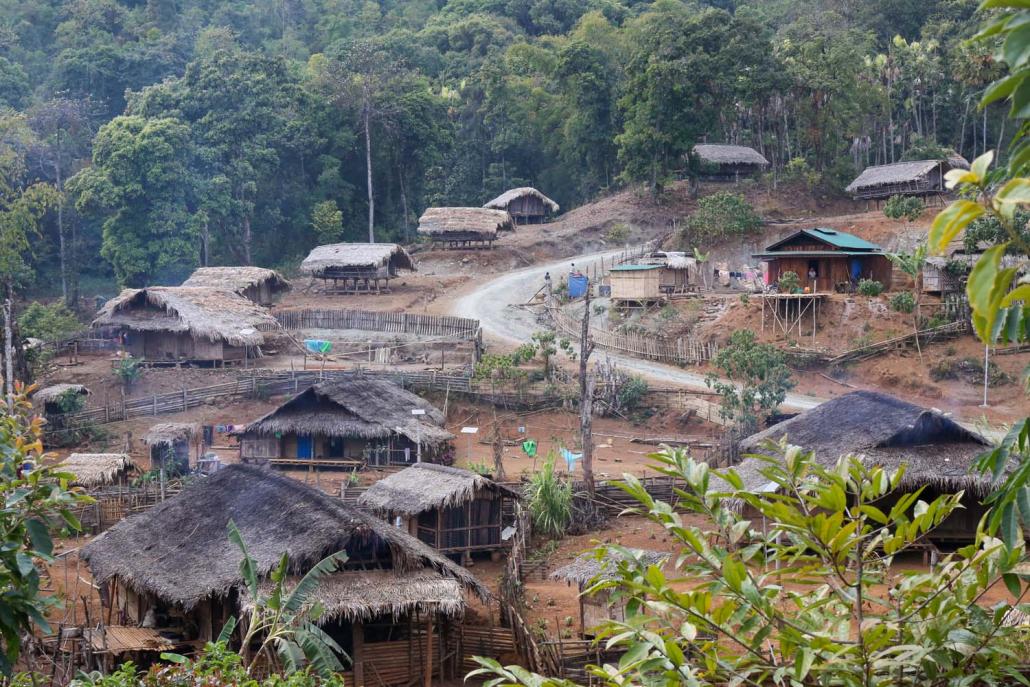 Health and schooling
A 2015 report by the United Nations Development Programme said the three townships of the Naga SAZ were among "the poorest, most isolated and least developed in Myanmar".
Access to health care is limited in the SAZ, in part because there are few good roads and almost zero telecommunications. A measles outbreak in 2016 that killed more than 40 people made national headlines and highlighted the challenges of reaching affected communities.
"Access has been a tremendous problem," said Mr George "Chip" Hunter, project coordinator of Médecins Sans Frontières in the SAZ, which provides medical services in Lahe and the surrounding rural villages within the township.
Education provision is similarly constrained.
"Roads and transport are poor in the area, meaning students can't come to school at times," said Lahe Township education director Daw Nan Khin Nyunt, a Union government employee.
"Some families also don't know the value of education here, so many students only stay until Grade Five and then return to work in their village," she said.
Nan Khin Nyunt said another challenge is getting teachers to stay.
"Many teachers leave because of difficulties," she told Frontier. "They are teaching in Burmese, which some students don't understand and thus lessons are very hard to teach. Others find living in such a rural and different area difficult."
There are a limited number of monastic schools in the SAZ, but as many parents are devout Christians they are reluctant to have their children educated in a Buddhist institution.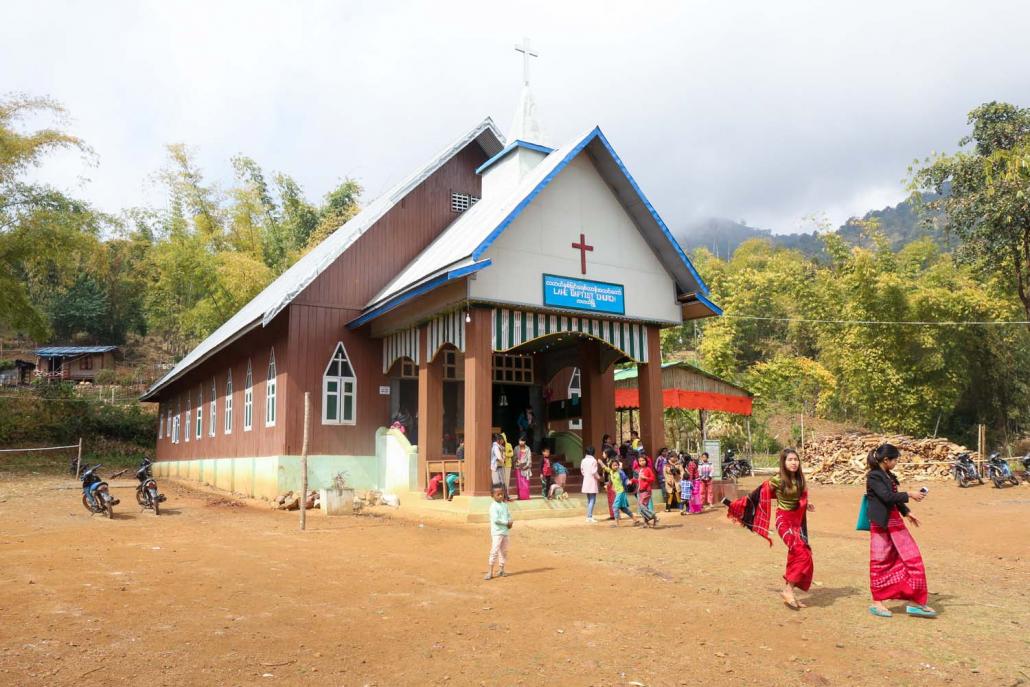 A bridge, a road and the internet
A newly built bridge over the Chindwin that links Hkamti with the SAZ has brought the promise of development.
Passenger cars, trucks and supplies that previously had to be ferried across the Chindwin can now be driven across in less than two minutes. Goods ranging from construction supplies to medicine can reach the SAZ more easily than before, as can visitors.
The road from Hkamti to Lahe is being upgraded; men, women and children can be seen toiling to give it a hard surface.
Lahe was recently connected to the internet and the town's initial five subscribers include the government and a medical NGO. Although the cellular signal is spotty, residents have the option of paying K20,000 a month to sit at a tea shop and cruise the internet, if there's a connection.
Villages that once responded to illnesses by calling on shamans and relying on animistic practices, such as drinking blood or making ritual sacrifices, are now able to access Union government-built health centres, though staffing remains stretched thin and the facilities are several hours drive away on bad roads from some communities.
Over the past year, MSF has run regular mobile health clinics, whose services are supported by the Ministry of Health and Sports and include vaccinations, hospital referrals and transport during emergencies. Other NGOs, such as Medical Action Myanmar and Population Services International, are also providing health services in the SAZ.
"All implementing partners work together here to accomplish projects," said Lahe Township Medical Officer Dr Htet Phyo Wai. "The work is helpful,"
"But we also need more implementing partners to be active here," he said.
The new bridge and upgraded roads have raised hopes for increases in tourism and investment, although the form that future investment would take, and its potential benefits and dangers, were abstract and hard to imagine for most residents that Frontier talked to.
Though foreigners are now permitted by the government to travel anywhere in the SAZ except northern Namyun Township, the journey there is arduous and expensive, there are few facilities that cater to tourists, and the destination is not widely promoted outside of package trips to the Naga New Year festival.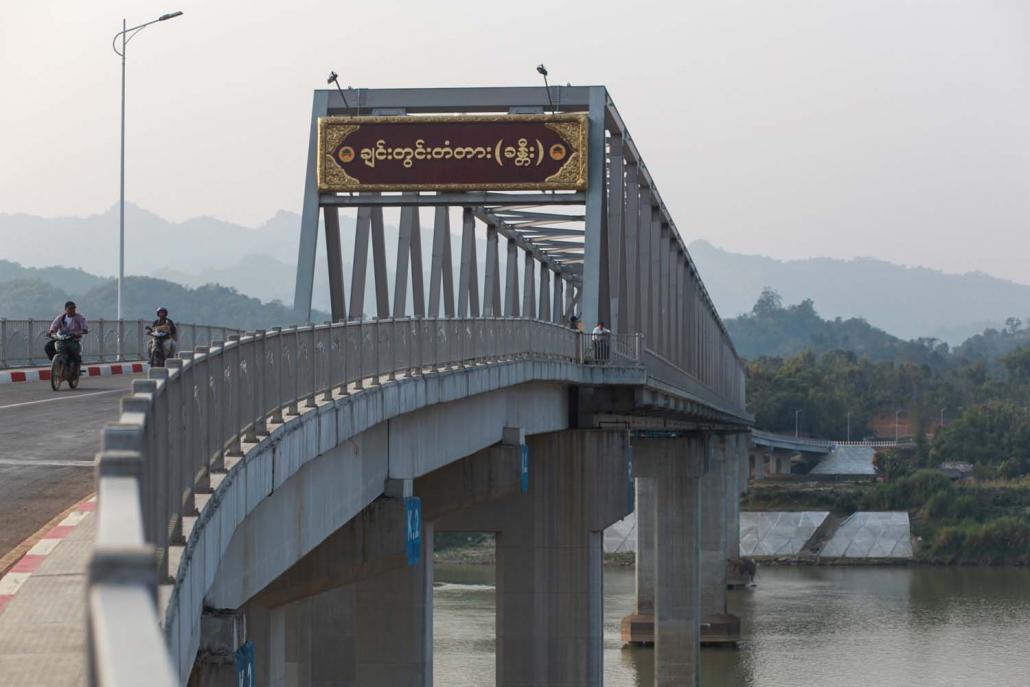 Tradition in the balance
Modernisation is weakening some Naga traditions. Young men wear jeans instead of traditional loincloths and young women are rarely seen with the forehead and chin tattoos that decorate the faces of older generations. But not everyone sees Naga culture as static and endangered.
"Traditional culture and clothing is changing day to day here," said Eno Han Shang, field coordinator for the Naga Students and Youth Union of Lahe.
"We don't wear traditional loincloths, but we youth do design clothes with the Naga logo and such," he said, referring to an emblem with crossed spears and a shield that is screen-printed onto shirts and jackets in shops throughout Lahe.
"All the different sub tribes have their own clothing, and we have to remember it's not ok to just preserve your own culture, you have to preserve others' too and have an exchange between [Naga] groups," he said, referencing the need to keep the diversity of Naga culture alive.
For now, animal skulls commemorating past hunts continue to hang from homes, women sit in their living rooms weaving traditional blankets and the yells of Naga farmers calling out to each other carry across the mountains.
The Naga SAZ remains a frontier, for now.
TOP PHOTO: A traditional village meeting place with "Naga shield" icons in Lahe, Naga SAZ. (Victoria Milko | Frontier)