From modest beginnings, the Surf Association of Myanmar is hoping members will enjoy success at the upcoming Southeast Asian Games, following the first national championships at Ngwe Saung last month.
Words and photos by NYEIN SU WAI KYAW SOE | FRONTIER
MA NIDA SOE first tried to ride a surfboard on a Californian beach with American friends while she was studying in the United States in 2013.
It was a disaster – one that ended, quite literally, in tears.
"Because I'm not a strong swimmer, I couldn't paddle the board out to the open water, waves were hitting my face and I had seawater in my mouth. I returned to the beach and cried," said Nida Soe, 24, who is originally from Yangon.
But she did not give up; riding a surfboard was a dream she was determined to realise. With the help of friends who were experienced surfers, but without any formal coaching, she was soon enjoying the exhilaration of riding a board standing up. Once she had overcome that hurdle she focused on refining her skills. "I guess I learnt how to surf just from practice, from my experiences in the water," said Nida Soe, who is also known as Ma Thwal Thwal Soe.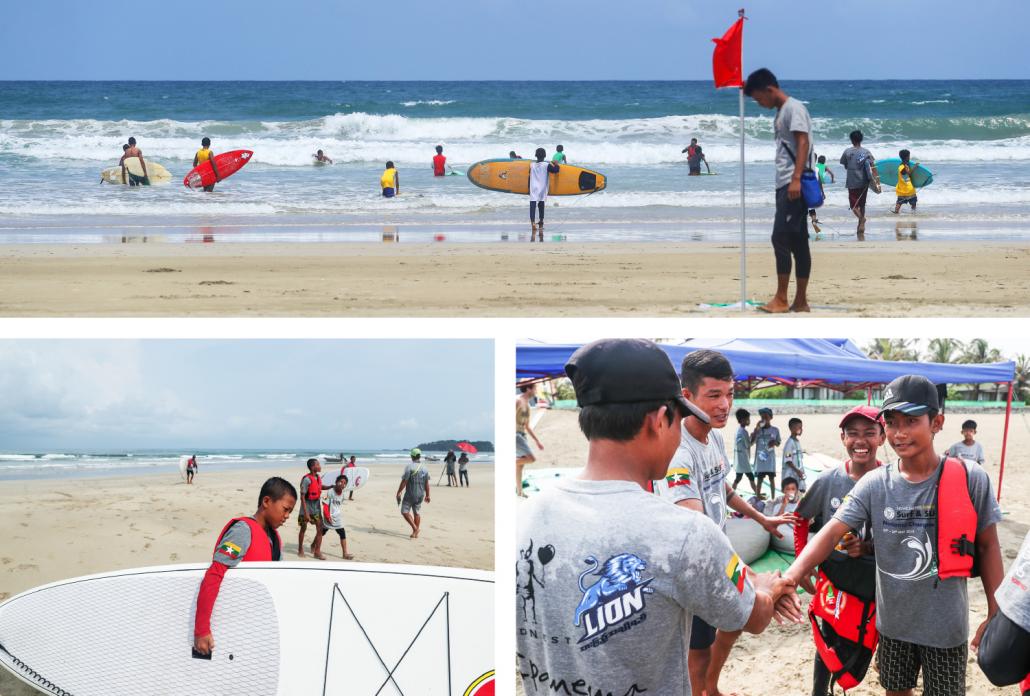 Since returning to Myanmar, she hasn't lost her passion for the sport despite the lack of an established surfing community.
In 2015, she helped to co-found the Surf Association of Myanmar, which was officially registered in March this year.
On May 25 and 26 the association hosted the inaugural Surf and SUP (stand up paddleboard) National Championships at Ngwe Saung Beach, on the Bay of Bengal in Ayeyarwady Region. Nida Soe was the only female surfer from Myanmar in the field.
The event, held at Ngwe Saung Yacht Club and Resort, featured 24 competitors from Myanmar, five from Brunei, two from the United Kingdom and one each from Japan, France and Australia. The stand up paddle section featured two categories while there were four for surfing.
Surfing is in its infancy in Myanmar and the association is struggling to grow its membership. Aside from Nida Soe, all of the Myanmar competitors come from Buu Kwe village, which is beside the yacht club at Ngwe Saung. Aged eight to 17, they trained for at least a year to compete in open short board and long board events.
"I feel confident and excited to compete with the foreign surfers," said Mg Kaung Htet San, 17, who has been training for four years to compete at the SEA Games. "All of the foreign participants showed us some useful tricks and techniques. As well as the techniques I learned from our coach, I also copied some tricks and balancing techniques from YouTube videos," he told Frontier.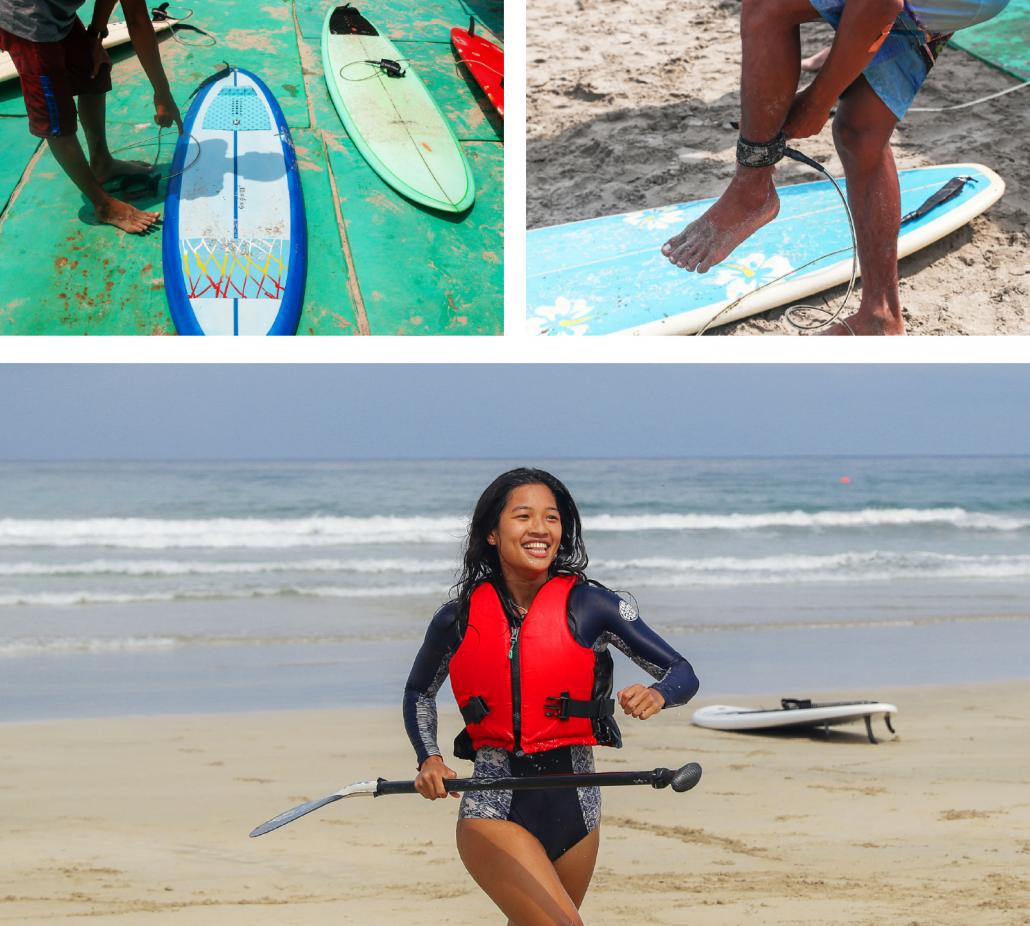 Beginnings
When the Surf Association of Myanmar began training youngsters from Buu Kwe village – mainly the children of fishing families and hotel employees – the biggest challenge was convincing their parents to let them try the sport.
"Ten! It was all I could get to join at that time," said U Phone Kyaw Moe Myint, the association's president, and a two-time SEA Games sailing gold medallist. "Their parents did not know anything about surfing, they had never seen anyone surfing, and I had to show them that we prioritise safety when we teach surfing, as well as yachting."
Interest in the sport grew, though, and in 2018 the association was training 30 children aged between eight and 17 from the Ngwe Saung area.
Daw Leh Leh Khaing, who owns a grocery shop in Buu Kwe, is among the parents who have changed their minds about their children becoming surfers.
"Initially, I was worried about my child, but after seeing some of the tourists surfing and my son having fun with his friends at the surfing camp, I let him do what he wants," she said.
The association also assists with the education of the children and provides electricity to their families from the hotel generator at the Ngwe Saung Yacht Club and Resort.
"I want balance in their education and surfing, so in the daytime, they surf and attend school, and in the evening we use one room in our staff quarters for their tuition," he said.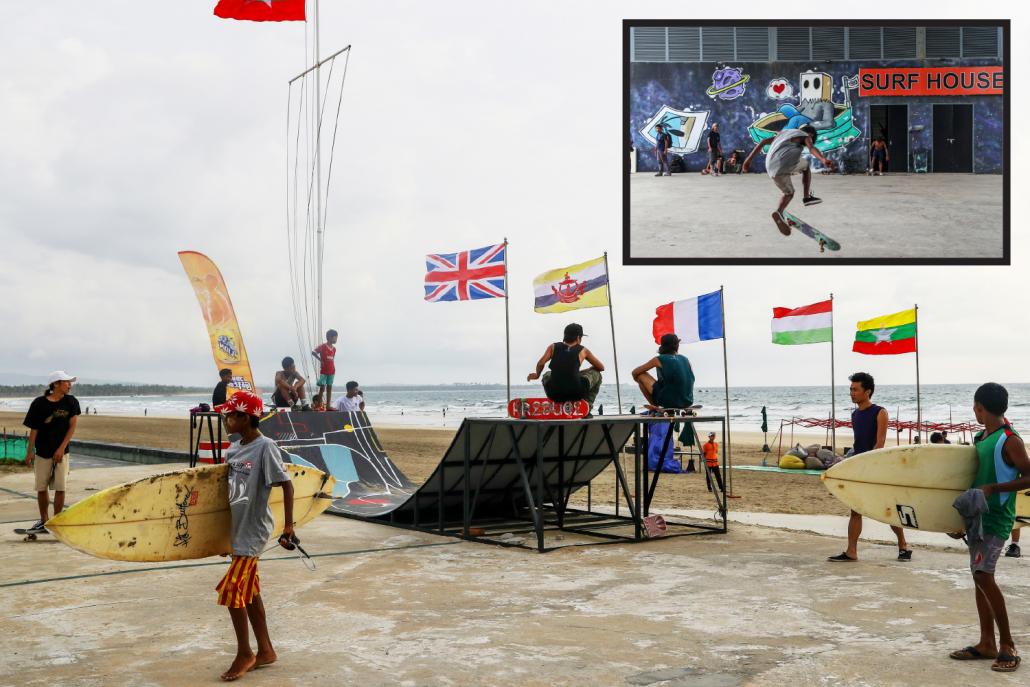 Board shortage
A continuing challenge for the association is a lack of funds to buy surfboards. The government covers only five percent of the association's expenses, Phone Kyaw Moe Myint said.
Since the association was established, he has slowly built up a stock of boards from various sources, but there's never enough to go round.
Some were donated by tourists who surfed at Ngwe Saung and there are also the domestically made surfboards known as "Madboards", made by the Yangon-based Madnest lifestyle and fashion company.
"In 2015, we made our own DIY wooden surfboards that were just for fun, not for professional use, but if it can be used for surfing, we'll take it," Phone Kyaw Moe Myint said.
Phone Kyaw Moe Myint said the association used Madboards to ride wave breaks, but imported surfboards were better for stronger waves. "But professional surfboards are very expensive," he added.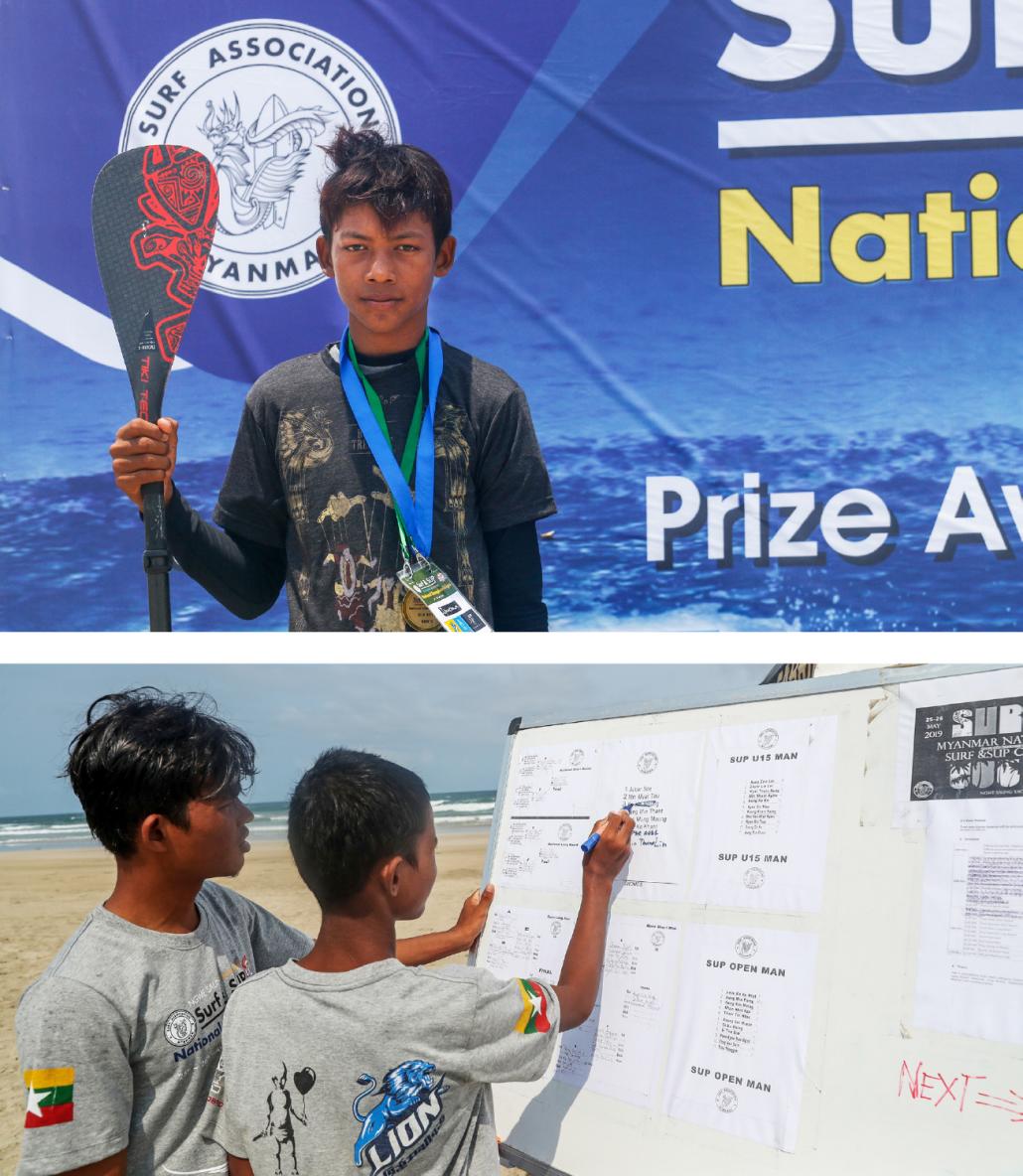 Looking ahead
Although the association faces some difficulties growing the sport, Phone Kyaw Moe Myint and his crew of trainee surfers have big ambitions.
Last month's competition at Ngwe Saung was also a qualifying event for the 30th Southeast Asian Games in the Philippines in November and December.
In preparation for the SEA Games, the association is planning to send five promising young surfers who performed well at the national championships to attend a training camp on the Indonesian island of Bali in August. Phone Kyaw Moe Myint said he and some sponsors would cover the cost of the camp.
The association's long-term objective is success at the SEA Games and eventually, the Olympic Games, at which surfing is due to be introduced in 2020.
"Our Myanmar trainers are not professional because we can't pay them and to compete against top athletes from other countries, our trainers need to be strong mentally and physically," Phone Kyaw Moe Myint said.
"Without funding or support from the government, our biggest dream is still impossible, but I won't give up hope."
Leading the charge for Myanmar at the SEA Games will be Nida Soe, who Phone Kyaw Moe Myint said would "definitely" be selected for the Bali training camp.
While she didn't make the final of the national short board category of the competition, there was a silver lining.
"Unfortunately," she laughed, "the kids beat me in the semi finals!"