There are nearly 2.9 million people in Myanmar aged 65 and over and despite the government's efforts many are in desperate need of care and somewhere to call home.
By HEIN KO SOE | FRONTIER
Photos TEZA HLAING
IT WAS lunch time at the Thabarwa meditation centre and some of its elderly residents had gathered around women volunteers serving curry and bean soup. Because the living quarters also double as a dining area, residents ate the food beside their beds in the large hall.
The centre, in Yangon's outer southeastern Thanlyin Township, was established in 2008 by the Venerable Sayadaw U Ottamasara. It serves not only as a retreat for yogis, as lay meditators are known in Myanmar, but also a refuge for hundreds of needy people.
All of the centre's elderly residents are aged over 60 and it is also home to abandoned children, as well as monks and nuns of all ages.
Membership of the centre is open to anyone and food, health care and accommodation are provided for free. It is the last place its elderly residents are likely to call home.
Of the 1900 residents, about 900 are elderly. Some have no family; others have relatives but they are unable or unwilling to support them. Very few are former civil servants who are eligible to receive a government pension, which means they are almost entirely reliant on Thabarwa to cover their living costs.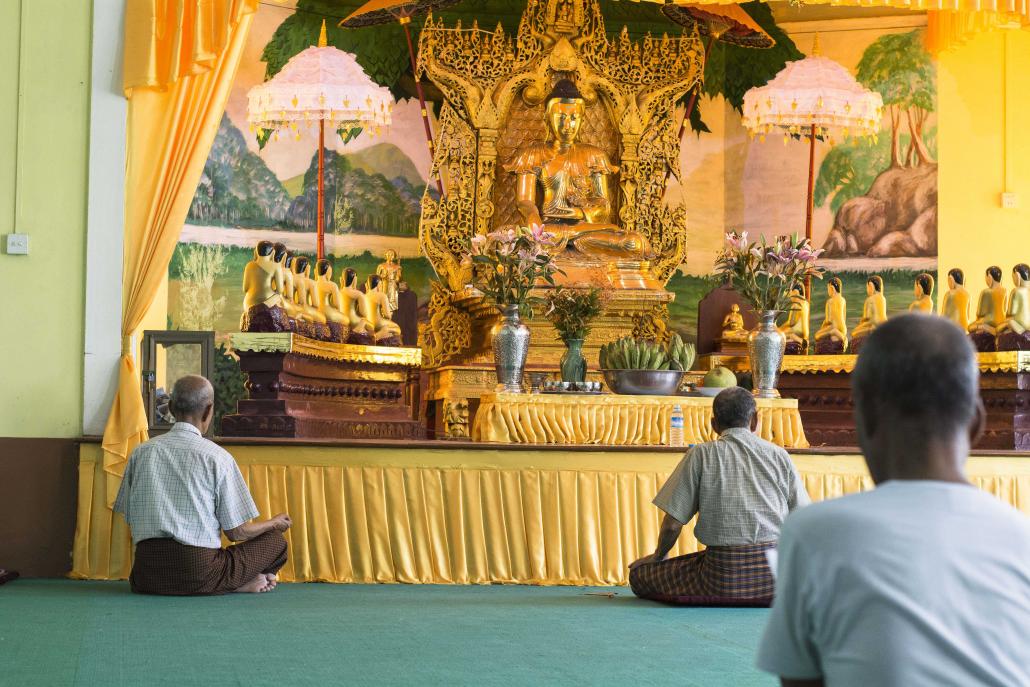 The centre spends K55 million a month taking care of its residents, said U Nanda, an assistant administrator.
"We opened to provide yogis with a place to meditate but received so many requests to provide care for the needy elderly that we decided to accept those in desperate circumstances," he said.
The monk said the number of elderly residents had doubled in the past two years because of publicity it had received. As a result, there are plans to add more rooms so the centre can accept more elderly people.
The expansion of civil society groups, including those devoted to social welfare, after the transition to democracy began in 2011 had positive and negative consequences for many elderly people, U Nanda said.
"The formation of many help groups meant that the needy elderly had somewhere to live but it also led to an increase in the number of elderly being abandoned by their families," he said.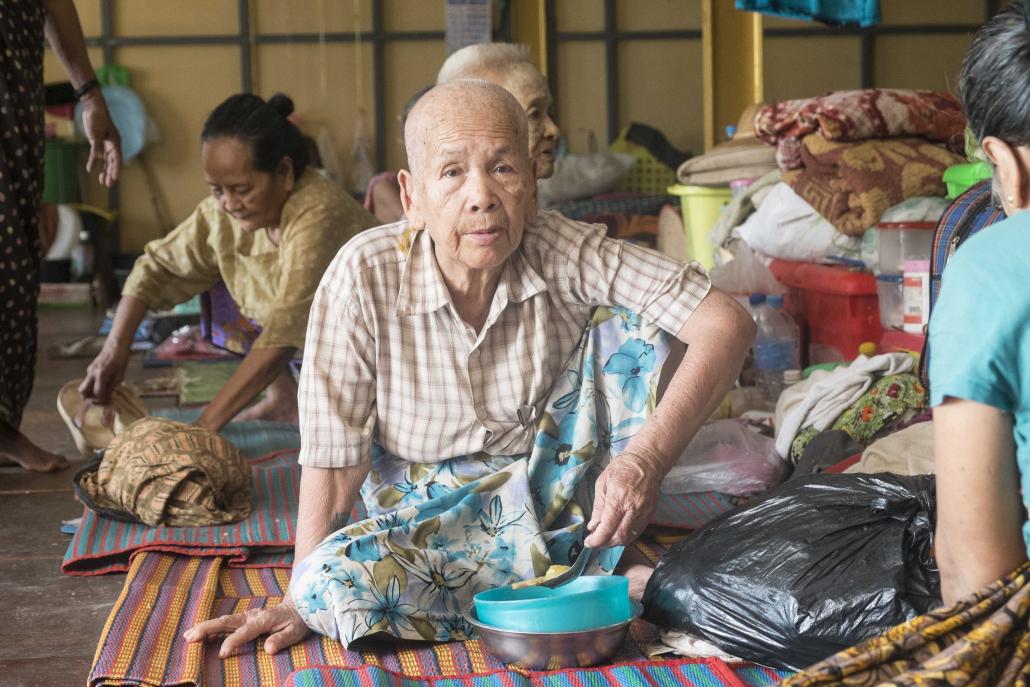 The 2014 census found that the country has an enumerated population of nearly 51.5 million, of whom 2,897,563, or 5.6 percent, were aged 65 or over. Experts are reported to have estimated that by 2025 the aged population could exceed 5.4 million, or 9.25 percent of the population, of whom more than 500,000 will need care.
By-laws are being drafted for an Older Persons Law enacted late last year and aimed at improving the health, wellbeing and care provided to the elderly.
The by-laws will cover such matters as a family's duty of care, government services for the elderly and formation of self-help groups, U Soe Aung, permanent secretary of the Ministry of Social Welfare, Relief and Resettlement, told Frontier.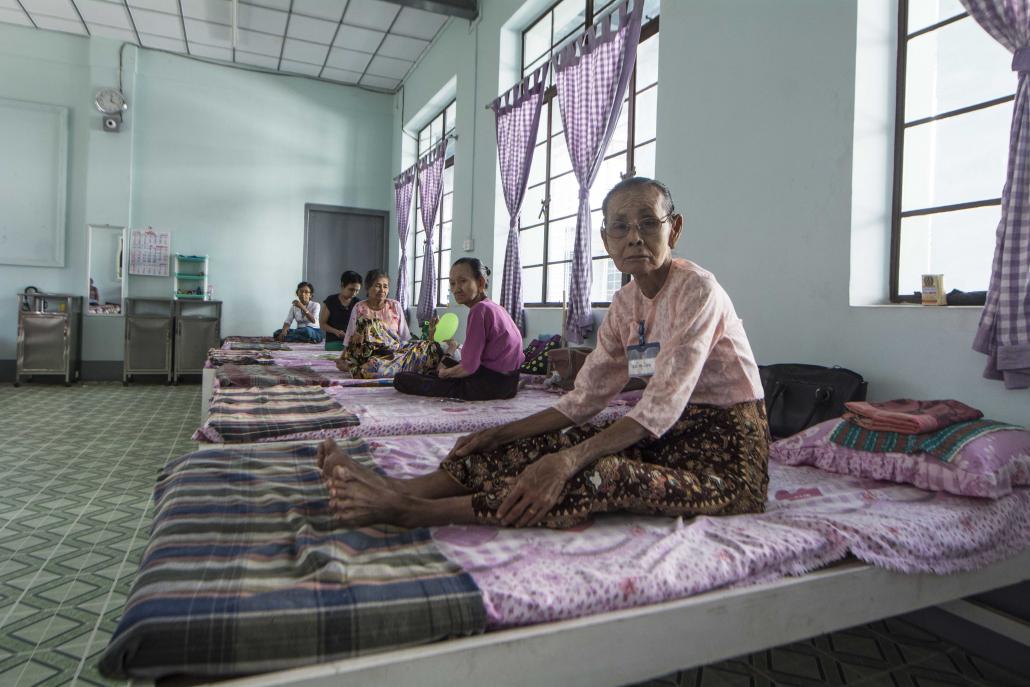 The government provides a monthly social pension of K10,000 to those aged over 90. The Department of Social Welfare says it will spend K4.5 billion (about US$3.3 million) on social pensions for the elderly in 2017-2018, benefitting nearly 40,000 citizens.
Pensions remain rare in Myanmar though and spending restraints limit the social welfare support provided by the government to the elderly, of whom about 45 percent say they lack enough income to meet their daily needs, according to HelpAge International.
The government has no aged care facilities but supports 81 privately run homes for the aged, which accommodate more than 3,000 people. It provides financial and technical assistance to eligible homes.
Thabarwa centre resident U Hla Aung, 80, says he moved there five years ago with his wife because he could no longer live with his son-in-law.
"We have no house so we came to the centre," said Hla Aung, whose wife died last year and was buried at a cemetery at the site.
The former soldier left the Tatmadaw in 1987 and struggled to support his family after finding work as a general labourer in Yangon.
"After my wife and I left my daughter's home we did not hope for more money but we did need to live somewhere where we would be cared for," he said.
Anxiety about receiving care in the years ahead is troubling Daw Khin Aye, 75. She lives in government housing at Insein Township with her daughter, who supports the household on a salary of more than K150,000 a month.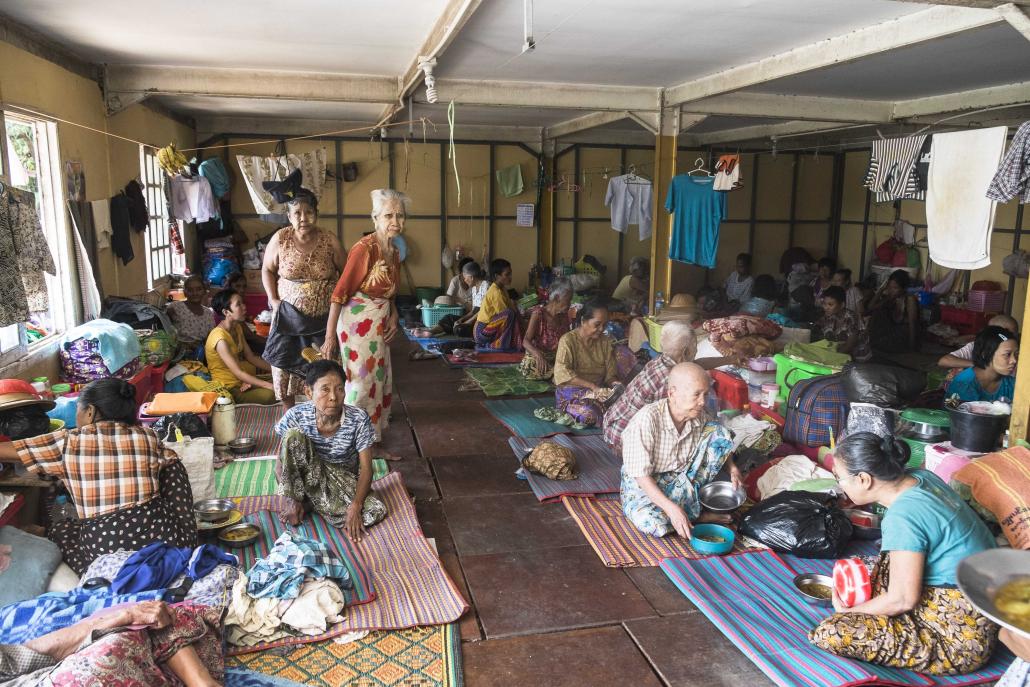 Khin Aye worries that if her daughter leaves her job or marries they will have to move out of the government-provided apartment.
"I don't hope for more money, I hope that I will be provided with care. If my daughter moves out or marries it will be difficult for me and I hope there will be a program that provides support for the elderly," she told Frontier.
Khin Aye is among about 70 elderly people who attend a daycare centre run by the Social Welfare Department on Kabar Aye Pagoda Road in Mayangone Township. The centre provides food and medicine and runs an exercise program for its visitors, most of whom live with relatives in Yangon.
For now it's the only daycare centre in the country but the Social Welfare Department is in talks with state and regional governments to open more, said Soe Aung. The department would provide staff and training for the centres, he said.
Soe Aung also said the ministry had allocated K3.54 million to establish 118 self-help groups of more than 500 members for the needy elderly in Yangon, Ayeyarwady and Mandalay regions and Kayin and Mon states this year under a three-year pilot project.
But most elderly people still get by on their own, without any government assistance.
U Than Aung, 81, who lives in Yangon's Yankin Township, says he has never heard about the self-help groups for the elderly. "But I hope the government will do more for those of us who are elderly because we have served the country for so many years," said Than Aung, who is too young to be eligible for a social pension.
However, that's something the ministry wants to change.
Soe Aung said the ministry will be seeking funding next fiscal year to cover the cost of lowering the social pension age to 85 and increasing the amount to K15,000 a month.
TOP PHOTO: Elderly visitors at a government-run day care centre in Yangon's Mayangone Township. (Teza Hlaing | Frontier)