In the last five years Myanmar's motorcycle community has kicked into high gear.
By JARED DOWNING | FRONTIER
THE BIKER known as Saw Z Eagle is not on a highway to hell.
With the "John 3:16" Bible verse emblazoned on the fender of his 400cc Honda Steed cruiser, he rides with Myanmar's clean-living biker gangs spreading the Good News.
"I'm a free biker. I'm not a member of any club," Z Eagle explains from an Insein Township café, where he has arranged a sit-down with the Burmese Red Dragons, one of Yangon's largest biker groups. Soon the rumble of a half-dozen Harley-Davidson engines grows in the distance, and when the Dragons finally appear, decked out in tattoos, chains and patch-riddled leathers, they look like they should be cruising with the Hells Angels on a California freeway, not the shady streets of Insein.   
Their vice president, U Naing, a 50-year-old man with a slim, weatherbeaten face, long ponytail and sunglasses, orders a round of café lattes.  
"In the old days, we didn't have motorcycle clubs, we just rode together," U Naing says. "Now that we are an official club, we have rules: No guns, no weapons, no politics."
"We ride for charity, not for guns," agrees the secretary of the Dragons, who goes by the name "Mr Friday".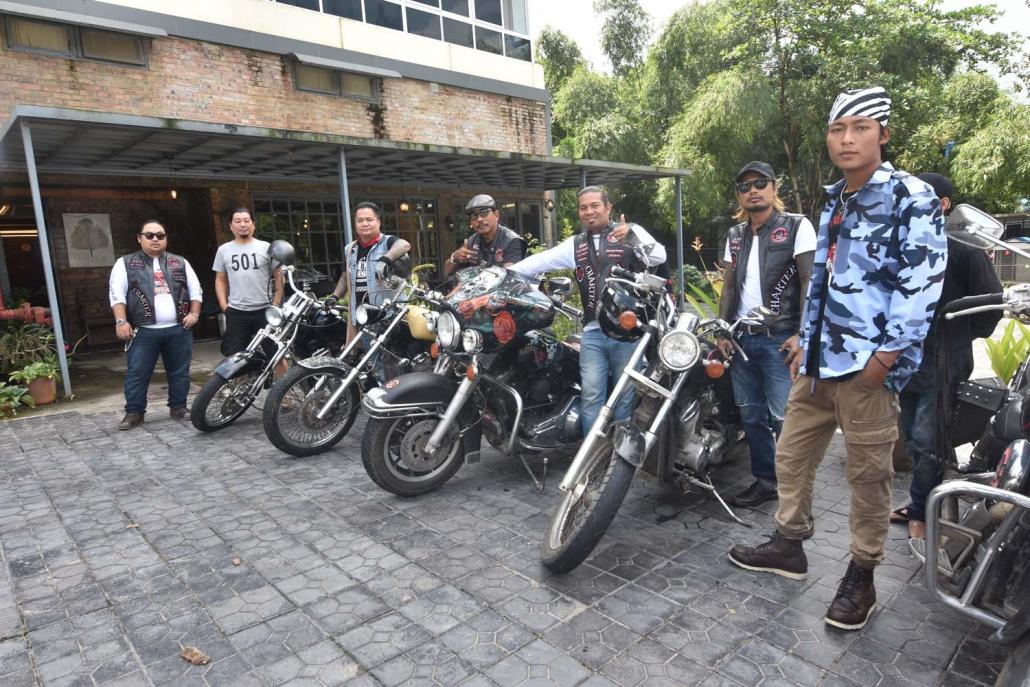 The sentiment isn't unique. In the last five years Myanmar's hobby motorcycle community has kicked into high gear, growing from a small handful of organisations to more than 100. New members are swelling the ranks of the Mandalay Knights, Eastern Eagles, Taunggyi Wolves and other clubs across the country, where they meet up for cross-country rides and assemble in their hundreds at bike events in Mandalay, Bago and Tachileik.
Although U Naing admits people may draw the curtains and lock the doors when they see a pack of leather-clad bruisers rumble through town, the vast majority of Myanmar's biker organisations adhere to strict codes of conduct, raise money for orphanages, hospitals and other monasteries, and hit the brakes on anyone who would wreck their reputation for shunning vice.
Grassroots cruisers
The end of US economic sanctions paved the way for Myanmar's first Harley-Davidson dealership, which opened in Mandalay this year.
For the dealership's founder, Ko Lynn Ko Ko Tint, the arrival of the iconic American motorcycle brand was a boyhood fantasy come true.
"This brand is very fantastic. It's very amazing. Harley-Davidson has been producing motorcycles each and every year since 1903. No other brand has done that," Lynn Ko Ko Tint gushes.
He's speaking to Frontier at his personal garage in Yangon: a riverside warehouse decked out with banners, posters and catalogue pin-ups for vintage brands, and shelves of miniature BMWs, Indians, Triumphs and Bonneville Chiefs.
Lynn Ko Ko Tint's Harley praise isn't mere marketing: the 40-year-old entrepreneur, who made his fortune selling gravel and manufacturing barges and tug boats, gained a lifelong passion for motorcycles partly from American rock and roll culture, and partly from his grandfather's cousin, a tough-as-nails biker who would blast around the country in smuggled American, British and Japanese cruisers.
For Lynn Ko Ko Tint, the opening of his Harley dealership (which was attended by US ambassador Scot Marciel and, of course, hundreds of Myanmar bikers) was merely another milestone in a personal mission to bring bikes and biker culture to the highways of Myanmar.
This mission began with a 2014 pilgrimage to the Harley-Davidson Museum in the American state of Wisconsin. In a burst of inspiration, he came home with a container of used American motorcycles and then invited Myanmar's motorcycle clubs to his garage to produce a video series encouraging young people to mount up and hit the road.    
Most of those young people, of course, cannot afford brand-new Harleys. Instead, they turn to small-time dealers like Ko Zin Kyaw, who keeps a handful of used motorcycles for sale in a tiny garage in Insein and works with a roster of agents to bring in headlights, decals, saddlebags, helmets, handlebars and other accessories from abroad.  
He attributes the growth of hobby biking first and foremost to social media, with bikers and clubs using Facebook to exchange information, deal motorcycles and parts and organise rides and meetups.
"The social network is very popular with people who ride bikes," Zin Kyaw says. "Online, it is not difficult to find bikes and information."

Riding the straight and narrow
Lynn Ko Ko Tint agrees that (as with many foreign hobbies that have taken root in Myanmar in recent years) social media is critical, not only for increasing the number of new members, but also galvanising their reputation.
"We are very connected now," he explains. "If somebody is doing crime or acting like an outlaw, we know everywhere. If someone in another city is doing drugs or drinking a lot of alcohol, we know."
Yet the country at large is slow to see past the tattoos and leather, U Naing says.
A 2014 survey by the Japan International Cooperation Agency found that 58 percent of Yangon residents surveyed are still in favour of the longstanding ban on motorcycles, which began in 2003 when (according to the most common version of the story) motorbike-mounted members of the Scorpions street gang made threatening gestures at a military official.
The Scorpions have since disbanded – their leader, Ko Yan Naing, now leads a reformed life as a Christian pastor. But at least in Yangon, disdain for bikers persists, with motorcycles viewed as dirty, dangerous threats to peace and security by both the authorities and population at large.
"Some people are afraid of us," Z Eagle explains. "But we aren't outlaws. We don't go against the government."
Nevertheless, a little outlaw-hood is often unavoidable for Myanmar's new bikers. Although Yangon's motorcyclists usually keep to suburbs where the motorcycle ban isn't enforced, it still technically applies in those places.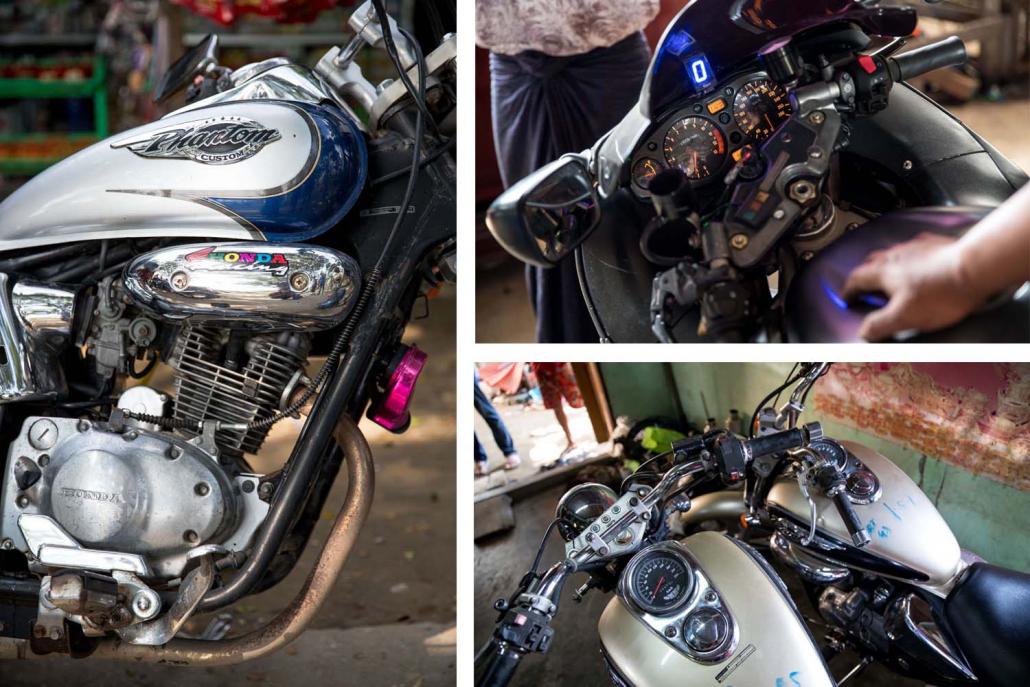 Many longtime bikers like U Naing have official registrations for their bikes, but the government has since banned the import of used motorcycles, and motorcycle enthusiasts (barring the few who can afford to purchase new) often have no choice but to ride unlicensed Hondas, Suzukis, or Kawasakis smuggled from Japan. Acquiring papers for an unregistered bike often costs as much as the vehicle itself.
U Zaw Min, who owns a lumber mill in Insein, has been importing and selling grey market bikes for 15 years. Like Lynn Ko Ko Tint, his bike business arose from a personal interest, and he agrees that hobby motorcycling has become more mainstream and that the motorcycle community is overwhelmingly benign.
Nevertheless, the process of acquiring affordable, used bikes is distinctly mafia-esque. 
First, brokers purchase containers of motorcycles in Japan, Singapore and Malaysia and then smuggle them into Thailand, where they are trucked to the town of Mae Sot on the Myanmar border and auctioned. Zaw Min's agents float his monthly order across the shallow Moei River and then slip them past customs officials and highway police on narrow backroads under cover of night. The cost of anything seized by the authorities falls on the head of the driver.
"It's fine," Zaw Min says confidently. "We know all the routes to avoid the police."

Biking, Myanmar style
In a way, Myanmar's biker community has no choice but to ride the straight and narrow path. Strong codes of personal conduct and active community service may be a simple necessity for its survival, given how they are viewed by both the public and government.
Yet Z Eagle and U Naing argue that their hobby could be something much more beneficial to society if only laws and restrictions that are, in their eyes, backwards and outdated could be scrapped for parts.
Lynn Ko Ko Tin agrees that the laws should be changed, but perhaps not all of them – at least, not until the roads at large are ready for a sudden influx of new and inexperienced bikers. "We need to prepare the roads and fix the rules, wearing helmets, motorcycle licences, rules about used motorcycles," he argues.
He doesn't care how long it takes for these things to develop, as long as Myanmar's bikers stay true to their own path.
"Myanmar [motorcycle culture] is still developing. But Thailand is very developed, and in Thailand there is outside influence from foreign gangs like Hells Angels and Bandidos, which have chapters there," argues Lynn Ko Ko Tint, who recently attended a Harley-Davidson dealers' conference in full Myanmar formalwear. "People being interested in motorbiking and motorcycles is good, but I don't want influence from other cultures."
That argument, made in a garage full of foreign-made bikes and covered in memorabilia from foreign brands, is somewhat ironic. But whatever road Myanmar's biker culture chooses, one thing is certain: it'll be on two wheels.
TOP PHOTO: Steve Tickner | Frontier