Soldiers who commit abuses are largely tried in secret by military-run courts, whose workings have become central to Myanmar's defence against genocide allegations.
By YE MON | FRONTIER
ARGUMENTS made at the International Court of Justice in December have focused attention on the shadowy justice system that Myanmar's military reserves for its soldiers.
In response to the suit brought by The Gambia, which alleges that Myanmar has violated the 1948 Genocide Convention with its treatment of the Rohingya, State Counsellor Daw Aung San Suu Kyi told the Hague-based court that Myanmar "actively investigates, prosecutes and punishes soldiers and officers that are accused of wrongdoing".
Addressing the court the next day, The Gambia's lead lawyer, Mr Paul Reichler, said statements by Myanmar that it was prosecuting soldiers accused of wrongdoing were risible.
"How can anyone possibly expect the Tatmadaw to hold itself accountable for genocidal acts against the Rohingya, when six of its top generals including the commander-in-chief, Senior General Min Aung Hlaing, have all been accused of genocide by the UN Fact-Finding Mission and recommended for criminal prosecution?" he asked the panel of judges.
Military courts operate under the provisions of the 1959 Defence Services Act and the accompanying courts martial procedures. The law exempts servicemen from civilian courts in most cases, even when the alleged victims are civilians. Because very few of the procedures are publicised or open to public observation, it is hard to know how closely the rules are followed in courts martial.
The 1959 act provides for four kinds of courts martial: general, district, summary general and summary courts martial.
A general court martial can be ordered by the president and the Tatmadaw commander-in-chief and any officers empowered by them.
The act stipulates that a general court martial should be heard by at least five officers, each of whom has been commissioned for at least three years and of whom at least four are not below the rank of an army captain or equivalent rank in the other services. The act also says that the prosecutors must be from the Tatmadaw and civilian lawyers cannot act for the complainant, even if the complainant is a civilian.
The act lists 41 offences, including some in the Penal Code that cannot be brought before a court martial. However, it is not clear what charges were brought against the seven members of the Tatmadaw convicted for taking part in the massacre of 10 Rohingya men at Inn Din village, in northern Rakhine State's Maungdaw Township, in early September 2017. The murder of the 10 men was exposed by Reuters journalists Ko Wa Lone and Ko Kyaw Soe Oo.
A Tatmadaw statement posted on social media by Commander-in-Chief Senior General Min Aung Hlaing on April 10, 2018 said seven military personnel were punished for involvement in the massacre.
"Four officers were denounced and permanently dismissed from the military and sentenced to 10 years with hard labour at a prison in a remote area. Three soldiers of other rank were demoted to the rank of 'private', permanently dismissed from the military and sentenced to 10 years with hard labour at a prison in a remote area," the statement said.
The seven soldiers were released in November 2018 after serving less than a year of their sentences, Reuters reported on May 27, 2019. Its sources included one of the soldiers, who had spent less time behind bars than Wa Lone and Kyaw Soe Oo. The two were sentenced in September 2018 to seven years' imprisonment under the Official Secrets Act for investigating the massacre and were pardoned the following May.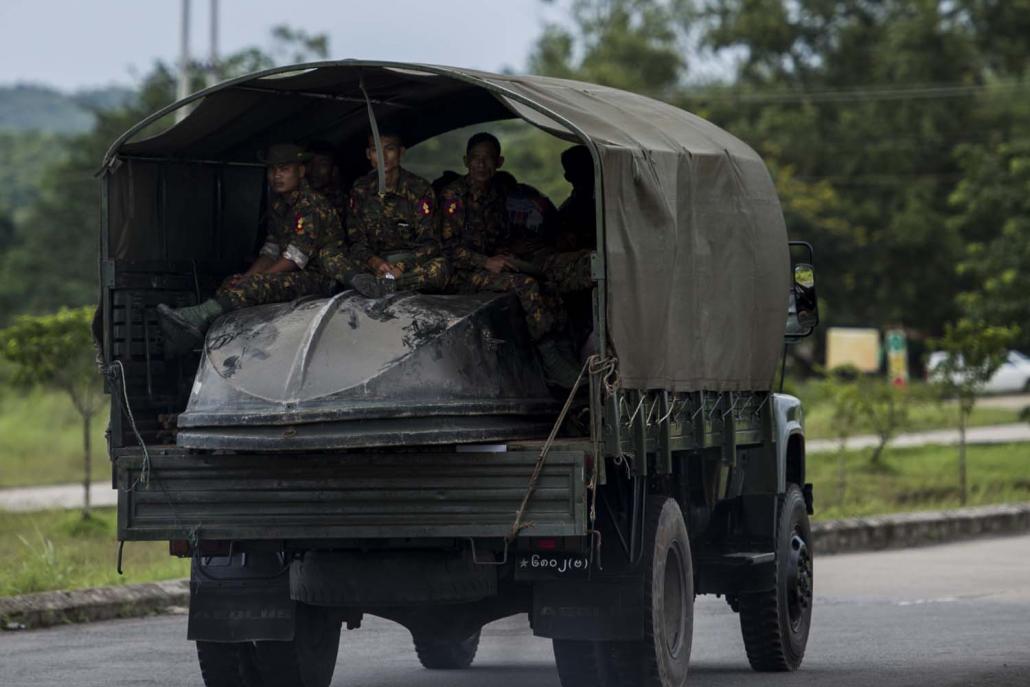 U Thein Tun Oo, a director from Thayninga Institute for Strategic Studies, a pro-Tatmadaw think tank, told Frontier on January 11 that the Inn Din massacre case was likely to have been heard by either a general court martial or a summary general court martial, because the other courts martial could not impose sentences of more than two years' imprisonment.
"General court martial and summary general court martial are higher courts under the defence [services] act," he said. "[An officer of] at least lieutenant general can lead a general court martial."
Thein Tun Oo said that according to the act, the military can appoint an investigation commission to investigate an accusation and decide whether a case proceeds to a court martial. "If the investigation commission decides that the accusation is [credible], there will be a court martial," he told Frontier. "Otherwise, the process ends with the commission."
Thein Tun Oo said the institute had monitored the Inn Din case and village residents had been invited to appear as witnesses at the general court martial.
Tatmadaw personnel are also facing a court martial over the mass killing of Rohingya at Gu Dar Pyin village in northern Rakhine's Buthidaung Township on August 27, 2017, but little is known about the proceedings. Hearings continue in the summary general court martial against an unknown number of personnel.
The Tatmadaw issued a statement in late August 2019 saying that an investigation had found "weakness in following the rules of engagement" and that a court martial would "proceed in accordance with the procedures of Military Justice". No other information was provided.
The Gu Dar Pyin killings were revealed by the Associated Press in a February 2, 2018 exposé based on interviews with survivors who had fled to Bangladesh and told of seeing at least five mass graves in the village. Time-stamped videos taken by mobile phones were used to corroborate these accounts, AP said at the time.
In a statement released later the same day, the government said the AP report was "not true" but added that 19 "terrorists" had been killed when they attacked security forces in the village.
In a statement issued on December 30, the Tatmadaw said there had so far been five hearings in the court martial at a Buthidaung army base and a total of 264 men and women from Gu Dar Pyin had been invited to observe the proceedings.
Frontier was unable to confirm that the observers were from the village, but a resident of Gu Dar Pyin, who requested anonymity, told Frontier that most of the observers were from elsewhere.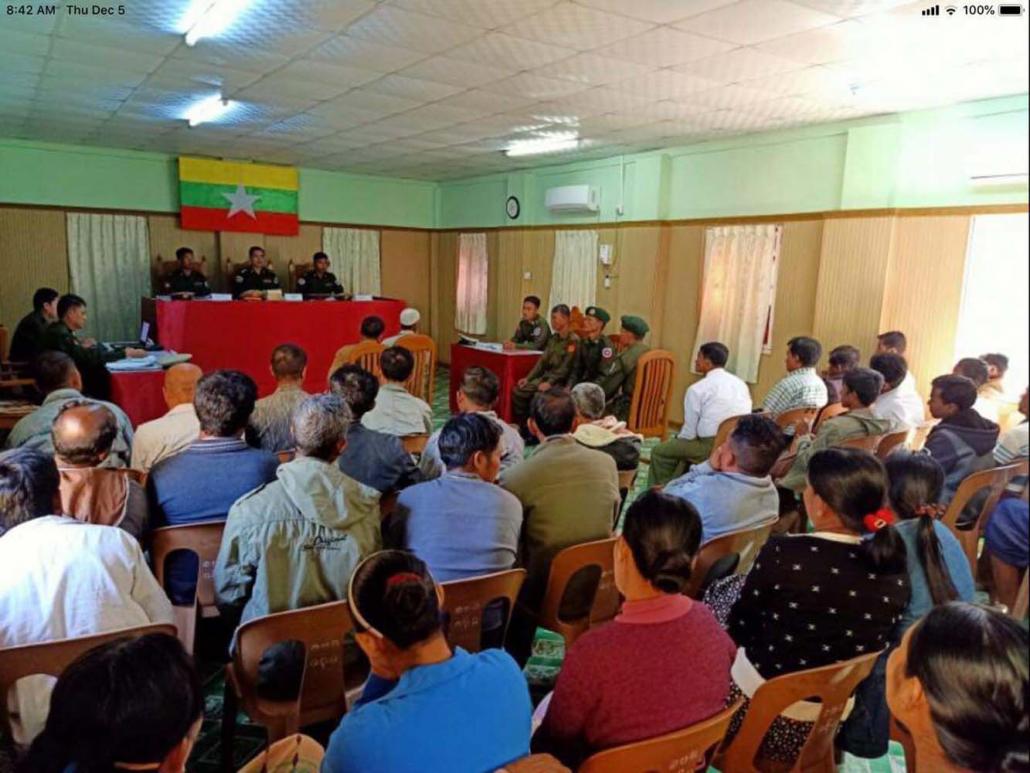 Another resident, who also wanted to stay anonymous, said, "I'm certain that those people are not from Gu Dar Pyin." He said at least some of the observers were relatives of Tatmadaw personnel.
According to another source in Buthidaung Township who was contacted by Frontier, the venue of the court martial was not publicly known, and Gu Dar Pyin residents had not been invited to observe the hearings. "Everyone from outside Buthidaung Township will think that the hearings are going well and are transparent, but that is not true," the source said.
Amyotha Hluttaw MP U Maung Kyaw Zan (Arakan National Party, Rakhine-9), whose constituency covers Buthidaung, said he had not been invited to observe the hearings and did not know where they were taking place. "How can I attend if I was not invited?" he said, adding that he knew about the hearings only from online news.
Prominent Nay Pyi Taw-based lawyer, U Khin Maung Zaw, said the Tatmadaw should invite civil society groups, MPs, journalists and residents of Gu Dar Pyin to attend the court martial if it wanted to be transparent. The statement released by the Tatmadaw on December 30 was not enough in itself, he said.
"Everyone knows the military has strict [internal] rules," he said, "but there is strong interest in the case and, at the least, local people, MPs and members of civil society should be invited to attend the court martial."
Hopes for transparency in courts martial rose in 2016 in a case involving the killing of five residents of Mong Yaw village in northern Shan State's Lashio Township. Their bodies were discovered in shallow graves a few days after they were detained by the Tatmadaw.
At a news conference late the next month, General Myo Tun Oo said the Tatmadaw was responsible for the killings and the culprits would be prosecuted. This public admission of wrong-doing and an invitation for village residents to attend the court martial were unprecedented.
The court martial at North Eastern Command headquarters resulted in seven military personnel, including four commissioned officers, being convicted of murder the following September. They were each stripped of their positions and sentenced to five years' imprisonment with hard labour.
Victims' relatives and members of civil society groups were also permitted to attend the court martial in 2017 of six soldiers accused of killing three men from a camp for the internally displaced in Kachin State's Mansi Township in May 2017. The four officers and two non-commissioned offers were in January 2018 each convicted of murder and sentenced to 10 years' imprisonment with hard labour. They were also dismissed from the Tatmadaw.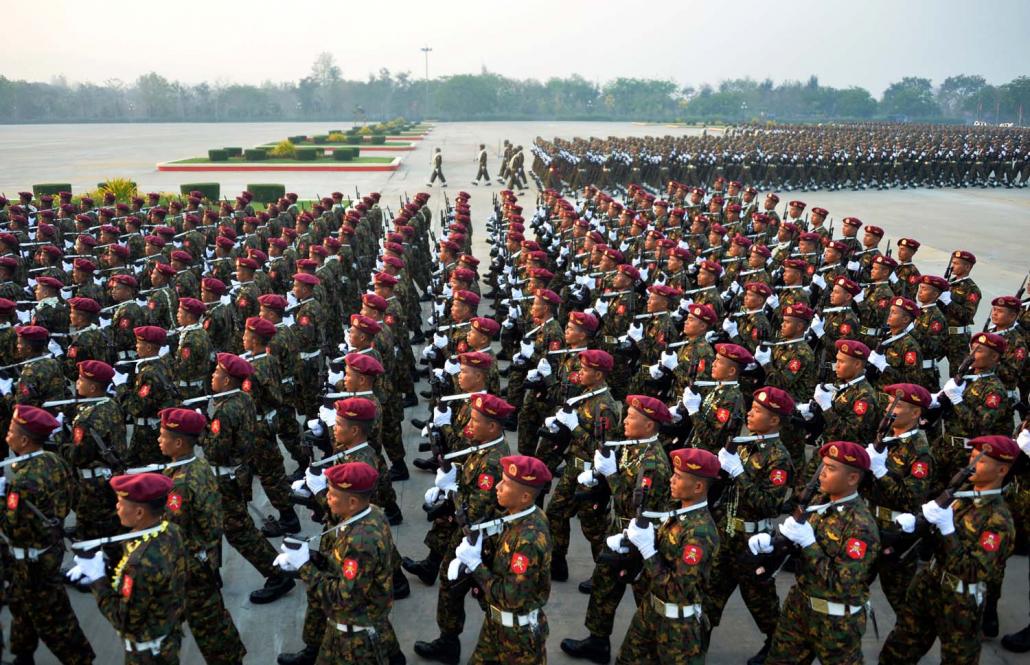 Civil society representatives at the court martial included social worker Ko Aung Myo San, who said the Tatmadaw had shown respect by inviting people to observe. "We did not expect that," he told Frontier in early January. "We were also satisfied with the verdict, but I do not know if those soldiers are still in prison."
Yangon-based political analyst Ko Nay Yan Oo said courts martial in Myanmar lacked transparency and credibility.
He said the Tatmadaw needed to learn from the international criticism of the decision by Commander-in-Chief Senior General Min Aung Hlaing to pardon the seven soldiers convicted over the killings at Inn Din after serving less than a year of their 10-year sentences. At the ICJ hearings, Aung San Suu Kyi had also said that many in Myanmar were unhappy about the pardon.
If the soldiers being court martialled over the mass killings at Gu Dar Pyin were convicted and jailed, "it would be better for the country if they were not pardoned before completing their sentences," Nay Yan Oo told Frontier.
U Shwe Mann, a former general and the third-ranked member of the junta that ruled Myanmar until 2011, said that both courts martial and civil courts should uphold high standards of justice and democracy.
"If there are influences on courts martial or civil courts, democracy will go backwards," he told Frontier in an interview on January 8.
Shwe Mann, who chairs the Union Betterment Party, which he founded early last year, declined to comment on the court martial underway over the killings at Gu Dar Pyin.
On January 16, Tatmadaw spokesperson Brigadier General Zaw Min Tun told reporters the results of this court martial, and the identities of those being tried, would be communicated in full to the public after the case is concluded. "The Tatmadaw is taking action with full responsibility and accountability," he said.
– Additional reporting by Nanda
TOP PHOTO: A Tatmadaw soldier guards the airport in Sittwe, Rakhine State, on September 20, 2018. (AFP)