With Aung San Suu Kyi behind bars, a more collective form of leadership is driving the struggle against military rule, but is this a strength or a weakness?
By FRONTIER
If history never quite repeats itself in Myanmar, it does often rhyme, and this is clearest of all in the career of Daw Aung San Suu Kyi.
Last month, the dissident-turned-politician was handed her 13th conviction by a military-controlled court in the capital, Nay Pyi Taw, bringing her total sentence to 26 years. However, the deposed state counsellor, who turned 77 in June, is facing another six charges that could see her locked away for an additional 90 years.
Aung San Suu Kyi was arrested on the day of the military coup on February 1 last year, along with other senior leaders. In June this year, she was moved from an undisclosed location in Nay Pyi Taw, where she lived with several staff and her dog Taichido, to solitary confinement in a specially constructed building within the city's prison. She can still meet with her legal team but is otherwise "completely alone", said one of her lawyers.
"While being moved she told us that if she was going to live in custody, she would rather go alone – she didn't even want to take Taichido," said the lawyer on condition of anonymity. "She wears a prison uniform all the time and there are two prison staff who tend to her. Even if she is sick she can't go to the prison hospital; the doctor comes to her."
The image of Aung San Suu Kyi today – a potent political figure held under lock and key by the military – is in some respects familiar. The previous military regime kept her under house arrest for 15 years, on and off, between 1989 and 2010. However, during that time she was allowed to address the public from the gates of her home and to periodically meet with foreign envoys. The current junta, by contrast, has taken strict measures to ensure she has no outside contact, imposing gag orders on her lawyers and blocking her from meeting envoys from the United Nations and the Association of Southeast Asian Nations.
As a result, the public only receives brief messages from her relayed by proxies. These are difficult to authenticate, let alone interpret. A message smuggled out in April that called on everyone to "stay united and hold discussions on different views" was taken by some as a plea for unity among resistance groups but by others as a call for talks with the junta.
Ambiguous messages like these provide little if any direction to the movement resisting military rule. Instead, the imprisonment of the woman who once dominated democratic politics has inadvertently created space for new leaders, or forms of leadership, to emerge.
Since the coup, several individuals seemed capable of providing the movement with a charismatic figurehead, if not outright leadership. However, most of them have only stayed in the limelight for a short while or in a limited capacity; and rather than being considered a liability, the movement's decentralised nature has come to be celebrated. Supporters say it presents a less vulnerable target to a ruthless military regime, and that it allows for the kind of inclusive decision-making necessary to unite, and devise a better future for, an ethnically diverse country.
However, being a figurehead and articulating the aims of a movement is different to controlling decision-making (although Aung San Suu Kyi was often accused of doing both). The lack of an easily recognisable figure equivalent to Ukraine's President Volodymyr Zelenskyy has arguably made it harder to rally international support.
Moreover, defeating a much better armed enemy requires a degree of cohesion and the ability to strategize. This is difficult to achieve when there are hundreds of armed resistance groups – some of which have fought each other – and when different members of a loose coalition disagree on some fundamental political points.
In addition, Aung San Suu Kyi is not entirely out of the picture. She retains her state counsellor position in the parallel National Unity Government, making it difficult for any new leader to truly supplant her. And although the criminal charges she faces could keep her in prison for the rest of her life, the military frequently pardons convicts and could release her at any time. Her release could galvanise the resistance, but it could also destabilise it, particularly if she were to demand a re-orientation towards her old politics of non-violence and national reconciliation.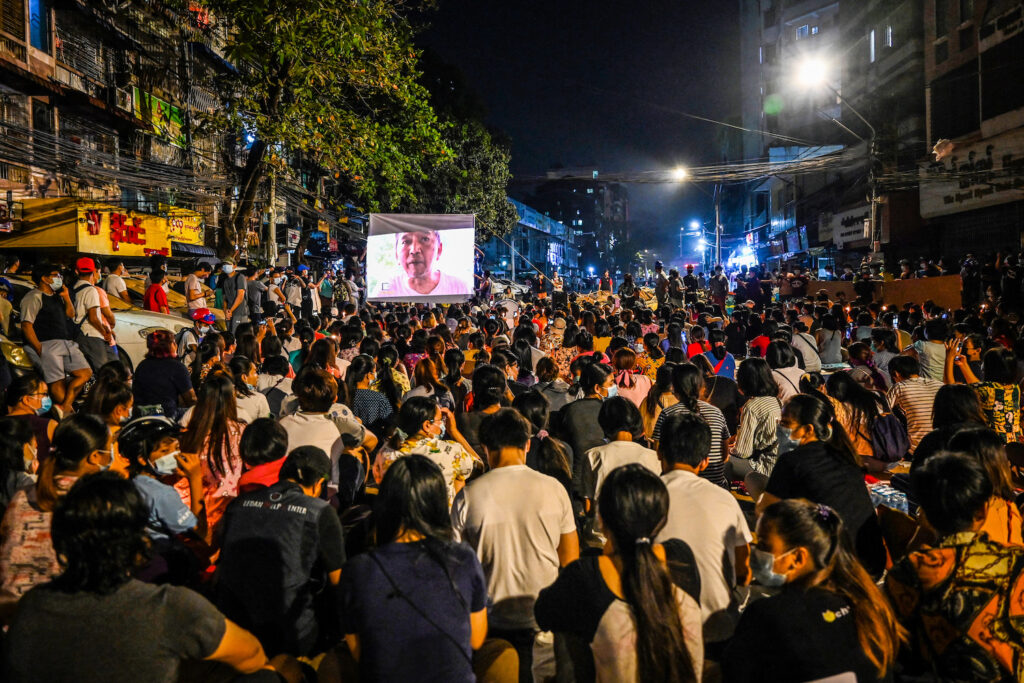 'Every train carriage has its own engine'
In the weeks following the coup, there were spontaneous protests across the country and a flowering of grassroots political organising. This period also saw the unlikely emergence of a Chin medical doctor and campaigner for Aung San Suu Kyi's party, the National League for Democracy, as a figure who could fire up enthusiasm on social media and communicate Myanmar's predicament to global media.
Dr Sasa's candour and status as an ethnic minority made him an appropriate face for a nationwide movement that sought to dispense with old hierarchies. In addition, his statements of solidarity with the Rohingya gained him goodwill among the international community, which Aung San Suu Kyi and other members of the ousted NLD government had forfeited by defending the military's brutal campaign against the largely stateless Muslim group in 2017.
However, since those early days, a series of ill-judged statements overhyping the resistance has earned Dr Sasa ridicule from sections of the Myanmar public. Several of these statements seemed to stem from his political inexperience, which was part of his initial appeal as a fresh voice from the margins of Myanmar society.
Also within the last year, Dr Sasa's role in the NUG has visibly diminished. Although still its minister of international cooperation, he is no longer featured so heavily in the administration's press conferences and events, and he attends fewer meetings with foreign governments.
U Aung Kyaw Moe, a Rohingya advisor to the NUG's Ministry of Human Rights, confirmed this trend. He told Frontier it was partly because other ministries have developed better communication structures, meaning there is now less need for Dr Sasa to speak on behalf of the parallel government. However, he said objections to some of Dr Sasa's statements had also helped to marginalise him.
"He is someone who used to pop up almost everywhere but is not popping up anymore. There was sensitivity around some issues – things he was supposed to be saying and other things that he wasn't supposed to be saying. There were many things being conveyed related to the progress of the NUG that should have been conveyed in a different way," said Aung Kyaw Moe.
Another prominent figure in the period following the coup was Min Ko Naing, who is in some respects Dr Sasa's opposite. While Dr Sasa was not involved in politics prior to joining the NLD in 2020, Min Ko Naing, whose real name is Paw Oo Tun, was imprisoned for 15 years for his role as a student leader in the 1988 Uprising. It was during that uprising that he earned the name he's still known by, meaning "conqueror of kings".
Although one of Myanmar's most famous activists, Min Ko Naing kept a low profile in the years preceding the coup, devoting much of his time to writing and painting. Public comments that seemingly justified the persecution of the Rohingya also hurt his international reputation.
However, February 2021 saw him reprise his role as a central figure in the opposition to military rule. Protesters in Yangon would eagerly gather in expectation of speeches from Min Ko Naing, although as a prize target for arrest by the junta he delivered his exhortations online.
Yet, despite the moral leadership he was able to provide, a line in one of his speeches suggested a simultaneous desire to retreat into the background and encourage a more bottom-up movement to take hold. "Every train carriage has its own engine," he said, invoking the power of each citizen to shape the country's future.
Min Ko Naing would later make important public appearances, for instance to announce the formation of the NUG in April last year. He also continues to have a senior role in the National Unity Consultative Council, the resistance movement's apex decision-making body. However, he is only rarely in public view and even his role in the NUCC has not been publicly defined. Although still influential, his work largely takes place in the shadows.
Other activists have also chosen to refocus on behind-the-scenes work after gaining large followings in the wake of the coup. One of them is Dr Tay Za San, a young activist in Mandalay who was involved in some of the first protests, when many were still hesitant to take to the streets. His credibility established, he became a fixture of social media, writing posts and broadcasting videos in which he powerfully described the goals and justification for an emerging revolutionary movement. However, over time his online presence diminished and his Facebook posts suggested he was focusing on underground work.
Independent analyst Mr David Mathieson said this retreat from the limelight is partly motivated by safety concerns, on the part of the individual and the wider movement. "The higher profile you are, the more likely the SAC is going to come after you, so having many leaders makes it much harder for them to figure out who they can surgically remove from the equation," he said, referring to the junta by its formal name, the State Administration Council.
But he added there's a "social element" too. "There is a disdain for people perceived as activists who seek public profiles," he told Frontier, meaning that some would-be leaders may moderate their exposure to the public to preserve their credibility.
Mathieson said the apparent lack of a "power hungry and attention seeking personality" is what endears people to Bo Nagar, the best-known leader of any of the individual resistance armies that have emerged since the coup.
The commander of the Myanmar Royal Dragon Army in Pale Township, Sagaing Region, has been described online as a "second Aung San". His rousing speeches, seemingly upright character and origins in the arid "Anyar" region of upper Myanmar evoke the memory of the independence hero and father of Aung San Suu Kyi.
But despite Bo Nagar's star billing, he is keen to downplay his role in the wider movement. "I'm just doing my job to free people from the hands of the military," he told Frontier, adding, "I know that my leadership does not cover the whole country and that isn't my goal – all I can do is work in regions where I do have some influence."
"The goal for us is to be more collective, not centralised," he said.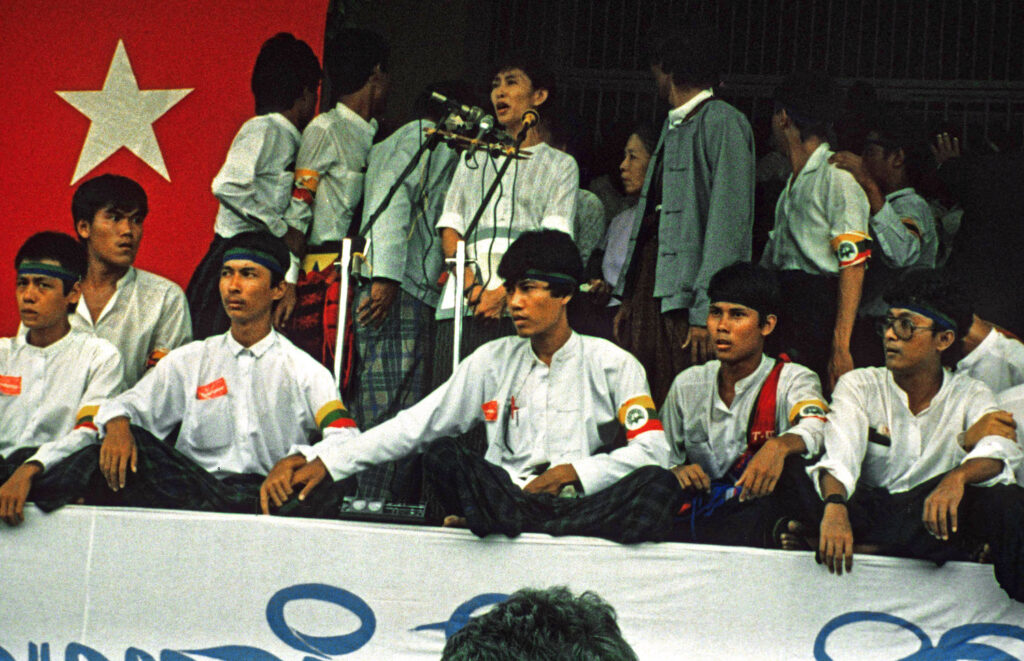 Eliminating 'all forms' of dictatorship
The belief in "collective" leadership contrasts with the elevation of Aung San Suu Kyi during the 1988 Uprising. Although many hands were involved in the protests and strikes, with radical youth at the vanguard, some of these same youth helped to convince an initially wary Aung San Suu Kyi to take a starring role after her elder brother refused to step up.
Ko Nyo Ohn Myint, then a 26-year-old university lecturer, was part of a group of students and junior academics who petitioned her at her lakeside home in Yangon. "I raised the fact that our movement really needed a leader," he says in an account quoted in a biography of Aung San Suu Kyi, The Lady and the Peacock, by journalist Mr Peter Popham. She initially "refused to lead", he says, and claimed she "didn't want to take over a movement that was already going on – but if people really needed Aung San's daughter, she said, 'I will do it.'"
The young activists believed that Aung San Suu Kyi, with her family pedigree, would unite and galvanise the public, and her first speech to a mass audience at Yangon's Shwedagon Pagoda in August of that year had the intended effect. Author Pascal Khoo Thwe writes in his memoir, From the Land of Green Ghosts, "Above all, we saw someone expressing all our aspirations, confronting the regime and its gun barrels succinctly, eloquently and with not a hint of fear. At last, we had found our leader."
Yet, despite the energy and focus Aung San Suu Kyi provided to the 1988 Uprising, and to the struggle for democracy that continued over the following decades, today's revolutionaries say they're content to go without such a figure.
One reason for this is a growing acknowledgement that her dominance of democratic politics, via repeated electoral landslides for the NLD, came at the cost of ethnic inclusion. The NLD included some members of minority groups in its central leadership and won in most ethnic states in the 2015 and 2020 elections. However, while in government, it was largely seen to take the military's side in conflicts with ethnic armed groups, and it sparked anger in Rakhine State when it appointed a chief minister from its own ranks, rather than from the locally dominant Arakan National Party. Moreover, while the NLD's defence of the military's bloody clearance operations in Rakhine against Rohingya communities was broadly popular in Myanmar, it gave the party an international reputation for intolerance that continues to haunt the pro-democracy movement today.
Dr Sasa said that no one, including Aung San Suu Kyi, "can be free from blame" for these past events, but that the NUG has learnt from them. He told Frontier that having a more diverse leadership, in which no one figure predominates, is "totally intentional". Leading the resistance to military rule, he said, "is not a job that one man or woman can do. We have all now realised that Myanmar is a multi-ethnic and multi-religious country, which means diversity is our strength."
The movement's commitment to diversity is crystalised in the NUCC. The leading council was established soon after the coup, on March 8 last year, with a mandate to "build a federal democracy by means of collective leadership". A related commitment to "eliminate all forms of dictatorship including the military dictatorship" underlines a belief that authoritarianism in Myanmar extends beyond the military, and that a democratic revolution requires a broader change in the political culture.
The NUCC includes MPs elected in 2020, ethnic armed group leaders and representatives from youth, women's and labour groups. These diverse members have approved a Federal Democracy Charter that devolves sovereignty to the various member states of a future federal union, who will have the right to enact their own state constitutions and to independently manage their land and natural resources.
Yet, despite taking this unprecedented step, participants say finding consensus is a constant struggle, given the need to overcome steep societal divisions and distrust.
Padoh Saw Taw Nee, spokesperson for one of Myanmar's largest ethnic armed groups, the Karen National Union, told Frontier, "The NUCC is the strongest and biggest group fighting the dictatorship – we've never had a chance like this before. But everyone comes from different backgrounds so it's not always easy to work together; it will take time."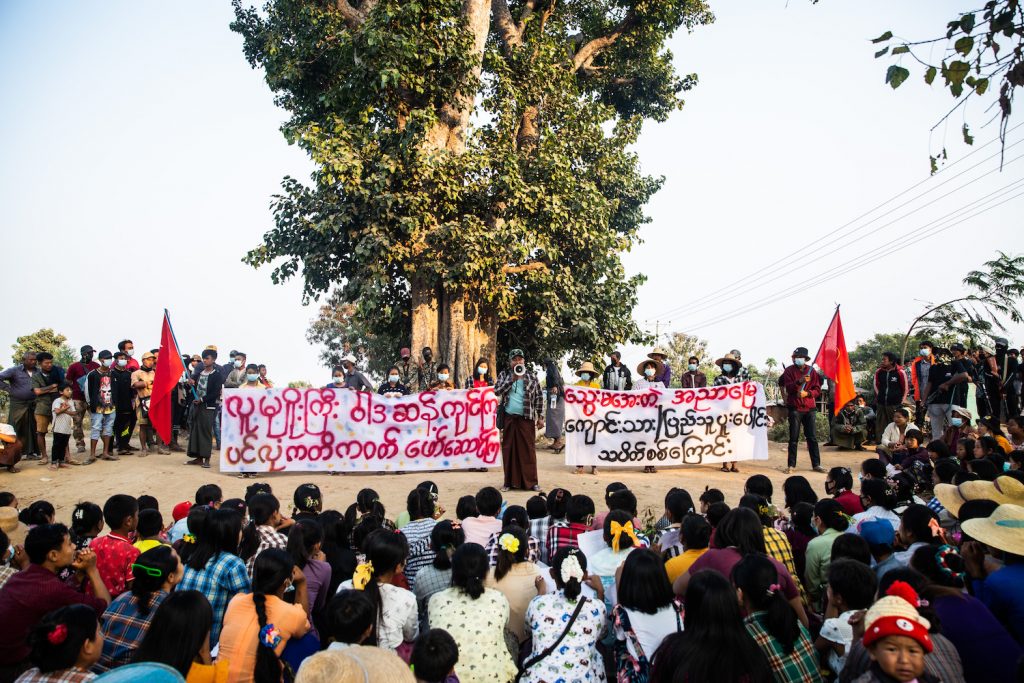 'A leader is always a leader'
While Taw Nee seemed confident that, with perseverance, disagreements among members could be resolved, others point to divisions that risk derailing the whole movement.
Activist and former president of the All Burma Federation of Student Unions Ko Kyaw Ko Ko, who is not part of the NUCC but claims to have "colleagues and allies" among its members, said even a diverse coalition needs to unite under a shared goal and this has proved elusive. "Some groups still want to preserve the result of the last election [in 2020], and for Aung San Suu Kyi to be free and the civilian government to take power again, but other people like us want to fight militarism to the end," he told Frontier.
He said this divergence could be easily exploited by the junta. "When the military comes up with magic tricks such as peace talks or releases leaders like Aung San Suu Kyi, some groups will accept the military's overtures and we will lose like in past revolutions," he said, adding, "However many tricks the military performs or sweets it gives to the people, we must not forgive them."
Although Kyaw Ko Ko did not specify, those who want to "preserve the result of the last election" is an apparent reference to senior NLD members, whom detractors say unfairly dominate resistance politics through the NUG. These party members derive their mandate from an election held within the constraints of the military-drafted 2008 Constitution, which the NUG has declared void, prompting some to question this mandate.
Hkanhpa Tu Sadan, spokesperson of the Kachin National Organisation, a political group for Kachin in Myanmar and the diaspora, told Frontier that many of the ethnic appointees in the NUG "are more like figureheads, they don't have actual power". This claim corresponds with comments on Twitter in September by Hkaung (Stella) Naw, who said she had resigned a year before as the parallel government's deputy minister of international cooperation because she "refused to be a token". She called in her Twitter thread for "a complete shift in how we see power, representation and equality".
Hkanhpa Tu Sadan added that the NUG is "controlled by the NLD", many of whose members "still cling to Aung San Suu Kyi". "A lot of people still listen to her and she is still very powerful even though she is in prison," he said.
Frontier could not confirm this claim, but with the position of state counsellor kept open for her at the NUG, she could wield far more power and influence if she were freed. It is unclear whether the Nobel Peace Prize winner is still committed to non-violence, but if on release she were to challenge the NUG's embrace of armed resistance, this could prove just as divisive as any of the junta "magic tricks" feared by Kyaw Ko Ko.
Bo Thaw Ka, who leads a resistance army in Sagaing Region's Ayadaw Township, told Frontier that for him, Aung San Suu Kyi "will always be a hero and a saint" – a sentiment he said is shared by many of his fellow fighters. Bo Nagar similarly said that regardless of whether she is in prison, "a leader is always a leader" and "her philosophy is still guiding this movement".
However, revering Aung San Suu Kyi – and acknowledging the sacrifices she has made as a long-time dissident leader – is different from being at her beck and call. It is doubtful that many resistance armies would heed any command from her to put down their weapons.
"If she were released tomorrow and we were faced with either following her or continuing to trust what the people want, I will go with the people because Aung San Suu Kyi always told us to trust the people," said Bo Nagar.
A high-ranking officer in the Chin National Front, an ethnic armed group allied to the NUG, said that while he still "loves and looks up to Aung San Suu Kyi", he and his colleagues "do not believe that Aung San Suu Kyi can achieve the victory we are longing for".
"So many ethnic armed groups no longer like her leadership, especially now that so many of them have become more powerful and can control their own fate," said the CNF officer, who asked to remain anonymous due to security concerns. "Even if Aung San Suu Kyi were to come to the stage again, I don't think ethnic groups would listen to her."