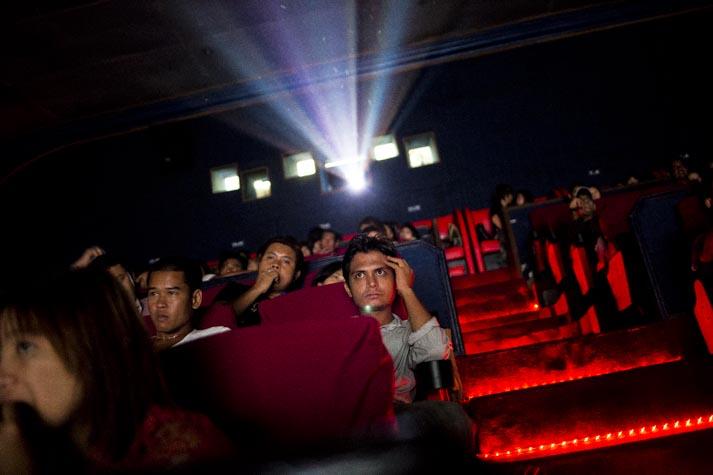 The movie opens with Man 1 kicking a football, while Man 2 sits playing a guitar. Man 1 kicks the ball at Man 2, who shouts at Man 1. This raises the ire of Man 3, who shouts at Men 1 and 2. Men 4 and 5 appear from off-screen, shouting at Men 1 and 2. Then Man 6 arrives, shouting, and Man 4 throws a stone at him. Man 2 hits Man 3 and Man 1 hits Man 4, who in turn hits Man 5. Everyone hits everyone and when the scene ends, the cinema audience is in hysterics.
There's long been a great love for the cinema in Myanmar. When travel writer Paul Theroux visited the country for his 1975 book The Great Railway Bazaar, he mentioned the popularity of movies. Forty years later, that enthusiasm has not disappeared.
Myanmar's cinema industry began at the start of the 20th century, but peaked in the 1950s and 1960s, said former actress Grace Swe Zin Htaik. After making more than 200 movies, she retired in 1991 to work as producer.
"We had strong links with other countries in the region and our films were shown across the world, from India, to Japan, to the United Kingdom," Daw Grace said.
There was even a Universal Studio in Rangoon, although it closed in the 1960s. The 1960s were a demoralising time for Myanmar cinema because the Socialist government, which came to power in 1962, recognised the importance that cinema and other artistic forms could have as a propaganda tool and began placing heavy restrictions on the industry.
"They introduced so many do's and don'ts that they completely destroyed the industry's development," Daw Grace said, referring to the government's censorship of topics including sex, alcohol and national sovereignty. The central control economy of the Socialist period also meant that many of the materials needed to make movies were difficult to find.
As Myanmar continues to make tentative steps towards genuine democracy, censorship has eased. Daw Grace said there was no longer any need to have scripts approved for pre-production, "but every movie needs to get a censor certificate for public screening."
The movie industry is still recovering from the legacy of the Socialist past and Daw Grace has also observed changes in audience preferences.
"People used to love watching family dramas, but now they prefer horror movies and comedies," she said. "People have a very difficult life facing poverty, but Myanmar people love to laugh and comedy is a kind of therapy."
Daw Grace expressed disappointment at the quality of Myanmar movies today, blaming the lack of training opportunities for young filmmakers.
"They don't have proper writers or are not interested in post-production," she said. "Most of them lack respect for the script and often start making movies without completing the script."
Many movie fans also find Myanmar films a disappointment. Among them is Ko Aung, who recently returned to Myanmar after living abroad for many years.
"Myanmar movies are terrible. There's no substance and nothing to learn from them. Every script is exactly the same," he said.
Myanmar Film Academy Award-winning director, Wyne, believes the industry has gone backwards during the last decade. One reason is a quick-turnaround – some movies are made in a day – but he says many in the industry do not care enough about their work.
"The film market is in the hands of people who are operating without passion for movies," said Wyne in an interview on the set of his latest movie, on the outskirts of Yangon. "They just want to make money and if there is not much profit, they leave the industry."
"Myanmar's movie industry is like an old house that has nearly collapsed," he added. "It needs renovations here and it needs renovations there. So I hope the whole house collapses down and we can start again to create a new wave of filmmakers with new ideas."
An upward curve?
The new generation of filmmakers includes 24-year-old director Tin Win Hlaing, who has spent seven years studying and working in the movie industry. He agrees that the movie industry has challenges but believes the situation is improving.
"In some ways, the industry is growing stronger," Tin Win Hlaing said. "I think things will improve over the next four or five years, because there are many new, young directors who are changing the industry and their movies are improving." He attributes the improvements to increased foreign influence, particular through better internet access.
There are other indications that the movie industry is gradually moving forward. A Yangon media company is in talks with a prominent European film school for an exchange program aimed at "returning Myanmar to its cinematic heyday". The company has asked not to be named until any deal is finalised.
Daw Grace, who holds film-making classes, said that she hopes the quality of the next generation of writers and directors will improve.
"At the moment, many film-makers are interested only in the set and do not care for the script or post-production," she said. "My dream is to improve the quality of script writers, because I want to send our movies around the world to let the international audience know the story of Myanmar."
Restoring 'Cinema Row'
The movies in which Daw Grace starred screened at the Palladium theatre, on a site occupied by the Sule Shangri-La Hotel. There were three cinemas on that section of Sule Pagoda Road and many others in the vicinity, some of which are still operating.
Philip Jablon, director of the Southeast Asia Movie Theatre Project, says there were at least seven single-screen standalone theatres on the stretch he has termed 'Cinema Row' and another dozen or so nearby, "representing what was likely the highest concentration of movie theatres in Southeast Asia."
Cinema Row was the stretch of Bogyoke Aung San Road between Pansodan and Sule Pagoda roads and the upper block of the latter.
The only remaining cinema is Yangon's oldest, the Waziya (formerly the Excelsior), on Bogyoke Aung San Road. The Yangon Heritage Trust, in collaboration with the Myanmar Motion Picture Association, has announced plans to return the cinema to its former glory.
YHT declined to comment on the progress of the project. However, its website says ideas for the project include renovating the cinema's interior, installing digital technology and improved lighting and audio systems, and creating a museum that would document the history of Myanmar movies.
Mr Jablon, who called the project a victory for urban development, said his long-term plan is to convince relevant authorities in Southeast Asia to maintain at least one historic cinema hall in every big city.
With the future of Yangon's heritage buildings being hotly debated as development alters the skyline, the preservation of an historic cinema in the city is emerging as an important element of the discussion.
"Yangon has a need to accommodate office workers and visitors, so it needs to clear land to make way for new structures, but it also needs to hold onto its historic character or it will have no charm, no competitive advantage over any other big city," Mr Jablon said.
"When all the land around Waziya is occupied by high rise offices and hotels, in the middle of it will be a beautiful historic venue where people will be able to and get a dose of culture," he added. "It will remind visitors and residents that Yangon is always evolving."