"Seven Decades" is a watershed moment for Myanmar's art scene, giving major artists a public platform to reflect openly, and without censorship, on the past for the first time.
By CLARE HAMMOND | FRONTIER
Photos VICTORIA MILKO
ARTIST HTEIN Lin climbs onto a chair. "Can I get up here? Then people can see me," he says to the assembled crowd. "That's a technique I learned in 1988."
He is in the south wing of Yangon's Secretariat where, some 70 years ago, independence hero Bogyoke Aung San was assassinated. Htein Lin is referring to the political protests of 1988; many of the artists in his new exhibition participated in the protests and many of them, including Htein Lin, are former political prisoners.
"Seven Decades" is a seminal exhibition because it is the first time contemporary Myanmar artists have shown their work in the Secretariat, one of the country's most historically important buildings.
The show is built around significant events: it opened on July 7, the anniversary of protests at Rangoon University campus in 1962, when the army killed an estimated 100 students and blew up the student union building.
In another nod to history, curator Htein Lin chose 19 artists because Aung San and eight others were assassinated on July 19, a date known in Myanmar as Martyrs' Day. In the main exhibition hall, there is a chronology of events since independence. This includes events in the artists' lives, writing them into a national history from which they have largely been excluded.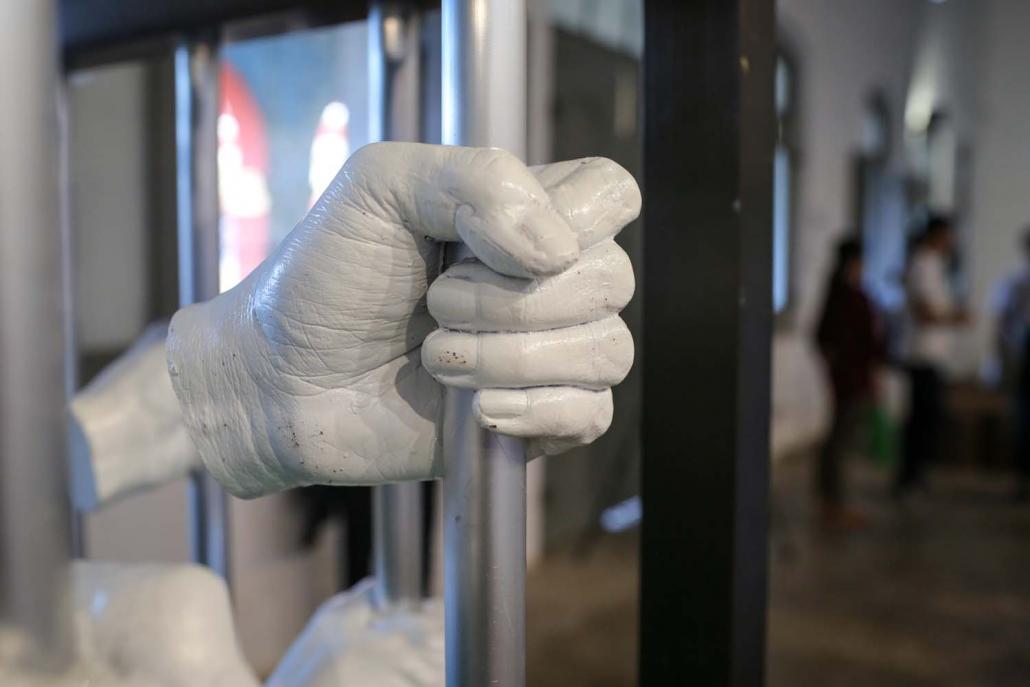 Myanmar's artists have never reflected on history in this way before, because it has never been permitted, said Ms Nathalie Johnston, the founder of Myanm/Art, one of five members of the Pyinsa Rasa collective, which is supporting the show.
For this reason, she sees the exhibition as a watershed moment: it is the first time that major artists, including those considered political, have been given such a public platform in their own country to reflect openly, and without censorship, on the past.
An open secret
Htein Lin encouraged the 19 artists to recall their strongest memories of the last seven decades. The results are varied: some artists, such as Maung Di and San Minn, drew on their experiences as political prisoners. San Minn's "In Isolation" is an architectural model of Insein Prison inside a cage, the bars of which are clasped by disembodied hands.
Other exhibits represent life in the socialist era: M.P.P. Ye Myint's "Cancer 1,2,3,4" is a series of collages made from old lottery tickets and currency that he says left Myanmar's people "in poverty and distress". Pe Maung Same's moving film about the work of his father, U Pe Thein, documents the often absurd difficulties cartoonists faced under the Ne Win government and the crippling impact of its policies on freedom of expression. Kyi Wynn and Sonny Nyein's work looks even further back, to the assassination of Aung San and his fellow martyrs.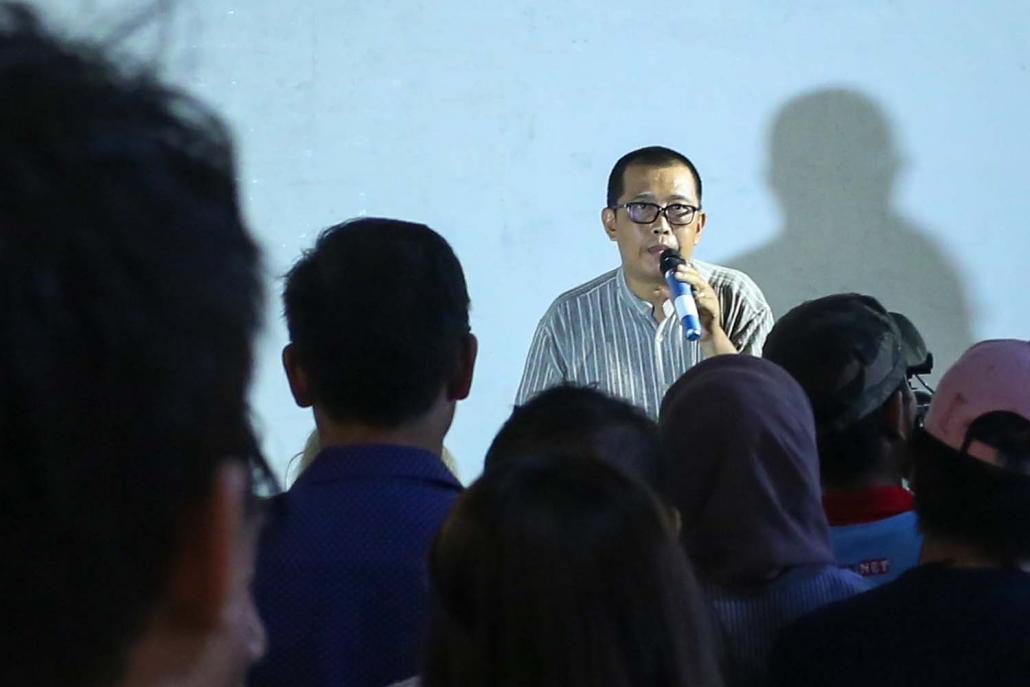 There are pieces, too, that elude time: Wa Nu's short film "Lives look like light" was shot in 2004, but she says it was created for everyone who "lost their ways in the bad situation and the dark era". Chaw Ei Thein's "May All Be Free From Danger" is an installation of flowers on a Buddhist shrine, in vases made from the cartridges of brass cannon bullets.
Chaw Ei Thein, who moved to the United States after being imprisoned, said that all the art in the show bears witness to the ways in which generations have struggled through the past seven decades, under the same government and in the same situation. To anyone who has lived in Myanmar through the past 70 years, every exhibit has recognisable themes.
This familiarity is important; none of the work is extreme, said Ko Kaung Sett Lin of Pyinsa Rasa. "We don't have anything harsh, rude or rebellious. It is just about how [the artists] went through their lives in those 70 years."
Much of this history is dark and sad. But, taken as a whole, the show is an uncontroversial interpretation of an often-violent past. The Yangon Region government, which gave the Secretariat Conservation Group permission to hold the exhibition, is comfortable with its themes, Johnston said, because it is formed of National League for Democracy members who, in some instances, shared prison cells with the artists.
As for the military, which was responsible for censorship in the past, she said the exhibition is an opportunity to demonstrate that contemporary art is not a threat to national security.
"If you have an exhibition like this, nobody gets hurt," she said. "It just offers a different perspective; it's not about being anti-Myanmar, anti-government, or even anti-military."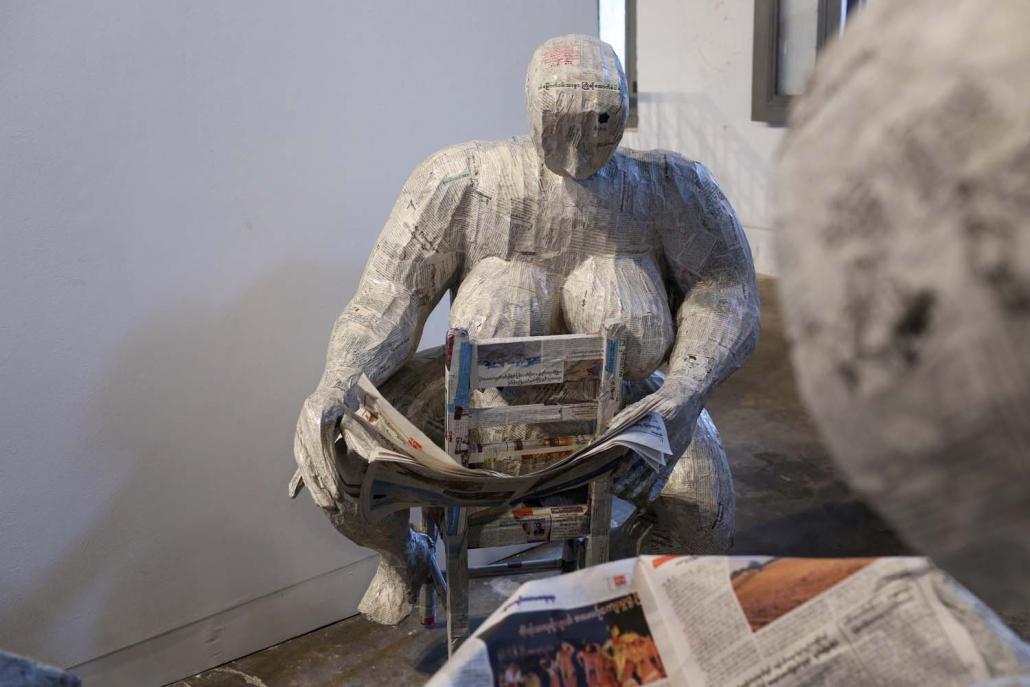 More than this, the exhibition shows that when a government stops politicising art, the art loses an element of its political capital and potency.
This is clear in the case of Sun Myint's previously banned nudes, which now appear tasteful and conservative. Then there is a film by Win Pe, "The Smoke Trails of Birds", which was commissioned by MRTV in 1993 but never aired. About an artist who paints his canvas black after a dove that he has freed from a snare is shot, the film is now being screened in public for the first time.
"The movie is dark, eerie and a bit sad and melancholy but it's nothing about politics," said Kaung Sett Lin. "[Win Pe] is showing that an artist cannot do anything when he is in distress – that's it."
'We did it'
Looking out over the Secretariat grounds, Htein Lin told Frontier that while living in England he had often visited art galleries and dreamt of attending a comparable exhibition in Myanmar. When he returned to Yangon in 2013 he found there were no museums, art spaces or curators.
He realised that if he wanted to visit the exhibition of his dreams, he would have to curate it himself. "This is the exhibition I want to create," he said. "Now I am happy because I feel like I am in the Tate Modern."
The sheer space inside the Secretariat is revolutionary. For years, artists have been confined to small, dark galleries, where they sold affordable pieces to cover basic overheads. Now, they have the freedom to produce large sculptures and installations, some for the first time.
But Htein Lin recognises that all this is just a step in the struggle for the normalisation of art in Myanmar and the right of artists to document their own stories.
"These artworks were challenging in history and now we are allowed to show them.  Does it mean we have absolute freedom? No, it is not like that," he said. "We still have our self-censorship and controversial issues and challenges to freedom of expression."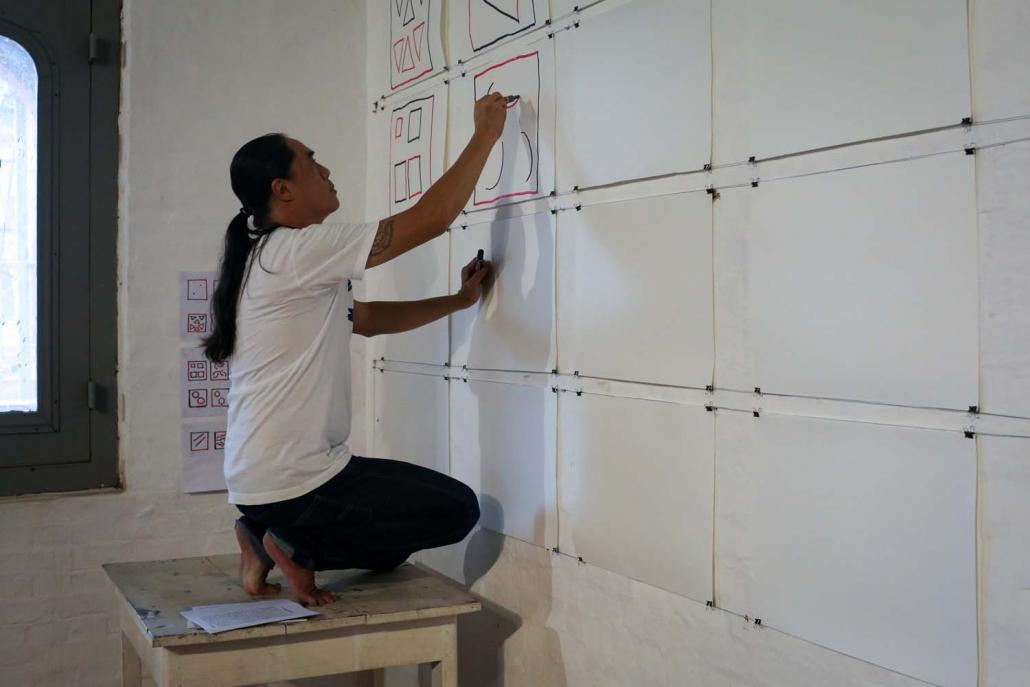 Chaw Ei Thein agreed, saying that there was a painful element to the show, because Myanmar is not yet free from its past. "We are still fighting and struggling," she said. "Wars [are] still going on. People are still suffering." Even in this exhibition her work elicited a mixed response. "Some described how peaceful they felt seeing this installation," she said. "Others said I could be arrested for showing this kind of thing."
There are issues that remain taboo for artists today and the political present can still be a risky subject, said Johnston.
But she hopes this exhibition can give the art community freedom to move away from the past. "Getting it off your chest can help you put it on a leaf, and watch it float away. You know you don't have to address it any more, because you did it."
Asked at the end of the interview if there is anything he wants to add, Htein Lin replies with just three words: "We did it."
'Seven decades' will run at the Secretariat until July 31
TOP PHOTO: Artist M.P.P. Ye Myint's "Cancer 1,2,3,4" on display at the "Seven Decades" exhibition at the Secretariat. (Victoria Milko | Frontier)