Education, legislation, enforcement and highway upgrades are essential to make transport safer in Myanmar and reduce the country's shocking road death toll.
By OLIVER SLOW | FRONTIER
In March last year, Ko Kyaw Moe was killed by a hit-and-run driver while walking home in Yangon at night. The driver, who had only recently obtained his license, was later arrested, said Ko Min Kyaw, a friend of Ko Kyaw Moe.
In June, a bus crash on the notorious Yangon-Nay Pyi Taw-Mandalay highway killed five people instantly and left 15 seriously injured. Earlier this month, 10 people were killed when a Lashio-bound bus crashed and overturned on the highway about 100 miles from Yangon. In one of the country's worst road accidents, 14 people died instantly in May last year when a bus travelling from Yangon to Nay Pyi Taw on the highway slammed into a bridge in bad weather and overturned.
It brought the number of people killed that year on what the media has dubbed the 'death highway' to 80, with 350 injured. The next month, the American embassy said the United States Agency for International Development had reached an agreement with the Ministry of Construction to provide funding for a model project to upgrade a 10-kilometre section of the highway to international road safety standards.
The World Health Organisation says an estimated 1.24 million people die on the world's roads each year, a tally of 3,400 a day. Low and middle-income countries, a group to which Myanmar belongs, account for about 50 percent of the world's vehicles but nearly 90 percent of traffic deaths.
Compared with some other countries in the region, Myanmar has seen some improvements in road safety in recent years, but the death toll continues to rise as the number of vehicles on the nation's roads increases. WHO figures show there were 2,653 fatalities from 9,339 reported accidents in 2012, up from 2,264 deaths and 7,985 incidents in 2010.
WHO figures for 2011 show that Myanmar had a traffic accident death rate of 15 for every 100,000 people. This was about the same death rate in the other 11 nations covered by WHO's New Delhi-based Southeast Asia regional office, which includes India, Sri Lanka and Bangladesh. A notable exception was Thailand, where the death rate was 38.1: 100,000.
"Most of the crashes are related to speeding and reckless driving, so it is important to focus on law enforcement," said U Thit Lwin, a member of the Traffic Rules Enforcement Advisory Committee, Myanmar's leading road safety agency. "The ADB [Asian Development Bank] pointed out that our traffic police force is about 50 percent the size of what it should be, so there is a need to recruit more traffic police and give them technical support," he said.
Traffic police do not always enjoy a reputation for honesty in Myanmar, with drivers pulled over for alleged infringements often complaining that they are given the option of paying a bribe or the inconvenience of surrendering their licence and a time-consuming court hearing.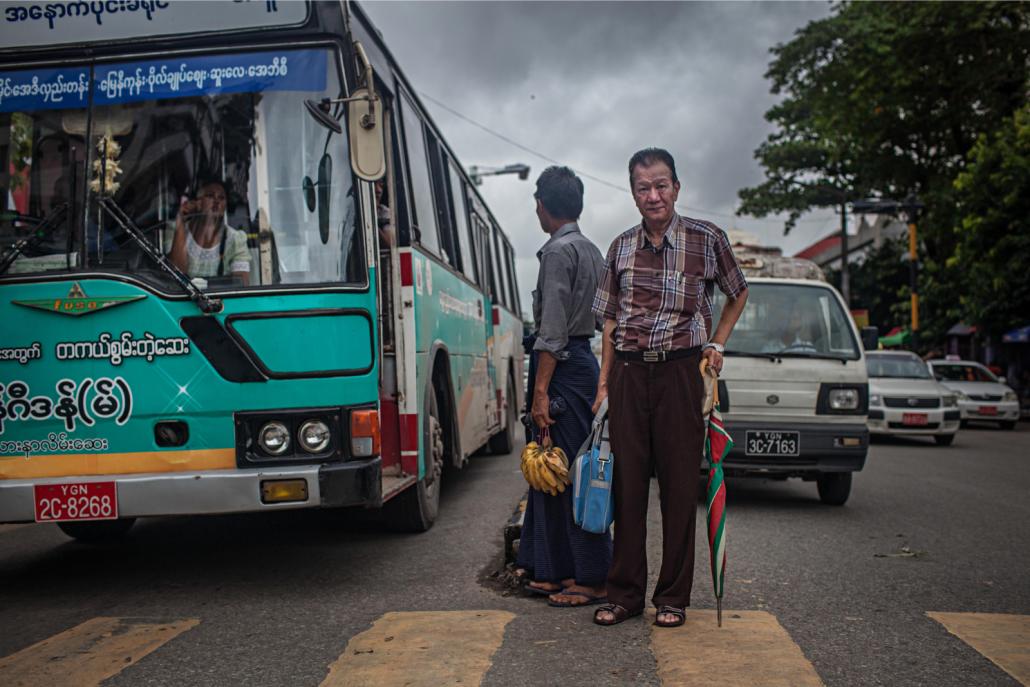 U Thit Lwin admits that corruption is an obstacle to enforcing road safety laws, which include speed limits of 50 kilometres an hour (about 30 miles an hour) and 80 km/h (about 50mph) on urban and rural roads respectively and a prohibition on drink driving.
"Now we are seeing a lot of corruption and bribery, so it is an important issue to deal with," he said, adding that an idea under consideration is for traffic police to issue drivers with infringement notices that can be paid at police stations.
A WHO ranking of traffic law enforcement in the 11 regional countries rates Myanmar at five out of 10.
U Thit Lwin says that of the 700,000 vehicles on the country's roads, an estimated 70 percent are in Yangon, where a lack of footpaths and crossings account for a high pedestrian death rate. In rural areas, motorcyclists are most at risk.
Education and legislation are essential to make roads safer, he says.
"Motorbike users can just start an engine and drive without a licence; this is not the proper way. Even motorcyclists have to know the traffic rules and road signs," he said, while also calling for a more stringent driving licence tests.
WHO data confirms that pedestrians are the most vulnerable road users in Myanmar, accounting for 26 percent of all fatalities, followed by the riders of motorised two or three-wheeled vehicles, on 23 percent.
Myanmar is the only country of the 11 without a law requiring the compulsory wearing of seat belts. U Thit Lwin says road safety organisations are pushing for a seat belt law, and another banning the use of mobile phones while driving, to be included in an amended Motor Vehicle Law under consideration in parliament.
The ADB is involved in two road upgrade projects in Myanmar aimed at reducing accidents. Jamie Leather, the ADB's principal transport specialist says the projects – in the Ayeryarwady Delta and near the border with Thailand – will serve as models for road safety infrastructure.
"Outside the major cities, you get many kids riding their push bikes to school or people on motorbikes, but a car or truck takes up most of the road, and if they get hit it's almost certainly a fatality," Mr Leather told Frontier. "Let's say the road is three metres wide on each side; we are keeping those three metres, but adding two metres of sealed shoulder road [on each side] where bicycles and motorbikes could go. A white line would be painted there, so it's not a physical barrier but would allow a physical segregation for vulnerable road users," he said.
Other safety measures include barriers on bridges, rumble strips and speed limit signs on the approach to villages and upgrades at intersections to make them more visible, including the installation of street lights.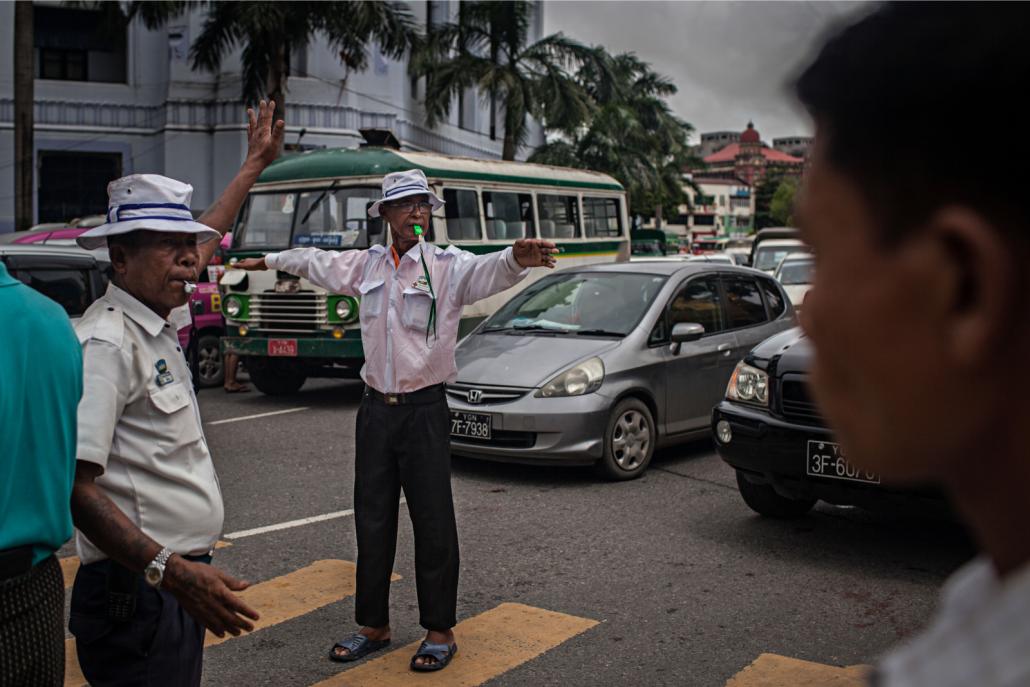 "One problem we face everywhere is linking hard and soft infrastructure across the country," said Mr Leather, referring to measures such as safety education for road users. "There are organisations here looking at the softer side of road safety and you need a combination of the hard physical and the soft infrastructure," he said.
Road safety is an important element of the Urban Transport Plan for Yangon developed by the Japan International Cooperation Agency.
"The traffic in Yangon is now critical," said Masahiko Suzuki, JICA's strategic urban development adviser in Myanmar.
"Every day, the number of cars is increasing and the road network is not enough," he said. "Everywhere the pedestrians cross the road there are safety issues because the road network is not friendly; there are no pavements and no zebra crossings."
The Yangon City Development Committee has been increasing the number of pedestrian crossings, but Mr Suzuki said they were only short-term cosmetic measures and the first priority for road safety needs to be more education programs and traffic law enforcement.
"The Myanmar government has a hardware-oriented development strategy, so many flyovers are being constructed, but [there are] not so many software components in the transport sector," Mr Suzuki said.
"We are gradually introducing these strategies, but it is taking time," he said. "Myanmar's government is a top-down bureaucracy, but sometimes a top-down decision doesn't take into consideration the various grassroots-level programs that are taking place."