Keep tuning in for full coverage from the Frontier team as we report on ongoing demonstrations and strikes across the country against the February 1 coup, and the military government's response. For liveblog updates prior to February 21, please visit this page.
By FRONTIER
UPDATE: Thursday, March 4, 11:00am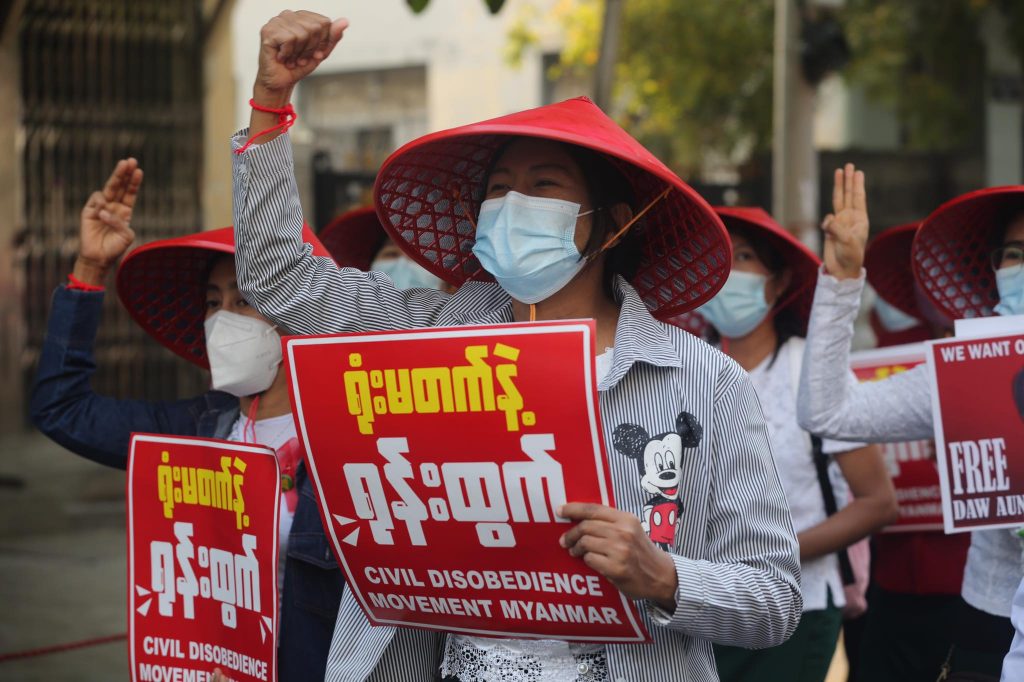 In an op-ed published today, Frontier contributors Aye Min Thant and Yan Aung write that the Civil Disobedience Movement must define clear goals, set sustainable strategies and ditch any illusions of foreign intervention if it's to win its tug-of-war with the Tatmadaw.
A month from the coup, the devastating effect of millions of people working together to sabotage administration and the economy is being keenly felt. The strikes by public servants have slowed international trade to a crawl, government hospitals are having to turn away patients, and the banking system is unable to function, creating a cash crunch.
What happens next will determine whether Myanmar is able to rid itself of the military junta or if millions will suffer pointlessly. The CDM is a game of strength, stamina and the ability to work in unison, and the side that cannot hold out indefinitely will lose.
Aye Min Thant and Yan Aung argue that there are five key challenges the CDM needs to address in order to win. Read their op-ed in full here.
---
UPDATE: 10pm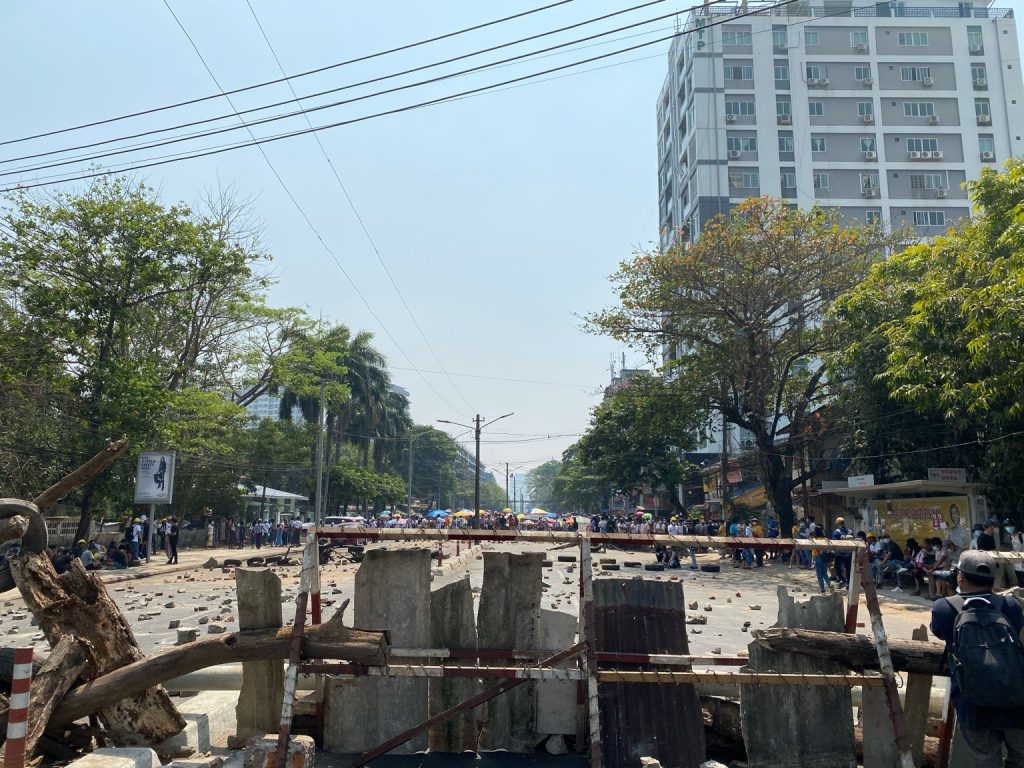 Battlefield by day, graveyard by night: one reporter's view of the street protests
On the night of February 25, I watched in horror as police descended in large numbers on the backstreets of Tarmwe Township, where residents were protesting the replacement of local ward officials by the military junta. Shaky video footage showed police marching in formation, beating their batons on their shields, and later firing tear gas to disperse residents.
One of our photojournalists was there, and I later asked him what had happened. His terrible descriptions made this ward in the heart of Yangon sound like a battlefield. I struggled to imagine it, but failed – it was like nothing I'd seen before. But I also realised I might have to face the same experience the following day. At that point, police in Yangon had mostly refrained from using violence, but it seemed like something had now changed.
I'd spent much of the day covering demonstrations in Hledan, a densely populated area home to many students. Protesters have regularly blocked the five-way junction at Hledan since the February 1 coup, sometimes facing off with a line of police on University Avenue. A few weeks ago, I had stood on the flyover above the junction, watching these police move water cannon into place and warning protesters to disperse. Ultimately, that day, the police decided against using force.
It seemed like February 26 would end the same way. A group of about 1,000 protesters had set up on Hledan Road, just west of the junction, and were singing and chanting peacefully. The police were a short distance in front of the protesters – perhaps just 15 metres or so – but had not made any attempt to disperse them.
At around 3pm, the protesters decided to go home. As the crowd began to go their different ways, the police suddenly began running towards us, beating their shields with their sticks. As we all began to run, we discovered that there was a line of police advancing on us from the other direction as well – it seemed like they were trying to trap us. We fled into the narrow streets off Hledan Road, which are filled with small stores and apartments, but the police immediately followed. We heard numerous gunshots – presumably rubber bullets – and police also threw some stun grenades, or sound bombs. I was shocked that the police would fire into such narrow, apartment-lined lanes.
Read the full story here.
---
UPDATE: Wednesday, March 3, 9:30pm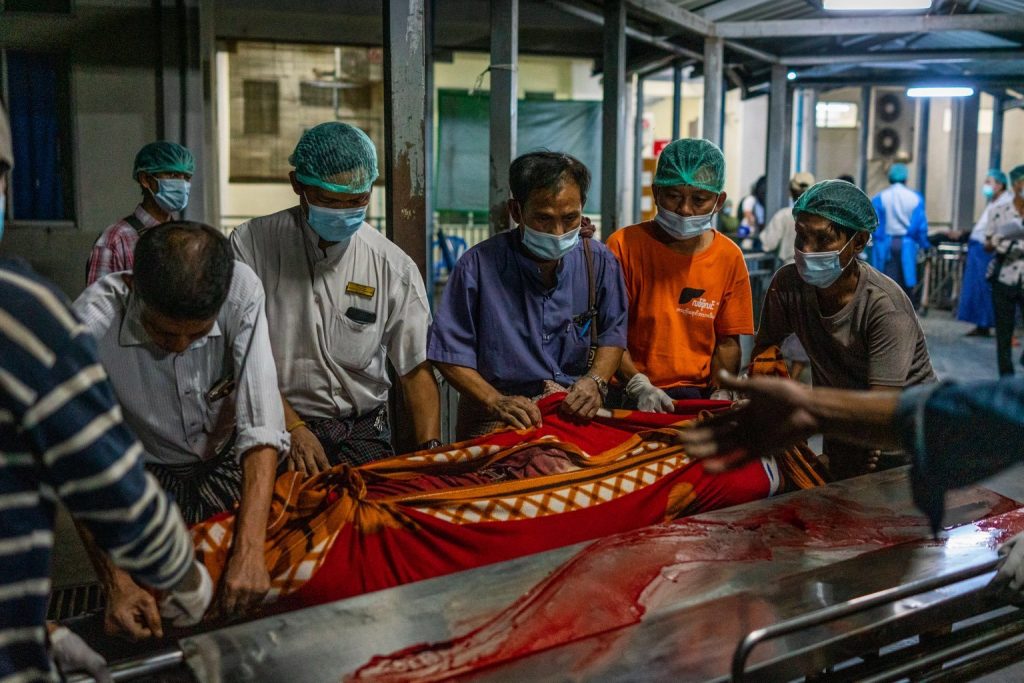 Security forces stage deadly crackdown, leaving at least 16 people dead
At least 17 people were killed today when security forces fired on pro-democracy protesters with live rounds as multiple rallies across the country descended into brutal violence.
Yangon endured its deadliest day yet since the February 1 coup, with doctors at North Okkalapa Hospital confirming to Frontier that at least six men had been shot dead by security forces. All were aged under 30 and three had died from shots to the head, they said.
In some areas, neighbourhoods held candlelight memorials for the victims. About 100 residents gathered on Baho Road near Shwe Laung Street and lit candles on the ground to honour the fallen protesters before singing the revolutionary anthem "Kabar Ma Kyay Bu".
The number of gunshot victims in North Okkalapa was so high that striking medical workers decided to return to work to reopen the township hospital. When Frontier visited the hospital, at least 18 people were in a critical condition. Dozens more were injured throughout the day, some of whom sought treatment at the Free Funeral Service Society.
Read the full story here.
---
UPDATE: 4:30pm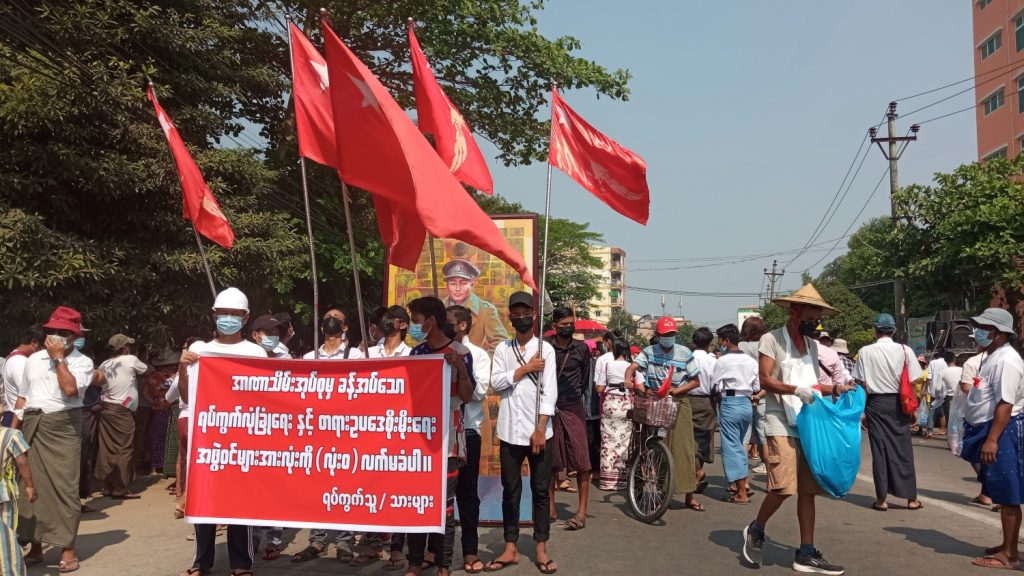 Communities rally against 'pets of the junta' in local administration
"They are the mad dictator's appointed servants," a demonstrator shouted as a crowd occupied a ward administration office in Yangon's North Okkalapa Township on February 23. Others entering the small, empty room in the township's Ward C shouted that they didn't want any "dictators" directing the office, while some removed furniture in protest.
Similar demonstrations took place in townships across the country, and they continued for several days, while images spread online of ward offices padlocked or barricaded by defiant residents. One such protest on February 25 in Yangon's Tarmwe Township was stormed by police wielding batons and firing rubber bullets. Local residents said at least 15 people were arrested that night.
This outrage was sparked by the military junta's announcement on February 22 that it would form Security and Rule of Law Teams in wards and village tracts nationwide. Given the task of ensuring law and order in local communities, they may prove vital to the junta's attempts to control and monitor the population amid nationwide dissent.
"They are pets of the junta," said Ko Myo Wai, a resident of Yangon's Ahlone Township. He told Frontier he believed the junta-appointed teams would work with police to arrest dissidents at night.
U Thet Naing Swe, a North Okkalapa resident, said the new security teams were a "danger" to all citizens. "These people will stab residents in the back," he said. "They will help the police and point to the houses of people who are active in the revolution."
The creation of the new teams is the latest measure taken by the junta to remould the country's administration. On February 3, it formed new district and township administration councils across the country, including in self-administered zones. Each are chaired by General Administration Department officers and include representatives from the military, police and immigration department, as well as the local community.
Read the full story here.
---
UPDATE: 4pm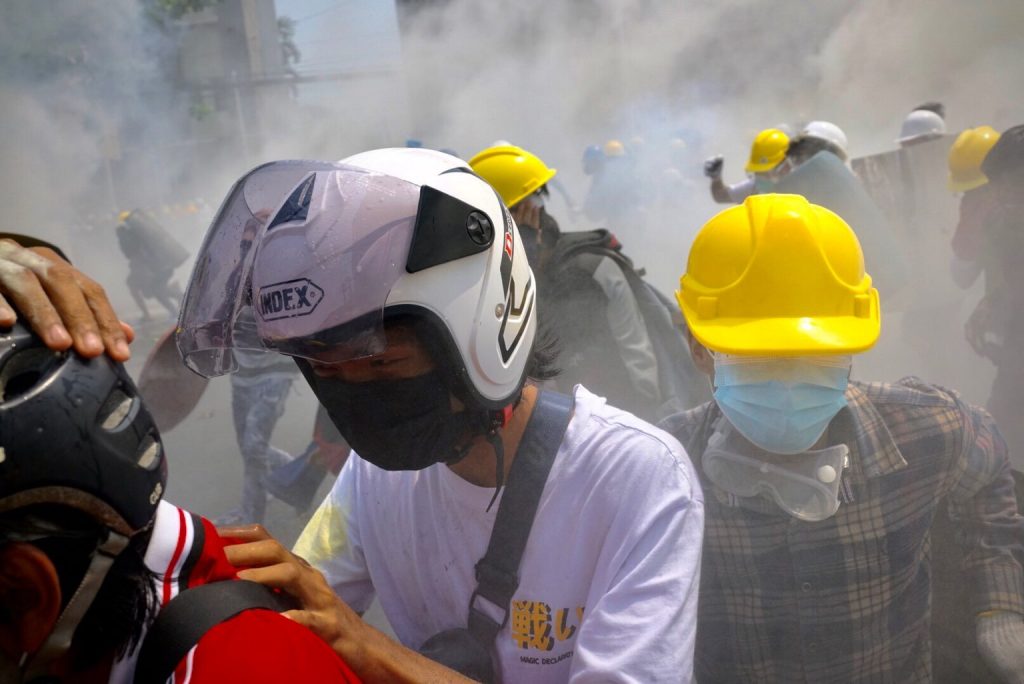 Police and protesters resume running battles in Yangon for fourth day
Yangon is today again a battle zone, with police and soldiers attempting to disperse thousands of peaceful protesters from sites across the city including Sanchaung, Insein Road in Hlaing Township and near Yuzana Plaza in Tarmwe Township.
For a fourth straight day police used tear gas, rubber bullets and stun grenades to dislodge protesters from their home-made barricades. Although it often sent protesters running, and led to small numbers of arrests, they were usually able to find safe haven and then regroup as soon as the security forces left the area.
One person in a densely populated ward in Hlaing Township near Insein Road told Frontier it was "basically a war zone", with community leaders setting up temporary roadblocks around the entire ward. Security forces are said to have blocked off roads in all directions, and warned that anyone who tries to leave will be shot.
In Mandalay, rallies in Maha Aung Myay Township drew thousands of protesters this morning despite previously deadly crackdowns in the city.
"No matter how they crackdown on us, we will fight … We will find any way to get back on the streets," one defiant protester told Frontier. "This is the only way to show that we don't want dictatorship."
Read the full story here.
---
UPDATE: Tuesday, March 2, 10am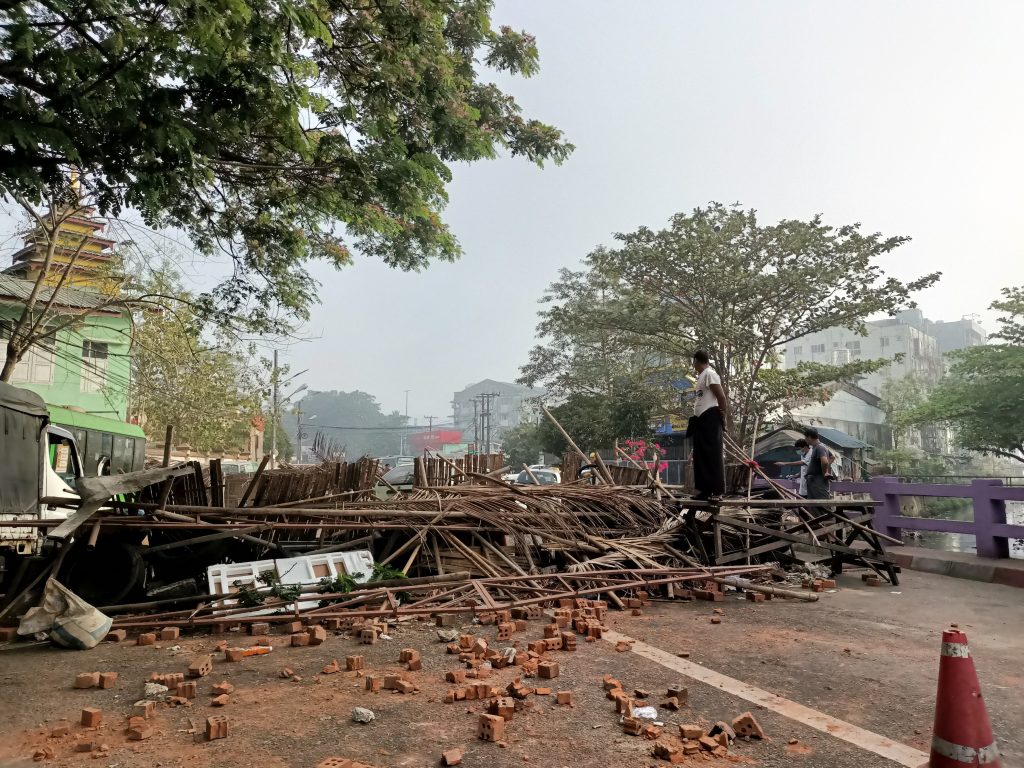 Follow us on social media
Today we'll be posting mostly on Twitter and Facebook, so for updates on today's protests from our reporters on the ground in Yangon, please follow us there.
We're also working on features on a range of important topics, including the impact and sustainability of the Civil Disobedience Movement, how the post-coup fallout has affected Myanmar's international trade, and the junta's crackdown on journalists covering the protests – stay tuned for those in the coming days.
---
UPDATE: 6pm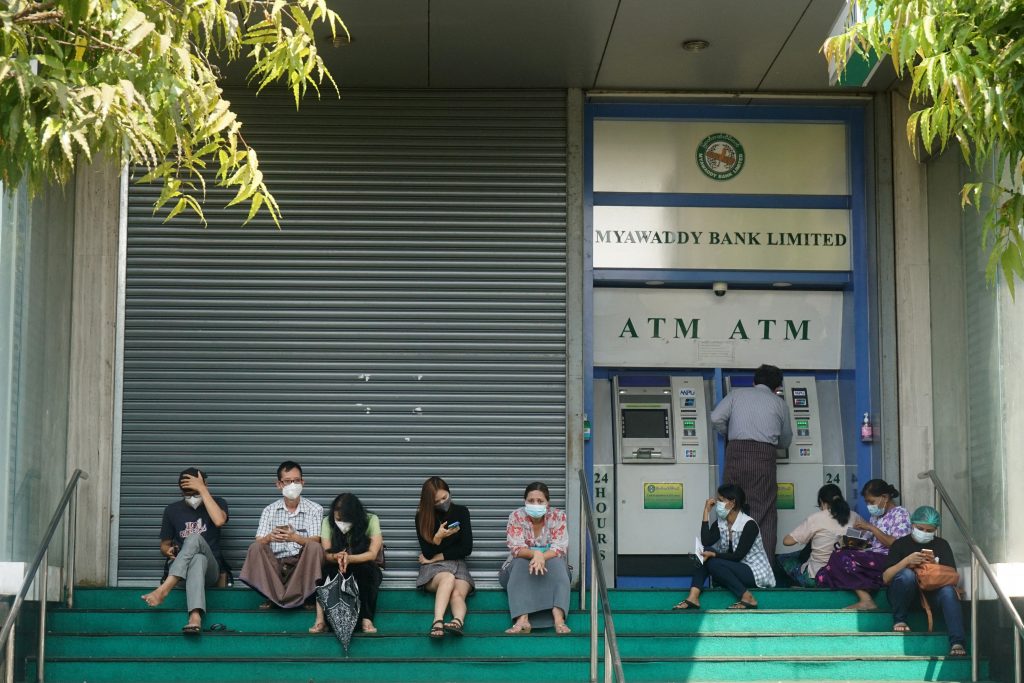 'Back to the Stone Age': Striking bank workers bring an industry – and an economy – to its knees
Each day since February 7, Ma Nwe Nwe Aye has done exactly the same thing: protest outside the Central Bank of Myanmar branch in Yangon's Yankin Township.
She holds a placard urging its workers to join the Civil Disobedience Movement, the campaign launched shortly after the February 1 coup that encourages civil servants and some private sector workers to refuse to work under the junta.
Nwe Nwe Aye believes that the fastest, most efficient way to force the military to give up power is to bring the country's financial machinery to a halt. If the economy seizes up, the Tatmadaw will eventually run out of money, she figures.
"The Central Bank is key to cash flow in Myanmar, so whether or not its staff join the CDM will have a big impact on the success of the revolution," she told Frontier on February 22, the 16th consecutive day she had protested outside the bank. "If all Central Bank staff join CDM, the coup will fail – I believe that."
The focus on the CBM – and the banking sector more broadly – seems to have rattled the military. When Nwe Nwe Aye and other protesters arrived at the bank on February 15, they were confronted by armoured personnel carriers and trucks full of soldiers from the Light Infantry Division 77, an elite until that has been accused of human rights violations.
If this was designed to intimidate, it didn't work; after a brief stand-off, Nwe Nwe Aye and the other protesters simply moved their demonstration slightly further down the road. The same day, police went to a housing complex in Thingangyun Township to try to force around 200 CBM staff to return to work, but were turned back by protesters.
The junta's financial headaches extend far beyond the CBM. In the private sector, tens of thousands of bank staff are refusing to work and many have joined the CDM, which was launched on February 3 to protest the military coup. With no workers available, most of the country's 2,000 private bank branches have been forced to close since February 8.
Many striking bank staff have joined the Myanmar Bankers Union, which set up a Facebook page on February 3 and has been staging regular protests of between 500 and 1,000 bank workers, mostly through downtown Yangon.
Founder Ko Bo Bo, 29, estimates that more than 6,000 workers from the banking sector have formally joined the CDM, including from state and military-owned banks. Many more are also refusing to work. "We have to join the CDM because we can't run the machinery for the dictators," he said. "I urge remaining private and government employees to join us in this revolution for a better future."
Read the full story here.
---
UPDATE: 5:30pm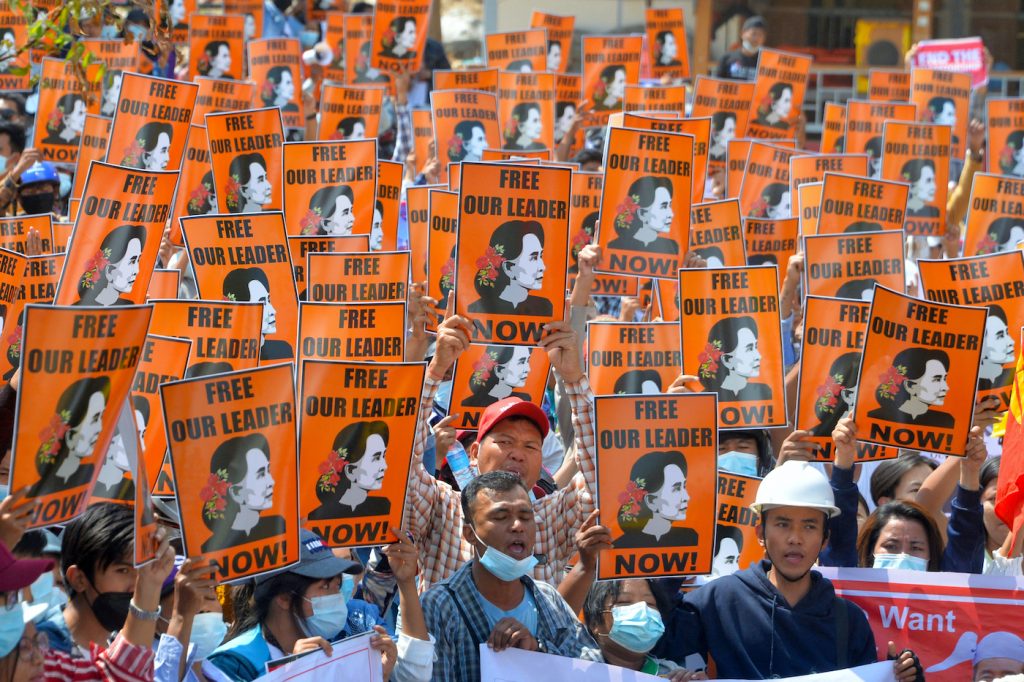 Aung San Suu Kyi hit with two new criminal charges
Ousted Myanmar civilian leader Daw Aung San Suu Kyi was hit with two new criminal charges when she appeared in court via video link on Monday, a month after a military coup triggered relentless and massive protests.
Aung San Suu Kyi has not been seen since being detained on February 1, and her appearance came as demonstrators took to the streets again across the country in defiance of an escalation of deadly force from the junta.
At least 18 people died on Sunday as troops and police fired live bullets at demonstrators in cities across Myanmar, according to the United Nations, which cited its own credible information.
Aung San Suu Kyi, 75, was already facing obscure criminal charges for possessing unlicensed walkie-talkies, as well as violating coronavirus restrictions by staging a campaign event during last year's election.
She is now also accused of a violation of communications laws as well as intent to incite public unrest, her lawyer Khin Maung Zaw said.
Aung San Suu Kyi has not yet been allowed to meet with Khin Maung Zaw, but said on Monday she wanted to, according to Khin Maung Zaw, who was not able to attend the hearing at the Zabuthiri Township Court but was able to listen in via livestream.
Khin Maung Zaw was hired by the NLD. He first filed an application to receive power of attorney on February 16 with Zabuthiri Township police and has followed up on the application with at least five phone calls but has received no "credible" explanation for not having received it yet, he told Frontier.
Read the full story here.
---
UPDATE: Monday, March 1, 5pm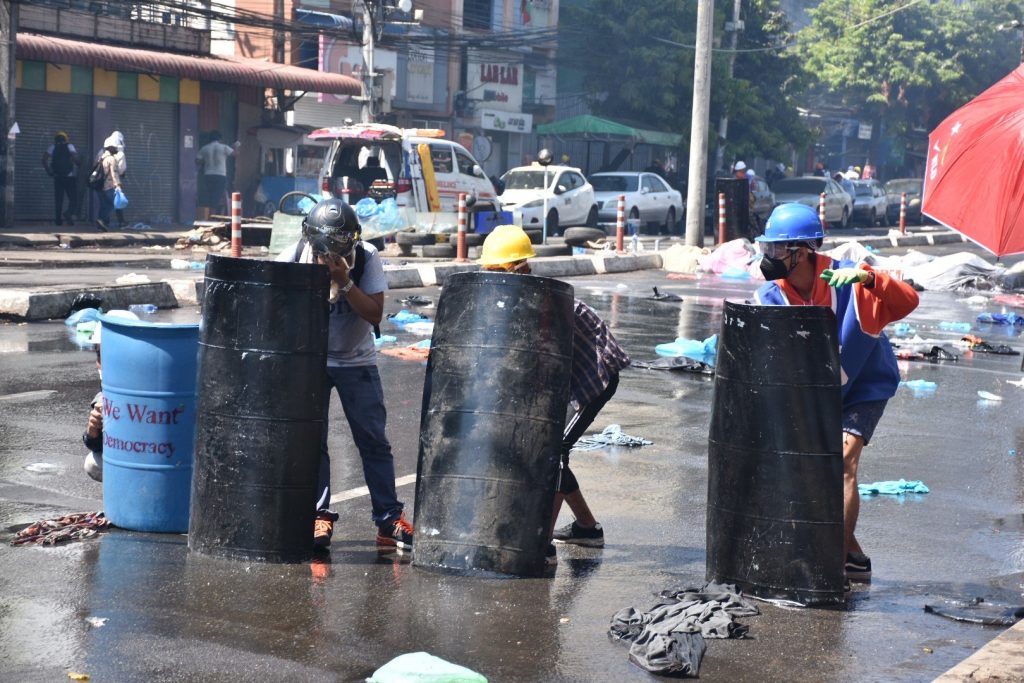 Follow us on social media today
Today we've been reporting on the protests mainly through social media. If you'd like to find out more about what's happening on the streets of Yangon, please check out our Twitter and Facebook accounts.
---
UPDATE: 11:30pm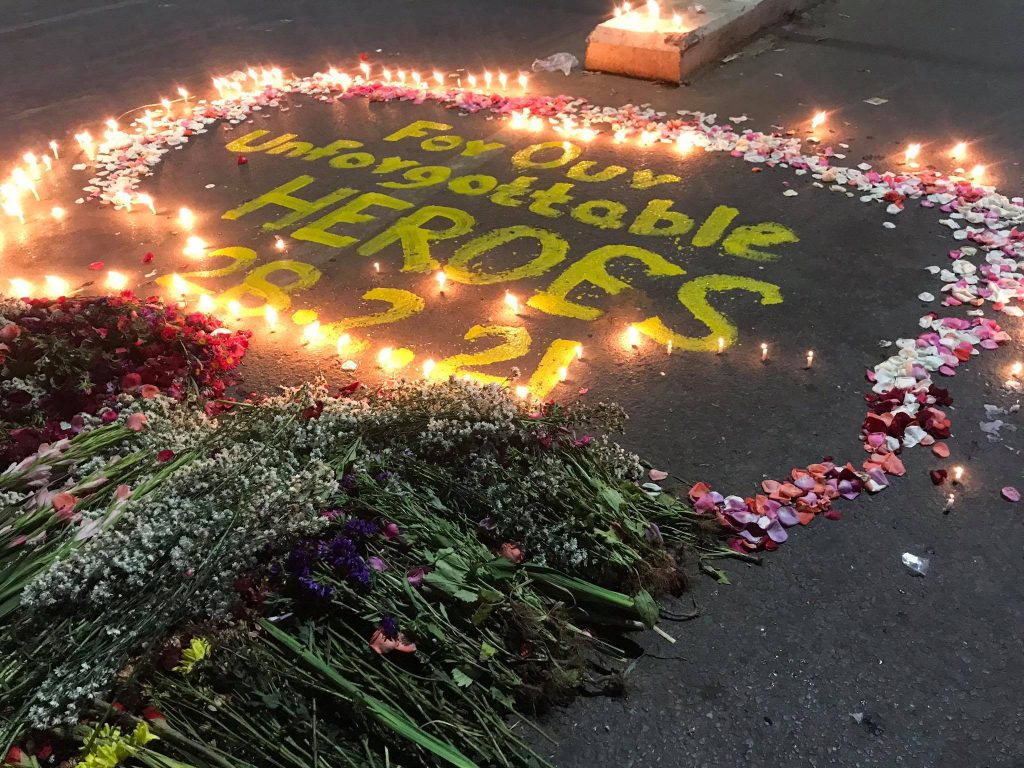 Security forces kill at least 16 in bloody crackdown on peaceful protesters
At least 16 people have been killed across Myanmar today as security forces launched their bloodiest crackdown on peaceful protesters since the February 1 coup, drawing more international condemnation for Senior General Min Aung Hlaing's regime.
Police fired live rounds, tear gas, stun grenades and rubber bullets as hundreds of thousands protested nationally against the February 1 military coup – the largest day of demonstrations since Monday's 22222 uprising.
Protests took place right across the country, from northern Kachin State to southern Tanintharyi Region, Chin State in the west and Shan in the east. Yangon, Mandalay and Bago also saw large demonstrations.
But it was clear early on that today was likely to be the most violent yet, with police shooting dead a young man sheltering in a bus station near Yangon's Hledan junction at around 8:45am.
Frontier has confirmed that at least four people were killed in Yangon and two in Mandalay, while Dawei Watch reported that three died in the Tanintharyi Region capital Dawei. Myanmar state media tonight announced that four had been killed in Myeik in Tanintharyi Region, two in Bago and one each in Yangon and Pakokku in Magway Region.
The authorities also said they made 460 people arrests in total, including 224 in Yangon, according to state media. As of yesterday at least 854 people had been detained since the February 1 coup, according to the Assistance Association for Political Prisoners, so today's arrests put the total well over 1,300.
The United Nations meanwhile said it had received "credible information" that at least 18 people had been killed and over 30 wounded by security forces. Unconfirmed reports have put the death toll even higher.
UN Office for the High Commissioner for Human Rights spokesperson Ms Ravina Shamdasani "strongly condemn[ed]" the violence and called on the military to "immediately halt the use of force against peaceful protestors".
"The people of Myanmar have the right to assemble peacefully and demand the restoration of democracy. These fundamental rights must be respected by the military and police, not met with violent and bloody repression," she said. "Use of lethal force against non-violent demonstrators is never justifiable under international human rights norms."
For the full story click here.
---
UPDATE: 6:30pm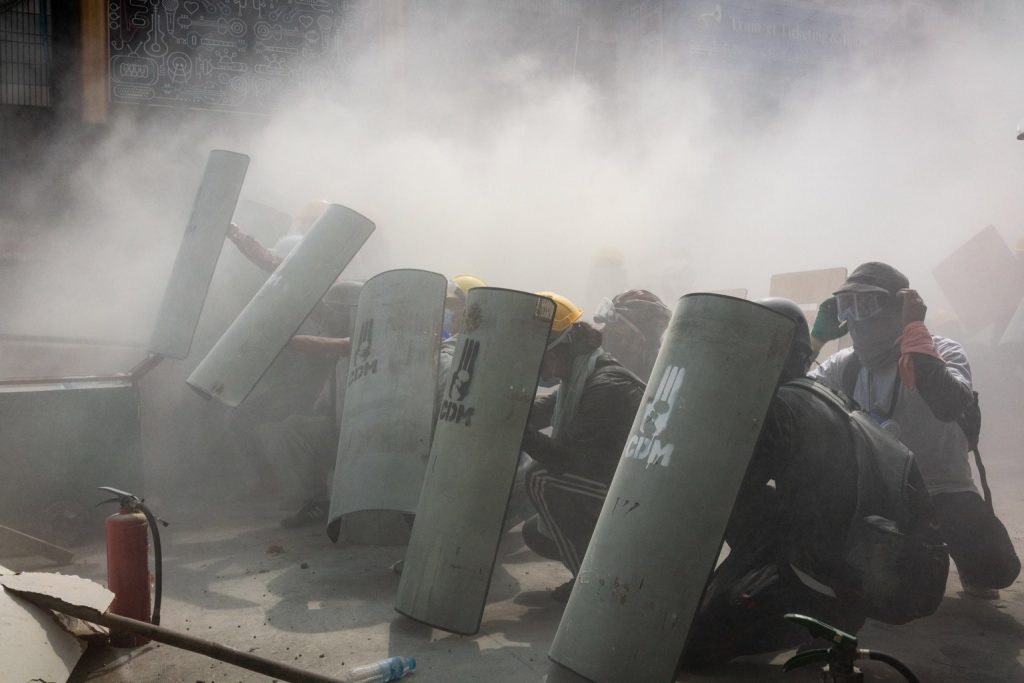 Remaining Yangon protesters disperse, vowing to fight again tomorrow
After a day of violent police crackdowns on protests that are believed to have left four dead, demonstrators across Yangon have voluntarily dispersed, in several cases vowing to continue demonstrating tomorrow.
This includes bands of protesters that had regrouped after police assaults involving stun grenades, rubber bullets, live rounds and what appeared to be teargas.
Protesters near the Butar Yone bus stop on Insein Road had fled into side streets and local houses when police attacked them with stun grenades. Police also dismantled their barricades and ordered local residents not to take photos or videos.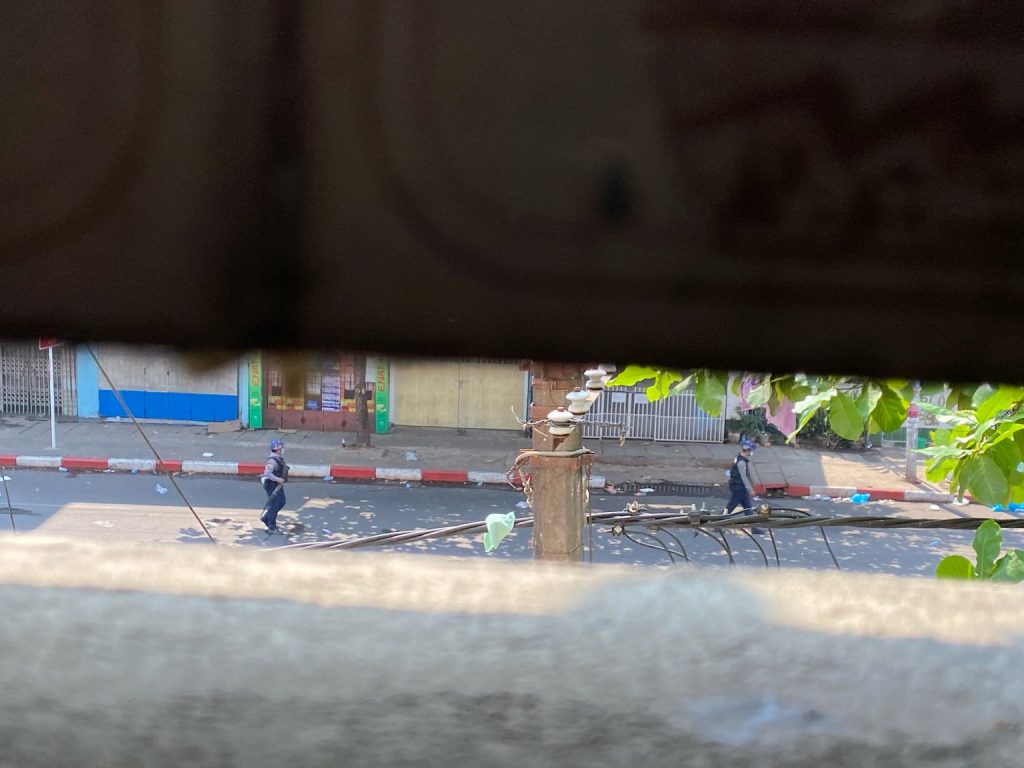 The protesters briefly reassembled on Insein Road after the police left, before protest leaders declared the demonstration over for the day and advised everyone to go home.
Before protesters further south in Hledan junction dispersed, they created a makeshift shrine to the man who was shot by police in the area this morning and was later confirmed dead by rescue workers.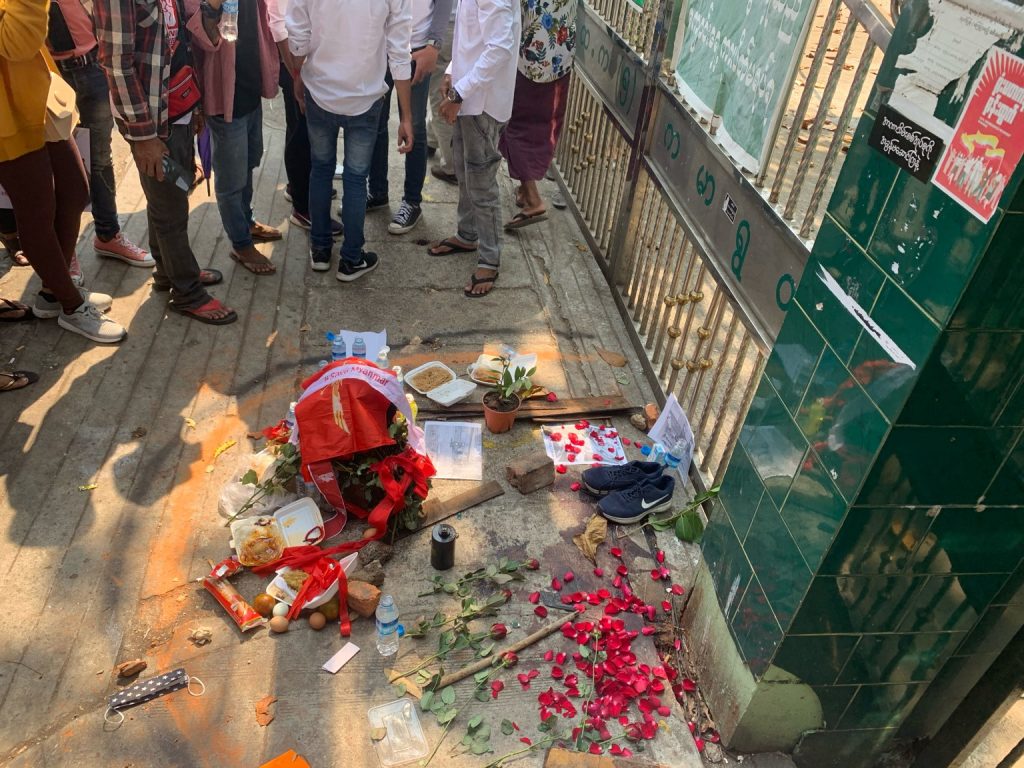 "We will go back home but will fight again tomorrow," a protest leader at Hledan said to the group, many of whom were holding homemade shields.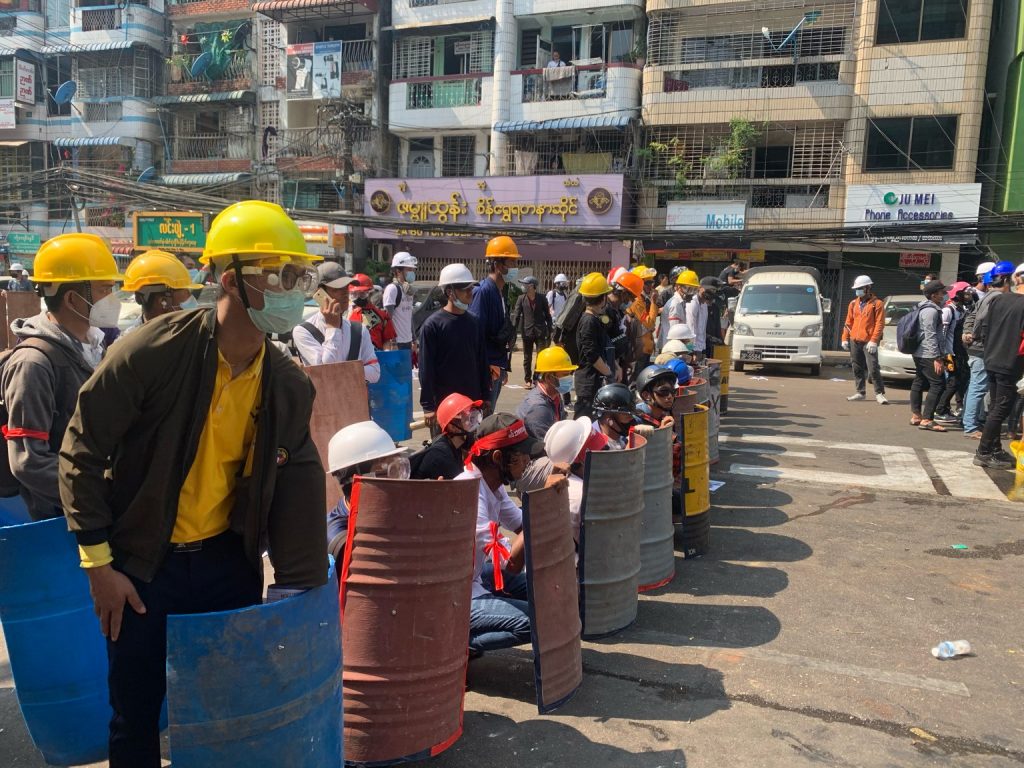 In Sanchaung Township, where confrontations with police were particularly tense and several streets were barricaded by demonstrators, the protests have also wound down, but evidence of police brutality remains.
A Frontier reporter saw volunteer medics give oxygen to a man who fell unconscious on Padonmar Street after inhaling what seemed to be teargas. Our reporter said she herself struggled to breathe and went momentarily blind because of the gas.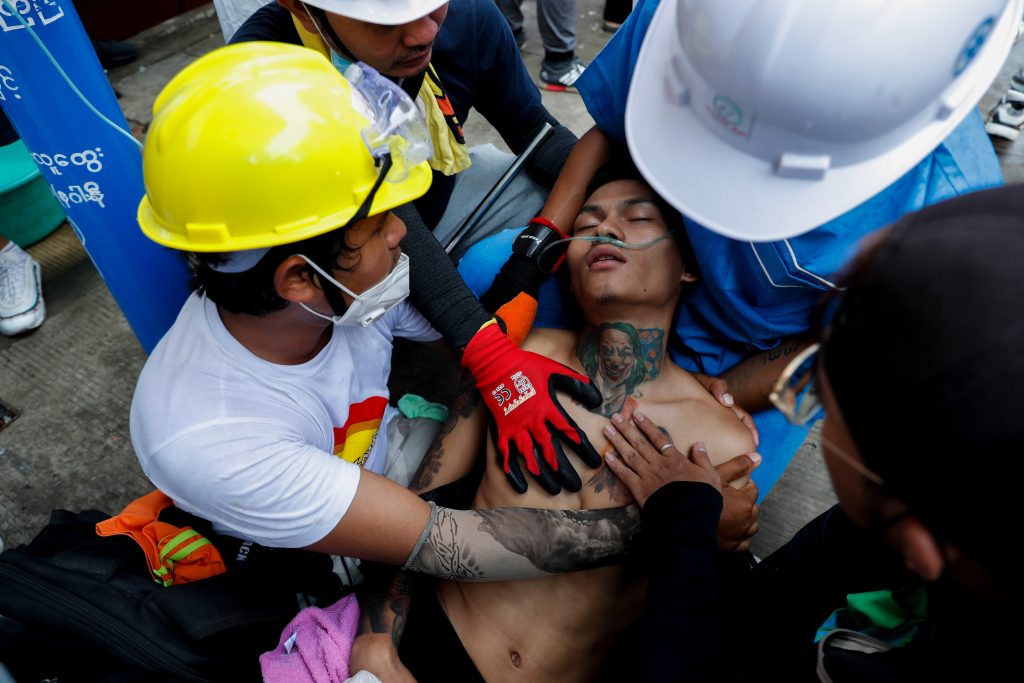 These Frontier photos capture the scenes earlier in the day in Sanchaung, which suggest heavy police use of teargas.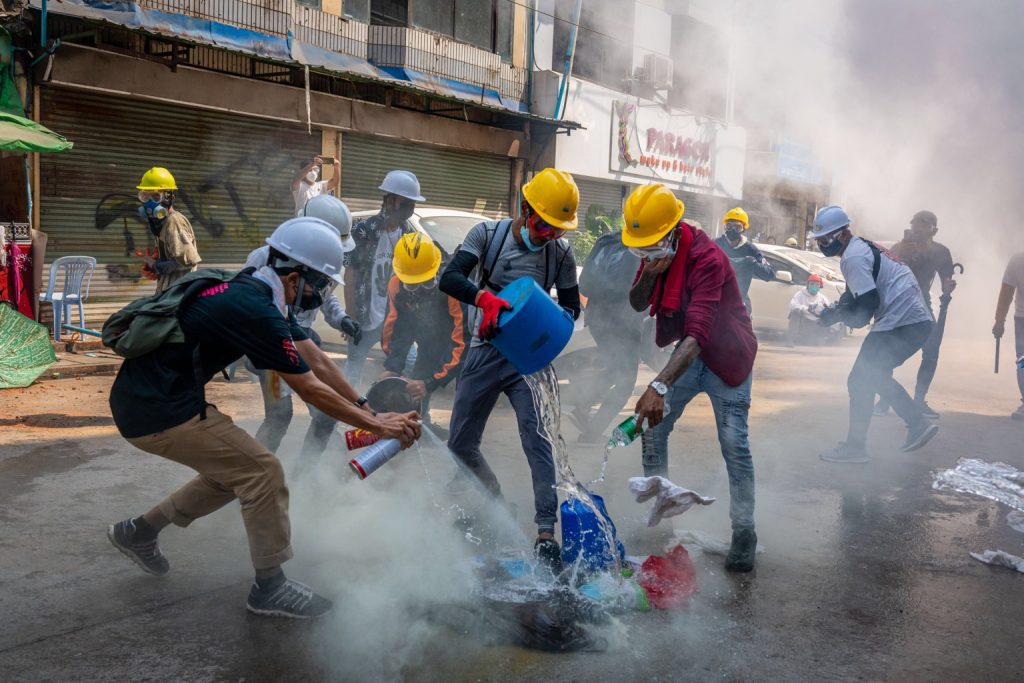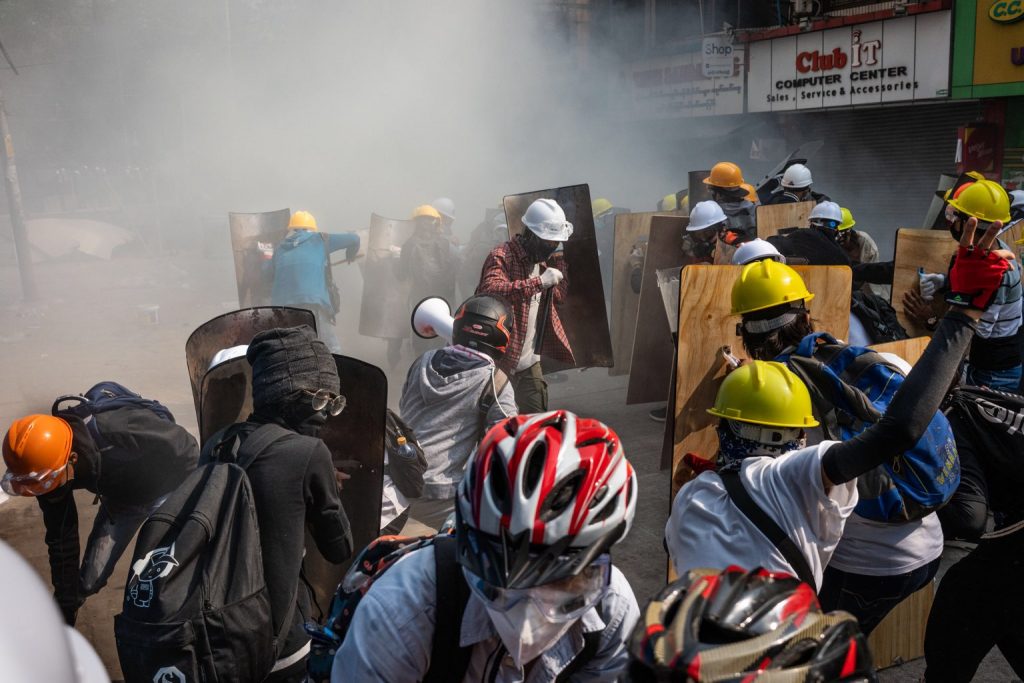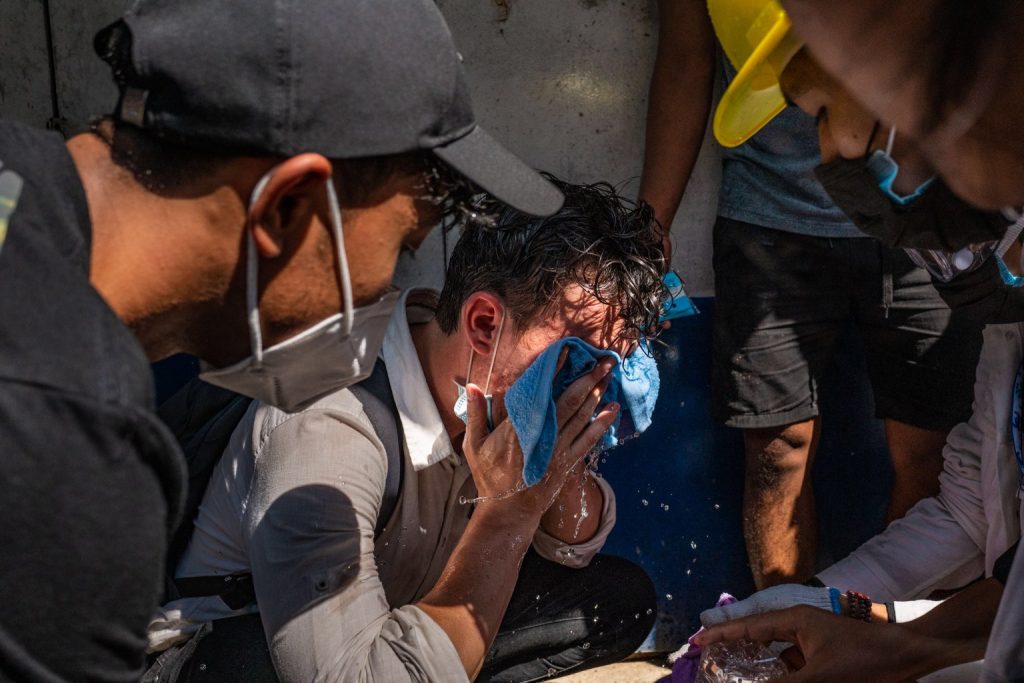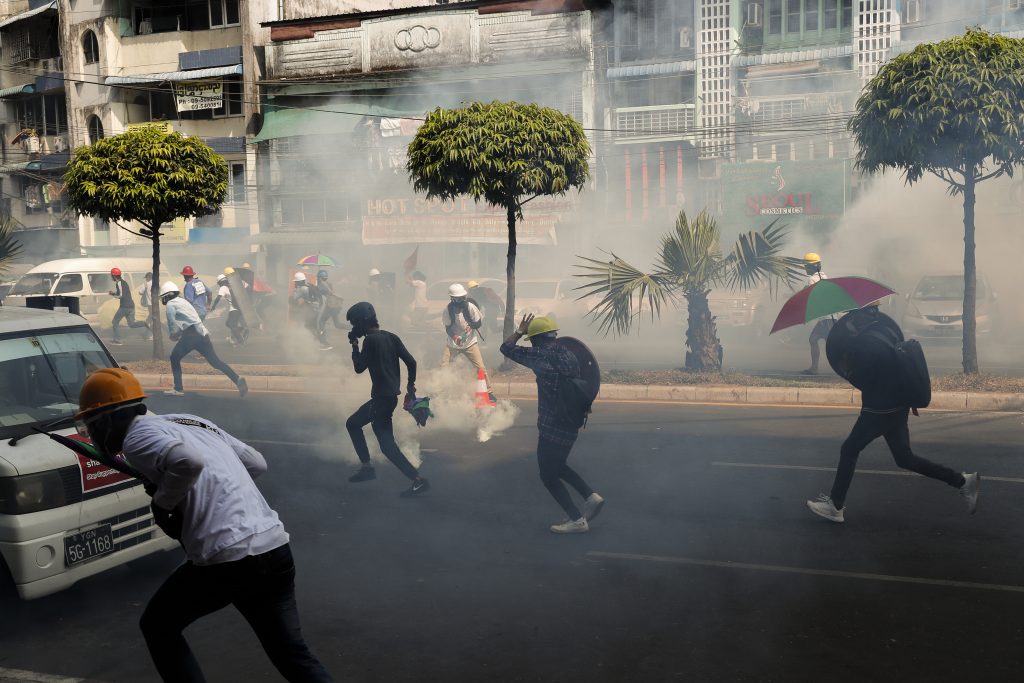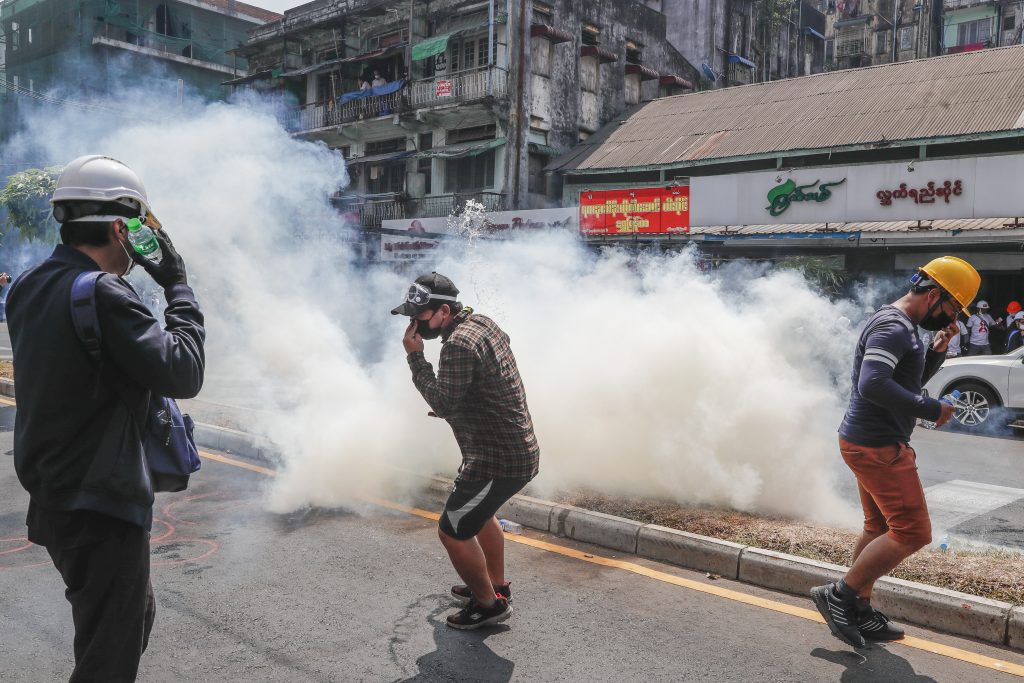 In downtown Yangon's Kyauktada Township, a protest was violently broken up before participants could decide to retire of their own will. A Frontier photographer captured the moment when protesters fled a police charge and a barrage of stun grenades on Anawratha Road, between Sule Pagoda and Pansodan streets.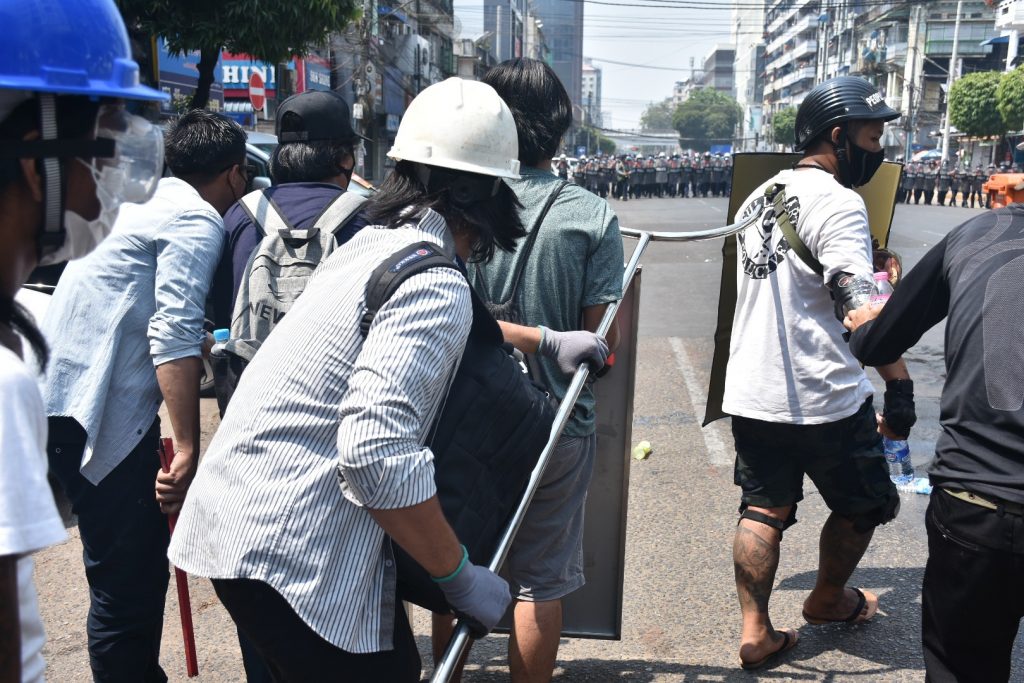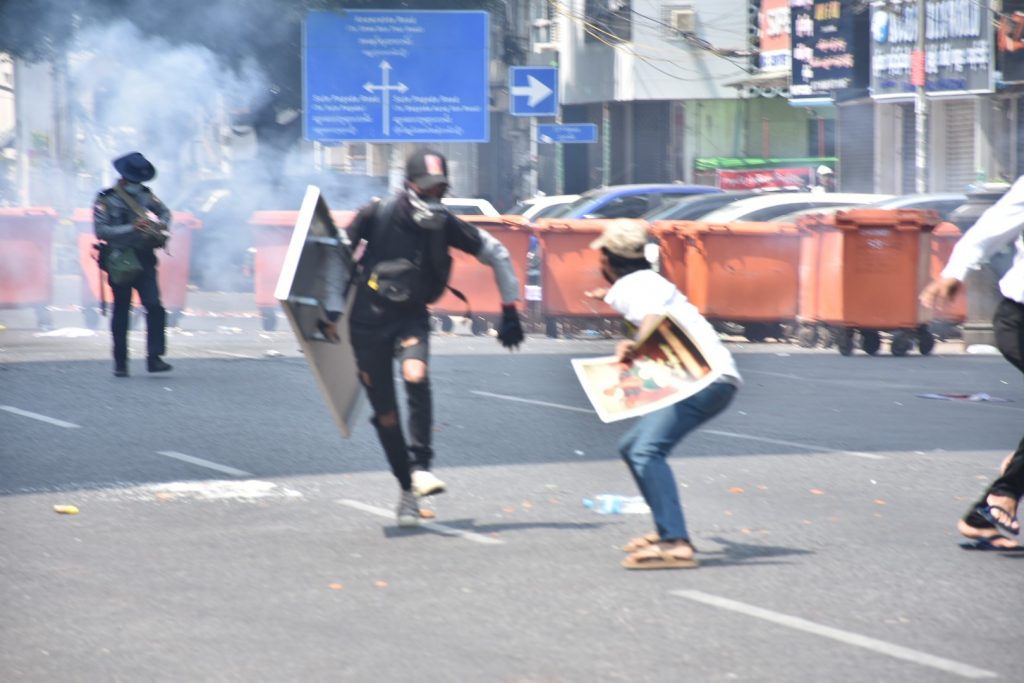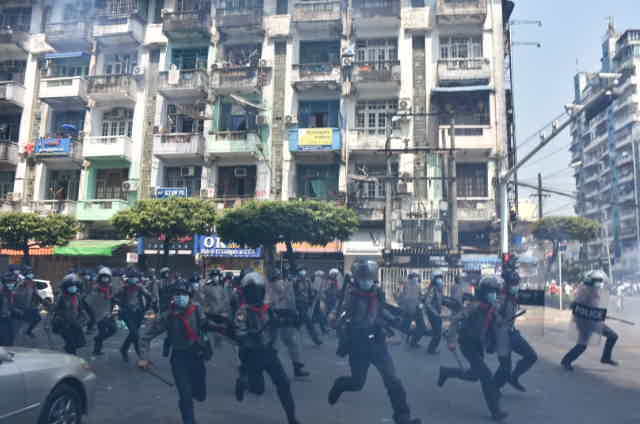 Of the four who died in Yangon today, one man was fatally shot in the eye and another in the chest near Hledan junction, as was a teacher at a demonstration in Kyimyindaing Township and a 23-year-old at one in Thingangyun Township, according to information shared by several demonstrators on social media. However, Frontier was only able to confirm three of the deaths.
---
UPDATE: 4pm
One confirmed dead as security forces fire indiscriminately at protesters in Mandalay
Police and soldiers have opened fire on protesters in Mandalay, leaving at least one person dead and five injured, including one person critically, sources say.
Frontier watched as health teams tried desperately to save several people who had suffered serious gunshot wounds, including one man who was later pronounced dead.
Health workers say he was alone when he was shot and they are still trying to identify him and notify his family.
Live rounds appear to have been fired at protesters at several sites in the city, including on 62nd and 66th streets.
An eyewitness said police picked off anyone who was on 66th Street in Maha Aung Myay Township.
"Police shot not only at protestors; they shot people who were just out on the street. I saw a police officer on a truck shoot a man on a motorcycle in the head," the person said.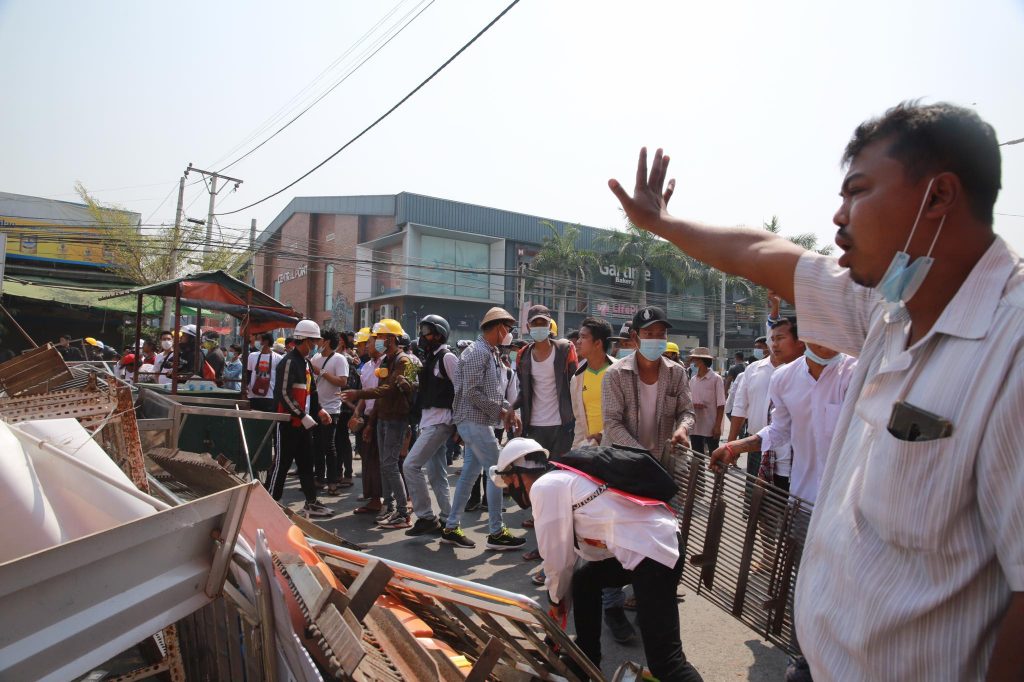 Other eyewitnesses described police and military vehicles patrolling the city, firing indiscriminately.
Despite security forces having already used deadly force against protesters in Mandalay over the past week, tens of thousands of demonstrators turned out this morning, including monks and students.
In the morning, security forces blocked protesting medical students and doctors from leaving the 300-bed teaching hospital on 62nd Street. A large crowd gathered calling on the security forces to let them out of the hospital. In the confrontation, police fired live rounds, rubber bullets and teargas at demonstrators, and police are still stationed in front of the hospital with the medical students and doctors trapped inside.
In the afternoon, thousands of protesters then staged a sit-in protest at the corner of 62nd and Manawhari Street but dispersed when police advanced on them.
Meanwhile, five police officers were detained after the unmarked car they were driving ran into protesters. The police have been detained by residents and a search of the car revealed a cache of weapons and ammunition in the boot.
---
UPDATE: 2pm
Crackdowns escalate nationwide
Yangon is not the only city in Myanmar to see police crackdowns turn violent today. Dawei Watch has confirmed at least three dead from live rounds shot at protesters in the Tanintharyi Region capital, and another 40 or so injured by rubber bullets.
"There could be many more casualties as well because more wounded people keep coming in," a rescue worker in Dawei told AFP.
There are also reports on social media of security forces firing tear gas and water cannon on groups of protesters in the city of Mandalay. The crowds definitely seem to be large up there.
There's been an interesting development up there, too. An unmarked car carrying four police officers was stopped after driving into protesters, and a cache of weapons and ammunition was found in the boot (or trunk, if you prefer). The officers have been detained by residents.

Farther north, in the Kachin State capital, Myitkyina, thousands came out to protest the military regime, though no violent crackdowns have so far been reported there.
In Bago, hundreds of protesters were rounded up and taken away on a police truck, according to Mizzima News, though it is unclear where they were taken or if there were any injuries there.
There have also been reports of police in civilian clothing searching homes and making arrests in Hpa-an, the Kayin State capital.
Protests are also taking place in both Lashio and Taunggyi – the largest cities in northern and southern Shan, respectively – the Shan Women's Action Network says.

In both cities police are firing tear gas to break up demonstrators, and SWAN says injuries have been reported.
UPDATE: 12pm
Undeterred, protesters regroup across Yangon
Yangon this morning is increasingly looking like an active conflict zone.
After facing a mix of live rounds and rubber bullets, protesters have regrouped in several major junctions across the city, potentially setting the stage for more clashes.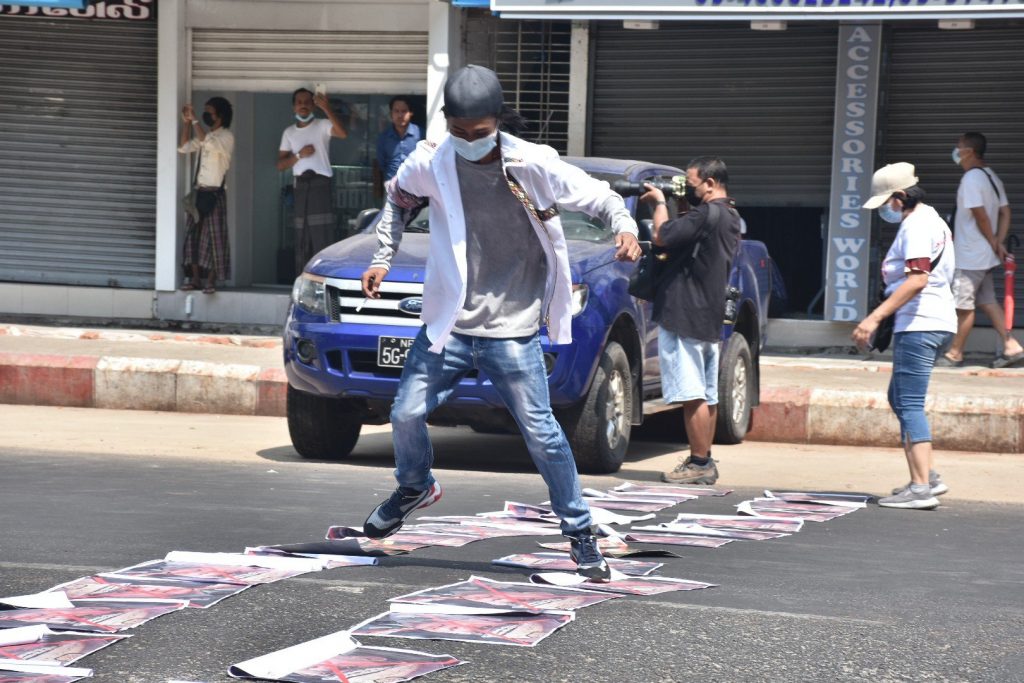 After throwing stun grenades at a small group of demonstrators this morning, police retreated back to the footbridge on the corner of Anawrahta and Sule Pagoda roads. This retreat has prompted large numbers of protesters to pile into Anawrahta and they've now set up a new barricade with home-made metal shields in front of the wheelie bins. Protesters are putting posters of Min Aung Hlaing on the ground and dancing and stamping on them. Nearby, a demonstrator has cut the line to Kyauktada police's CCTV camera. Residents have also strategically parked vehicles to block side streets so police cannot pass.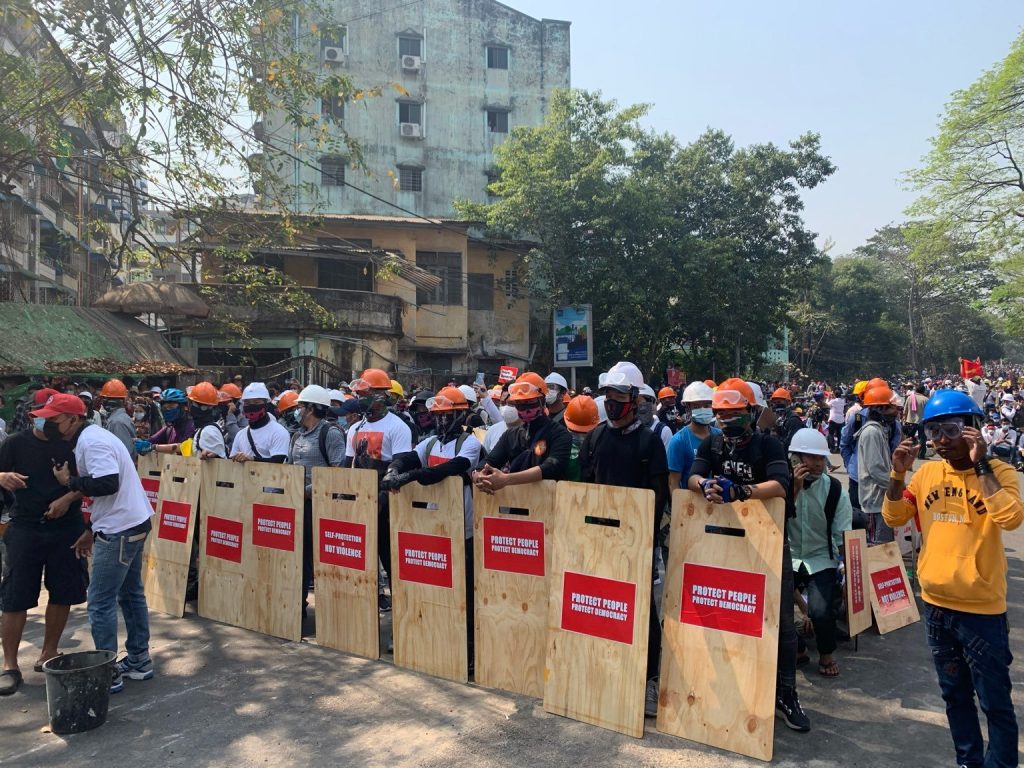 Our reporter on the scene at Hledan says the streets are covered in glass, after police earlier fired at protesters sheltering at a bus stop and into apartment buildings where protesters had retreated, targeting residents who were filming the scene and taunting police.
Protesters have also regrouped there, setting up a line of wooden shields on Hledan Road near Hledan Market and Baho Road. There's a large crowd – it appears to be several thousand strong – and they're chanting and singing revolutionary songs.
Protesters have formed a new line on Kyun Taw Road in Sanchaung Township after a crackdown on nearby Bagayar Road as well. That crackdown reportedly included rubber bullets and tear gas, though no live rounds have been reported there so far. One of our reporters overheard a police officer yelling, "We crack down not only because it's our duty, but also because we love to do it. Everyone who is outside now will be killed," as he fired at protesters.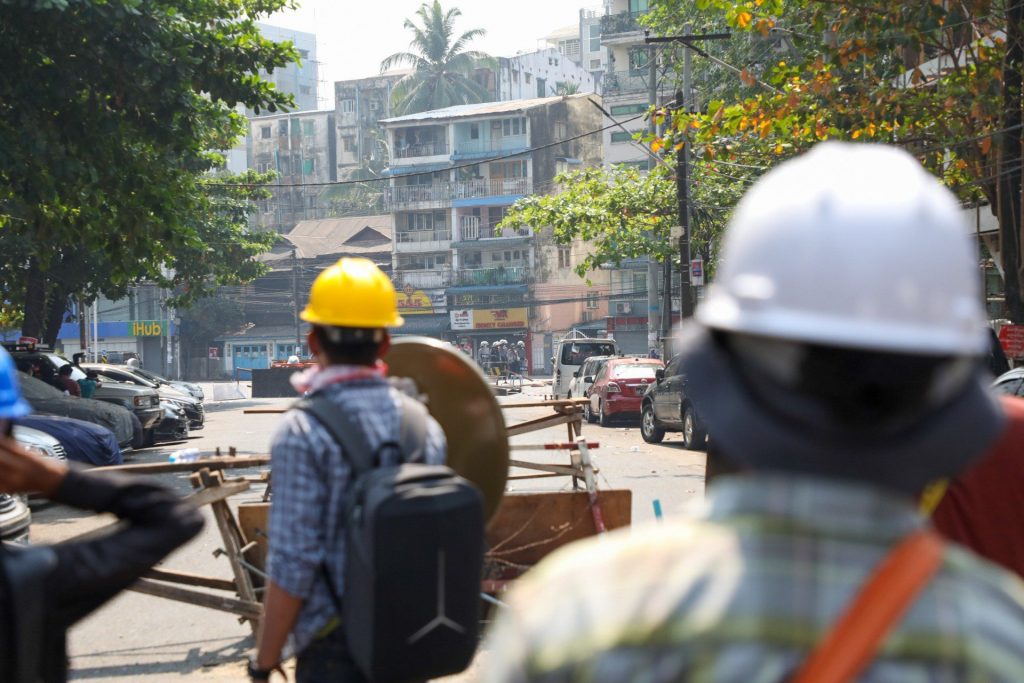 There are now thousands of protesters on Kyun Taw Road. Police are shooting stun grenades and tear gas every 15 or 20 minutes but there are so many protesters that police are unable to enter the road.
Meanwhile, in Thaketa Township, police opened fire on protesters who had barricaded themselves on a narrow residential lane:
Protesters had planned to march from Thaketa to Sule but encountered police on Khaing Shwe Road in No 7 Ward. At around 9am, police began firing tear gas and two hours later military personnel arrived and began firing rubber bullets at protesters. There are no reports of injuries, however.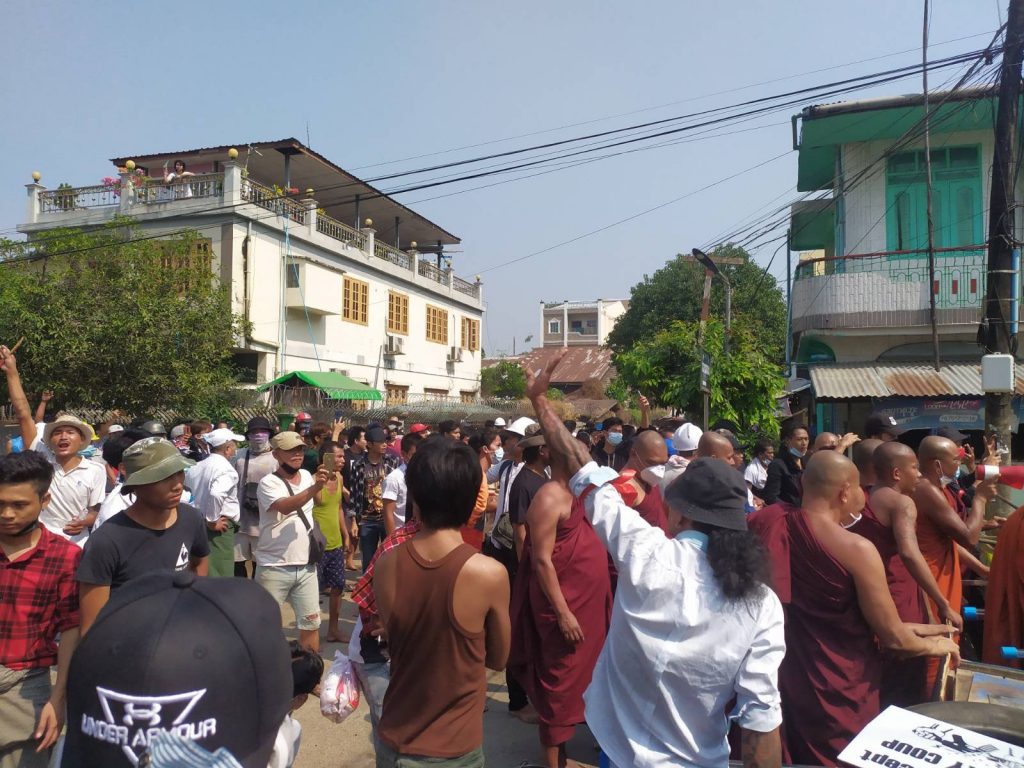 North of Hledan junction, protesters have also shut down Insein Road by blocking major junctions with barricades and staging sit-ins. One group is staging a sit-in on Insein Road between the junction of Parami Road up to Bar Tar bus stop, while another group has staged a sit in from Phaya Lan to Than Lan, and so on. This seems to be having the intended effect, as traffic has been brought to a standstill in the area. Police have not yet made any move to disperse them but there are fears of impending violence.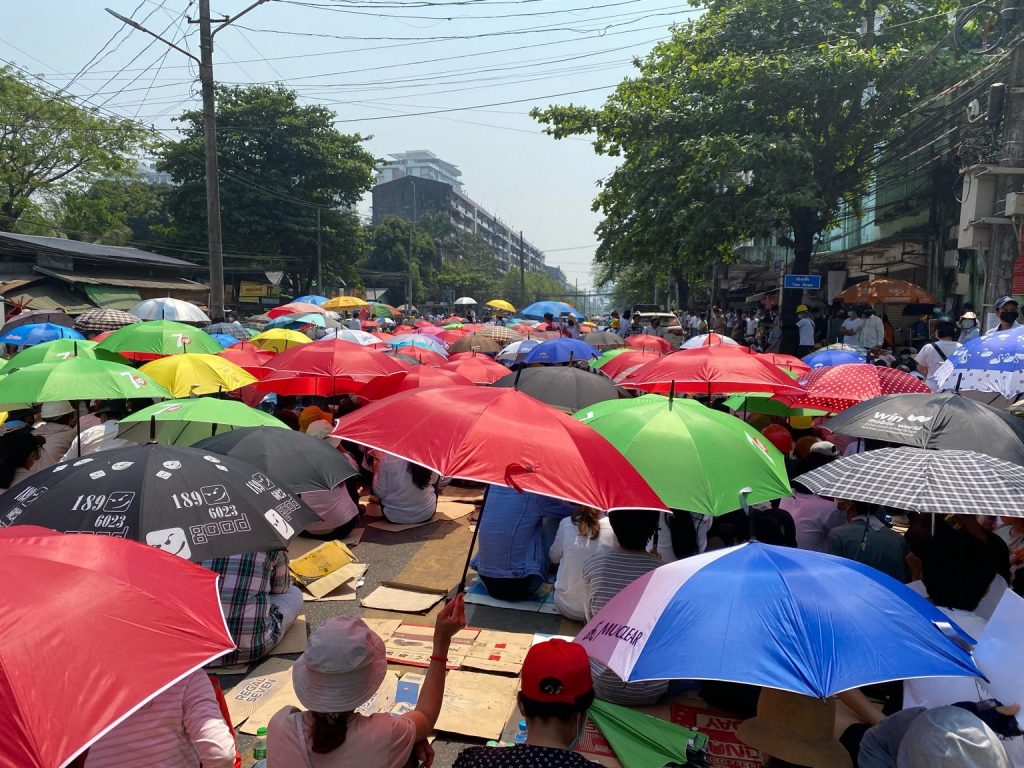 Given protesters have not been deterred by this morning's bloodshed, it seems that more violence is likely this afternoon – a significant escalation from what we've previously seen in the nation's largest city and commercial capital.
---
UPDATE: Sunday, February 28, 10:30am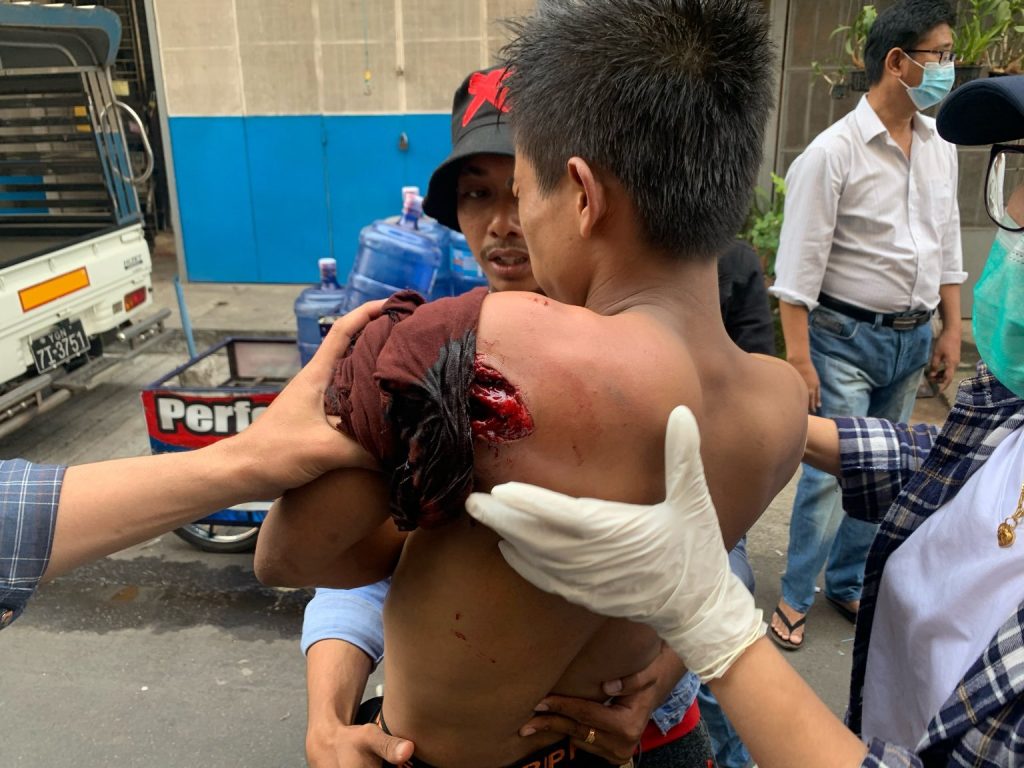 Police fire live rounds on Yangon protesters, deaths and injuries reported
At least one person is thought to have been killed and several others injured at Hledan junction in Yangon after police opened fire with live rounds on protesters who were sheltering in a bus stop.
"We hid in the bus stop and they shot at us. One person died and others are wounded," said a man who witnessed the shooting and managed to escape.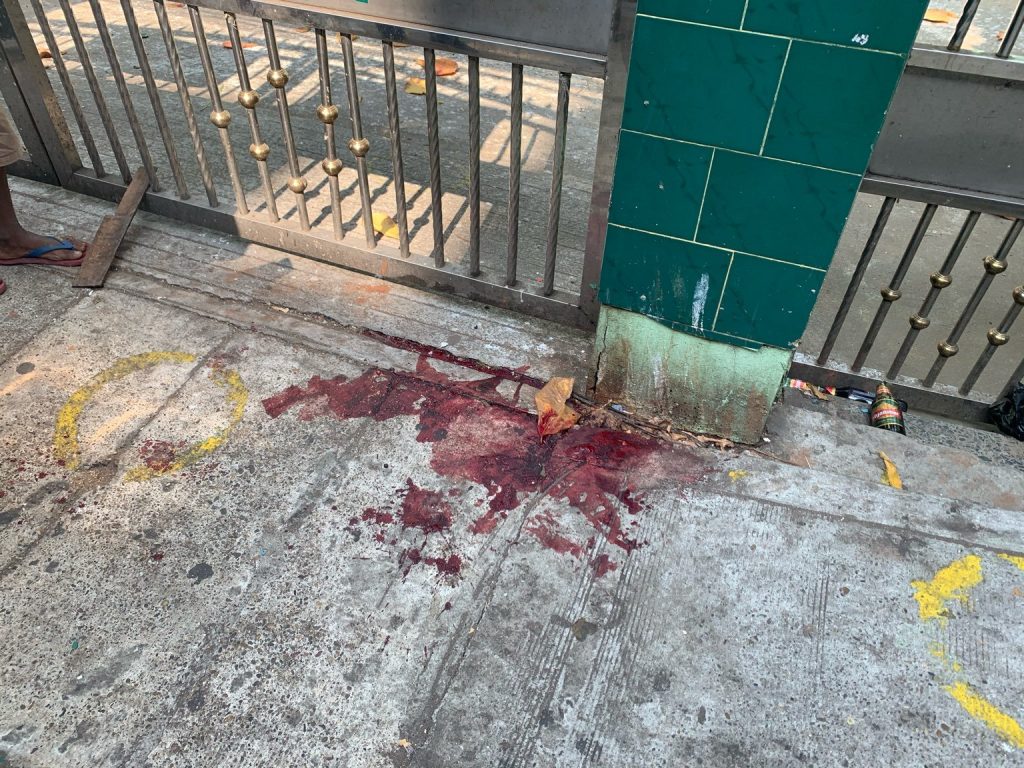 Frontier was unable to confirm the death, but photos and videos of the incident show a man lying motionless on the ground after the shooting. Other protesters soon arrived and carried him away.
A Frontier reporter on the scene at Hledan junction said about 300 protesters squared off with about 100 police at 8am. By 8:45am police were firing a mix of live rounds and rubber bullets.
The reporter, who is hiding in the basement of an apartment building, said despite the use of live rounds people are fighting back against the police, including by throwing glass bottles. At one point, a police officer shot himself in the leg and the squad got gunpowder in their eyes. They began asking for water but people instead started laughing at them. The police then started shooting at apartments who taunted or filmed them.
Protesters also grew into the thousands in Yangon's Sanchaung Township, where our reporters say police have fired several rounds of tear gas and rubber bullets at protests on Bagaya and surrounding streets. Protesters have regrouped and set up barricades in the streets.
In Tarmwe Township, police have started cracking down on protesters, our reporter on the scene says. Earlier he described protesters brandishing sticks while facing off with police.
Elsewhere, police are cracking down on protesting medical students in Yankin Township, according to journalists.
Police have set up more barricades downtown, where our reporter says protesters have split into several small groups, making crowd counts difficult. He said protesters have set up their own barricades with cars and rubbish bins, blocking off the entire section of Anawratha Street between Sule Pagoda and Pansodan roads in Kyauktada Township.
UPDATE: 4:30pm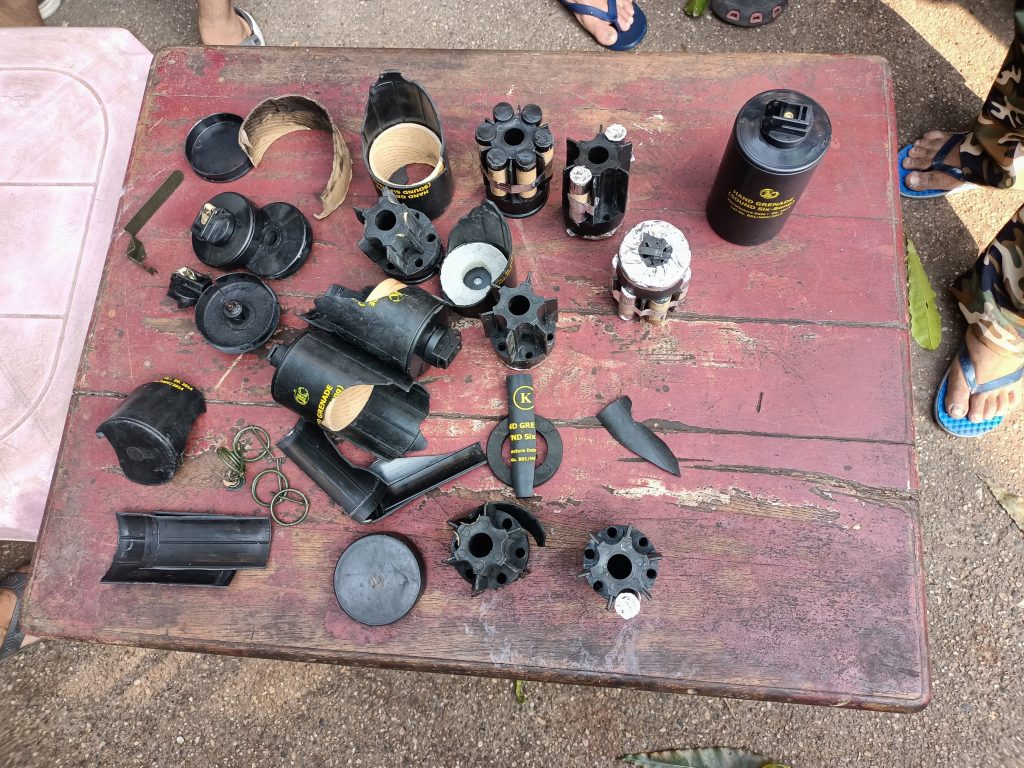 Police crack down on protesters at two major Yangon junctions
Police have dispersed and arrested protesters at two major junctions in Yangon this morning, in the most violent crackdown in Myanmar's largest city since the February 1 coup.
At Myaynigone in Sanchaung Township, riot police warned protesters to disperse. They then advanced on the crowd while hitting their shields, prompting protesters to run from the scene.
Police then advanced down the Myaynigone flyover towards where some demonstrators had blocked the road with cars, and arrested an unknown number. Two journalists were briefly detained but later released.
Some demonstrators and media fled into nearby Sanchaung Street. Police barricaded the road and warned them to disperse or they would fire and "take action according to the law".
We understand the situation is now stable and the protesters have left Sanchaung Street.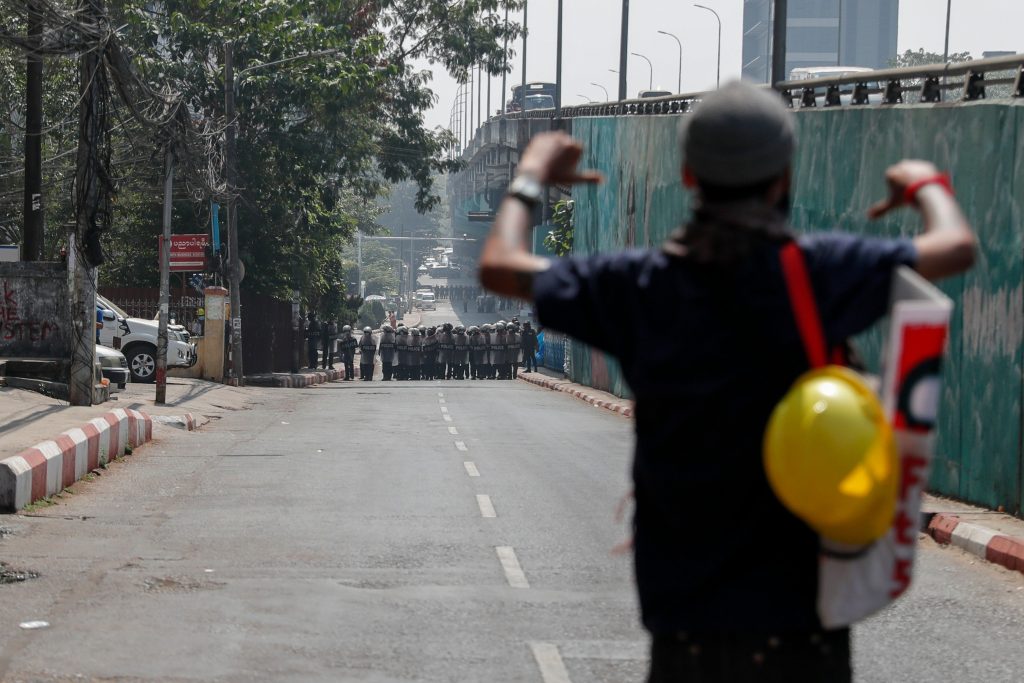 Meanwhile, police also broke up two protests near Hledan Junction, which has been the site of the biggest demonstrations in Yangon.
Eyewitnesses said police fired six times to disperse outside Sein Gay Har shopping centre, which is on the corner of Hledan junction. Six people were also arrested.
Meanwhile, on nearby Butaryone Street in Kamaryut Township, police also fired without warning to disperse a peaceful sit-in protest.
Protesters said police fired seven times and arrested five people, including a restaurant owner who was not participating in the demonstration.
Family members of the restaurant owner said police detained him because they had given refuge in their house to protesters who were fleeing from the police.
Protesters also showed Frontier what appeared to be a stun grenade and other hard objects, including metal nuts, that had been fired at them.
There were no reports of injuries at either Myaynigone or Hledan.
---
UPDATE: Friday, 26 February, 4pm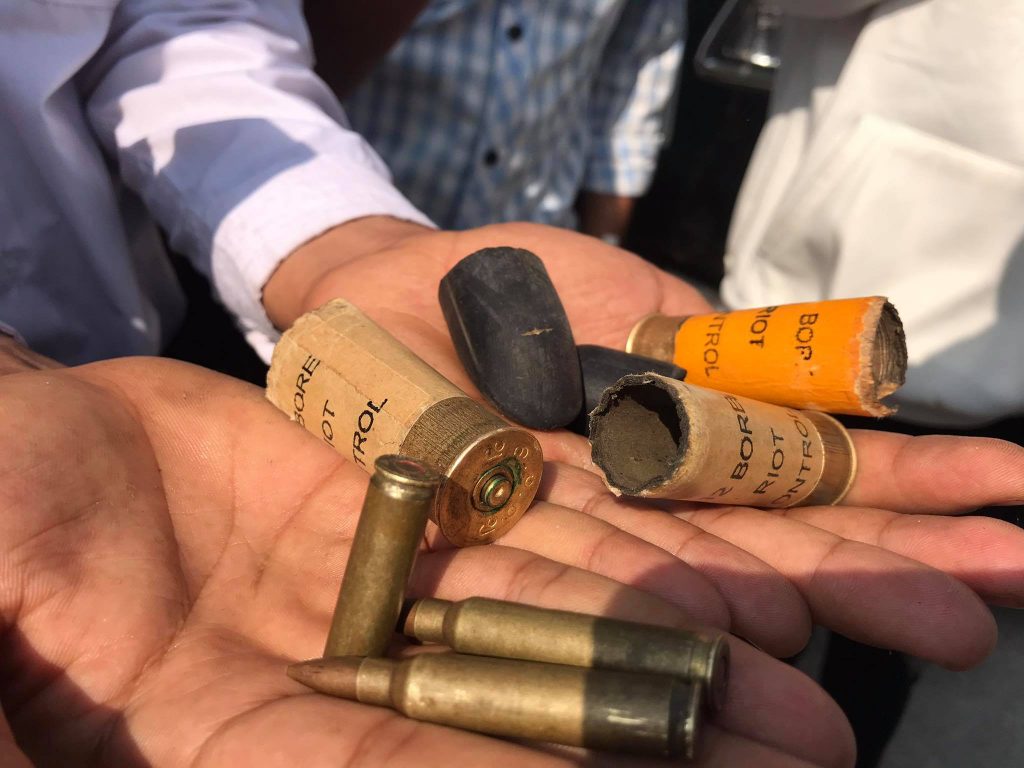 Security force fire live round in Mandalay, at least one injured
Security forces have fired live rounds and rubber bullets to disperse protesters in Mandalay, as they undertake a major crackdown this afternoon in response to one of the largest demonstrations in the city to date against the military regime.
At least one person has been injured, suffering a gunshot wound to his leg and is receiving treatment from the Byemaso social welfare group. Eyewitnesses said "truckloads" of people had been arrested after the confrontation on 62nd Street in Maha Aung Myay Township.
Security forces are now heading to 35th Street where another protest group has gathered.
Earlier, police had targeted sit-in protesters in Chan Aye Thar Zan Township near Yadanarbon Market and along 78th Street, firing at them with slingshots and making at least six arrests.
Tens of thousands of people marched through the streets of the city this morning, defying a very heavy police and military presence.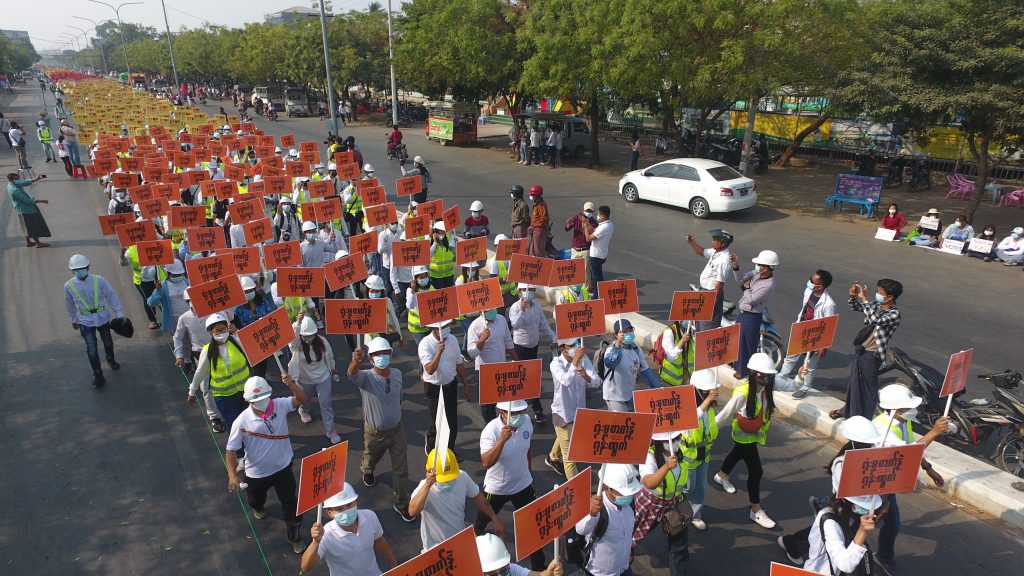 In these drone photos you can see a long line of protesters marching through Chan Mya Tharzi Township.
Several other columns also marched through town this morning, with many of the protesters organised into professional, ethnic or religious groups, such as teachers, engineers, monks, nuns and Myanmar-Chinese. Police and military initially made no attempt to stop them.
---
UPDATE: 4pm
Frontier today has joined other independent media organisations in Myanmar in standing up for our right to report freely. Together we reject the military regime's instructions on how it should be referred to and we will continue to publish in accordance with news media ethics.
Full statement below (updated from an earlier version to include more media signatories):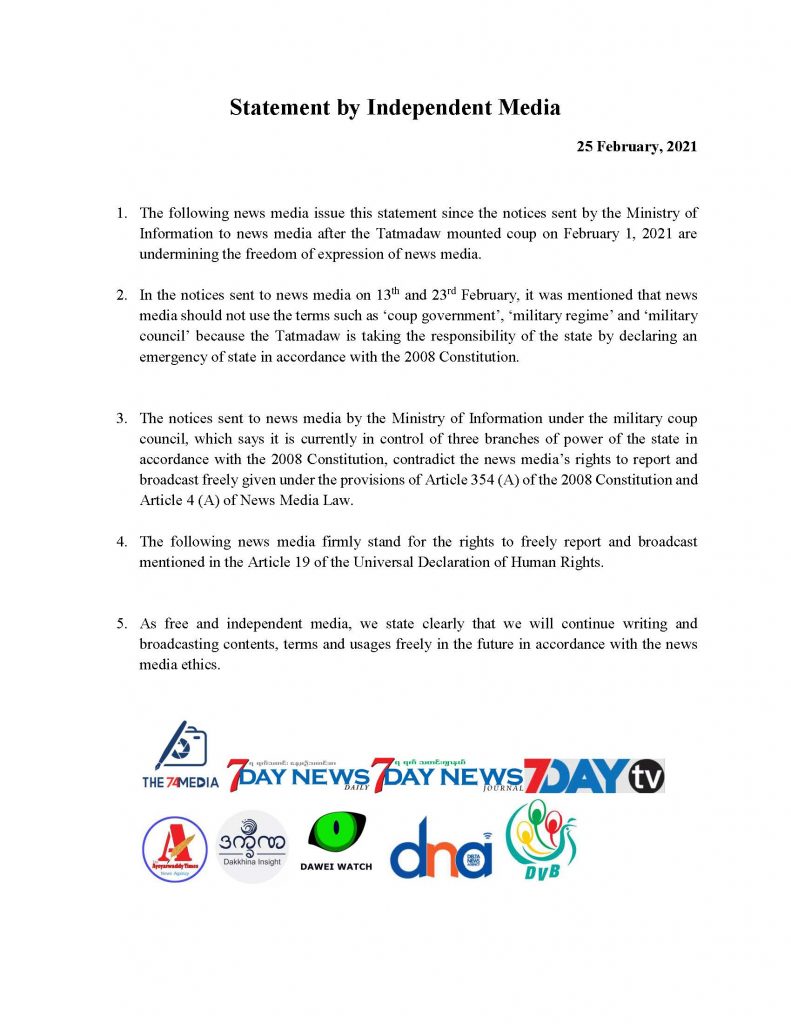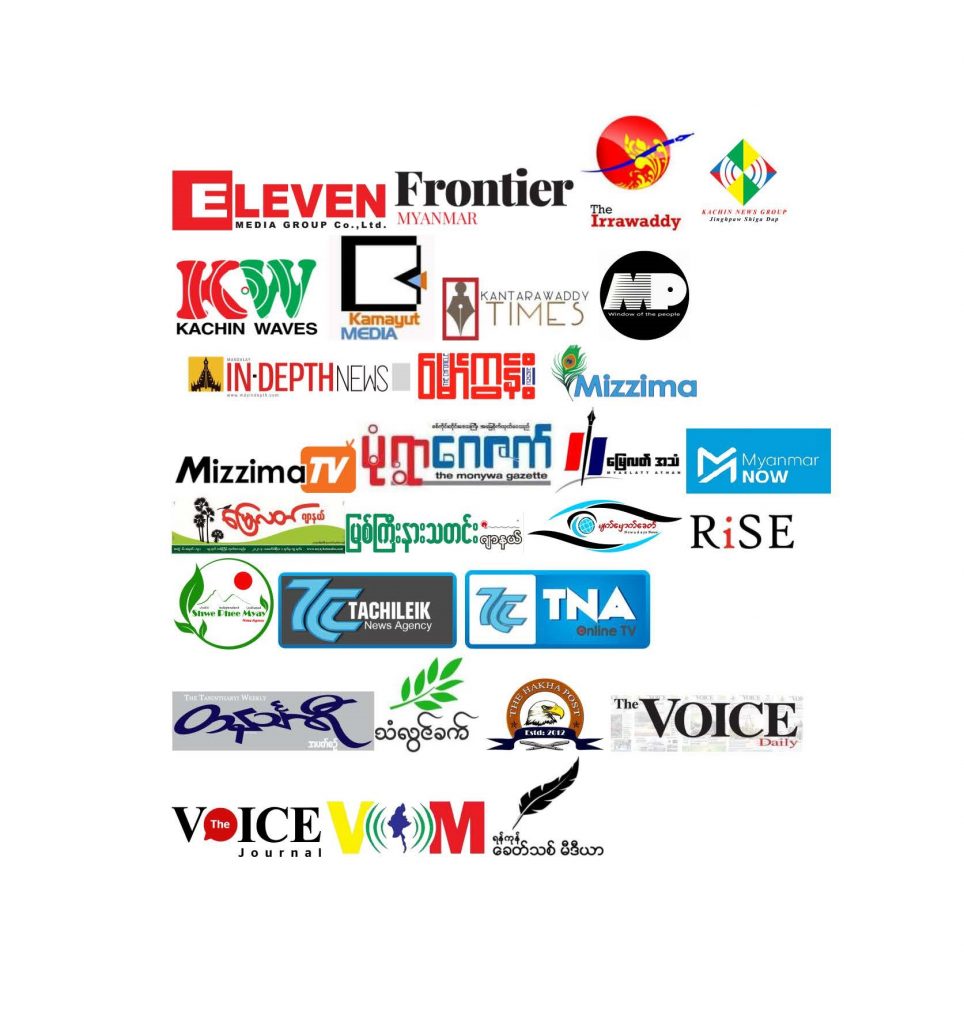 ---
UPDATE: 2pm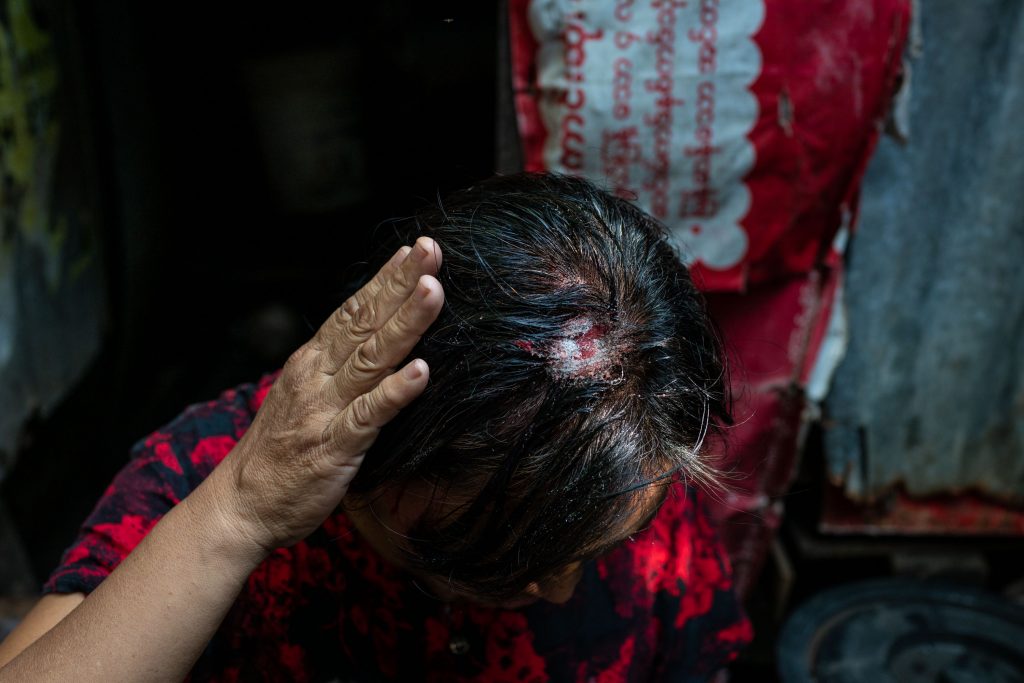 After Yangon rally, military supporters attack residents near downtown
Tensions are running high between residents of a 500-home ward housing mostly railway workers and day labourers after clashes with pro-military supporters erupted following a rally earlier this morning.
As Frontier previously reported, the military supporters beat and punched bystanders and damaged some vehicles during the rally, which saw residents and anti-military protests bang pots and pans and cross their wrists in disapproval at the march.
After the protest formally ended around 10:30am, some of the military supporters entered the housing ward from the front of the railway station, according to our reporter who was on the scene.
A scuffle broke out when residents, realising the group was pro-coup, began banging pots and pans to show their disapproval. This prompted the military supporters in turn throw stones and other objects at the residents.
"They were coming through throwing marbles and stones. Many were injured," resident Ma Su told Frontier, displaying a wound on her own leg. She said the group had hurled sticks and knives at them as well.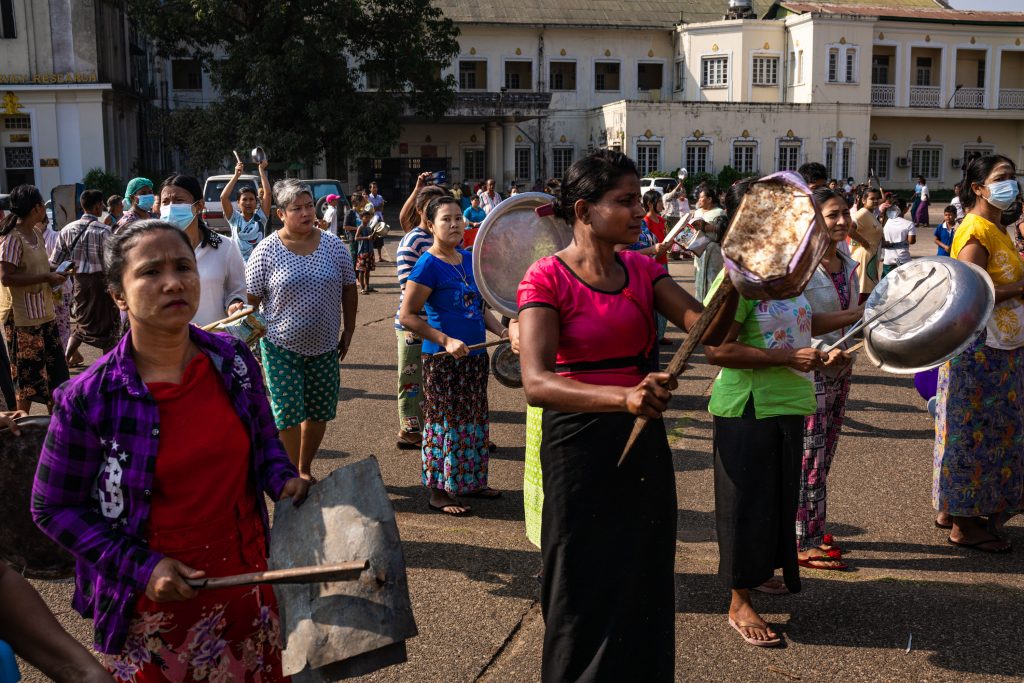 Residents were finally able to detain some of the military supporters and briefly held them at a local Dhammayone, a Buddhist religious hall, before turning them over to police. Residents say they found vinyl signs and pamphlets on the detainees that were used at the earlier pro-military demonstration downtown, and evidence that the detained are members of the military-aligned Union Solidarity and Development Party, which suffered crushing defeats in the 2020 election and first encouraged the military to investigate alleged voter fraud.
"We haven't done anything to them," the member of a local charity group said. "We gave them medicine if they were hurt and then handed them over to the police."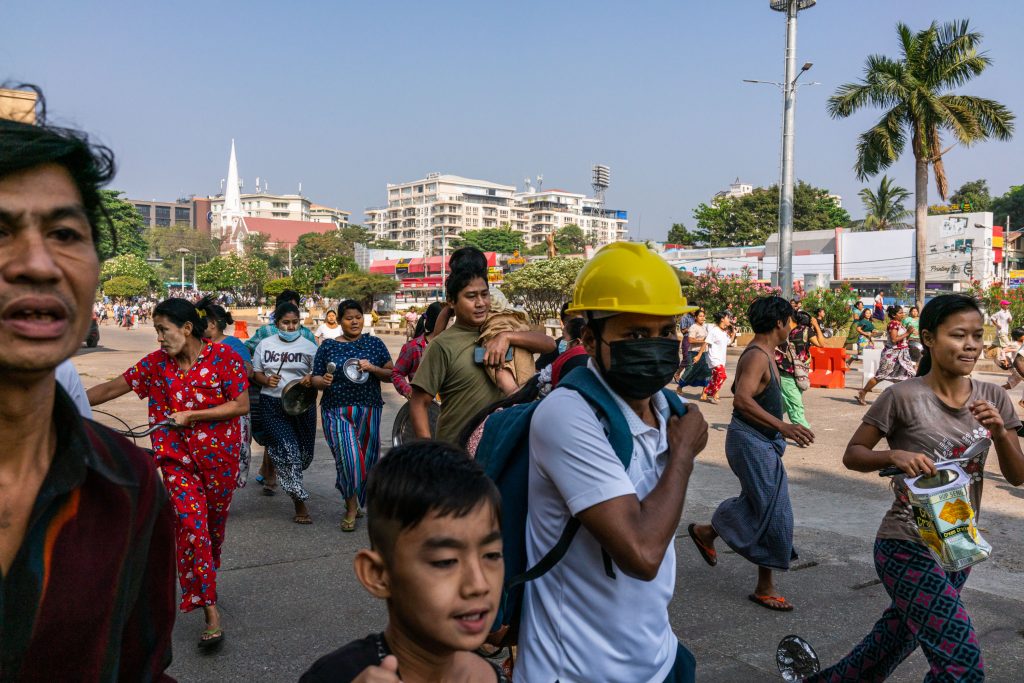 Video of what appears to be some part of the incident is already being passed around social media:
By 11am, more than 100 police officers and five police cars had blocked off the area. When asked by Frontier what the police planned to do with them, a police chief at the scene said he did not know.
Twenty-three people were initially handed over to police but it is not clear if the police are still holding them, U Tint Hsan, who lives in the ward, said.
As many as 30 people are believed to have been injured in the incident.
---
UPDATE: 11am
Pro-military supporters accused of violence during Yangon rally
Hundreds of pro-military demonstrators who marched through downtown Yangon this morning were dwarfed by residents and anti-military protesters, who banged pots and pans and crossed their wrists to express disapproval.
Millions have protested across the country in recent weeks against the February 1 military coup, which toppled the democratically elected civilian government of Daw Aung San Suu Kyi.
This morning's rally was the first sizeable pro-military demonstration in Yangon, and was marred by reports of violence as the military supporters paraded through downtown.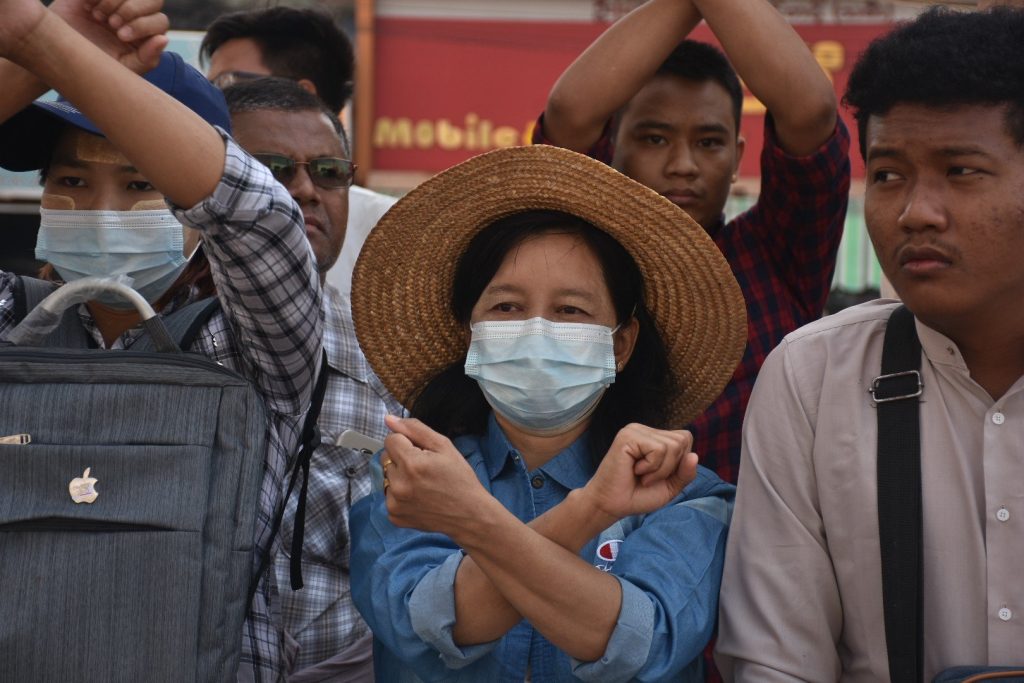 A Frontier journalist witnessed pro-military protesters punching bystanders and destroying some cars. Some of the demonstrators also threatened reporters who were following the protest; one threw a rock at a Frontier photographer, leaving a small open wound on their leg. Some of the protesters appeared to have swords and machetes in their bags.
The march began at 9am from Thamada Cinema and went south along Sule Pagoda Road. Police removed a barricade at the junction with Bogyoke Aung San Road that was put up to stop anti-military supporters, allowing the protesters to continue south towards Sule Pagoda.
The demonstrators then returned to Thamada Cinema to end the protest at about 10:30am, although many continued to congregate around Yangon Central Railway Station.
---
UPDATE: 8:30pm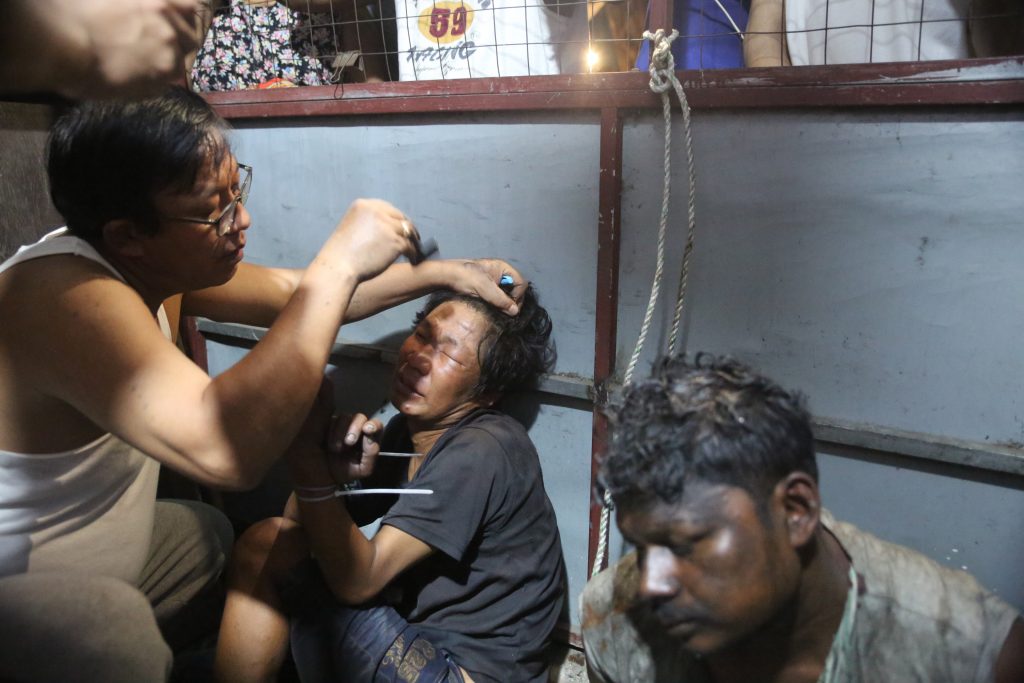 Twitter and SMS: Myanmar's new frontiers of fear
To mark Union Day on February 12, the new military junta commuted the sentences of 23,000 prisoners.
Myanmar has a long tradition of mass prisoner releases, with heads of state exercising their pardoning powers, and they are usually timed for major national holidays. But this release – coming less than two weeks after a coup, at a time of high tension – seemed different.
With the stroke of a pen, the regime plunged much of Yangon into a state of fear.
Soon, social media went into overdrive with rumours of recently released prisoners being drugged up and dropped off in Yangon neighbourhoods to cause mayhem. But was this really happening?
Certainly, many people seemed to think so, but little concrete evidence to support this narrative has emerged. One Twitter video, with over 112,000 views, said there were "thugs" being dropped off to "cause trouble". But the people in the video, armed with sticks and bats, are actually members of a group trying to protect their neighbourhood. There's no sign of thugs in the clip, no explanation of what these thugs had done, and no evidence of property damage or violence. The Twitter user who posted the video did not respond to Frontier's request for comment.
The junta has however been responsible for violent acts that have contributed to the atmosphere of fear. Late night arrests of activists and protesters are on the rise, compelling citizens to protect themselves against police. A member of a neighbourhood watch group was allegedly shot dead by police in Yangon's outer northern Shwepyithar Township on the night of February 20. Ultra-nationalists, including some Buddhist monks, were caught on camera on February 18 smashing the windows of cars and attacking protesters.
However, the rumours on social media may have also contributed to real world violence against seemingly innocent victims.
In one such case, Frontier witnessed three men who were tied up and interrogated in downtown Yangon's Botahtaung Township for allegedly being sent to cause mayhem in the neighbourhood. None of them were said to have committed any specific crime. One of the men, who claimed he was Chin and could not speak Burmese, was beaten, his face bloody and puffy. The Chin captive and another were roughly interrogated, with locals grabbing them by the hair, slamming their heads against the wall, and splashing water in their face. At the end of the interrogation, they had their eyebrows and parts of their heads shaved to "mark them as criminals", despite having not committed any crimes.
To continue reading click here.
---
UPDATE: 4:30pm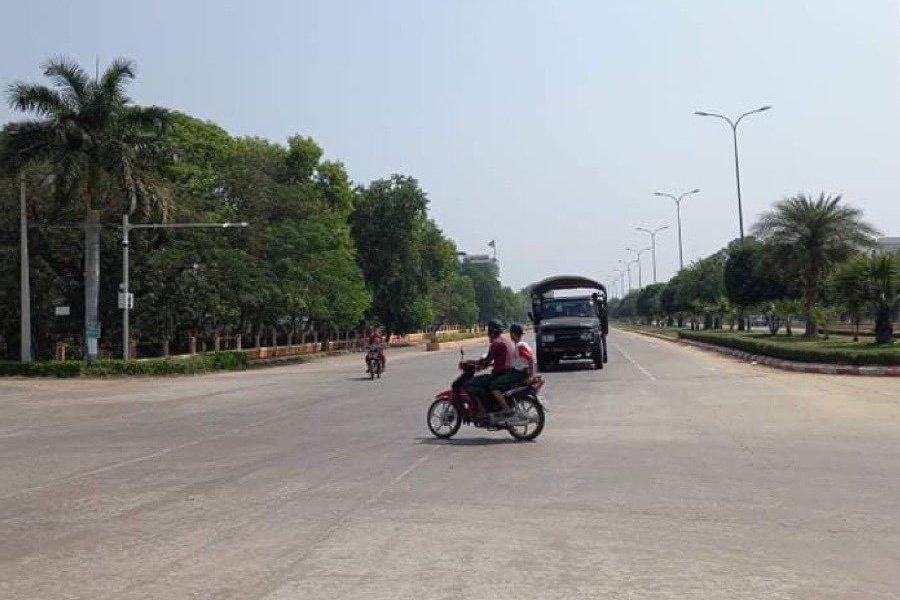 All quiet in the capital after Monday's arrests
Few protesters have been spotted on the streets of Nay Pyi Taw since Monday, when police violently detained close to 200 people who had turned out to mark the 22222 uprising against military rule.
Since the demonstrations, security forces have increased their public presence, with trucks full of police and military personnel now a common sight on the streets of the capital.
Tens of thousands gathered in several locations in Nay Pyi Taw on Monday, including Pyinmana and Zabuthiri townships, while many others joined large convoys of motorbikes and cars that toured around the capital.
But police forcibly broke up two demonstrations, with eyewitnesses at one protest in Zabuthiri describing protesters being violently thrown into police trucks, and police firing into the air.
Yesterday the authorities released 183 people from Nay Pyi Taw Prison, but six remain in detention, according to lawyers and free protesters.
There were few signs of protest in the capital yesterday, while today around 300 people who gathered in front of a school in Pyinmana from 9am dispersed not longer after police arrived, eyewitnesses told our reporter.
In the Shwe Kyar Pin area of Zabuthiri Township, about 10 people staged a sit-in protest against the military dictatorship at around 10am.
---
UPDATE: 3pm
At least 1,000 protesters are gathered outside of the Indonesian embassy in Yangon. Protesters have been gathering there this week after a Reuters report on Monday revealed a plan by the country to push ASEAN to back the coup's attempted mulligan on the November election.
"Indonesia is pushing Southeast Asian neighbours to agree on an action plan over Myanmar's coup that would keep the junta to its promise of holding elections," Retuers said, citing anonymous sources "familiar with the move".
Protesters do not want the military to null the last election, which foreign and domestic election observers say was free and fair. Instead, they want the government turned back over the the winning National League for Democracy; some want to abolish the military-drafted 2008 Constitution as well.
The alleged Indonesian plan was widely criticised online, and on Tuesday Indonesia dismissed the Rueters report, with Indonesian Foreign Minister Retno Marsudi calling for an "inclusive democratic transition" that respects "the wishes of the Myanmar people". She denied earlier reports that she was headed to Myanmar this week for negotiations, insisting instead that now is "not the right time".
UPDATE: Wednesday, February 24, 10:30am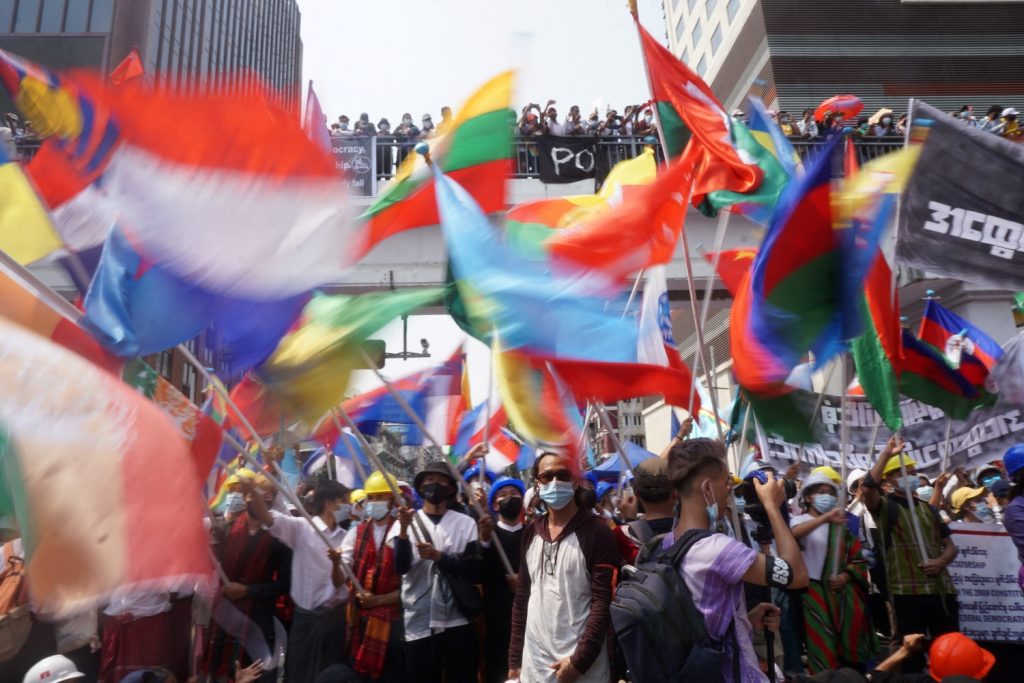 'Myanmar politics must be re-made, not restored'
Frontier contributor Kyaw Hsan Hlaing argues in an op-ed published today that the growing democracy movement needs to look beyond Daw Aung San Suu Kyi and the National League for Democracy, and listen closely to ethnic voices.
"I want to participate wholeheartedly in these protests. But when I stand amid the crowds, I feel a distance between us," he writes, describing the focus on demanding the release of Aung San Suu Kyi, and for the 2020 election results to be respected. "My ethnic nationality friends and I want more."
Nonetheless, he argues that the military takeover, though "devastating", also "offers a great opportunity" in the form of a broad-based resistance.
"I believe the current moment offers not only a chance to fight against military dictatorship," he continues, "but also to bring better understanding between the Bamar and other ethnic groups, so that we can join together to end the decades-long civil wars and build a federal democratic union."
Read the full article here.
---
UPDATE: 6pm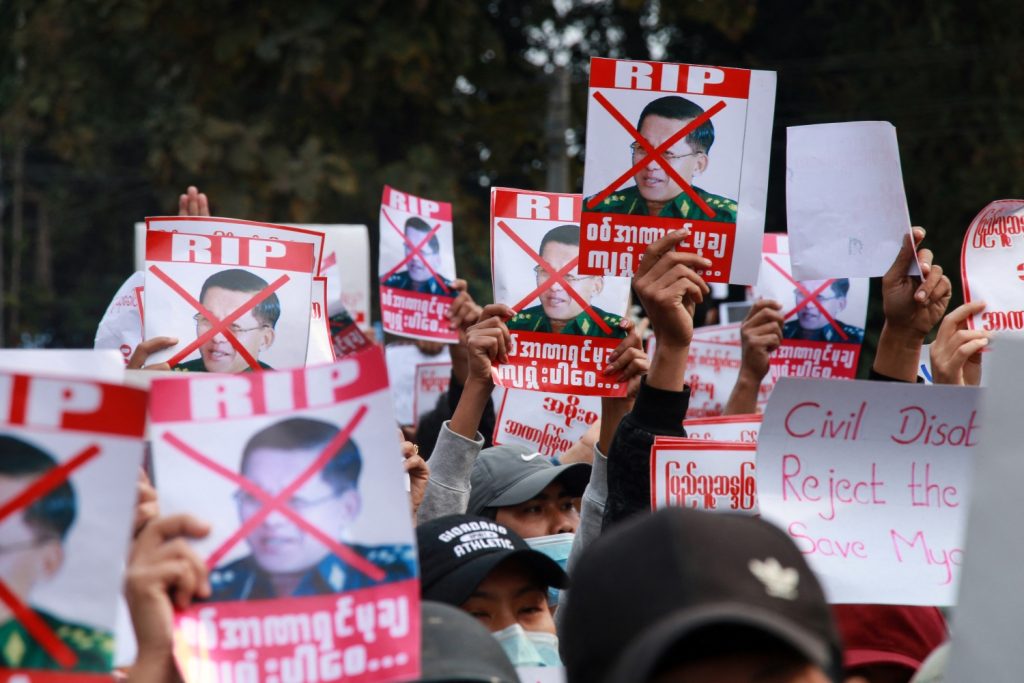 Junta scrambles to form ethnic alliances
The new military regime, facing massive resistance on the streets of major towns and in the government offices it now controls, is hoping to shore up its power by allying with ethnic minority leaders. The junta is banking on these leaders' disillusionment with the ousted National League for Democracy government, which was regularly accused of disregarding minority grievances and failing to advance the peace process.
However, this strategy has so far met with only patchy success. Since the February 1 coup d'état, most ethnic parties have rejected the military's offers of seats on its ruling administrative council or other government berths. Meanwhile, those who have accepted positions are facing revolts – either from within their own parties or their wider ethnic communities.
Nonetheless, some of these appointments will have significant implications for ethnic politics, and the NLD's troubled relationship with ethnic parties has hindered a broader alliance against the coup.
Read the full story here.
---
UPDATE: 5pm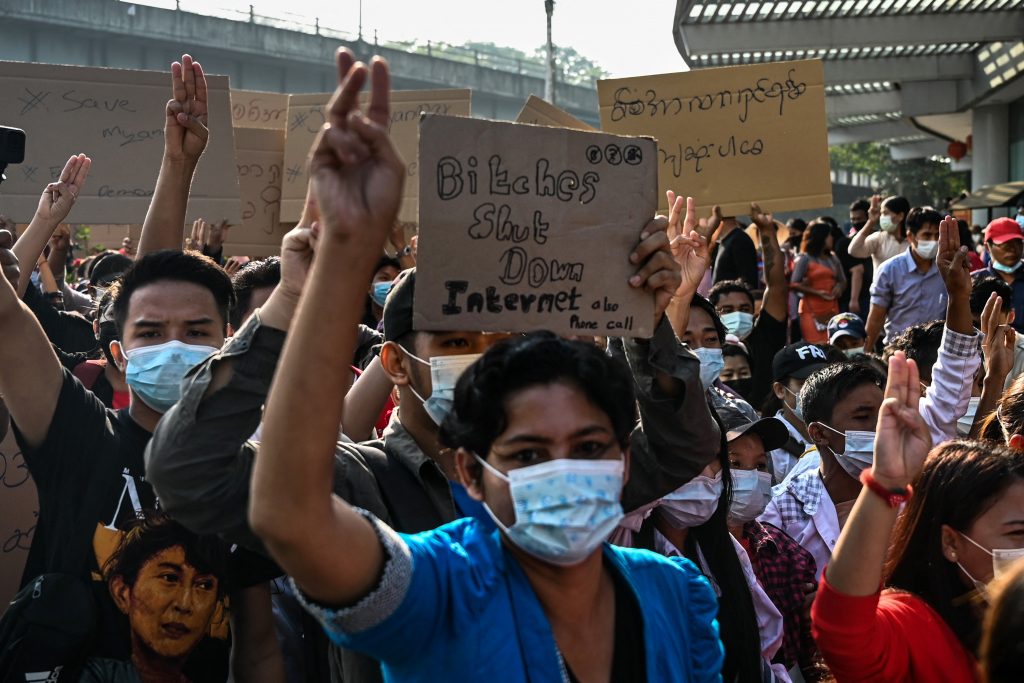 'We thought it would just be one day': Netizens urge ISPs to push back against internet blackouts
When Myanmar authorities cut nearly all internet access in the early hours of February 15, as part of efforts to quell the growing pro-democracy movement, Ma Shin Thant, a 22-year-old Yangon resident, thought it would only be for one day.
"But the government has cut the internet daily [since then]," Shin Thant told Frontier on February 18. "We have to rebel against it, and put pressure on the ISPs [internet service providers]. If not, we will suffer under whatever the military wants to do."
Amid the growing civil disobedience movement in Myanmar, much of which has taken place online, since February 15 the military regime has stifled internet connectivity every night for several hours, re-opening access around 9am each morning.
On February 22 – a day of massive protests across the country referred to as the "22222 uprising" – internet restrictions were in place until midday, although they were not uniformly implemented by all providers and ISPs.
Shin Thant's internet provider, Myanmar Net, is one of more than 60 ISPs in the country. It and others are facing growing calls from customers like her to push back and speak out against the military junta's directives.
Read the full story here.
---
UPDATE: 11:30am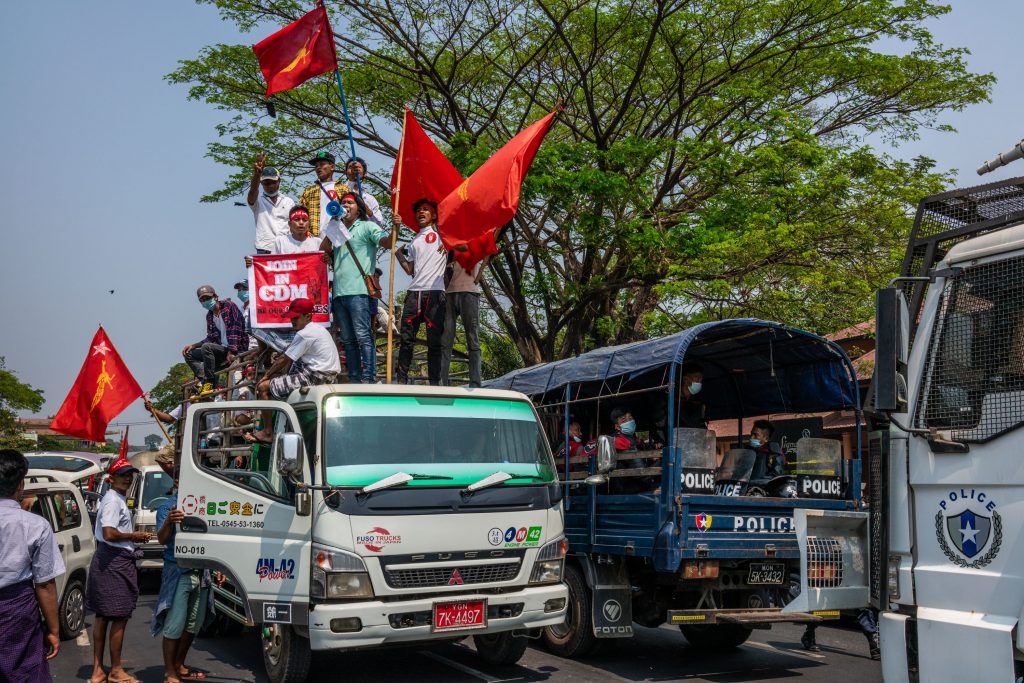 Why the coup will fail, and what the Tatmadaw can do about it
Writing in Frontier today, contributor Su Min Naing argues that the military regime has only two choices: dig in at huge cost, or open negotiations with political stakeholders.
She writes: "For 80 years, the achievements and failures of the Tatmadaw's founders have shaped the way many people in Myanmar view the institution. The decisions that the current leaders of the Tatmadaw take in the coming days, weeks and months will irrevocably shape how it is seen for the next 80.
"Although the Tatmadaw had always prepared for a scenario in which it would have to "step in" (through the nuclear option of a presidential declaration of a "state of emergency" in the 2008 Constitution), the coup was not pre-ordained. Senior General Min Aung Hlaing's decision to seize power was hasty, and apparently without proper consideration for how the public would respond.
"The Tatmadaw risks falling into the trap of judging success of its response to the protests by the number of people in the streets. Even if it manages to quell demonstrations, the resentment of a country will morph from the creative, thoughtful, and passionate public protests we see today into a chronic resistance, led by a generation of young people who are more connected and more exposed to the world, and who have experienced what is possible under a more democratic, liberalised and globally integrated Myanmar. They are now furious at the daylight robbery of their future."
Read the full article here.
---
UPDATE: 11:15am
As protests engulf much of Myanmar, teachers return to work in Rakhine
As hundreds of thousands – if not millions – of people protested across the country yesterday for what activists dubbed the 22222 uprising, most teachers in Rakhine State did something quite different: they went back to work.
U Tin Thein, chief of Rakhine State's Basic Education Department, said the majority of state sector teachers returned to work to prepare their schools to reopen.
Nearly all schools across the country have been closed since early 2020, when the 2019-20 academic year ended. The emergence of COVID-19 has effectively written off the 2020-21 year – although many high schools, which teach grade 10 and 11 students, managed to reopen from late July, they had to close again in late August when a second wave of COVID-19 began to spread.
Tin Thein said that on February 16, representatives from the Basic Education Department in Nay Pyi Taw issued instructions to state authorities to begin preparing for a reopening.
On February 20, the Rakhine State Basic Education Department then instructed all teachers at Basic Education Schools to return to work on February 22.
"The headquarters [in Nay Pyi Taw] has not yet told us what day the students will return to school," Tin Thein said.
U Khin Maung, a resident in Rakhine's Rathedaung Township, said he witnessed teachers from state schools cleaning compounds and classrooms yesterday.
Unlike the rest of Myanmar, Rakhine State has seen few protests against the military takeover on February 1. The state's leading political party, the Arakan National Party, has taken up a position on Senior General Min Aung Hlaing's administration, the State Administration Council, and the military regime has also released prominent politician Dr Aye Maung from prison.
The few protests that have occurred have been in the southern Rakhine townships of Gwa and Thandwe, which are the only areas where the National League for Democracy still has significant support. The military has arrested many of the protest leaders and used violence against demonstrators.
Similarly, few civil servants have joined the Civil Disobedience Movement, which elsewhere in the country has decimated parts of the bureaucracy.
Officials in Rakhine State say only one person from the education field – a clerk from the Gwa Basic Education Department – had joined the movement.
---
UPDATE: 11am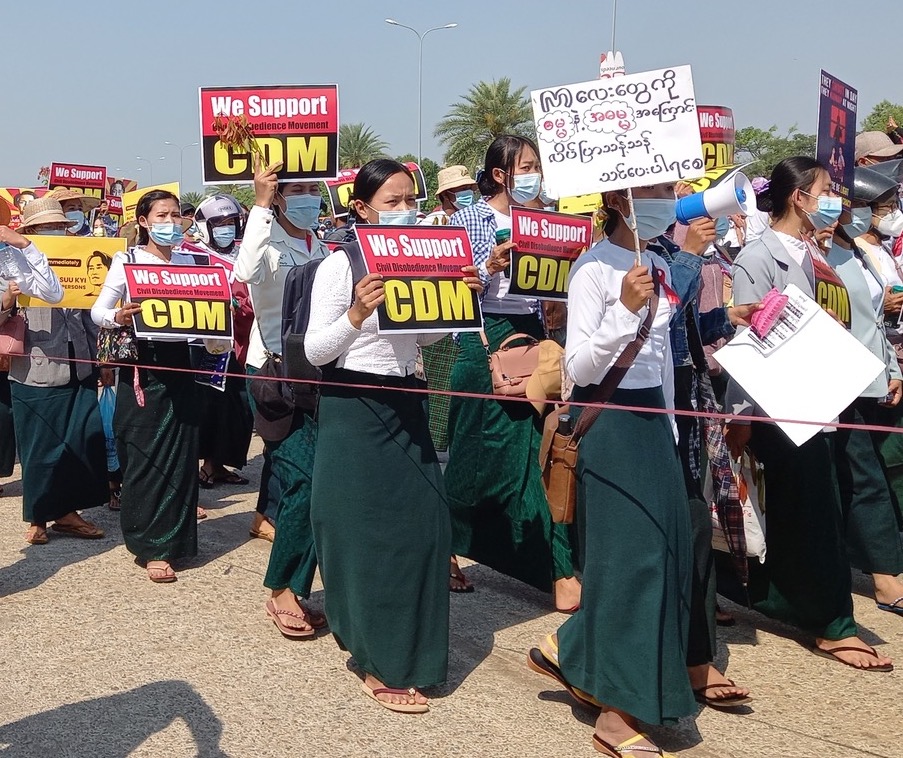 Protesters detained in capital expected to be released today
Close to 150 people who were detained in Nay Pyi Taw are expected to be released today, sources in the capital said, after police rounded up protesters at two sites yesterday.
Authorities are yet to comment on the matter, but several sources told Frontier they were likely to be released. However, there are also concerns that they may instead be transferred from Nay Pyi Taw to another prison.
Many of those arrested were teenagers, according to posts on the Nay Pyi Taw Community Facebook page and interviews with eyewitnesses.
The protests for the 22222 uprising against the military were the largest yet seen in the capital, with marches, crowds lining streets and large convoys of motorbikes and cars. Nearly all shops were closed.
Police violently detained more than 100 protesters during a demonstration in Nay Pyi Taw, dragging them into prison trucks and seizing their vehicles, eyewitnesses said.
One protester told Frontier that police also fired into the air. "They fired their guns upwards. I don't know if it was a tear gas bomb or not, but I saw it exploded in the air," said the protester.
The confrontation occurred shortly after noon near the Swar intersection in Zabuthiri Township, where up to 10,000 people had gathered to express their anger at the military regime.
"From what I saw, there were more than 100 people arrested near the Swa intersection," the protester said. "I ran away and left my motorcycle. Cars were being forcibly stopped. They were even arresting children. Both my wife and my niece were among those arrested."
Ko Kyi Toe, a spokesman for the National League for Democracy, posted on Facebook at about 9pm that 193 protesters had been arrested, and 266 motorcycles and eight cars seized.
Some protesters were also arrested earlier in the day after police dispersed a large demonstration near Hninsi roundabout in Pyinmana. After the protest ended, police arrested fleeing demonstrators at Paung Laung stadium, on Thanlan street, and near Shankan lake and Zizawar roundabout.
"My younger brother was arrested near Zizawar roundabout. He is missing and we will find out tomorrow morning where he is. He is a matriculation student," one man told Frontier.
Witnesses said at least five people were arrested near Shankan Lake, but it's not clear how many were detained in Pyinmana in total.
Videos on Facebook showed terrified protesters hiding from police in nearby forest.
---
UPDATE: Tuesday, February 23, 10:30am
Regime hit with more sanctions
Good morning. A brief round-up of the headlines since last night.
The United States has imposed sanctions on two more junta leaders and warned of "further action" against the military regime, AFP reports. Air force commander General Maung Maung Kyaw and Lietuenant General Moe Myint Tun are barred from entering the US or any property it owns, Secretary of State Antony Blinken said on Monday.
"We will not hesitate to take further action against those who perpetrate violence and suppress the will of the people," he said, adding that the US "will not waiver" in its support of the people of Myanmar.
The announcement came just hours after the European Union also approved sanctions on the Tatmadaw.
Josep Borrell, the EU foreign policy chief, said the killing of demonstrators by security forces was "extremely worrying" and "unacceptable".
He said EU foreign ministers had agreed to apply targeted sanctions against military leaders responsible for the coup and their economic interests, and would also withhold direct financial support to the government. However, in order not to hurt the people of Myanmar, the bloc will continue to support civil society and basic services.
In Malaysia, meanwhile, activists made a "last-ditch legal bid" to stop the deportation of 1,200 Rohingya detainees back to Myanmar yesterday. The United States and the United Nations, as well as other human rights groups, have criticised the repatriation plan.
"The Myanmar military's human rights violations against protesters and dissidents have been widely documented," the executive director of Amnesty International told AFP. "If Malaysia insists on sending back the 1,200 individuals, it would be responsible for putting them at risk of further persecution, violence and even death."
---
UPDATE: 4:30pm
Large Mandalay protest winding down peacefully
A crowd of at least 10,000 has turned out in central Mandalay today to protest against the regime, two days after a deadly crackdown on striking workers and demonstrators in the city left two people dead and more than 30 injured.
Organisers set up a stage outside the Mandalay Central Railway Station and gave speeches to the mixed crowd of students, teachers, workers, unionists, activists, farmers and more.
The crowd stretched for hundreds of metres west along 30th street as well as north and south along 78th street in the heart of the city.
Security forces made no attempt to disperse the gathering, ensuring there was no repeat of the violence from Saturday that had drawn strong international condemnation.
The protest has not yet wrapped up but the crowd is beginning to dwindle.
---
UPDATE: 4pm
Protesters disperse to avoid potential clash with police
Thousands of people have left two key protest sites in Yangon in order to avoid potential clashes with police.
At the junction of Natmauk and Pho Sein roads in Bahan Township, riot police charged in formation towards protesters, beating their shields with their batons and yelling, eyewitnesses told us. The attempt to intimidate worked, with the crowd quickly dispersing.
The protesters had gathered at the junction because it was the closest they could get to the United Nations office further west along Natmauk Road, which had been blocked off by police.
The UN office has been a focal point for demonstrators, who even handed over a letter to the "UN high commissioner" last Wednesday.
The police who cleared the protest at around 3pm arrived from the west, having come up from U Htaung Bo roundabout.
"The police came towards us, hitting their shields with sticks and shouting," one woman on the scene told a Frontier reporter.
When Frontier spoke to her, the last of the riot police were heading south towards the Hmyaw Sin Kyun entrance to Kandawgyi Park.
Elsewhere in Yangon, protesters also dispersed peacefully to avoid a potential confrontation.
A crowd of thousands staged a sit-in protest in front of a police blockade at the junction of University Avenue and Inya Road, beside the American Center. Police set up the barricades around 11am this morning.
At around 2:30pm, protest leaders announced, "Today we are victorious. We staged our peaceful protest. Let's disperse – we don't want any violence."
Nearly all of them then left the scene, although most seemed to be heading to other protest sites, particularly Hledan, where there is still a large crowd.
---
UPDATE: 3:45pm
The sharing economy blossoms on Yangon's streets
As the Civil Disobedience Movement gathers steam and hundreds of thousands of protesters continue to take to the streets, the formal economy and government business are slowly grinding to a halt. In its place, a new sharing economy is flourishing, with volunteer groups ensuring that fellow citizens are staying fed, healthy and safe amid workplace strikes, bank closures and daily upheaval. This support, rooted in Myanmar's formidable tradition of private charity, is visible everywhere today in Yangon.
In Yangon's Pabedan Township, close to a gathering of tens of thousands of protesters on Sule Pagoda Road, a collection of local Muslim families have erected a marquee on the pavement from where they're dishing out icy cups of orange juice from a vast steel vat.
Ko San, 34, was helping to pass juice to thirsty protesters when Frontier made an equally thirsty stop at the marquee at 11:30am. He said they'd be passing out rice and curry in a couple of hours, and that the whole charitable effort was a way of "showing our democracy".
Ko San was born in this teeming commercial area of the city and has lived there all his life. Despite Yangon's many social and religious divisions, he said the people were now united with a common purpose of throwing off military dictatorship. For now, he said, this struggle was epitomised by the detained state counsellor Daw Aung San Suu Kyl.
"We love our mother," he said. "Now, talking to you about her, I want to cry."
He was enthusiastic about the protests and was not fearful of a violent crackdown by security forces, of the kind that took place in Mandalay on Saturday and resulted in two deaths. "It won't happen here because Yangon is such an important city," he reasoned. "They are afraid to shoot because there are a lot of embassies here, but they may still do so in other towns."
But despite the joyous, festival mood that has once again pervaded the protests in downtown Yangon, there has also been anger and indignation over the recent killings of protesters elsewhere in the country. Pasted over multiple stretches of pavement in the downtown area today are vinyl posters depicting the army sniper from Light Infantry Division 33 who is allegedly responsible for killing a 16-year-old boy during the crackdown in Mandalay. His image is accompanied by the words in English, "Blood-hungry criminal killed civilians with sniper rifle. Never forget, never forgive the crime against humanity." Protesters and ordinary pedestrians are taking the opportunity to stamp on the man's image as they pass, as this video taken by a Frontier journalist shows:
This outrage is feeding another growing feature of the protests: calls for the United Nations and powerful Western countries to intervene in Myanmar. In recent days, foreign embassies have been major protest sites, with demonstrators calling on the United States and European nations to match their expressions of concern with action, and attempting to shame China, Russia and Singapore for their alleged support for the junta. But at other protest locations today, protesters have held placards reading in English, "How many dead bodies are needed for the UN to take action?" One set of placards spotted on Sule Pagoda Road this morning were a little more controversial, reading, "We need US army to save our situation."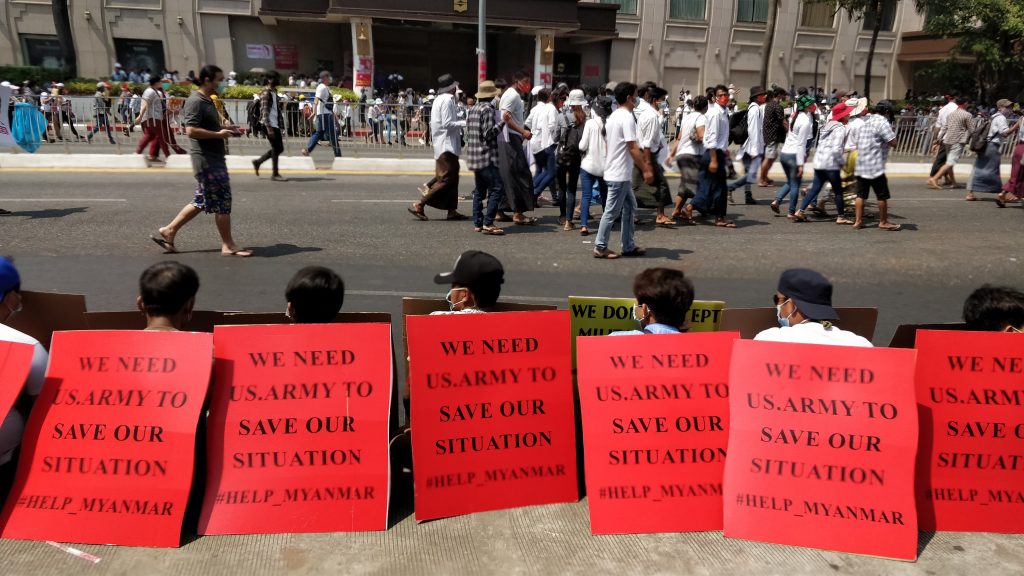 Today, at UN Secretary-General Antonio Guterres's annual address to the UN Human Rights Council, he condemned the "brutal force" used by authorities in Mandalay.
"Today, I call on the Myanmar military to stop the repression immediately," he said in a video message pre-recorded for the opening of the council's 46th session, as reported by AFP. "Release the prisoners. End the violence. Respect human rights, and the will of the people expressed in recent elections," he said, adding, "coups have no place in our modern world."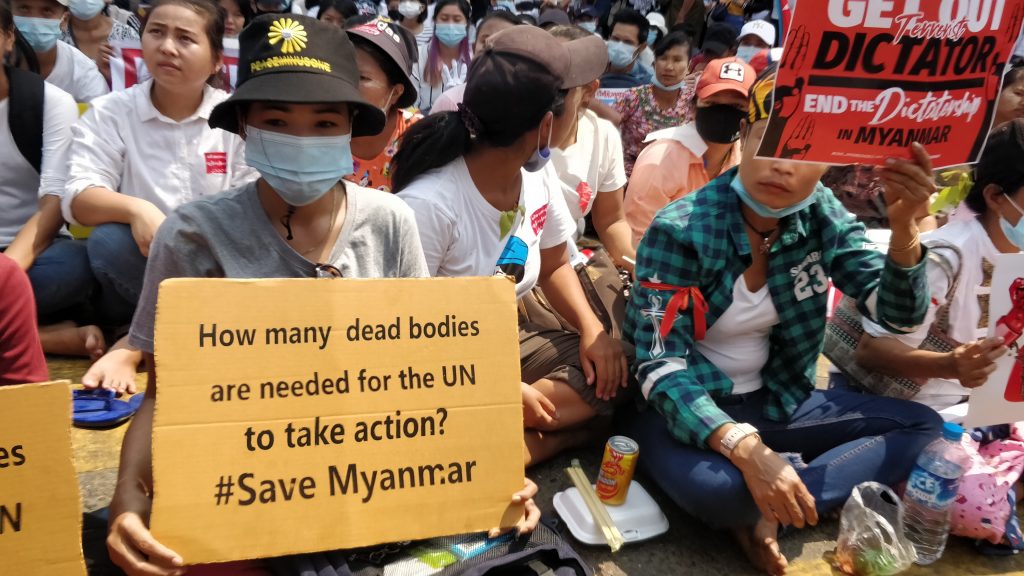 ---
UPDATE: 2pm
Yangon in gridlock as police shut junctions
Much of central Yangon – every from downtown north to the top of Inya Lake – is basically now in gridlock due to huge numbers of protesters and more recently police closing key junctions.
As we mentioned earlier, police have moved in and shut down U Htaung Bo roundabout near Shwedagon Pagoda after hundreds of protesters gathered and blocked the road with cars and motorbikes. Police have now set up barricades to block traffic and there are large numbers of police trucks. Below is an earlier livestream from our team.
Meanwhile, police have also blocked the junction of Inya Road and University Avenue near the United States embassy and Aung San Suu Kyi's house. There appear to be hundreds, maybe thousands of protesters facing the police line, as you can see in the photos at the top of this post.
The traffic layer of Google Maps gives a sense of the gridlock. There's almost no traffic moving for kilometres along the arterial roads north of downtown, including Kabar Aye Pagoda, Pyay, Shwegondaing, Dhammazedi Road, University Avenue, Industry Road and Natmauk roads. Of course, central downtown around Sule Pagoda is also impassible due to the huge number of people gathering there.
---
UPDATE: 1:45pm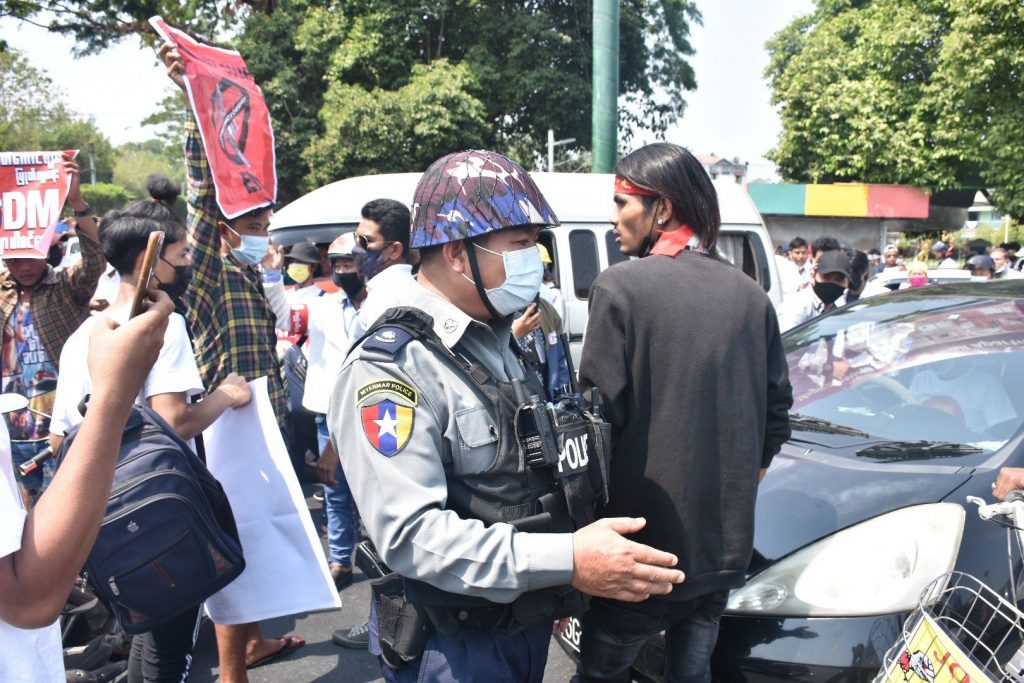 Police shut down U Htaung Bo roundabout
Police have moved in to clear demonstrators from the U Htaung Bo roundabout in central Yangon and closed it off to traffic.
Hundreds had gathered at the high-traffic junction earlier this afternoon, pouring into the street and blocking traffic. Several trucks full of police arrived to clear them out, then barricaded the entire intersection off to traffic. The protesters have mostly moved along, likely gathering elsewhere in the city.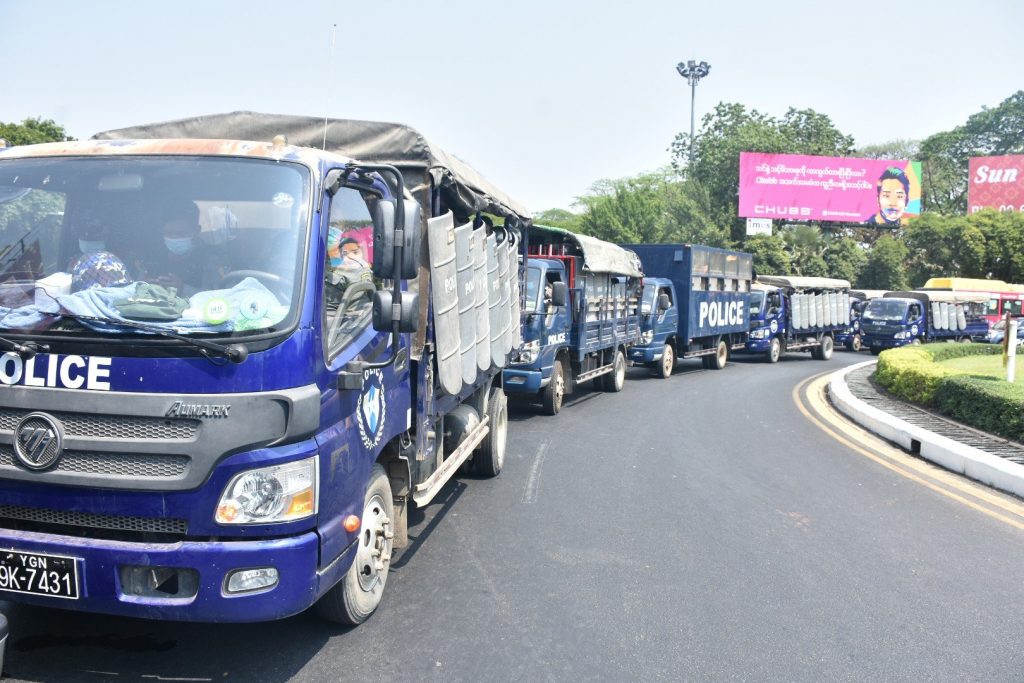 ---
UPDATE: 1:30pm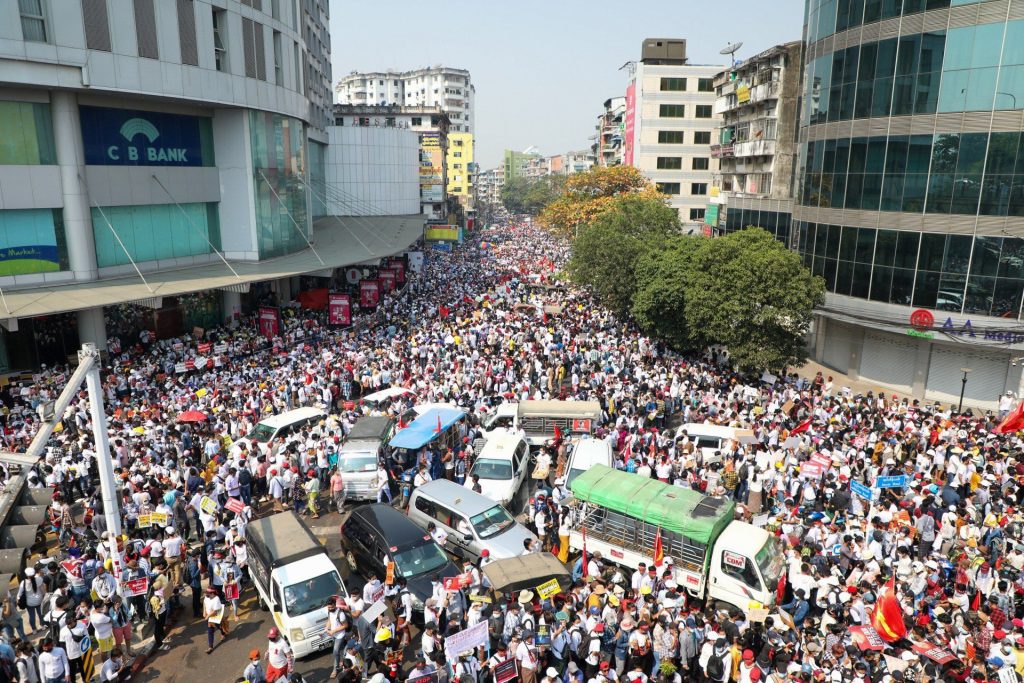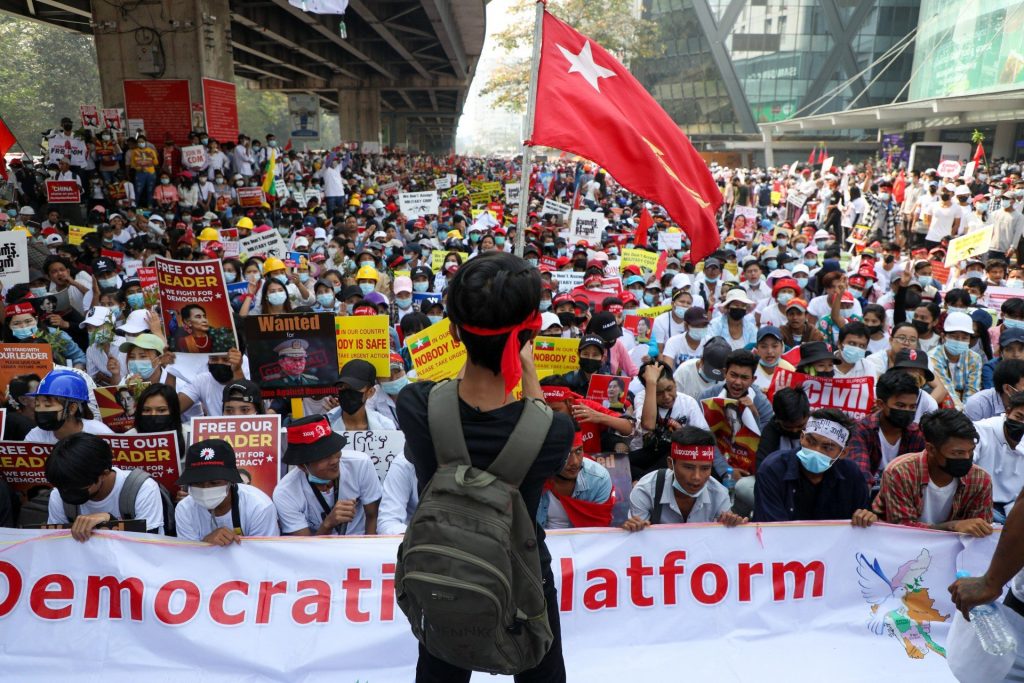 In Yangon, the Hledan junction, near the University of Yangon, seems to be shaping up as one of the largest protests sites in the city today. Photos coming in from our reporters on the scene show the massive scale of the demonstrations there.
Motorcyclists are also out in abundance, both there and downtown. In more normal times, motorbikes and motorcycles are banned from the roads of most Yangon townships, but since the military seized power from the elected government, riders have poured onto the streets in yet another show of defiance.
---
UPDATE: 12:30pm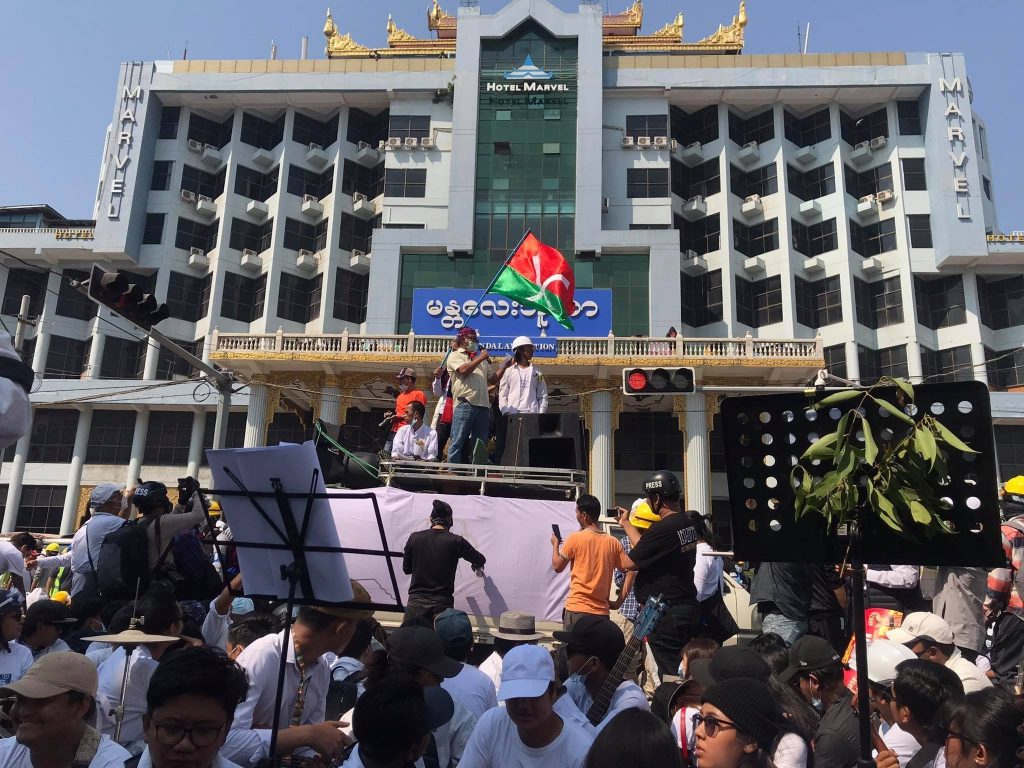 Huge protest turnout across the country for 22222 uprising
Today's massive protests are certainly not limited to Yangon – this is a truly nationwide demonstration.
In Mandalay, thousands are staging a sit-in near the Central Railway Station at the corner of 78th and 30th streets. Musicians are performing the song "Thway Thit Sar" (blood loyalty), a popular revolutionary anthem. Large columns of demonstrators are arriving all the time from outlying areas of the city, including teachers, students, activists and ordinary people, so the crowd is growing by the minute.
Here are some earlier livestreams from our reporter in Mandalay.
In Nay Pyi Taw, tens of thousands are participating in today's 22222 uprising. Many are showing their anger at the regime from cars or motorbikes, with large convoys driving around the city carrying banners. Basically all shops and restaurants are also closed today in Nay Pyi Taw. You can get a sense of the scale in this livestream video from our reporter.
Here, engineers are seen gathering near Hninsi (rose) roundabout in Pyinmana, a short distance from Nay Pyi Taw, to protest against military dictatorship. At 11am they were told by police to disperse and when police moved to begin making arrests, many protesters ran away.
From scanning social media we can see that there are also large demonstrations taking place elsewhere around the country. Here's a roundup of some of the demonstrations we've spotted.
---
UPDATE: 11:30am
Biggest protests yet against military rule
Huge crowds have turned out across Yangon and other cities around the country, heeding activists' calls for a general strike and what some are calling the five 2s uprising (as in 22222) as today is 22/2/2021. It's almost certain today's protests are the biggest to date against the military regime that seized power in a February 1 coup. Already there's a large crowd on Sule Pagoda Road (above), as well as at Hledan, Myaynigone and Kabar Aye Pagoda roads. Many businesses have closed across Yangon, except for those that might be of service to protesters, such as teashops. Mobile internet has also been down for much of the morning in Yangon, although some Wi-Fi seems to be working.
Our reporter at Hledan Junction says the crowd there is the biggest to date. Protesters from different walk of life, including workers, students and activists, have gathered at the popular protest site where several main roads meet. Some are holding eugenia leaves – a symbol of victory in Burmese tradition – to commemorate the 22222 uprising unfolding across the country. "We all have a common goal: victory for the revolution. We have faith that this revolution will succeed," said protester Ko Aung Myat Ko Ko.
Thousands of protesters began gathering at Myaynigone Junction (below) this morning from 9am. The crowd includes members of student unions, labour unions, urban poor networks and other protesters. A member of the General Strike Committee told Frontier: "We are marching to Sule with labour unions. After that we [the GSC] will demonstrate and talk to the crowd at Sule." He added: "If we oppose the dictatorship, they might shoot us. Everyone knows it. But we have to oppose dictatorship. It's our duty. That's why so many people are coming out today against them."
The military's efforts to disrupt or deter protesters appear to have failed. State-run media carried threats that more "loss of life" was possible if protesters confronted security forces. We wrote late last night that we'd heard bridges into Yangon were blocked – that appears to have been the case in at least some areas. A video on Facebook this morning showed two container trucks with deflated tyres had been laid across Nga Moe Yeik bridge on No 2 Main Road in order to block traffic in both directions. Incredibly, a crowd managed to move the truck (which was not carrying a shipping container) and traffic now appears to be flowing freely. Here's the moment the road was unblocked.
---
UPDATE: Monday, February 22, 12:30am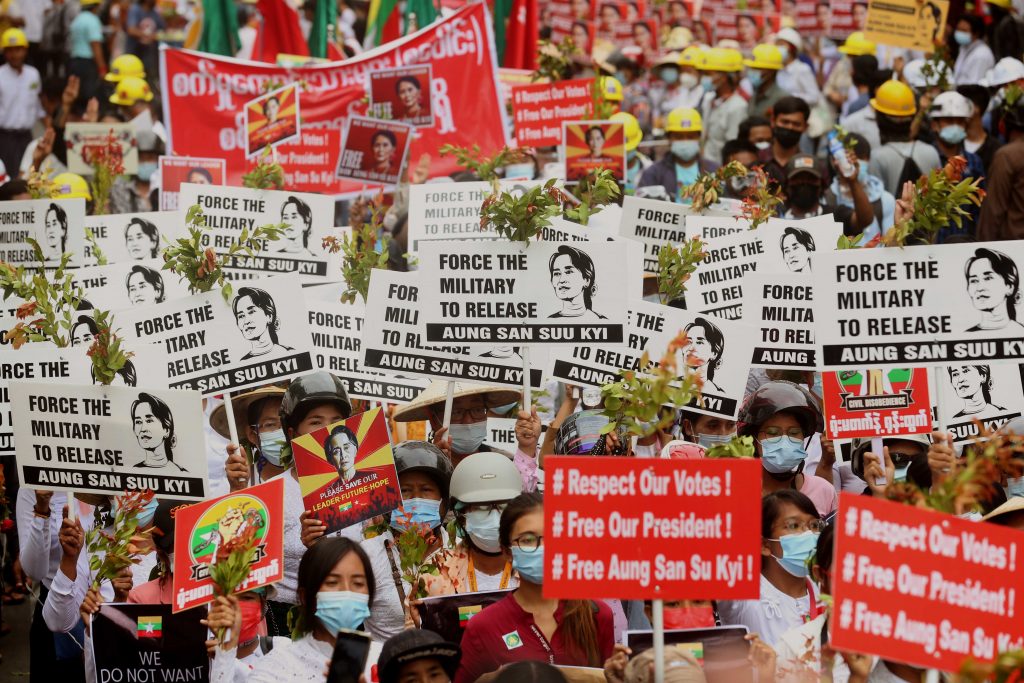 Junta issues warning with large protests expected in Yangon today
Good evening – a final post before we go dark for the night.
Tomorrow is set to be a big day, with activists calling for a general strike to protest the military coup. The date has been deemed auspicious – some are calling it the "five twos general strike", because it's 22/2/2021. Many shops have already announced they'll be closing for the day, including City Mart, which runs the country's biggest supermarket chain. We're anticipating large crowds along many of the city's main roads, including Insein, Pyay, Kabar Aye Pagoda, Sule Pagoda, Thanthumar, Waizayandar, Shwegonedine and Bayintnaung.
It's not clear who is behind the strike, but it comes just two days after the formation of the General Strike Committee. The committee features a range of activist groups that have been at the forefront of the protests so far, including students unions, professional groups and political parties. Their message is somewhat more radical than many protesters, who tend to call for the return of democracy and the release of Aung San Suu Kyi and other political prisoners. Among their four objectives is the abolition of the 2008 constitution, which the Tatmadaw says it adhered to when it removed the National League for Democracy government. The other objectives are to end dictatorship, build a federal democratic union and free those who have been detained unjustly.
The formation of the committee has been fairly controversial. The anti-coup resistance has so far been largely leaderless – some argue that's been a major strength – and the formation of an organising committee has sparked tension between various anti-military political factions. Some have accused GSC members of being political opportunists who are trying to capture the limelight.
This criticism seems to be emanating more from NLD supporters, some of whom have been encouraging others to report the GSC's Facebook page as a scam. Tonight the party put out a cryptic statement, explaining its stance on the 2008 constitution as laid out in its election manifesto. It then said that the sharing of individual views about the issue was not related to the party. That was all the statement said – we did mention it was cryptic – but the consensus seems to be that the party is basically saying it doesn't support the GSC.
Regardless, the military regime seems to be making preparations for a big day. Many sources are reporting that the nightly internet cut, from 1am to 9am, is expected to run until noon, presumably in an attempt to prevent protesters from organising through social media or posting about what's going on. There have also been reports tonight of barriers going up across roads near embassies, including the United States embassy. We haven't been able to confirm these because of the curfew, but images on social media do appear to show roadblocks. A few weeks ago the military also tried to undermine protests by setting up roadblocks on major bridges, but this just caused traffic chaos – it will be interesting to see if they try it again tomorrow.
The junta has also issued a thinly veiled warning that it will not hesitate to use more deadly violence against protesters, after two were killed in Mandalay on Saturday. In a message broadcast on state TV, it blamed "NLD party members and its supporters" for inciting violent clashes between protesters and security forces in Nay Pyi Taw, Mandalay and Mawlamyine. It claimed that security forces had to "fire back" after coming under attack from "notorious ex-criminals and their gangs". It ends ominously with the following message: "It is found that the protesters have raised their incitement towards riot and anarchy mob on the day of February 22. Protesters are now inciting people, especially emotional teenagers and youths, to a confrontation path where they will suffer the loss of life."
Finally, Myanmar's Ministry of Foreign Affairs has released a statement accusing "some embassies in Yangon and foreign countries are tantamount to flagrant interference in internal affairs of Myanmar", due to recent statements condemning the coup and violence against protesters. The MOFA statement referred to article 41 of the 1961 Vienna Convention on Diplomatic Relations, which it said "implies that diplomats are to respect the laws and regulations of the receiving State and should not interfere in the internal affairs of that State". The statement has naturally been poorly received by social media users, and it seems some poor admin of the MOFA page has been tasked with deleting negative comments. Many of those criticising the statement say they have had to repost their comment because it was deleted, with some even reposting for a third time.
That's all from us – the internet is about to go off. We'll see you on the other side.
---
UPDATE 3pm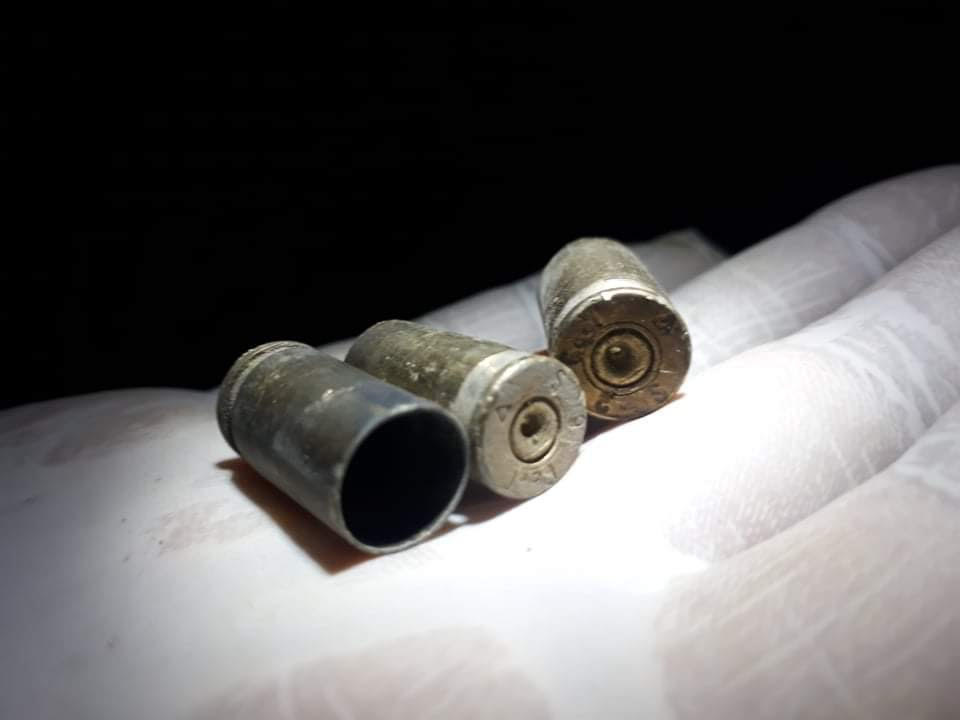 Shwepyithar residents blame police for fatal shooting of local man
Frontier went to Yangon's industrial northern suburb of Shwepyithyar Township this morning to speak to residents who have been shaken by the death last night of one of their neighbours, allegedly at the hands of police.
The incident came after at least two people died yesterday in Mandalay when security forces opened fire on protesters in the city, and was followed today by an unexplained fatal stabbing of a 46-year-old man elsewhere in Shwepyithar by a plain-clothes mob.
The 30-year-old man killed last night in Shwepyithar, Ko Tin Htut Hein, was patrolling his neighbourhood, called Ward Hta/15, with other community members when he was shot dead at 11pm. The group was one of hundreds of ward-level patrols that city residents have formed since the coup to protect their communities from night-time arrests by the police and the army, and to guard against criminals that have allegedly been sent by the military to terrorise neighbourhoods.
A 34-year-old man who was also on patrol, and asked not to be named, told Frontier that the incident began when the group stopped two unmarked vehicles on Bandoola Road, which fringes the ward. Two uniformed police officers were visible in the vehicle at the front, which resembled a delivery van, and one of them came out onto the street and shouted, "How brave are you?"
"He then fired three shots into the air," the man said, and the community patrol group ran for safety. "We then heard five more shots."
On hearing the van and the light truck that was behind it drive away, the patrol group returned to the road to find their neighbour Tin Htut Hein lying dead next to a bullet casing.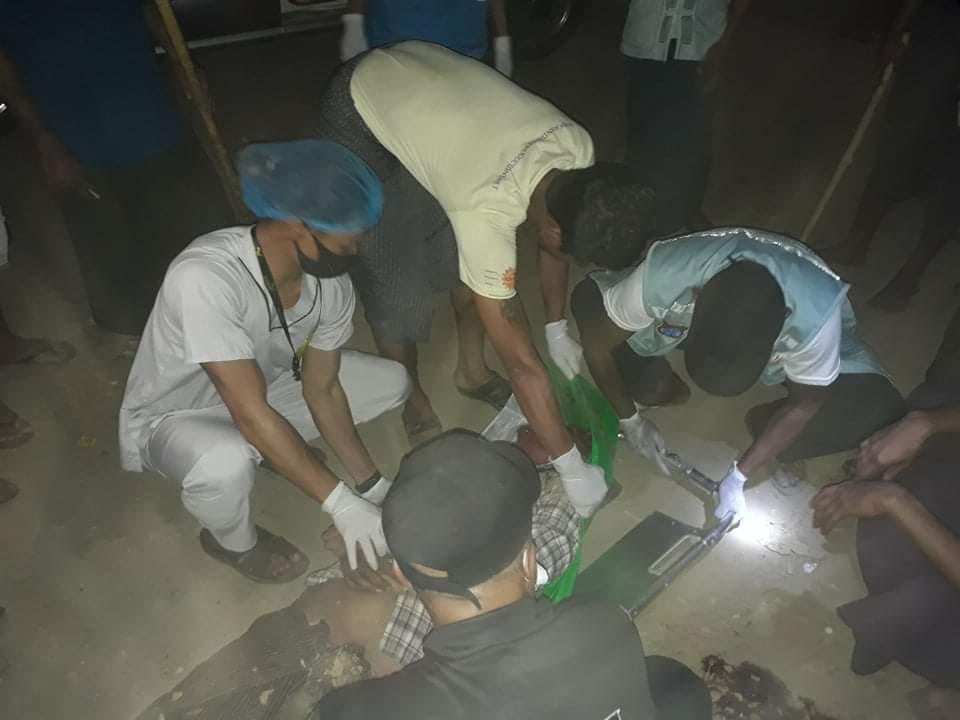 More than 100 community members surrounded the nearby Hlawgar police station after the killing but dispersed after about 20 minutes when news of police reinforcements came. Several of them told Frontier they would resume protesting outside the police station this afternoon.
Tin Htut Hein is survived by a wife and a four-year-old child. His family members went to view his body at Hlaing Tharyar hospital this morning.
Ko Ye Min Chan, a local man who also on the night patrol, said the killing had left the community "terrified" but it would only make him and his neighbours more determined in guarding their ward every night.
"Rather than protecting people, the police are killing them," he said. "We will protect ourselves. We have no choice."
Frontier contacted Hlawga police station but an officer said they were unavailable for comment.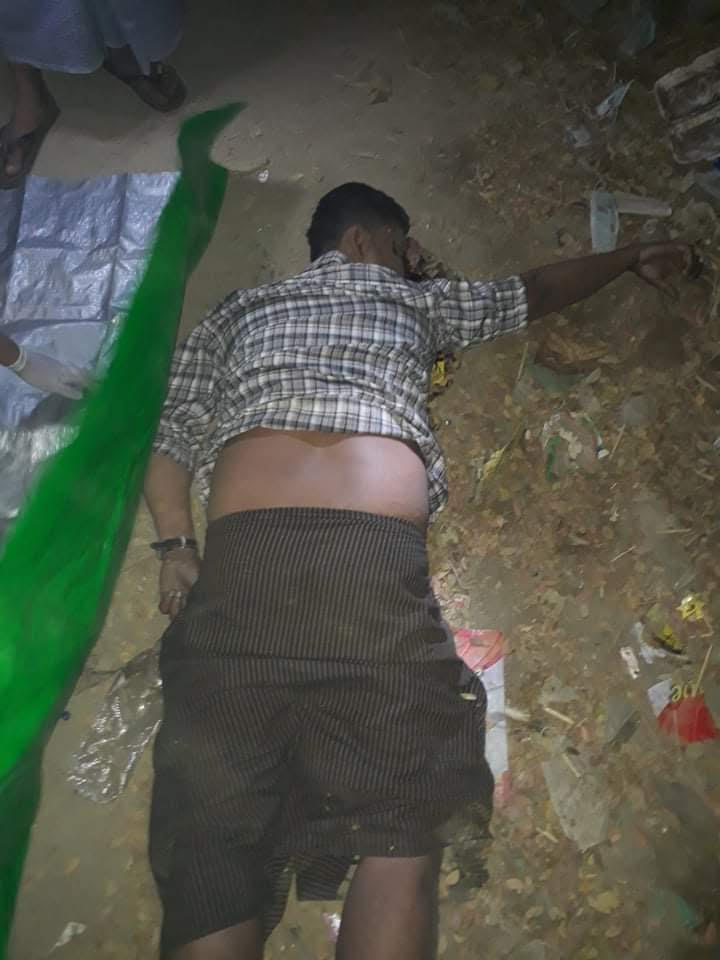 Following yesterday's deadly shooting, today's fatal stabbing took place in the neighbouring ward of Hta/16.
"A car and two motorbikes came with about six people, armed with knives," said a 50-year-old neighbour of the dead man, who has been identified as Ko Bo Tay, a resident of the ward's Thida 5 Street.
"They fought him [Bo Tay] in front of his house and then chased him inside," the neighbour said of the unidentified, plain-clothes mob.
After the group of six left, Bo Tay was found inside his home, stabbed to death in a pool of his own blood.
Ward residents told Frontier they did not know what motivated the killing.
---
UPDATE 2:15pm
NLD joins Mandalay demonstrations after killings
If the military junta had expected its bloody crackdown on protesters in Mandalay yesterday would cow the city's residents, it appears to have miscalculated again.
Thousands have turned out today to stage a massive sit-in near the city's clocktower, close to the Zaycho Market, and paid a silent tribute to the latest martyrs of the protest movement.
The crackdown by police and soldiers on striking workers and protesters at a state-owned dockyards left two people dead and at least 30 injured, as security forces fired live rounds into the crowd.
For the first time in Mandalay, the National League for Democracy formally joined the anti-coup demonstrations. Representatives spoke to the crowd alongside lawyers, health workers, and civil society and student leaders in a powerful show of unity against the regime.
The crackdown was widely condemned overnight by foreign governments and the United Nations.
---
UPDATE: 2pm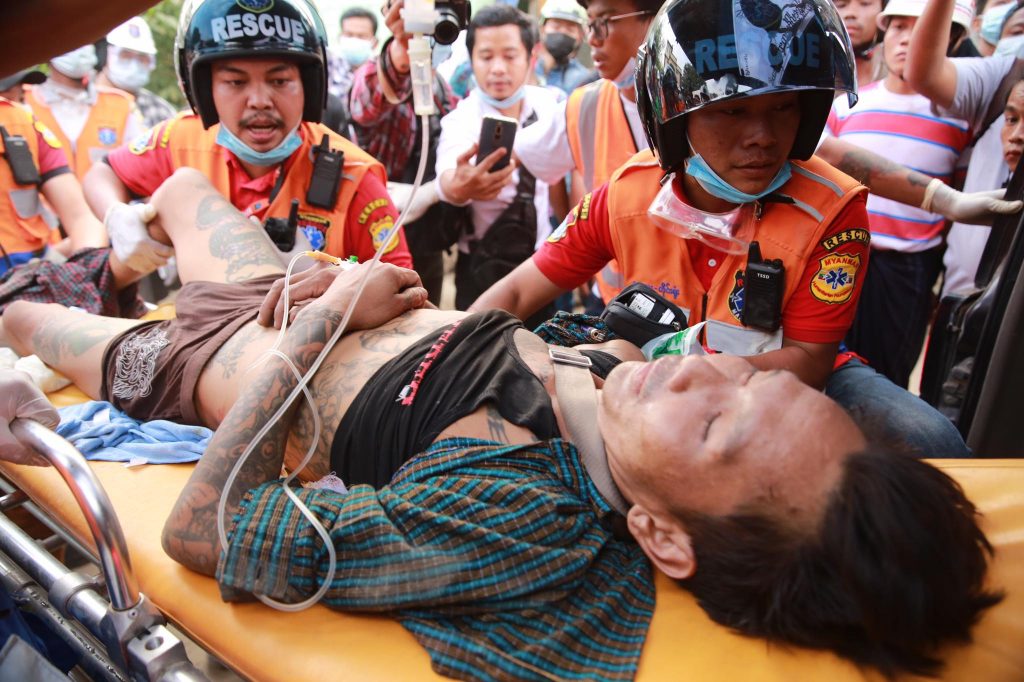 Foreign governments condemn killings, Facebook removes military "True News" page
Foreign governments and the United Nations have condemned the shooting of protesters in Mandalay yesterday, with UN secretary general Antonio Guterres describing it as "unacceptable".
Two people were killed and at least 30 people injured when security forces opened fire on striking workers and protesters at a state-owned dockyard in Mandalay. (Read our coverage of events here.)
The European Union's foreign policy chief Josep Borrell said the bloc would "take appropriate decisions" in the wake of the violence at a meeting of EU foreign ministers tomorrow.
"I strongly condemn the violence against peaceful civilian protestors by the military. I urge the military and all security forces in Myanmar to immediately stop violence against civilians," he tweeted.
US State Department spokesman Ned Price also expressed his government's concern.
At least one of Myanmar's neighbours has also condemned the violence, with Singapore describing the use of lethal weapons against unarmed civilians as "inexcusable".
"The authorities must prevent further violence and bloodshed. All parties should seek a political solution for national reconciliation, including a return to Myanmar's path of democratic transition, through dialogue without resorting to violence. If the situation continues to escalate, there will be serious adverse consequences for Myanmar and the region," a Ministry of Foreign Affairs spokesperson said.
Meanwhile, Facebook said overnight it had also taken action, removing the Tatmadaw's True News Information Team page from its platform. Facebook has already removed some military-linked pages in the wake of the coup, including the page for Myawady, the Tatmadaw-owned media business.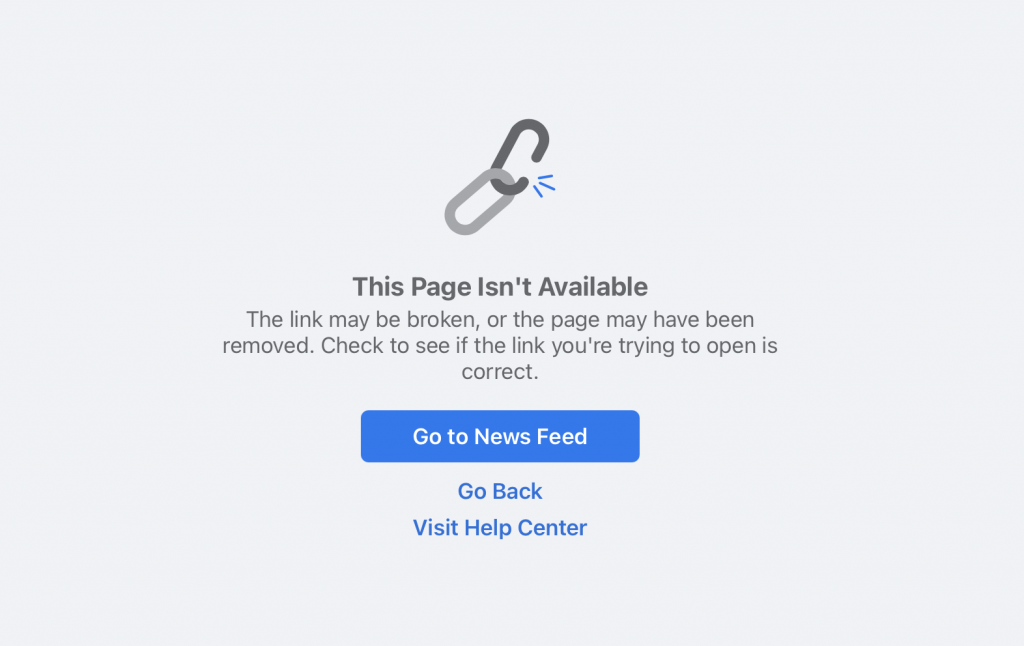 Although the junta restricted access to Facebook more than two weeks ago, the True News Information Team has continued to post updates to the platform and live-streamed a press conference last week that many private media organisations boycotted.
"In line with our global policies, we've removed the Tatmadaw True News Information Team Page from Facebook for repeated violations of our Community Standards prohibiting incitement of violence and coordinating harm," a Facebook representative said in a statement.
---
UPDATE: Sunday, February 21, 1:30pm
Good afternoon from Yangon. We've created a new liveblog page, so for updates prior to February 21 please visit here.