Trapped in a life of fear and violence, Myanmar migrant women on the Thai border find refuge at a support group organised by a fledgling non-profit organisation.
By JARED DOWNING | FRONTIER
AS THE arguments between Ma Khin Myo and her husband got worse, so did the beatings, and she didn't know how to make them stop.
Khin Myo, 28, a migrant worker in Thailand, could have gone to the police, but worried that if she did, her family might be deported. She could have sought help at her mosque, but what if the imam wanted her and her husband to divorce? She wanted to open up to her friends, but what if they called her an ungrateful wife?
"I was afraid. I was afraid I would be separated from my two kids," she said, sitting with her two-year-old daughter at a teashop in Mae Sot, just across the border from Myawaddy in Kayin State.
The teashop, a simple but clean open-air cafe, is where Khin Myo and other women gather each Friday for a meeting of a support group organised by the Freedom Restoration Project, a fledgling non-profit organisation that supports migrant women who are victims of domestic abuse.
Each of the women in the group came to Thailand in search of a better life and instead found herself living in difficult conditions and trapped in a cycle of fear and suffering. Few of them carry immigration papers, and even fewer speak Thai. Some, like Khin Myo, have managed to end, or at least temper, the attacks from their husbands or partners. Others still live under the constant threat of verbal, physical or sexual violence, with no one to turn to but the other survivors.
"When you do group therapy, it's powerful not because of the counsellor, but because of the people in the group who have been through the same thing," said Ms Watcharapon "Sia" Kukaewkasem, founder and director of FRP. "They share their stories, they share their fears, and they make other women in the groups think, 'Wow, I'm not alone here, I'm not the only one.'"
FRP is currently a two-woman operation staffed by Sia, who holds a master's degree in clinical social work from Azusa Pacific University in California, and her assistant and translator, a Karen woman named Hser Htee Paw. Together, they organise the support group, hold parenting workshops for migrant mothers and visit migrant schools to teach teenaged girls how to identify and defend themselves against sexual abuse.
Although FRP launched last year, Sia's vision has been more than a decade in the making. In 2007 she became a volunteer social worker in Mae Sot, home to hundreds of thousands of migrant workers from Myanmar, who live in squatter shantytowns or factory dormitories and plant, dig, clean or stitch for a few dollars a day. Over the years, Sia came to expect the fresh bruises and black eyes on the women she counselled.
One woman, whom Sia met as a teenager and watched grow up and marry, would flee to Sia's house whenever her husband flew into a rage. The husband of another woman would force their oldest children to beg on the street and once branded their daughter's leg with a hot knife when she didn't bring home enough cash. The same woman suffered a miscarriage after a particularly savage beating.
"[That mother and four kids] all came to the organisation I was working with, and when she was with me for a few weeks she told all these stories," Sia recalled. "She said, 'I'm not going back anymore. He's so violent to me and my kids."
At the time Sia was working for a Mae Sot-based NGO, Compasio, which helped to provide the woman with a new apartment. "After a few weeks, she went back to her husband," she said.
Escaping an abusive situation can be more difficult than it might first seem, said Ma Lai Win Phyu, a gender-based violence analyst with the United Nations Population Fund. The fetters that bind women to what is known as "intimate partner violence" (IPV) – be it physical, sexual or emotional – can extend beyond mere economic dependence.
"They don't have a legal status and they don't have legal documents. This can be a big challenge," Lai Win Phyu said. "They have double discrimination: They will be discriminated against because of their legal status and because of their gender."
Sometimes, Sia's clients seek help from the police but they are usually reluctant to become involved in what they consider to be a domestic dispute and send the woman home.
"This will happen to Thai women too," Sia said. "Police will say, 'Oh, today maybe you'll fight, but tomorrow you'll make up.' They think [only] about family unification."
But the greatest threat can come from within.
"Survivors do not exercise help-seeking behaviour because they are afraid of being blamed by the community," said Lai Win Phyu.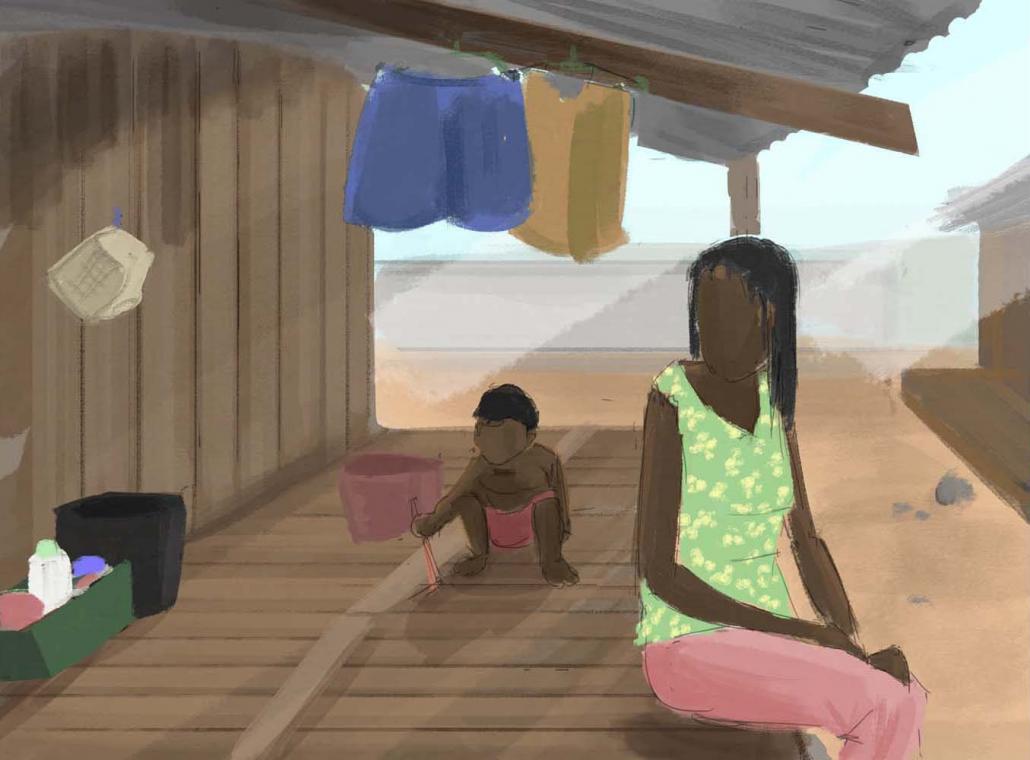 In Myanmar migrant communities, violence can be common, even expected, between husband and wife, but it is not considered to be a reason for a woman to leave, or even threaten to leave, her partner. Doing so can invite scorn from the community.
"They might tell themselves, 'This is my fault because I did not cook well. This is my fault because I did not take care of the children.' They believe they are the ones who should be blamed," said Lai Win Phyu.
Ma Htay Htay Oo, 25, from Mawlamyine, does not blame herself for her husband's violent outbursts, but neither does she think he is entirely at fault.
Life is hard, she explained from the front lawn of the migrant school where she attends the FRP's weekly parenting workshops. On the horizon, looming like a grubby white hill, is the city dump, where Htay Htay Oo and her husband support their three-year-old daughter by scavenging for recyclables.
Money is always scarce and the city could evict them at any moment, said Htay Htay Oo. She understands why her husband gets drunk sometimes and hits her, even if she hates it.
"Sometimes I feel like this is just normal. But sometimes, when I'm alone and sad, I feel like my husband abuses me, and it isn't good," she said.
Although not all of the mothers who attend the parenting classes go to the support group, Sia suspects that most of them live, like Htay Htay Oo, with the ever-present threat of abuse. One of the objectives of the FRP's parenting classes is to de-normalise the concept of domestic violence and re-define it as negative and abhorrent.
For Htay Htay Oo, at least, the classes seem to be working. Her husband is open to the new parenting techniques and is also taking steps to curb his violent outbursts, even if he does not always succeed.
Sia is less forgiving of Htay Htay Oo's husband. She says Htay Htay Oo's willingness to put the blame for her husband's violence on poverty, stress and alcoholism is common among women who are abused by their partners. Sia hates the blame-shifting.
"Not everyone who drinks abuses their wives, and not everyone who doesn't drink doesn't abuse their wives. Being poor is not the reason there is violence at home," she said sharply after talking with Htay Htay Oo. "Maybe that will create more stress, but that's not the main thing. It's more about control of another person."
Lai Win Phyu agrees. "The root cause is gender inequality. Power imbalance," she said. "Power is not only strength. You can talk about it on an economic level, a societal decision-making level or a technology and communication level."
For Khin Myo, improving her situation began with discovering her own power. With the encouragement of other women in her support group, she finally stood up to her husband, threatening to go to their local Muslim leader or leave him if the violence did not end.
The ultimatum worked. He promised to change and he hasn't lifted his hand against her for months.
Others are not so fortunate and often face the cruel choice of abandoning their homes and families or continuing to live with abuse.
But those who meet for tea each Friday, at least for now, are not alone.
TOP ILLUSTRATION: Jared Downing | Frontier