A long coastline and a wealth of inland waterways offer huge export growth potential for Myanmar's fisheries industry, but overfishing poses a major problem.
By OLIVER SLOW | FRONTIER
Photos ANN WANG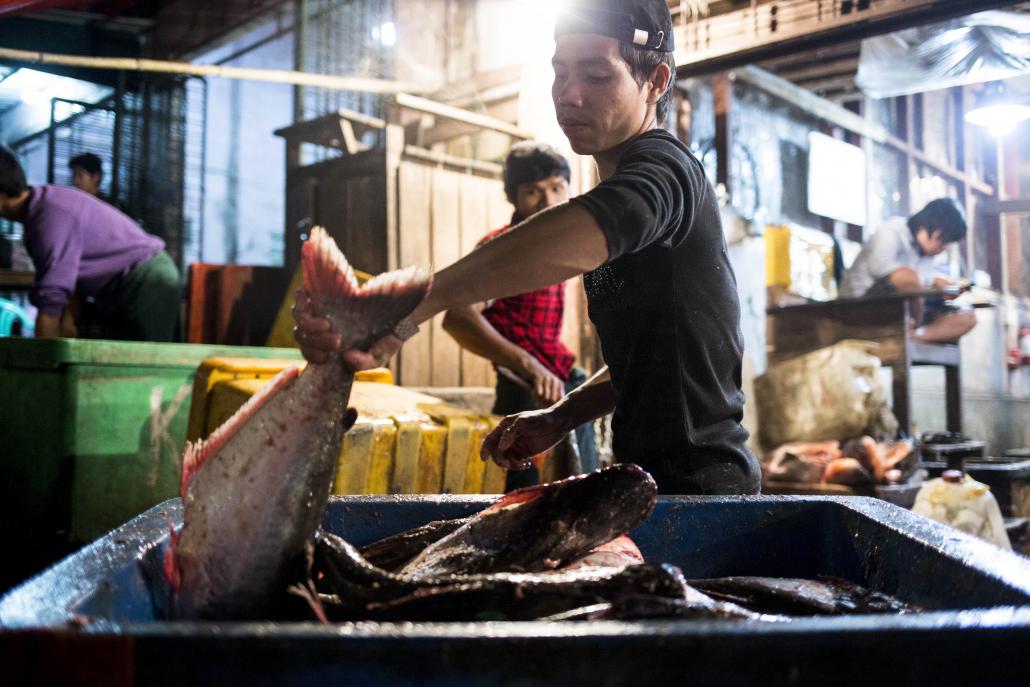 Hours before dawn at San Pya Fish Market on the eastern bank of Yangon River, the bazaar is teeming with life.
Men shouldering baskets of fish rush through the crowds, carrying supplies from the boats to the market, as customers barter over the price of the morning's catch. A team of labourers, in matching Barcelona football jerseys, sift through piles of rohu as a customer negotiates a price with their boss.
"The number of fish in the water has dropped a lot in the last two years," said U Thaung Win, 55, a broker at the market. "Although I expect the numbers to increase again by 2017, it's just a cycle," he said.
Others involved in the fisheries industry see the fall in supplies as more of a long-term problem.
"Fish supplies have dropped about 30 percent in the last two years," said Ko Aung Myo Thant, director of the San Pya Shwe Nga Co Ltd, which supplies fish to the domestic and international markets. "Overfishing is becoming a big problem," he told Frontier in an interview at the company's office at San Pya market, as workers outside packed fish for shipment to China.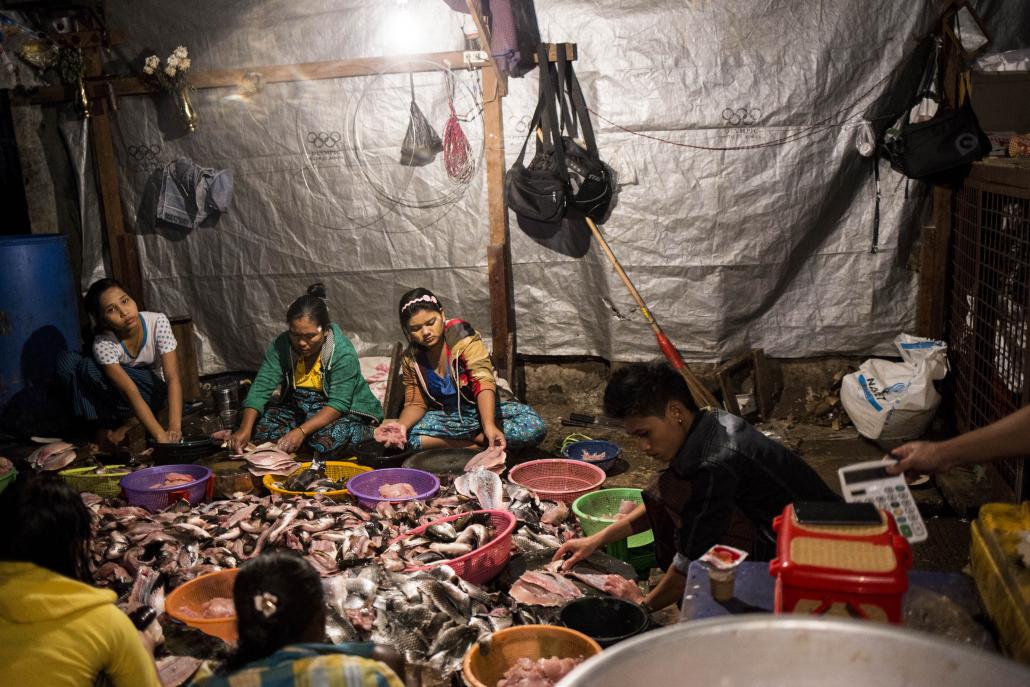 According to some estimates, the catch from Myanmar's fishery has dropped by up to 90 percent in the past 30 years.
"Certainly for marine species, there's evidence that the stocks have dropped quite significantly since the early 1980s," said Gareth Johnstone, the Myanmar country manager of WorldFish, a research organisation based in Penang, Malaysia.
WorldFish is working with the Fisheries Department of the Ministry of Livestock, Fisheries and Rural Development to help develop the sector. "If you're exporting your products to the European Union, they want to see a well-managed system, so that's important," said Mr Johnstone. "There are a series of recommendations about restructuring, and with Myanmar's transition we're in the right period to look at restructuring how things work."
U Han Tun, chief executive officer of Myanmar Fisheries Federation, told Frontier that the fall in supply was "alarming."
"The situation is not good. Fish numbers are low, particularly for marine fish. Overfishing is the main problem, it is having a big impact," he said.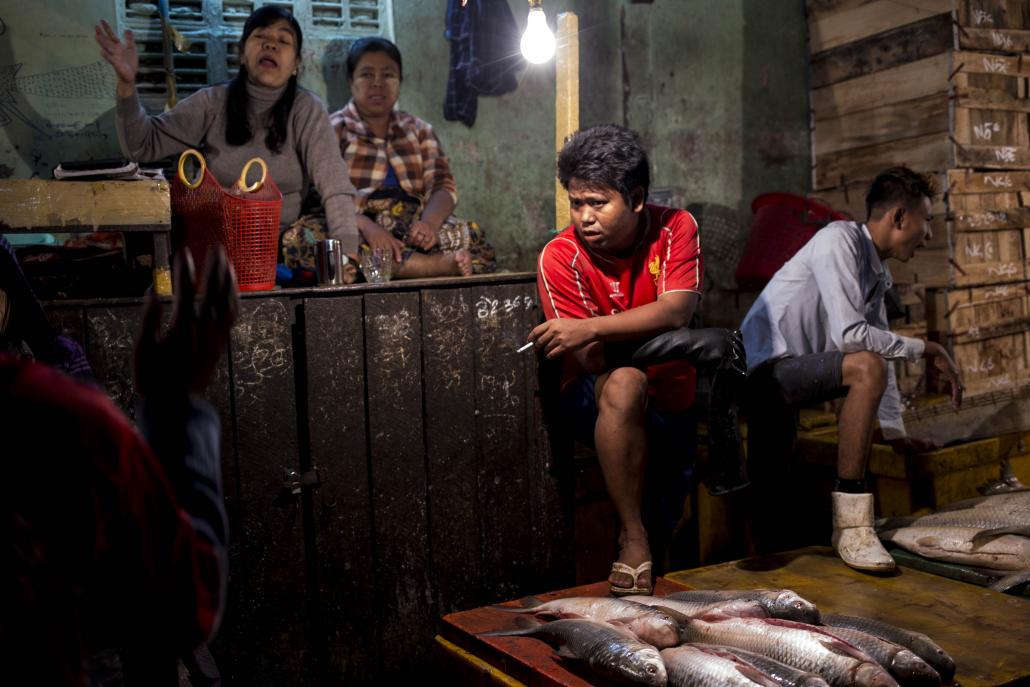 Earlier this year, the ministry suspended ocean fishing for three months in an attempt to boost supply. U Han Tun said that although the measure was successful, more long-term solutions were required.
"The most important thing is to enforce rules and regulations at sea. It is down to the government to work on this," he said.
U Kyaw Yin, executive officer of MFF, said he hoped the new NLD-led government would address the issue.
"The old government was not so effective, but we have spoken to this new government and given advice to them. They have acknowledged the issues we are facing," he said.
In its 25-page manifesto, the NLD said it would strive to develop the "fisheries sector in order to ensure access to full nutrition, bolster domestic food security and support international exports".
Fisheries Department figures show Myanmar exported US$536.27 million worth of fishery products in 2013-14, down from $652.84 million the previous year. The most popular species for export are rohu, which earned $69.05 million in 2013-14, and live eels, which fetched US$52.21 million. Other popular exports were live mud crabs, hilsa and tiger and pink prawns.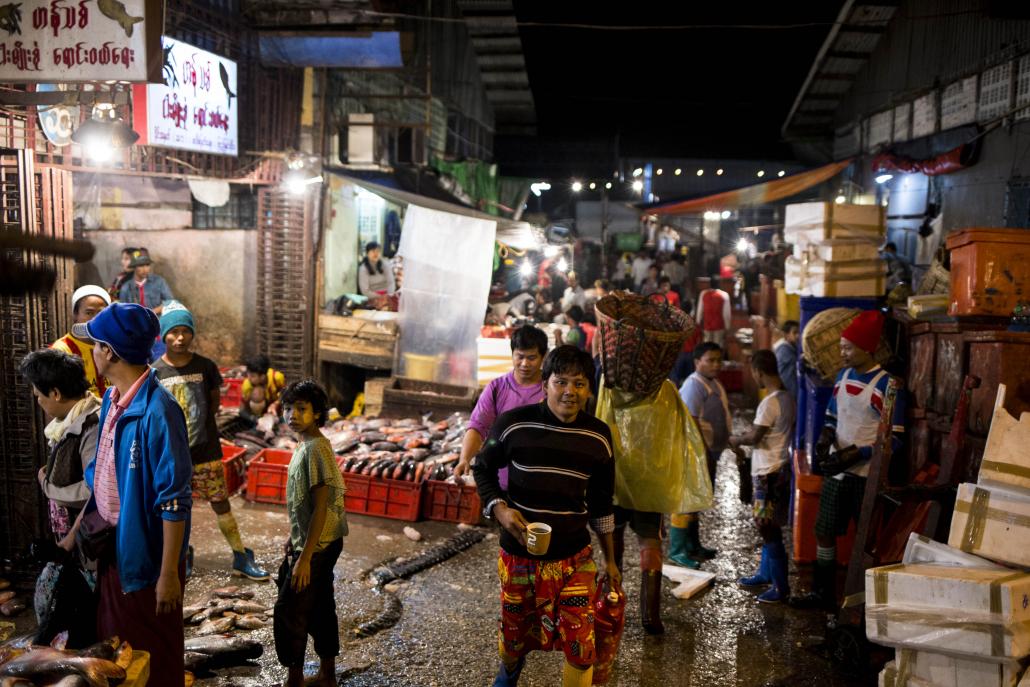 China is easily Myanmar's biggest market for fishery products, buying $199.29 million in 2013-14, or nearly 40 percent of total exports. Singapore was second, with exports there worth $25.22 million.
One reason why China is the biggest market is because the standards it applies to imports are lower than other export destinations. Many exporters are eyeing opportunities in markets such as the European Union, which imposes stringent safety checks on imported food products.
"For China and Thailand, there is no problem, but Europe is more of a challenge because of the higher standards there," said Ko Aung Myo Thant, who displayed a licence from the government to export to Europe.
"At the moment, hilsa is a very popular species in Europe, but in the future species like tilapia and rohu, which are popular domestically, have the potential to be good for export," he said.
The MFF wants international donors with fisheries expertise to help develop the industry.
"Other countries are well supported and have good relations with foreign investors, and now we are starting to improve," said Ko Aung Myo Thant. "We have good resources in water and good weather, so we can do inland breeding year-round. Compare that with China where they can only do it for six or seven months a year, so that gives us an advantage," he said.