The regime's push for solar power to rescue Myanmar from massive blackouts has failed, and a new Chinese gas plant and hydropower provide controversial alternatives.
By FRONTIER
On March 16, China-backed VPower, one of Southeast Asia's leading electricity producers, issued an "inside information on profit warning" for 2021, stating that the company expects profits to have fallen to between just seven and 15 percent of the US$65.8 million it made in 2020.
One of the key reasons, VPower said, is its business portfolio in Myanmar. The Hong Kong-listed firm attributed the revenue plunge to "a significant decrease in share of profits from the 50%-owned joint venture company which operates three power plants in Myanmar."
"Under the impact of, among other things, international political conditions, significant drop of foreign exchange volume in Myanmar, fluctuation of oil and gas price and the spread of COVID-19, the said joint venture company has temporarily suspended power generation of two power projects altogether since December 2021," said VPower, which had won four out of five liquefied natural gas and gas-fired power plant projects in Myanmar's 2019 emergency power tender.
VPower is partially owned by, and has a Memorandum of Understanding on investment cooperation in Southeast Asia with, CITIC, a major Chinese state-owned investment company headquartered in Beijing.
Even before the 2021 coup, business sources and diplomats said Chinese state-backed liquefied natural gas and solar energy companies would struggle to implement their investments due to short deadlines, even as other renewable proposals backed by Japanese and Western investors had stalled. But the coup dramatically worsened the sector, leading some developers to pause or even pull out.
Over the past 12 months, Marubeni of Japan and French EDF called off their joint hydropower proposal. Japanese energy firm Eneos, conglomerate Mitsubishi and Malaysian Petronas all withdrew from Myanmar's Yetagun gas project, and global giants Total, Woodside and Chevron announced their exits from the country.
Combined with plans for solar-powered energy production of 1,000 MW that has stalled since the coup, EDF's Shweli-3 Project of 671MW, VPower's two suspended plants with 200MW each, over 2,000MW has been taken off Myanmar's existing and planned power generation. This is equivalent to more than half of the country's pre-coup dry season available capacity of 3,100MW.
This has had massive consequences for people living in Myanmar. Blackouts have become more frequent since the start of 2022, with some townships in Yangon receiving just four to six hours of power daily. Businesses have also been affected as they have to use expensive diesel generators to keep running their operations.
In the long run, Myanmar's energy security is put at risk as existing gas reserves dwindle and new exploration is halted, two senior diplomats in Yangon told Frontier.
But as most international investors back away from the market and existing operators struggle to run the show, a Chinese state-owned enterprise is pushing ahead with its 135MW gas-fired power station project in Kyaukphyu in central Rakhine state.
In a March 24 statement, Shanghai-listed PowerChina said it expects construction to be completed on November 30. "Kyaukphyu is the most important fulcrum of the Belt and Road initiative in Myanmar, and an important construction area of ​​the China-Myanmar 'herringbone' economic corridor," the company said, referring to President Xi Jinping's flagship foreign policy initiative.
Meanwhile, coup leader Senior General Min Aung Hlaing has his eyes set on increased solar power production and promoted the use of solar power for electricity generation and agricultural purposes in a meeting in Nay Pyi Taw on March 31, the state-run Global New Light of Myanmar reported.
It was not the first time the coup leader had called for an increased role for renewables in powering the country. Two months earlier, Min Aung Hlaing gave a speech calling for prioritising renewable energy, highlighting solar and hydropower, and even inviting local and foreign companies "to generate solar power".
But the junta's solar tender has not been successful so far.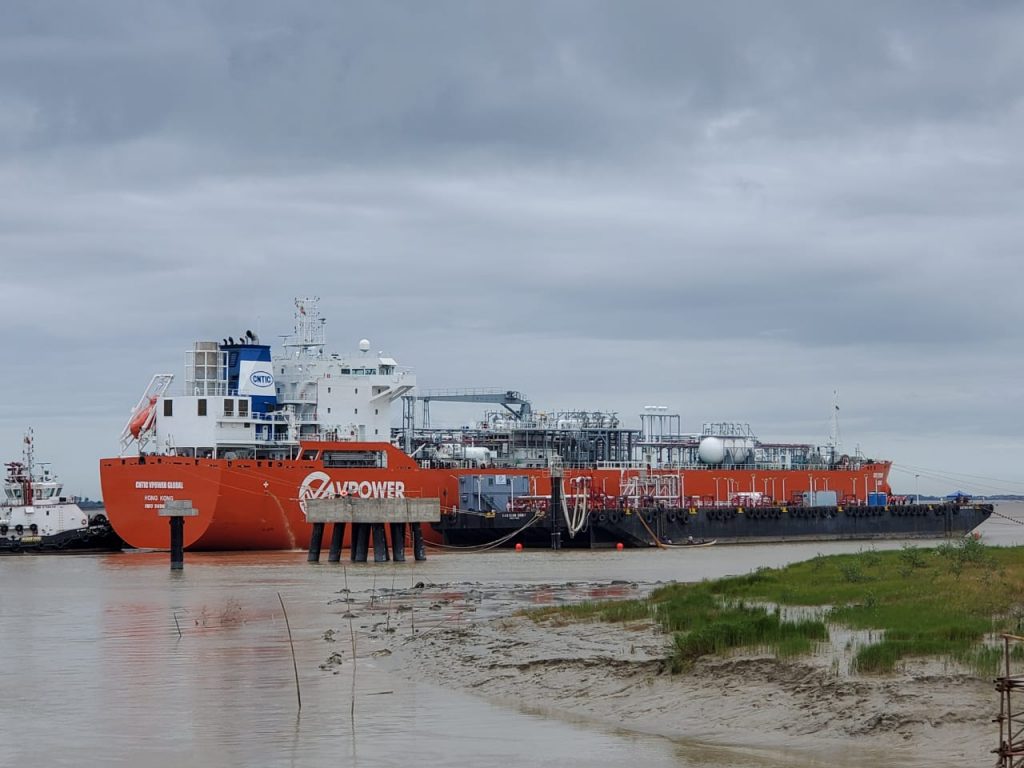 So-so solar tenders
Around 60pc of Myanmar's energy is generated by hydropower. As a result, power cuts are quite common in the dry season due to low water levels in the dams.
Under State Counsellor Daw Aung San Suu Kyi's government, Chinese developers were awarded the tenders to build 28 out of 29 solar power plants, collectively capable of producing 1,000MW of power, in a controversial process that was heavily criticised by Western embassies and foreign chambers of commerce.
The country's available dry season capacity is just 3,100MW, so this initiative would have greatly increased the amount of ready energy available to the country – until the coup derailed it.
"There are some solar projects that were approved by the previous government. Some of them are still pending due to the contracts," junta spokesperson Major General Zaw Min Tun said at a press conference on March 24. "The current government is encouraging and supporting them."
Frontier has not been able to determine how many of the previously approved projects are currently underway.
The military called for its own solar tender last May, which had its deadline extended three times due to a lack of bidders as a result of the country's ongoing instability.
But a source based in Yangon who is involved in the security industry told Frontier that most of the projects initiated by the junta's State Administration Council are either stalled or abandoned, including those under Chinese developers who won solar tenders in 2021.
"None of those projects have even started, from my understanding," they said. "The Chinese are wary of the market because the SAC cannot protect their assets from the armed resistance movement."
The junta's tender involved 12 solar projects, with each one set to generate between 20-40MW. The projects are planned in Shan State, Bago, Mandalay, Magway and Sagaing regions. Only six companies, including two Chinese companies and four local companies with ties to the regime, have made bids for the tender. Only two of the three projects in Magway Region have received bids, according to a report by The Irrawaddy.
The SAC never announced the list of bidders. According to information provided by industry and diplomatic sources, the Chinese firms who submitted the bids are joint-venture HK New Energy Investment Holdings Ltd, SEPCO Electric Power Construction and China ITS Holding. Others include Singapore-based MCM Pacific, Golden Energy and IGE Power.
Frontier has sent a request for comment to these companies through the Myanmar Chinese Chamber of Commerce and received no response.
The junta's tender has the same problems as the National League for Democracy's, foreign executives pointed out, only with much higher political and operational risks.
"Even before February 1, 2021, I think investors found the whole tendering process rather chaotic with unreasonable technical specifications and a perception that the decision-making process was opaque," a diplomat in Yangon with knowledge of the matter said.
But since the coup, many international investors have been very wary of the reputational risk of doing deals with the SAC. "Of course, they [foreign investors] will be aware of the failed status of VPower and others too," the diplomat told Frontier.
Another business source said that the turbulence caused by the coup made it difficult to attract investors to the sector.
"Few investors will want to resume or start projects given the current context including concerns about the regime's finances," he said. "There might be a push for the development of new hydropower plants like in the past, but those are time consuming to develop with high social and environmental impacts. What is happening is the reduction in electricity supply to the people – like under previous juntas."
Military links
Surprisingly, Finnish power-plant maker Wartsila won two recent gas and solar hybrid energy projects in a consortium with Myanmar Chemical and Machinery (MCM) and Chinese state-owned Dongfang Electric International Corporation, an investigation by activist group Justice For Myanmar revealed.
MCM is owned by U Aung Hlaing Oo, a close associate of Min Aung Hlaing. Aung Hlaing Oo has been accused of using his control of the company to supply weapons and commercial support to the junta. The US, UK and Canadian governments imposed sanctions on both MCM and Aung Hlaing Oo on March 25.
Wartsila told Frontier that they "have no further business dealings with MCM or Mr Aung Hlaing Oo or any sanctioned party" but declined to comment further.
"Wartsila told us that they have ended their business with MCM because of sanctions, but they say they are continuing their business with [state-owned] Electric Power Generation Enterprise and will not answer questions about how they could remove MCM from the consortium they just won tenders for," JFM spokesperson Ma Yadanar Maung told Frontier.
Yadanar Maung said that the nation's energy sector remained completely under the military's thumb.
"The Myanmar military has long dominated the electricity sector," she said. "Between 2011 and the attempted coup, the military continued to consolidate its grip on the electricity market for the benefit of military interests, and for the profits of military families, across the supply chain. At the consumer end, Yangon Electricity Supply Corporation and Mandalay Electricity Supply Corporation are stacked with former military officials. So even before the attempted coup they were effectively under military control. The terrorist junta is now using electricity as a strategic tool for control and collective punishment. At the generation end of the supply chain, military conglomerates are continuing to profit."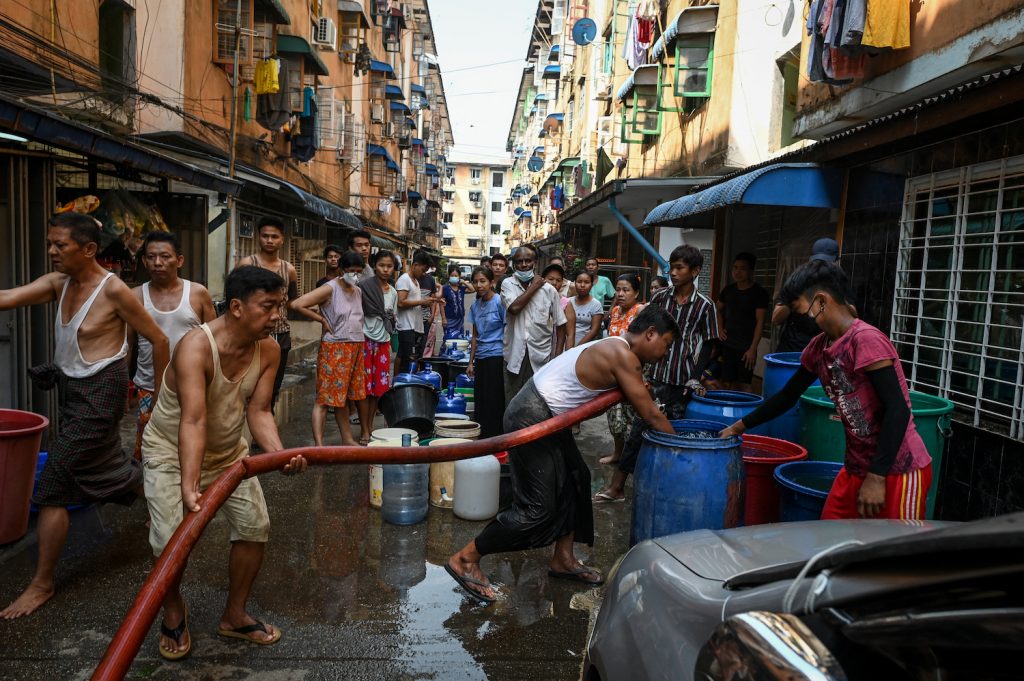 Junta's electricity ministry hit hard by mass boycott
Following the February 2021 coup, anti-junta protesters called for a nationwide strike of civil servants widely known as the Civil Disobedience Movement. The movement included a number of employees from the Ministry of Electricity and Energy.
As of July 2021, more than 4,000 striking staff had been fired for joining the CDM, according to the Independent Economists for Myanmar, a group of anonymous economists. The IEM also reported that the ministry's revenue had dropped by 90pc since the February coup due to a push to boycott payment of electricity bills as part of a nationwide effort to cut off revenues for the junta. The boycott is still widespread, though more people have begun to pay their electricity bills in recent months according to local reports. The National Unity Government, the parallel government formed after the coup by ousted lawmakers, also stated that the public boycott caused the military to lose nearly US$1 billion seven months after the coup.
Following months of boycotts, junta administrators began warning residents to pay their power bill or risk having their electricity cut off completely, sometimes bringing armed soldiers with them while making these announcements.
Despite Min Aung Hlaing's ambition for electricity, the people of Myanmar have been suffering more and more blackouts one year after the coup. The official Facebook page of the Yangon Electricity Supply Corporation has been posting cartoons telling consumers to "avoid danger and reduce energy consumption". One cartoon advised citizens to set the temperature either to 24 or 25C, much to their audience's derision.
One Facebook user commented that "We don't have the electricity to turn on the air-con."
Citizens have been experiencing more power cuts in the first quarter of 2022, which the junta has blamed on increasing prices of gas and attacks on its infrastructure by the People's Defence Force, loosely affiliated armed groups opposed to the junta.
According to data released by the junta's energy ministry on March 16, electricity generation capacity is currently at 2586MW.
Furthermore, the junta ministry announced that from March 12-18 there would be 24-hour outages in some areas of the country due to repairs being made at the Shwe offshore gas field. Within the same period, a timetable was leaked online detailing when power would be cut and returned, on a four hour rotation basis from 5am until 9pm. From 9pm until 5am, power would supposedly be on nationwide. But there has been no official schedule released by the junta, and consumers on the ground say the power cuts are unpredictable.
Electricity rationing will continue until the middle of May, the SAC's spokesperson Zaw Min Tun said during a press conference on March 24.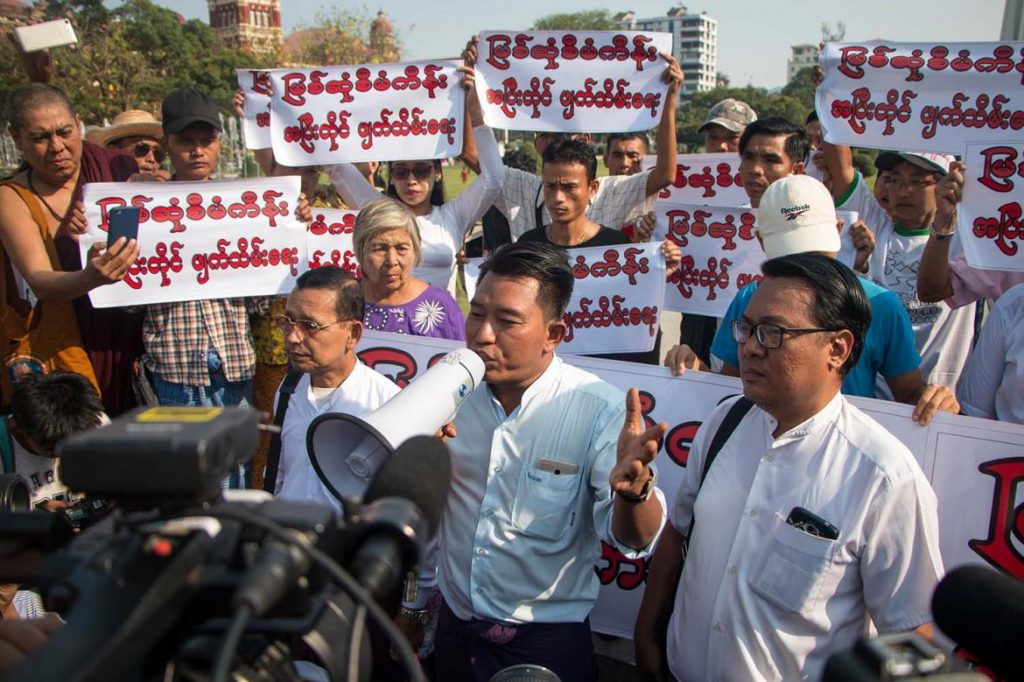 China's position under scrutiny
One key question is why Chinese firms including PowerChina and solar developers are putting their money in their crisis-torn neighbour despite the impact of boycotts and heightened risks for the electricity market.
China's state-owned enterprises and companies resuming new projects in Myanmar "is more of a geopolitical decision than an economic one," another Western diplomat in Yangon commented, pointing to how Beijing moved to shore up relations with the junta after SAC foreign minister U Wunna Maung Lwin's visit to China towards the end of March.
In a statement released following the visit, the Chinese embassy stated that "no matter how the situation changes, China will always support Myanmar in safeguarding sovereignty".
The SAC has not mentioned the controversial Myitsone Dam project which was suspended in 2017 due in part to intense public opposition by name but appears receptive to hydropower investments.
During an inspection at the Yeywa Hydropower dam in Kyaukse, Mandalay, on January 24, Min Aung Hlaing addressed the activism against dams and categorised the environmental concerns as politically motivated. "Although hydropower projects were attempted under the democratic government, things were made difficult for these projects by using the environment for political reasons," the coup leader said.
Myitsone's proposed mega-dam has been a massively controversial issue for previous administrations, given the symbolic and political importance of the Ayeyarwady River to Myanmar and the social and environmental damage the project would cause to local communities, many of which are ethnic minorities. Then-minister of investment and foreign economic relations U Thaung Tun, during an investment forum in Nay Pyi Taw in 2019, told reporters that negotiations were underway to change the scale, size and location of the dam. Thaung Tun, who's currently detained in an undisclosed location by the junta, listed various problems with Myitsone, from an earthquake fault line running under the project site to a catchment area "twice the size of Singapore".
An April paper by Washington-based think tank, the United States Institute of Peace, argued that Wunna Maung Lwin's maiden visit to China last month at the invitation of Chinese foreign minister Wang Yi represented a dramatic pivot in Chinese policy, with Beijing dropping any pretence of hedging bets with the NLD party and moving full steam ahead with the military. China's pivot towards the SAC is driven by Beijing's recognition that the SAC can no longer rely on Moscow to provide the previous level of support, and by the growing urgency of Chinese economic actors in the southwestern provinces to push forward with the China-Myanmar Economic Corridor, the report noted.
"The junta faces an extremely harsh international market given its complete lack of understanding of economics and banking; with security and reputational risks off the charts. This puts the junta in a position where it has zero bargaining power and must be a taker of whatever is offered from foreign investors," said Mr Jason Tower, Myanmar country director of USIP.
"They may think that they are getting very attractive deals, including power deals, compared to what the NLD government had to offer. What they may not realise though is that the entire country is now a war zone — and that this has already taken a deep toll on infrastructure in the country," Tower told Frontier on April 12. "Yes, Myanmar faces energy shortages, but this is not because the country needs more power plants — it is because the junta has no legitimacy or capacity to manage the provision of electricity."
Due to the economic downturn, active conflict and instability across the country, he warned that even if these Chinese companies are able to bring new projects online, whether they can maintain operations, and recover their investments is "a complete shot in the dark".
This story was produced as part of a grant from UKaid to support climate change and environment-related journalism.