Activists have faced a barrage of criticism on social media over protests in support of peace and other causes that some have perceived as attacks on the National League for Democracy government.
By NAW BETTY HAN | FRONTIER
On July 10, Ma Khin Sandar Tun and 16 other activists filed into the Bahan Township Court to hear the verdict in their long-running trial.
The decision brought to an end nearly two years of court hearings since they staged a peaceful protest in Yangon's Tarmwe Township on May 12, 2018, calling for an end to conflict in Kachin State and other parts of the country.
The demonstration took place amid a spike in clashes between the Tatmadaw and Kachin Independence Army that had trapped thousands of civilians close to the front lines. Shortly before the rally, police had rejected the plan to demonstrate on the grounds that it could cause "public annoyance and anxiety".
The march went ahead anyway until police and plain-clothes thugs broke it up. Eight activists, including Khin Sandar Tun, were arrested, and later accused the police of brutality.
Police then filed cases against 17 people under section 20 of the Peaceful Assembly and Peaceful Procession Law for staging the demonstration without permission. Although the accused were released on bail, the regular court hearings meant they were unable to travel for extended periods outside Yangon.
The outcome of the trial was predictable, if depressing: the judge ordered the defendants to pay a K5,000 fine each or face seven days' imprisonment. After paying the fine, they all walked free.
More surprising to Khin Sandar Tun and her colleagues was the public reaction to their actions. "When I read the articles about our arrest, I was shocked at the comments underneath them," she said.
Some dismissed the protests as "nonsense", and said the activists should only protest in the areas where fighting was taking place. But most seemed to be upset because they perceived the protest as an attack on the National League for Democracy government.
Ironically, many of the activists facing public criticism are NLD supporters, or have worked with the party to fight against injustice under previous administrations. Similar anti-war demonstrations under the Union Solidarity and Development Party government were mostly allowed to proceed, and there was relatively little public opposition.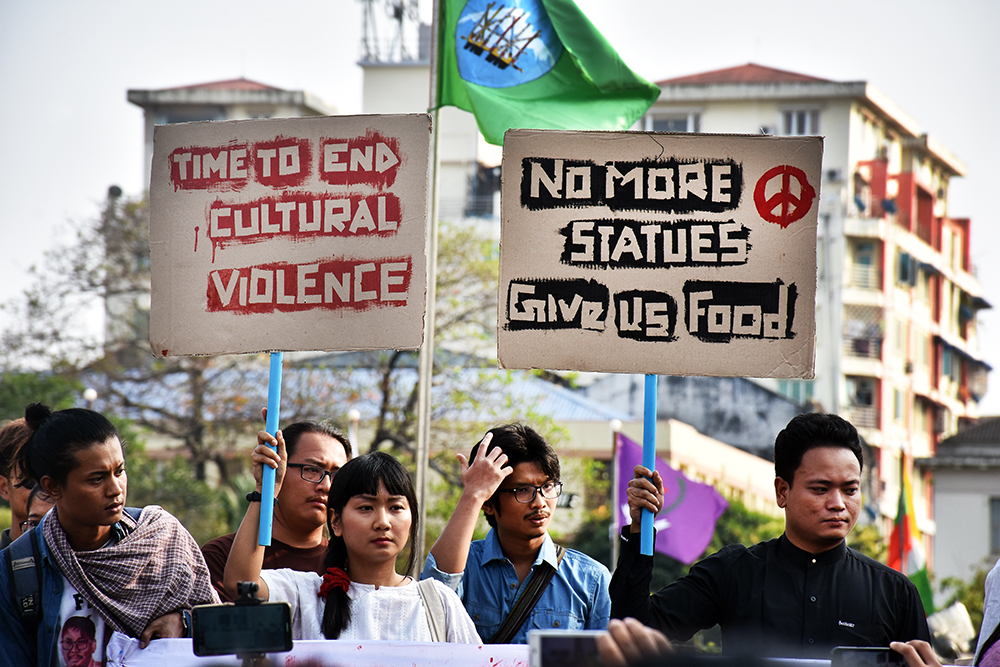 The popularity of State Counsellor Daw Aung San Suu Kyi's government, combined with its hostility towards activists, has turned the public mood against activists like Khin Sandar Tun, however.
"Under the NLD government, the public is now against activists. Most people think we should stop criticising the government, because the NLD government has been democratically elected and is led by Aung San Suu Kyi," Khin Sandar Tun said.
Speaking outside the court, lawyer U Kyi Myint said the increased prosecution of activists under the NLD administration had sent a message to the public that their activities were not just unlawful but also unnecessary.
Kyi Myint said he had also been the subject of public reproach, both for representing activists in court and for criticising the decision to prosecute them.
In some cases, it is not the civilian authorities initiating criminal charges against activists. Ahead of the May 2018 protest in Yangon, human rights campaigners staged a similar rally in Kachin State, urging the government to rescue those caught in the fighting.
Three activists ­– Zau Jat, Lum Zawng and Nang Pu – were charged with defamation under section 500 of the Penal Code following a complaint from the military, and sentenced to six months in prison and a fine.
When about 50 young Kachin activists protested against the verdict at a court in Myitkyina, the military complained to police again, and three rally organisers were prosecuted under the Peaceful Assembly and Peaceful Procession Law.
Sut Seng Htoi, one of those charged, said that while the April 2018 protest attracted significant support in Myitkyina, there was significant criticism on social media.
"People criticised us, saying that we were just doing it to get funding for ourselves, and that our movement would not help people who had been displaced," Sut Seng Htoi said. "I noticed that most of the people who commented negatively are not from Kachin State – they are government and Tatmadaw supporters."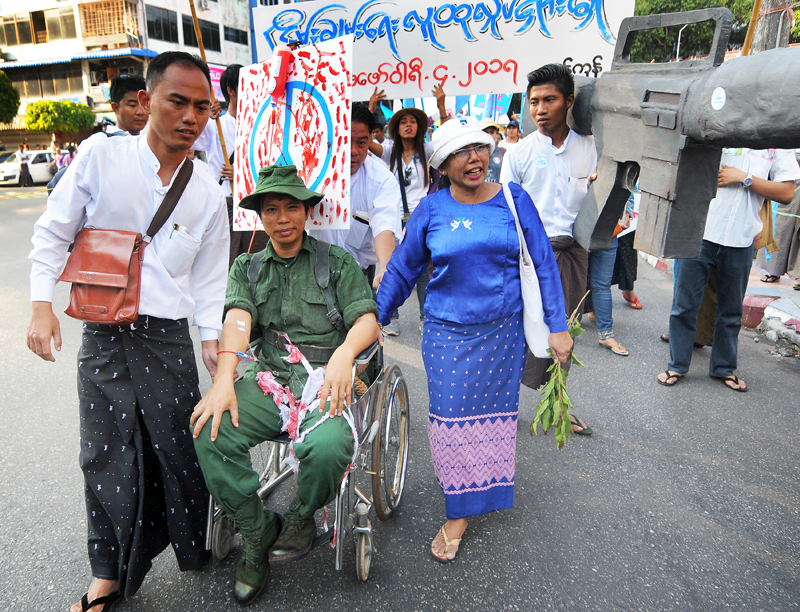 Monitoring by freedom of expression group Athan shows that freedom of expression prosecutions has increased steadily under the NLD government, from 86 cases in its first year to 164 in its fourth. Over the first four years of its term, 539 cases were filed against 1,051 individuals, including almost 400 activists and journalists. More than half were initiated by the government, and another 52 by the Tatmadaw.
While most of the other cases were filed by members of the public, many targeted those who had criticised the state counsellor, the government, the NLD and the Union Solidarity and Development Party.
Athan's executive director, Maung Saungkha, said public criticism of activists has steadily increased under the NLD government.
He speaks from experience, having faced court many times for his activism since 2015, when he became one of the first people to be charged with online defamation under section 66(d) of the Telecommunications Law. Most recently he was charged under the Peaceful Assembly and Peaceful Procession Law, along with five other activists, for hanging a banner in downtown Yangon to mark the first anniversary of the government shutting down mobile internet in parts of Rakhine and Chin states.
"People might trust the government and don't want us to oppose to it," he said. "But we believe that what we are doing is good for the country and will continue our activities."
Ko Pyae Phyo Kyaw is another long-time activist. A former member of the All Burma Federation of Student Unions, he participated in the 2007 protests as well as demonstrations in 2014 calling for changes to the Peaceful Assembly and Peaceful Procession Law. He also joined the May 2018 peace march, but was not prosecuted.
"After Daw Aung San Suu Kyi has power, the public support her whatever she does. Sometimes, I noticed that her manner and decisions are deviating from democratic and human rights standards, so I pointed that out in social media," he said. "I've noticed that if activists post something like that on Facebook, they are often opposed by those who support Aung San Suu Kyi's NLD. I haven't seen much of this before."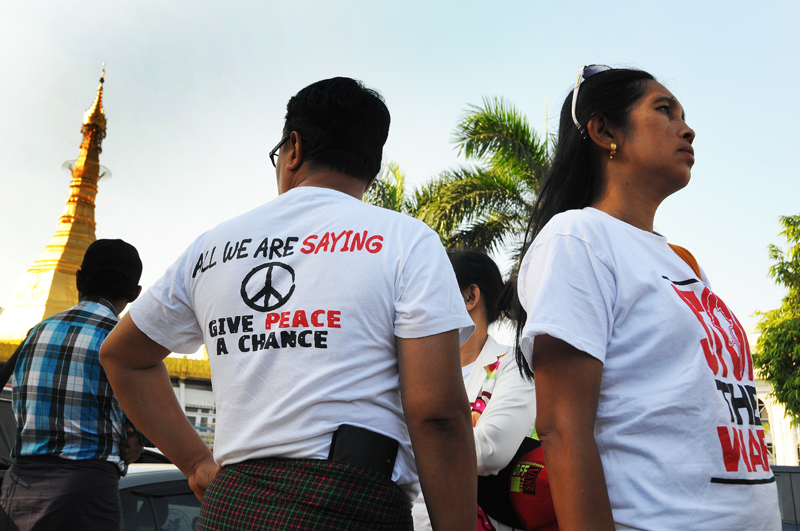 Youth activist Ma Thinzar Shun Lei Yi said it was not just public opinion that had changed: many rights campaigners have also shifted their approach since the NLD took office, seeking to work with the government to address rights issues rather than publicly criticise it. However, she said this approach had failed because both the government and its supporters were intolerant of anything they perceived as criticism.
"We thought that, as a pro-democracy leader, [Aung San Suu Kyi] will listen to the voice of activists and the public … we thought it is better to point out problems using reports. The problem is that no matter how much information we present, it is difficult to reach decision makers," Thinzar Shun Lei Yi said.
Meanwhile, the allegations of human rights abuses against the Rohingya in Rakhine State in 2017 have also split the human rights community in Myanmar, she said.
Few activists have spoken out against the abuses, and some have even supported the actions of the government and the military, which international observers have said could amount to genocide.  "Many human rights activists have changed their stance," she said.
She said activists had a responsibility to hold those in power to account, even if they personally supported them. But many were scared to be too vocal for fear of a public backlash.
"I noticed that after 2015 and 2016, people's attitudes changed. [They thought that] because this is a people's government, we should not criticise it," Thinzar Shun Lei Yi said. "For example, when I referred to things that Aung San Suu Kyi has said previously, people criticised me – they attacked me personally online."
She said this reflected a lack of education in Myanmar about the role of political activism in a democracy after decades of harsh military rule.
"Despite these difficulties, I plan to continue my work … I feel like it's a test for me."
It was a sentiment shared by others interviewed for this article. "In this situation, activists are needed now as much as ever," said Kyi Myint, the lawyer. "We have to keep working to try and create change."
Although disappointed at the public response to the May 2018 protest, Khin Sandar Tun also said she would continue her activism.
"Our aim is to encourage the development of a democratic system," she said.
"We will continue to point out what the government and Tatmadaw are doing in our ethnic areas."