The stories behind the names of some major Yangon roadways.
By JARED DOWNING | FRONTIER
BURMA, MYANMAR. Rangoon, Yangon. We're all familiar with the name game, but these weren't the only landmarks to shed their British titles as the new military regime sought to unify the country under a distinctly anti-colonial identity.
Famous British officers and dignitaries were traded for old Myanmar kings and nationalist heroes. This is a quick guide to the stories behind the new names given to some of Yangon's streets.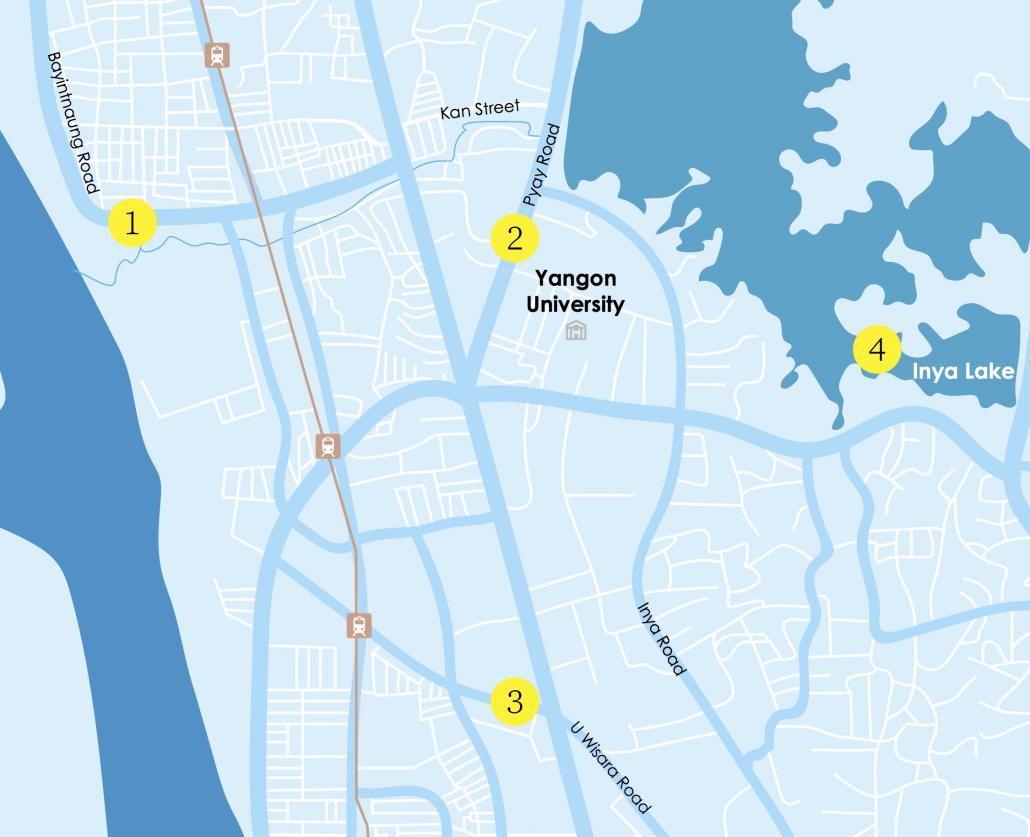 1. Bayintnaung Road
In the 16th century, Bayintnaung (also spelled Bayinnaung) took over the Burmese Taungoo Dynasty and became the most prolific emperor in Myanmar history. His elephant cavalry, foreign soldiers and teak warships brought not only the area of modern Myanmar under his domain, but also Thailand and Laos.
2. Pyay Road (formerly Prome Road)
Pyay (also known as Prome), located in modern Bago Region, was one of the earliest cities of the Pyu, the earliest known Myanmar people. Pyay is said to have been founded by descendants of the legendary King Abhiyaza in the first century BCE, although some historians suggest it was established a few centuries later.
3. U Wisara Road (formerly Voyle Road)
The British government imprisoned the influential monk U Wisara for sedition in 1926. When guards at Insein Prison forced him to doff his robe in favour of the regular prison uniform, he embarked on a hunger strike and survived 40 days before the prison gave in.
U Wisara was eventually released but continued to speak out against the British and was soon imprisoned again on the same charges. The prison once again deprived him of his robe and once again he went without food in protest. This time, however, the colonial authorities did not relent, and after 166 days without food U Wisara died on September 19, 1929. The nationalist movement gained one of its first high-profile martyrs.
4. Inya Lake (formerly Victoria Lake)
The British constructed this lake to serve as a reservoir by flooding an area that contained the Inya lagoon, at the bottom of which people were said to have buried treasures for the forthcoming Buddha – along with cursed tablets for those who would plunder them.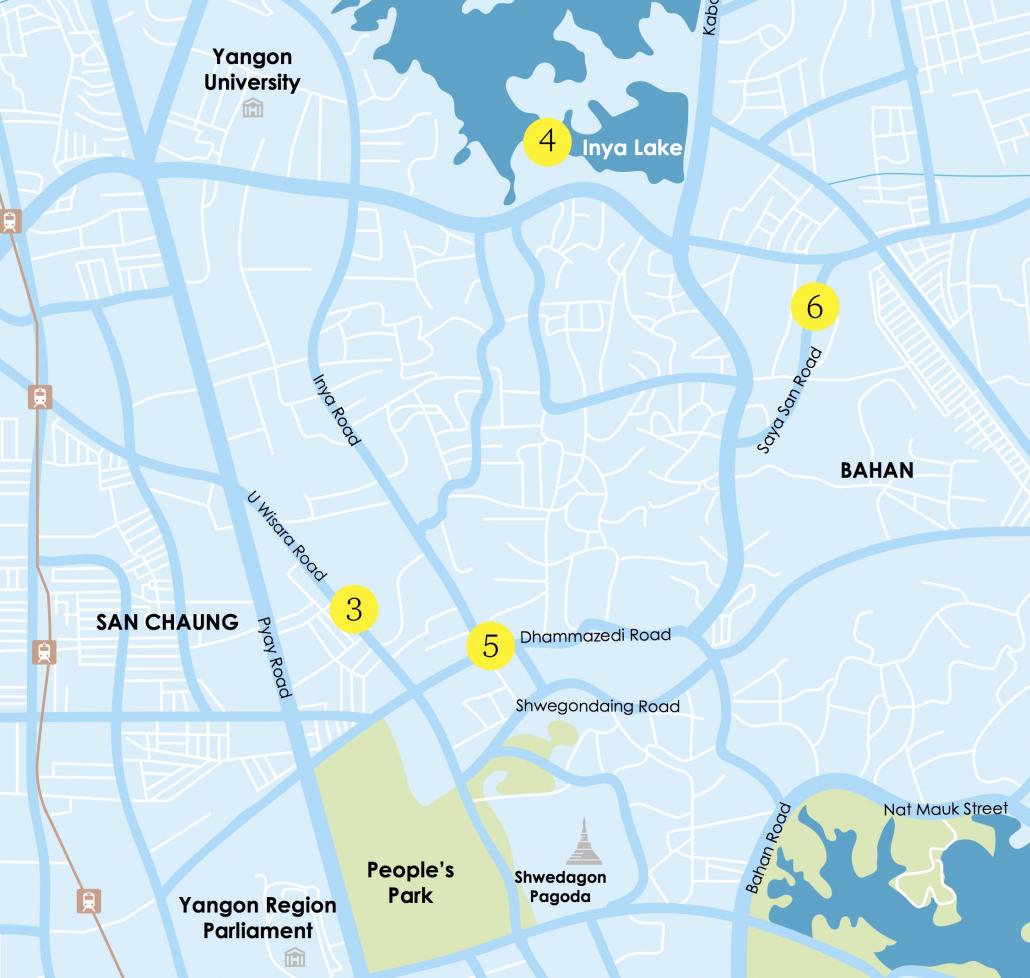 5. Dhammazedi Road (formerly Boundary Road)
Dhammazedi is possibly the greatest Mon figure in Myanmar history. In the late 15th century he ruled the Hanthawaddy Kingdom, a Mon power seated in Bago that rose after the crash of the Bagan empire in 1287.
Dhammazedi was the 16th Hanthawaddy king, and he ushered in a golden age of trade, culture and military might, during which the Mon empire all but eclipsed the northern Burmese kingdoms.
Dhammazedi is also said to have commissioned a colossal bell weighing 180 tonnes and cast with various metals, including gold, silver and copper. The bell was taken from Shwedagon Pagoda in 1608 by Portuguese adventurer Filipe de Brito but was lost in the Bago River, near Monkey Point. Archaeologists and adventurers continue to search for the lost bell to this day.
6. Saya San Road (formerly Goodliff Street)
Saya San (born Yar Kyaw) was a monk and traditional physician who rose from a peasant upbringing to lead a large rebellion against the British in 1930.
He was born to a poor, farming family near Shwebo – coincidentally, the birthplace of the Konbaung dynasty that ruled Myanmar before the British – and migrated around the country as a carpenter, astrologer, traditional healer and, finally, a grassroots political leader. He joined the nationalist General Council of Burmese Associations and later chaired a commission that surveyed the living conditions of the Burmese peasantry.
After British Burma was struck by global depression and then a devastating earthquake and tsunami, Saya San declared himself king of Burma and was coronated in the full tradition of the Konbaung rulers. His grassroots revolt soon grew to 3000 rebels; it took two years for the British to finally put it down. Saya San was eventually captured, tried and hanged, but his revolt would remain an inspiration for those struggling for Myanmar's independence.
The name Goodliff lives on in a small hotel, the Goodliff Guesthouse, near the top of Saya San Road.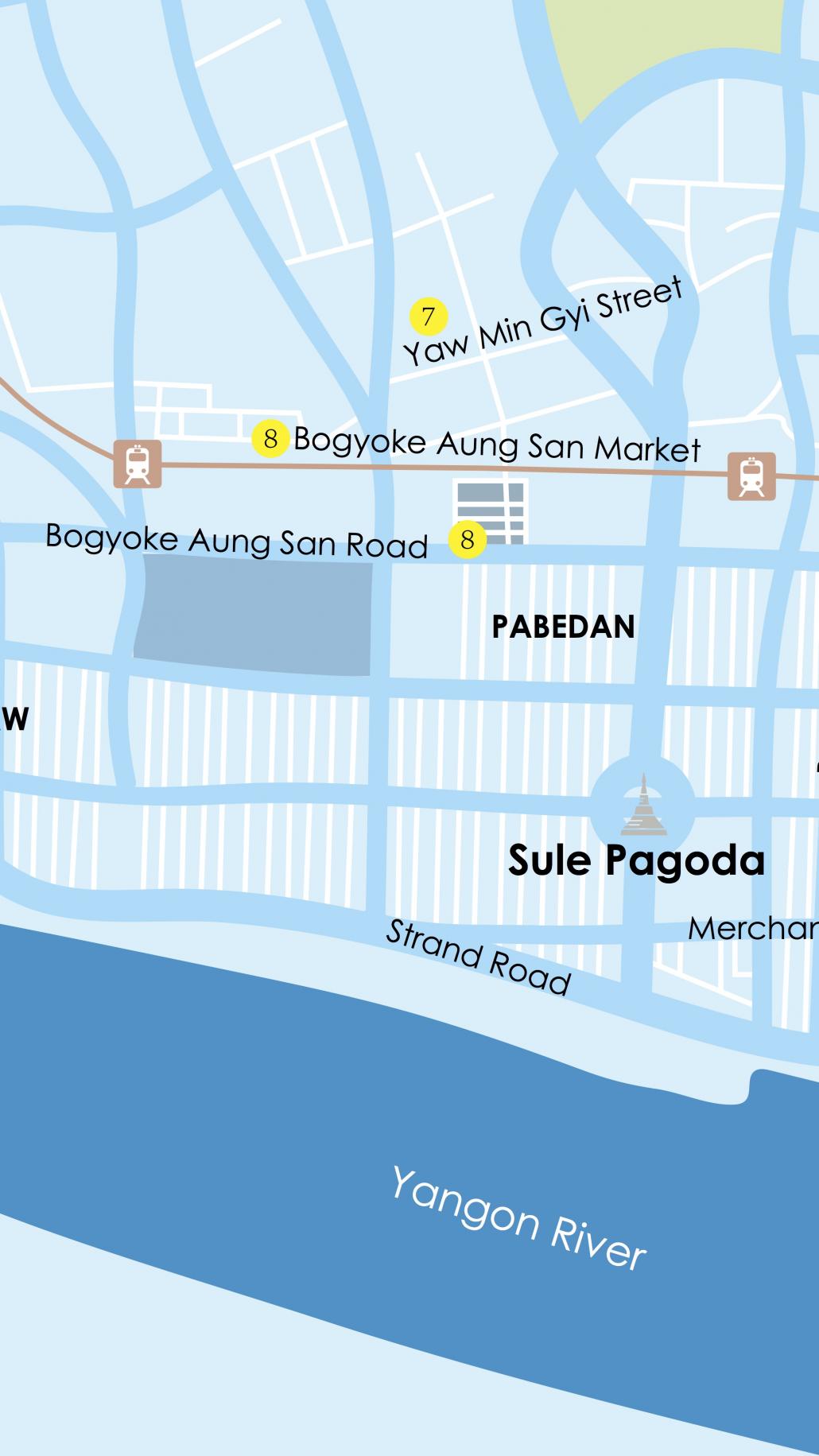 7. Yaw Min Gyi Street (formerly York Street)
Before York Street became Yaw Min Gyi Street, the name "Yaw Min Gyi" – derived from a title of high rank – was most famously associated with a brick monastery built in 1866 in Mandalay. The builder of the monastery, which used European architectural elements, was 19th century Burmese leader Yaw Min Gyi Pho Hlaing. Sadly, the monastery was all but destroyed by Allied bombs in 1945.
But the other deeds of Yaw Min Gyi Pho Hlaing, a noble and civil servant under King Mindon and later King Thibaw, Myanmar's final king, live on. He was a political scholar and prolific writer and helped shape the pre-colonial legal landscape. His treatise the Rajadhammasangaha outlined a revolutionary system of constitutional monarchy, but was rejected by Thibaw's court.
8. Bogyoke Aung San Road and Bogyoke Aung San Market (formerly Montgomery Road and Scott Market)
Bogyoke Aung San needs little introduction. A nationalist figure who joined the Japanese invasion of 1942 before helping secure independence for Burma after World War II, he is also the father of Daw Aung San Suu Kyi. Assassinated in July 1947 – a mere six months before Burma gained independence – Aung San is often regarded as the founding father of modern Myanmar.
A newcomer to Myanmar might not realise that people often drop his name, leaving only the title "Bogyoke", or "Major-General". This also applies when referring to the street and famous adjoining market.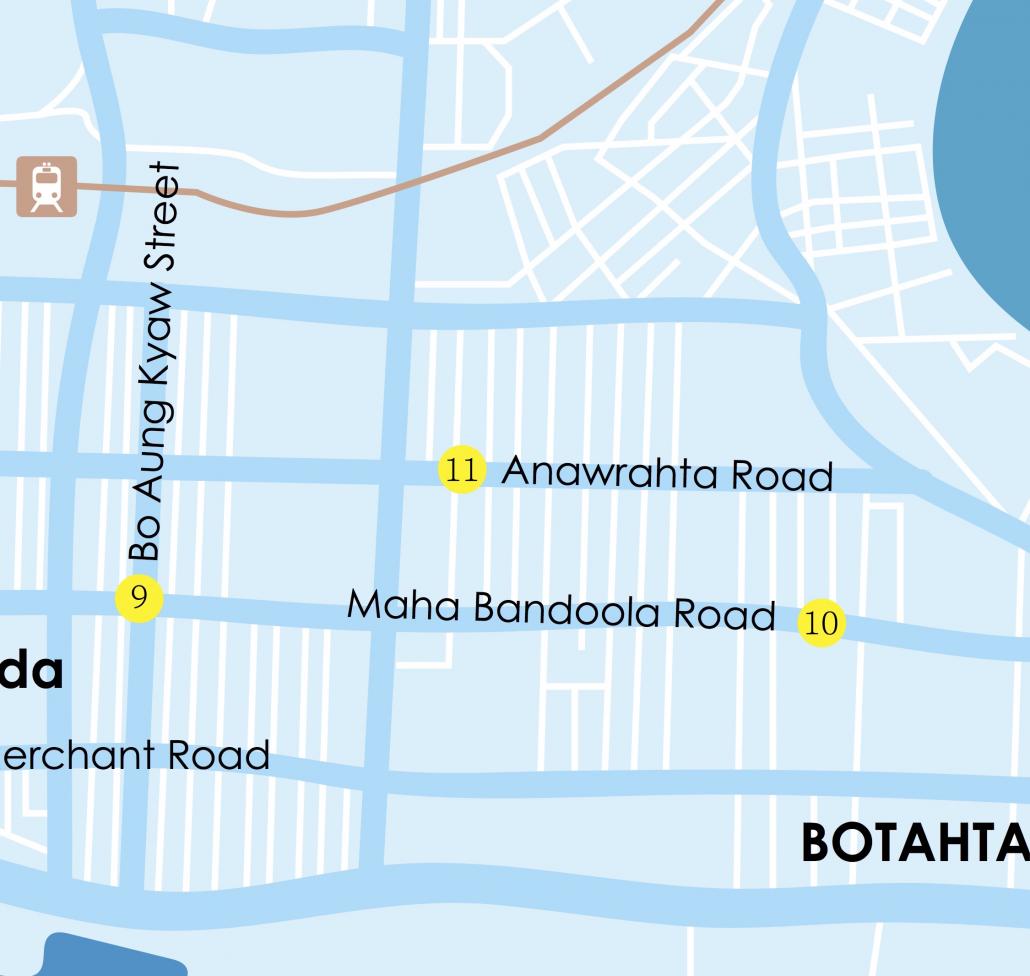 9. Bo Aung Kyaw Road (formerly Sparks Road)
In 1938, the young Ko Aung Kyaw was struck and killed by a police baton during a joint protest staged by oil workers and students of Rangoon University during which they blocked access to the Secretariat (in front of which Bo Aung Kyaw Road now passes). He was a major martyr of the anti-colonial movement that raged in the years prior to World War II.
10. Maha Bandoola Road (formerly Dalhousie Road)
War hero Maha Bandoola (born Maung Yit) was a general who helped expand the Konbaung Empire westward in the early 19th century before leading the royal armies against the British during the first Anglo-Burmese War.
After the British pushed Burmese forces out of Rangoon in 1824, Maha Bandoola and his men famously marched across the treacherous Rakhine Yomas to relieve them. But Maha Bandoola was unable to retake Yangon and on April 1, 1825, he was killed by mortar fire in Danubyu after leaving the shelter of the fort to inspect his men and boost morale.
11. Anawrahta Road (formerly Fraser Road)
Anawrahta was the first major king of Myanmar. In the 11th century, armed with a cavalry of horses and elephants, he turned the mediaeval city-state of Bagan into an empire that stretched from the Malay Peninsula to the Himalayas. The Mongol hoard eventually defeated Anawrahta's empire two centuries later, leaving in its wake the thousands of pagodas for which modern-day Bagan is famous.